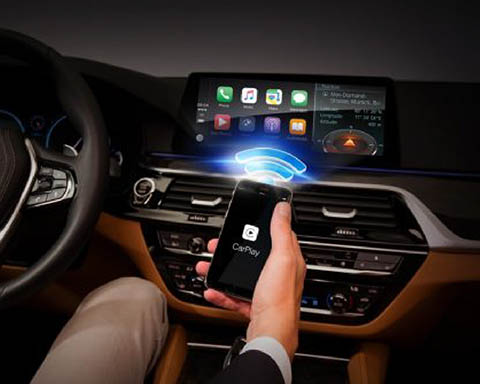 Automotive Wireless Device Validation
As wireless technology gradually matures with the striking trend of smart cars, in-car wireless devices are getting increasingly popular.  Nowadays, the most prevalent wireless communication technologies used in cars are Wi-Fi and Bluetooth, which are used in tracing in-car information and entertainment system, keyless entry, and many more. To ensure  in-car wireless devices can be smoothly connected and harmoniously coordinated, Allion offers in-car communication device testing to realize a complete wireless ecosystem for cars.
Inquiry
In recent years, we have seen applications of Wi-Fi, Bluetooth, and other wireless communication technologies both inside and outside a car, such as outside remote control, wearable, maintenance services, driving monitoring, which have greatly improved driving safety and experience. Such applications of in-car information and entertainment systems are bringing lots of fun for both drivers and passengers.

Ecosystem of Wireless Communication Devices
Among the in-car ecosystem, Bluetooth is primarily responsible for the needs of lower speed transmission (less than 3Mbps) to handle the transmission for voice, sound, and control of mobile phone. Meanwhile, Wi-Fi is responsible for the needs of mass information transmission, such as the application on the mirror link, Miracast, near end file, and hotspot sharing.
Wi-Fi Related Applications
Internet Hotspot Sharing
Audio and Video Projection and Streaming
Remote File Transmission
Bluetooth Related Applications
Hands-free TelephoneMusic StreamingVoice Control
Transmission of Information for DrivingIn-Car Sensor
Key for Smart Cars
Transmission of Information for Driving Parameters and Maintenance
Why is it necessary to verify in-car wireless communication technology?
An investigation by J.D. Power, a world-renowned automobile market research company, demonstrated that dissatisfaction with in-car Bluetooth application when driving still ranked at the top of poor driving experience, and Wi-Fi issues emerged one after another. Many car owners have likely experienced the following issues when using a car device and in-car connection:
Wi-Fi Issues
The mobile phone and device could not connect to the Wi-Fi.
The mobile phone and device are often disconnected and are not able to automatically connect.
The audio and video are out of synchronization when playing a movie.
Bluetooth Issues
After Bluetooth connection, the quality of played voice is poor, and the voice control cannot be used.
The telephone function does not work properly, or the handsfree function is invalid
The loaded App is not compatible with the mobile Bluetooth software, which could not be properly paired.
Keys for Safe Driving
While driving, diverting your attention to handle issues as the instable connection can seriously endanger safe driving; therefore, testing of in-car wireless signals shall be more focused on the performance of stable connection, simple operating method, and the mode for quick pairing and connection.
To avoid connection issues while driving, Allion  develops a brand-new testing service dedicated to the in-car wireless devices based on its past testing experience with wireless communication technology.
User-scenarios
Allion Solutions for Wireless Communication Technology
Locking/Unlocking,

verification on keyless entry

·         Bluetooth Sensors and Key Fob/Digital Key
During driving,

monitoring of safe driving

Before driving,

Compatibility of wearable or mobile device with car connection for car and device

·         Functionality Test

·         Out of Box (OOB)

During driving,

testing on the integration of in-car entertainment information system and the situational application.

·         Multiple Bluetooth Connection Interactions

·         Multiple Audio Source Manipulations

·         Wi-Fi Testing and Wireless Performance Testing

Throughput Performance

·         Wi-Fi In-Car Wireless Verification Testing

Mirrorlink Miracast
Validation of Allion's Wireless Car Ecosystem
In the past, cars were regarded only as a tool for communication. Nowadays, car owners depend heavily on IVIs to acquire information, which requires stable and seamless wireless signal connections to ensure all devices are being coordinated properly. With the drastic increase of in-car wireless devices, future car manufacturers will face connection compatibility issues and more.
Allion established the verification of the in-car wireless technology based on its many years' experience with Wi-Fi and Bluetooth, which will assist manufacturers in developing excellent in-car wireless.