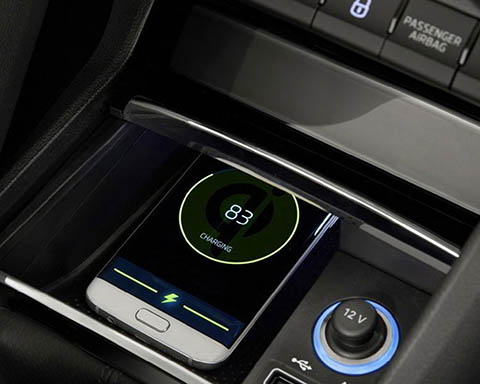 In-Car Wireless Charger Validation
According to IHS market research, vehicles with wireless chargers have grown rapidly all around the world, with an estimate of 1.7 million units by 2020. In response to the market trend, Allion Labs offers  test service for in-car wireless charging. From safety mechanism, charging performance, charging efficiency, to interoperability, Allion Labs strictly controls the quality of wireless charging devices to protect the safety of drivers and passengers.
Inquiry
Wireless charging technology has been in the general consumer market for a long time. Currently, the two major wireless charging technologies are Qi from Wireless Power Consortium (WPC) and Airfuel from AirFuel Alliance.
In recent years, this wireless trend has also become popular in the automotive industry. More and more car manufacturers have made wireless charging as a standard function. However, the in-car environment is special. In addition to the perfect coordination with the electrical circuits of the car, chargers are also required to have great reliability to function normally with the drastic temperature change in cars.
Moreover, how to be compatible with the car owner's mobile phone is also an important issue facing the manufacturers. Based on past testing experience, Allion Labs' professional team has summarized the common use problems of current in-car wireless charging devices and proposed corresponding testing solutions to create a perfect user experience for drivers and passengers.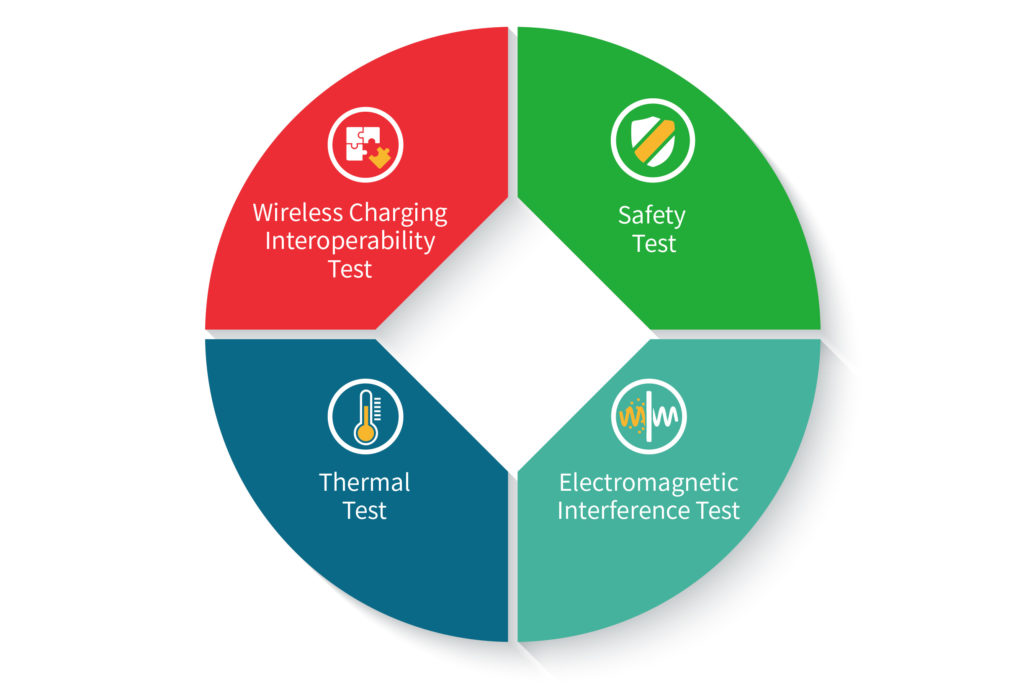 Allion Labs' Wireless Charging Validation Ecosphere
Is your wireless charging device really safe?
Most in-car wireless chargers are designed for open space, and many drivers are used to casually throw coins or small items on the charger. Generally speaking, when a foreign object falls onto the charger, the foreign object detection (FOB) will be activated immediately, and the charger will be powered off to avoid overheating. In addition, the efficiency loss in the charging process will be converted into heat energy, so the general in-car wireless chargers are equipped with temperature detection and power-off reminder function. If these safety mechanisms fail, it may cause serious accidents.
What are the risks?
Foreign object detection failure: if a driver throws a coin carelessly onto a charger, the coin maybe improperly heated, which may cause fire that threatens the safety of the driver and passengers.
Allion Labs' in-car wireless charging safety test
Foreign object detection function FOB: Charger failure reminder and detection, and temperature overheat warning and detection
Chargerard installation: Measurement of safety distance with other in-car accessories
Inspection of charging device retention system: sliding, moving, vibration detection
How to solve invisible wireless interference?
When a wireless charging device is used in a car, the charger and the mobile phone exchange information in the frequency band of 110KHz-205KHz. However, such wireless communication may affect the function of the key fob or the starting system.
What are the risks?
If the driver places the key fob on charger, the engine may be automatically turned off because the chip in the key fob cannot be detected. If this happens on a highway, it could result in lethal consequences.
Allion Labs' in-car wireless charging electromagnetic interference test
Co-existence and interference with in-car broadcasting
Mutual interference with key fob or smart car locks
Engine startup system interference
Will the charger have overheating problems?
Due to huge temperature changes in cars, the charger may be damaged because of drastic ambient temperature changes, resulting in damage to the automatic power-off device.
What are the risks?
When a car is parked outdoors in the summer, the heat in the car may damage the automatic power-off device.
Allion Labs' extreme temperature test for in-car wireless charging
In an automated thermostat, the wireless charging device must undergo a more stringent extreme temperature test to avoid overheating and fire, which may result in irreparable damage.
My mobile phone is not interoperable with the wireless charger, what should I do?
Most in-car wireless charger only provide low-power charging. Under limited driving time, the low-power charging device is unable to provide sufficient power to the mobile phone. If you turn on Wi-Fi and Bluetooth to watch videos, listen to music, or talk on the phone while charging, the battery will not be able to store power efficiently. Therefore, pad manufacturers provide medium- and high-power charging solutions. However, according to Allion Labs' observation, there are many compatibility and interoperability problems in these solutions.
What are the risks?
Customers spent a lot of money buying a high-power charging pad, but the charging performance was not as expected. This may seriously destroy the customers' confidence in the product.
Allion Labs' in-car wireless charging compatibility test
Mobile compatibility test: Is the charging version downward compatible?
In-car power system docking compatibility test