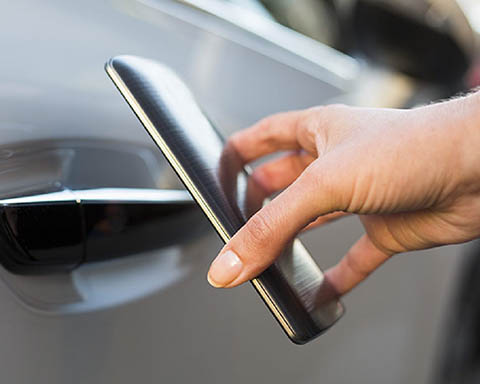 Validation Test for Keyless Entry and Digital Key System
In the pursuit of convenience, world-leading automakers have started to deploy keyless entry systems and digital keys, bringing car owners unprecedented user experience. However, this trend also comes with unforeseen security risks. Allion integrates our capability in security and RF testing to provide vendors a total solution for keyless entry and digital keys to ensure vehicle security and further safeguard car owners' lives and property.
Inquiry
Keyless Entry and Digital Keys
With the quick development of the automobile industry in recent years, metal keys have been phased out, and automakers have started deploying keyless entry systems. Car owners can unlock their cars through the digital key downloaded on their mobile phones. In addition to better convenience, keyless and digital key can also prevent criminals from getting the metal keys.
What is Keyless Entry?
A keyless entry system means that a physical key is not necessary. Currently, keyless entry can be categorized into the following two types:
1. PKE: PKES is the abbreviation for Passive Keyless Entry, which means that the car owner only needs to bring the keyless fob to the car door within the distance of one meter without making any action. The car's keyless entry system can automatically detect the keyless fob carried by the car owner for personal identity verification. It automatically opens the car door when verification is successful.
2. RKE: RKE is the abbreviation for Remote Keyless Entry. Car owners can open the lock through the remote controller within a certain proximity from the car. The remote controller can transmit a RF signal to the car to open the lock. RKE usually applies the free radio frequency band, such as 315MHz used in the North America Region or 434MHz or 868MHz for cars in Europe or other regions.
Who Needs Allion?
Keyless Entry:

automaker, module provider

Digital Key:

automaker, mobile APPs developer
Allion's Testing Services for Multi-functional Car Keys
Focused on RF signal quality and interference for new types of car keys, Allion has worked in the wireless field for many years and can provide measurement (in the valid range) and interference testing of RF signals. Based on the interoperability issue of the App and different mobile phone hardware versions, Allion regularly purchases devices over five continents in the world with the total devices close to 10K, which can integrate your digital key's soft and hardware to provide compatibility testing services during App development. In recent years, UX (user experience) is getting more important for auto makers. To help vendors deliver optimal experiences to users, Allion has designed a suite of validation that can be applied to multiple products and applications in the auto ecosystem. The validation consists of customizable solutions which enable us to recreate various user-behaviors, and learn what users might encounter in real-life scenarios when using the devices. Our goal is to ensure your products can truly fulfill users' needs.
| | | |
| --- | --- | --- |
| | Keyless Entry System / Keyless Fob | Digital Key |
| RF Signal Testing  | √ | √ |
| RF Interference Testing  | √ | √ |
| Interoperability Testing  | | √ |
| User Experience | √ | √ |