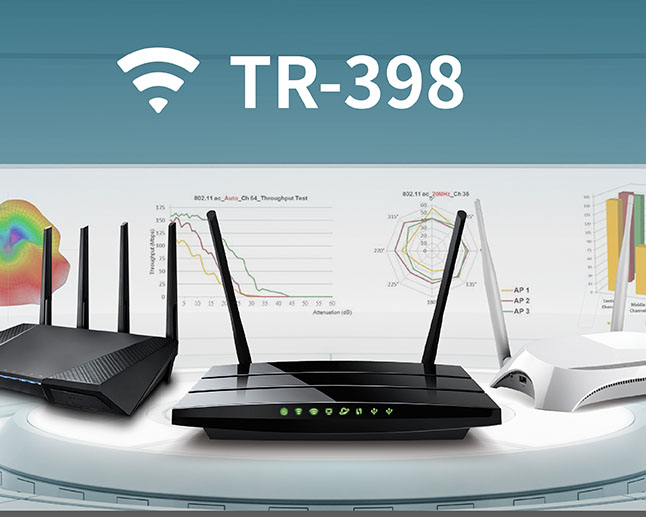 TR-398 Test Service

TR-398 is a test standard specifically established for measuring Wi-Fi performances in terms of 6 aspects, which are RF capability, throughput performance, spatial consistency, airtime fairness, connection capability, and stability/robustness. In this test lab, we offer the necessary equipment and years of RF experience to help you learn the overall performance of your Wi-Fi devices.
Inquiry
What is TR-398?
In the 2019 Mobile World Congress (MWC 2019), the Broadband Forum (BFF) launched the world's first in-premises Wi-Fi performance standard—TR-398. This new standard is established to tackle issues such as slow internet connections, insufficient coverage, and interferences that will affect user experiences.
TR-398, the next generation of WT-398, is mainly established to qualify the performances of 802.11n/ac (Wi-Fi 4 and Wi-Fi 5) based routers. As for Wi-Fi CERTIFIED 6™, the latest version of Wi-Fi technology based on the IEEE 802.11ax standard, certifications and testing services are also available here at Allion.
TR-398 test cases include but are not limited to verify the following 6 aspects:
RF performance
Bandwidth
Stability
Interference
Capacity
Coverage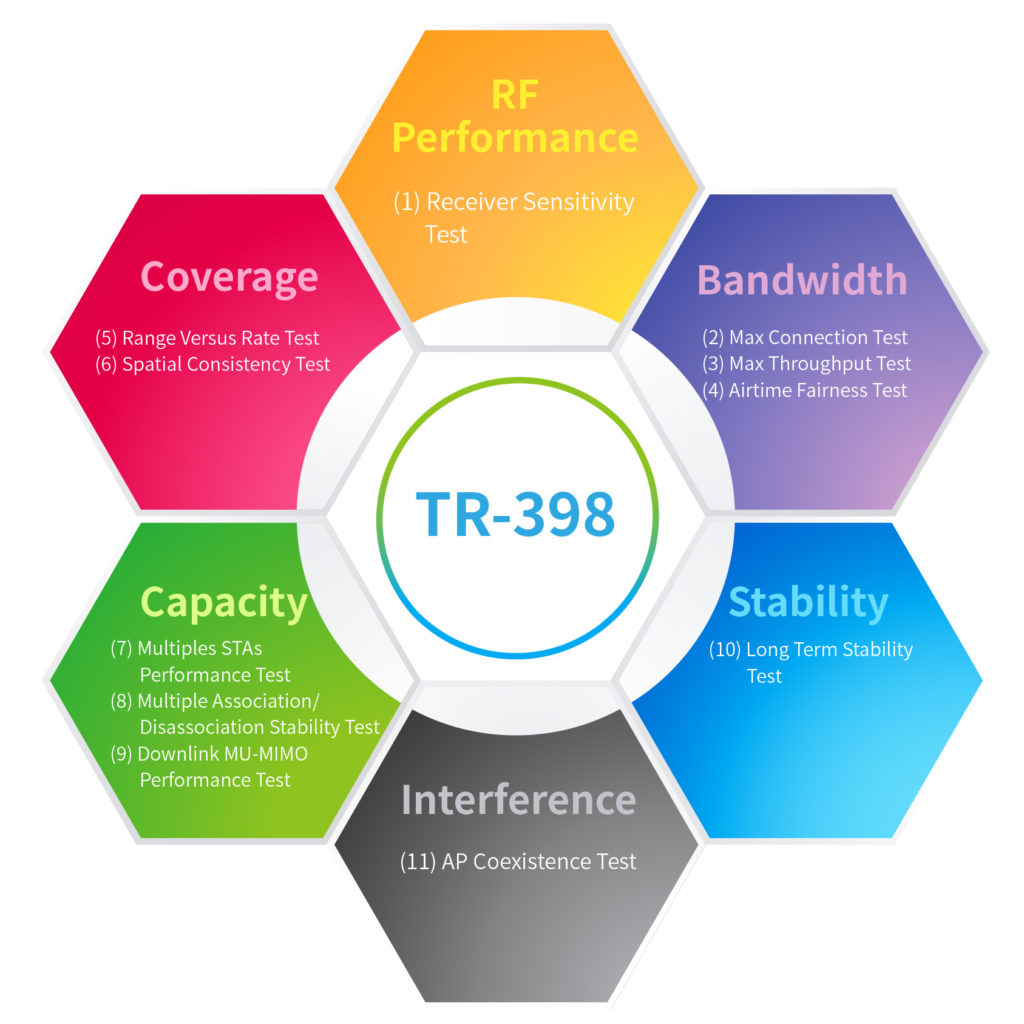 The Six Aspects of TR-398
Having too many devices in the house? How do we ensure the quality of internet connection?
As new technologies such as 4K videos, VR, and AR are on the rise, users have higher demands for internet connections. Additionally, in this era of IoT, in-premises mobile devices are growing drastically, thus bringing higher demands of faster internet connection.

According to a report released by China Mobile, the central hub of modern-day home theaters is multi-screen playback, and it is bringing challenge to network stability. As stated in the following table, when two displays are simultaneously playing 4K videos, a 300M Wi-Fi coverage is required to support this heavy streaming. As for VR360 videos, a higher demand of stable Wi-Fi connection is also needed.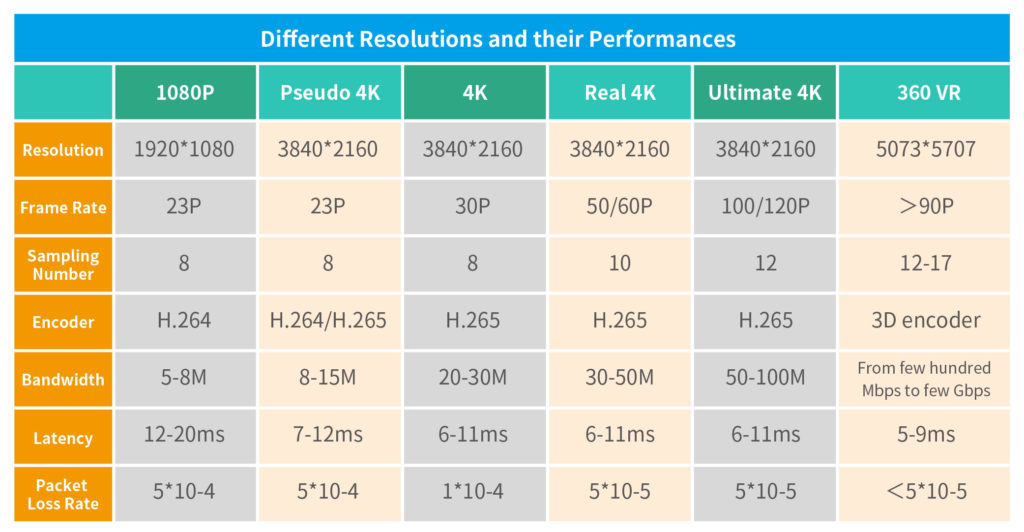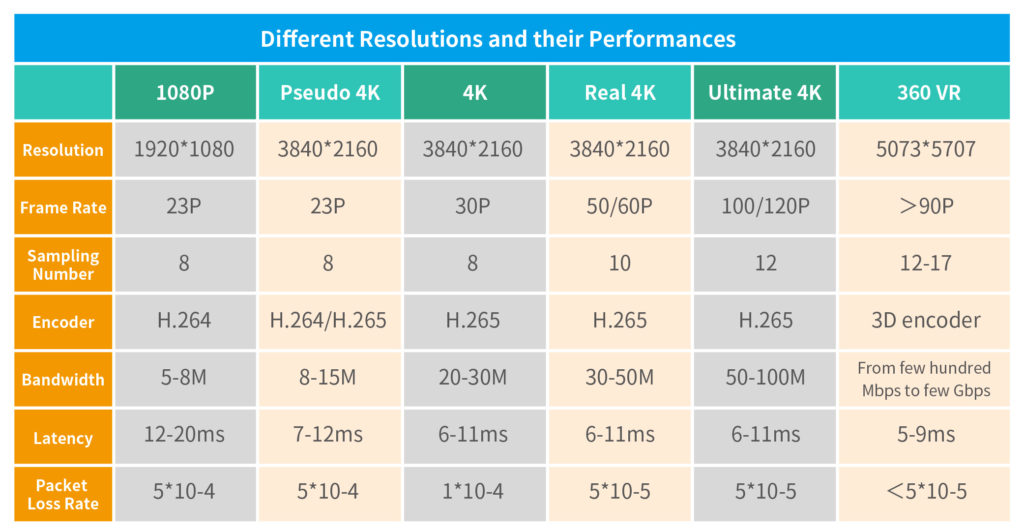 Report by China Mobile
According to another report made by Ovum, Wi-Fi issue accounts for 30% to 60% of all issues filed to operators. In order to cater to the high demand of efficient and fast networks, ensuring the performance of in-premises Wi-Fi devices is the key to great user experience and brand reputation.
Allion provides one-stop testing to enhance your Wi-Fi device performance!
Allion's TR-398 Test Lab is built to satisfy the testing of Wi-Fi performances. Our testing equipment and wireless testing chambers can help venders verify their products from the following aspects:
Performance Tests

Test Cases

Test Description

RF Capability
1.Receiver Sensitivity Test

(Optional)

The verification of a receiver's ability to receive and correctly demodulate weak signals
Baseline Performance
2. Maximum Connection Test
(Mandatory)
This test intends to verify that the Wi-Fi AP can support 32 STAs simultaneously connected with minimal packet loss and no disassociations taking place.
3.Maximum Throughput Test

(Mandatory)

This test measures the maximum throughput performance of the DUT. The test is conducted with connection by air interface in short distance.
4. Airtime Fairness Test

(Mandatory)

This test intends to verify the capability of Wi-Fi device to guarantee the fairness of airtime usage.
Coverage
5.Range versus Rate Test

(Mandatory)

This test intends to measure the baseband and RF chain performance of Wi-Fi device. The attenuation of signals due to range increase is achieved by using attenuator in the STA sides.
6.Spatial Consistency Test

(Mandatory)

This test intends to verify the Wi-Fi signal consistency in spatial domain.
Multiple STAs Performance
7.Multiple STAs Performance Test

(Mandatory)

This test intends to measure the performance of Wi-Fi device connected with multiple STAs simultaneously.
8.Multiple Association/Disassociation Stability Test

(Mandatory)

This test intends to measure stability of Wi-Fi device under a dynamic environment with frequent change of connection status.
9.DL MU-MIMO (Downlink MU-MIMO Performance Test)

(Mandatory)

This test intends to verify the performance of Wi-Fi device when Downlink MU-MIMO is applied.
Stability/Robustness
10.Long Term Stability Test

(Mandatory)

This test intends to measure the stability performance of Wi-Fi device under stress. Throughput and connection availability are continuously monitored in a long period of time.
11. AP Coexistence Test

(Mandatory)

This test intends to verify Wi-Fi device performance with existence of alien AP. The alien AP in the test shall support the same Wi-Fi standard (802.11n/802.11ac)
(Excerpted from TR-398 Wi-Fi In-Premises Performance Testing released by the Broadband Forum)
Allion is the ATC of Wi-Fi Alliance
Allion is accredited by the Wi-Fi Alliance as one of their Authorized Test Labs. At Allion, our state-of-the-art test facility allows application of advanced test tools and equipment for wireless performance test, wireless range performance test, access point test and other test items required by WFA.
We are also the only test lab in Asia that provides complete Wi-Fi validation services.We not only test your products for wireless compliance, we also work with our customer to debug detected issues and provide additional consulting services regarding device performance in different user-scenarios, IoT Ecosystem Validations and more.
*Wi-Fi CERTIFIED 6™ is now available at Allion, click here to learn more!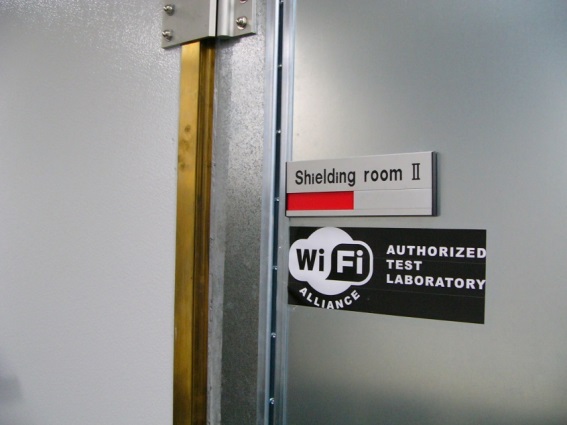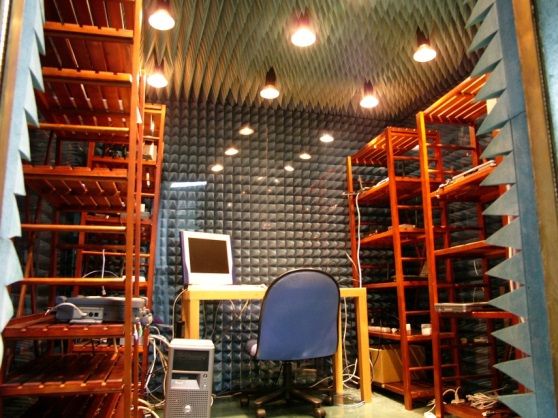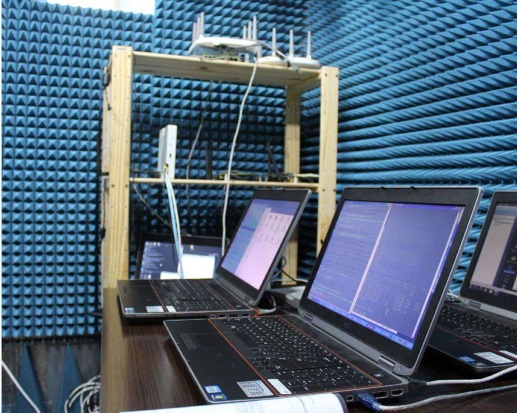 RF Test Lab –RF Anechoic Chamber
RF Anechoic Chamber is the most important part in RF testing environment. It is capable of absorbing any electromagnetic waves that interfere with the measurement result, eliminating reflection caused by electromagnetic waves and isolating external signals.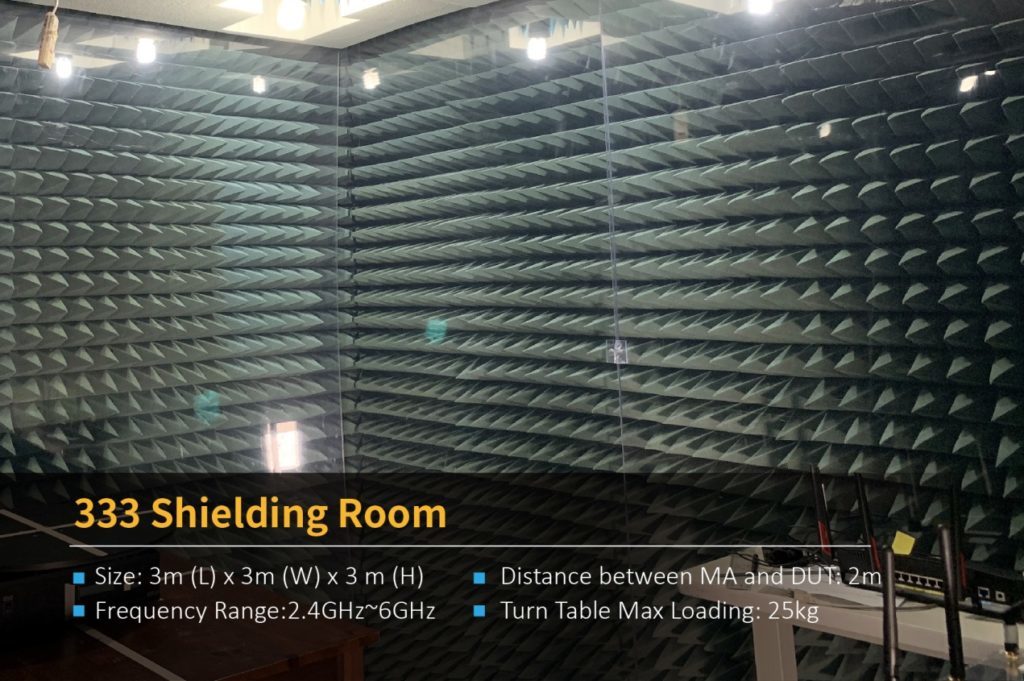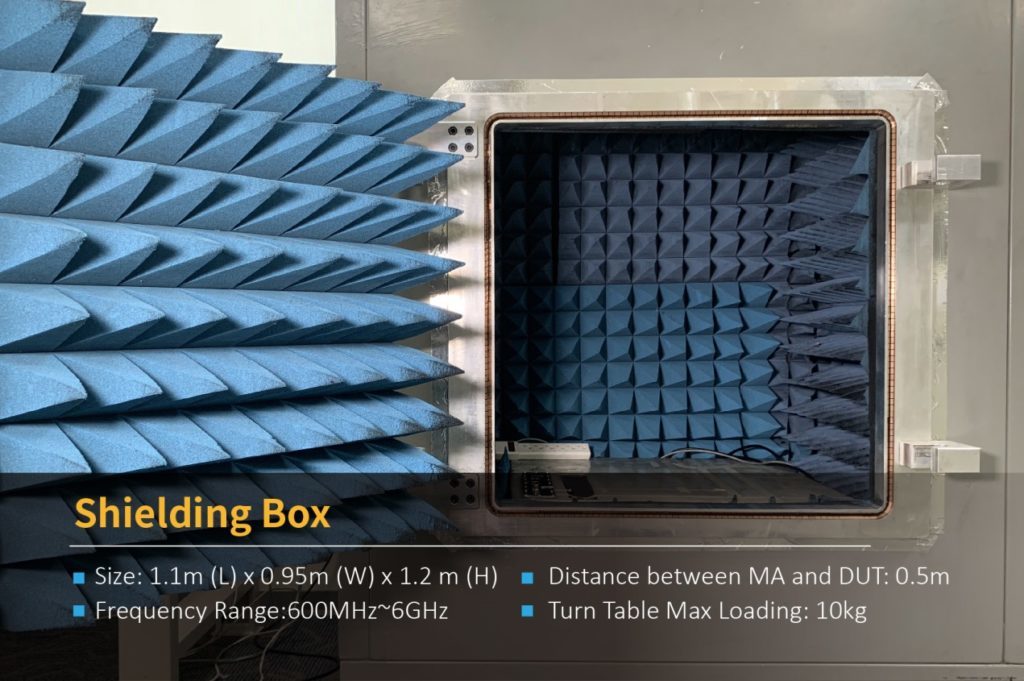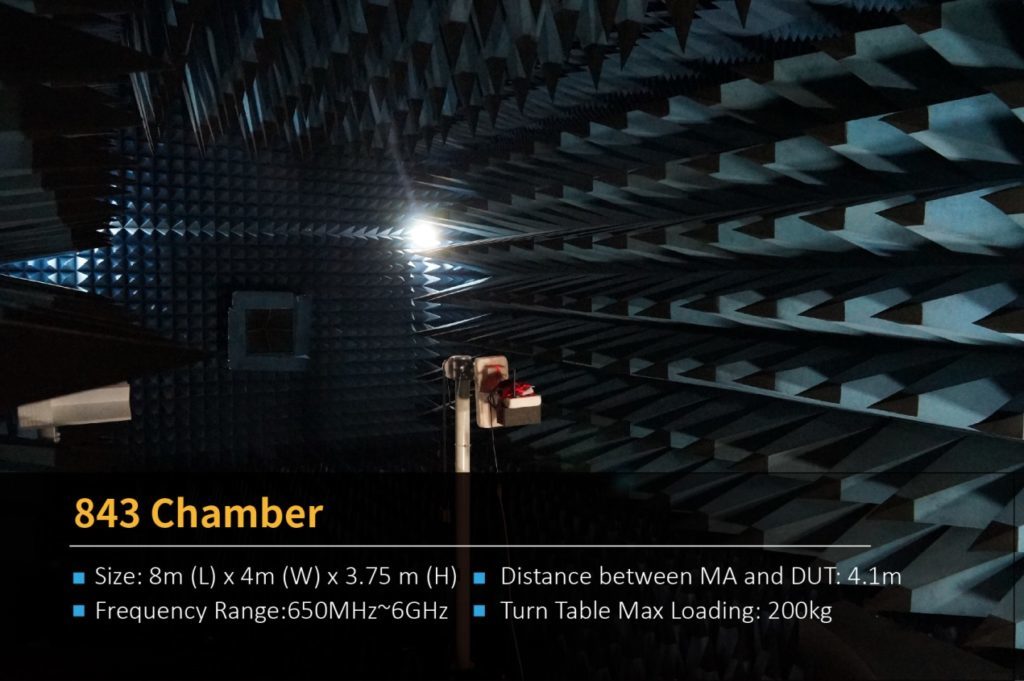 Testing instruments
In addition to RF Chamber, Allion has also invested millions of dollars in testing instruments including the Base Station Simulator, Network Analyzer, Spectrum Analyzer for RF signal test measurements and analysis.
| | | |
| --- | --- | --- |
| Testing Instruments | Spec | Overview |
| Network Analyzer | 2 Ports, 1MHz to 8GHz | Measuring the S parameters of DUTs |

Testing Instruments
Spec
Overview
Base Station Simulator
6 Ports,

Support 2/3/4G, Wi-Fi and BT

Simulating base station signals that enable testers to measure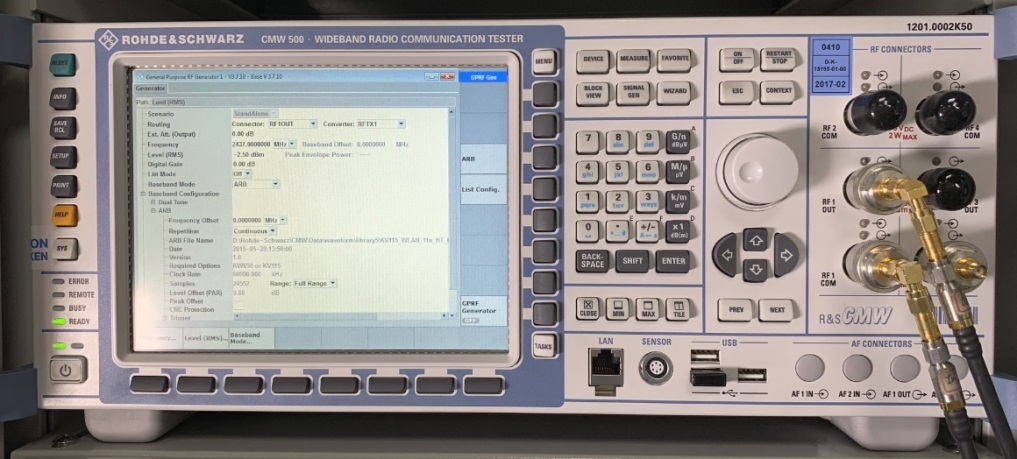 | | | |
| --- | --- | --- |
| Testing Instruments | Spec | Overview |
| Spectrum Analyzer | 1 Port, 20Hz to 26.5GHz | Measuring signal strengths and adjusting performances |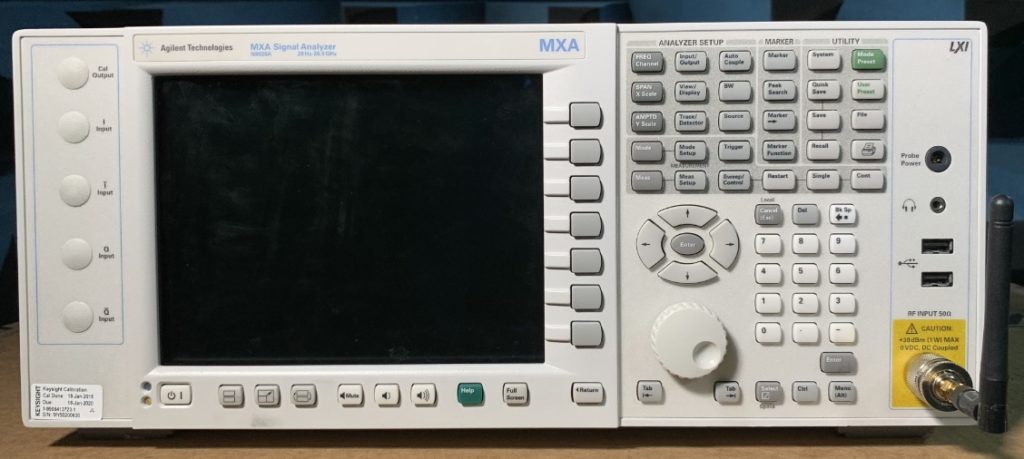 High Performance is the key to winning customer's trusts
Test Solutions for Smart Gateway/ Router/ Wireless AP Vendors:
Allion provides TR-398 pre-test services. This pre-test intends to conduct signal attenuation, complete distance simulation, coexistence/interference, throughput, and stability tests to verify the quality of your devices. Customized solutions are also available, such as internet interference, wall penetration, and in-depth comparative reports of other similar products.
Laptop/Tablet/TV/VR Glasses
TR-398 sets standards for in-premises Wi-Fi performance standards. For manufacturers, it is important to get your devices tested before launching to markets. Allion has years of testing experience and we can provide multi-layered solutions for different IoT products and ecosystem so as to enhance the overall user experience.