USB-C has now become mainstream and replaced many interfaces on the market today. It has the potential to unify all the transmission interfaces for consumer electronics. Its four most important features include establishing connection regardless of direction, supplying power, transmitting data, and transmitting images. These four applications can be creatively utilized for various products.
For manufacturers, a key factor to consider during product design is the cost. This means not every feature USB-C provides will be introduced in products and devices that support USB-C. This can lead to a drop in expectations when consumers make a purchase. In some cases, images cannot be successfully displayed through USB-C. As USB-C may look like the next best thing, it also faces plenty of potential risks and challenges in product design. In this article, Allion will focus on discussing the common issues and solutions for USB-C to HDMI products.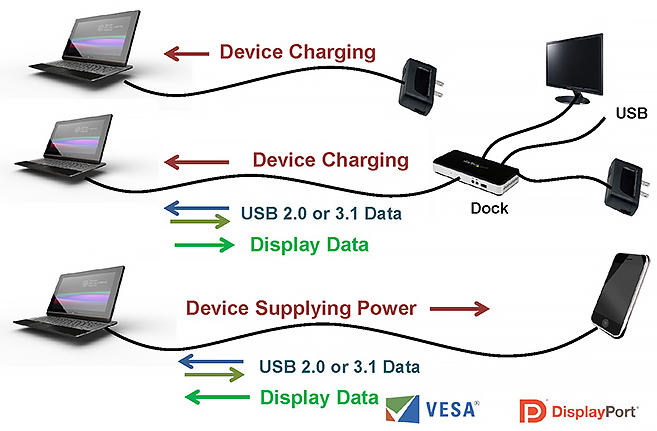 The Two Most Common Issues of USB-C to HDMI
Issue 1: The USB-C port on the source end supports data and image transmission but fails to do so.
When a pop-up notification shows up in the bottom right corner of the screen, the issue could be that the DisplayPort Alternative Mode is failing to communicate, resulting in the system switching to Alternative Mode.

Are consumers doomed to keep encountering this issue? Allion's USB-C to Protocol Converter Alt Mode testing service can solve this problem.
Issue 2: When the computer doesn't show a pop-up window, then turns into a black screen.
This issue may be caused by the exchange of EDID information between the HDMI terminal and the display terminal, resulting in no display output. With Allion's USB-C to HDMI EDID testing service, it's possible to avoid this issue even after consumers purchase the product. It's time to say goodbye to your consumers' headaches!
Allion is a laboratory that works with various technical standard associations. We have accumulated more than 30 years of testing and certification experience, being able to provide a variety of cable/connector certification services. Allion is committed to providing faster, easier, and better solutions for our clients.
Faster, Easier, Better! Allion Cable & Connector Testing Consultant
In addition to the above solutions, Allion is deeply rooted in the IT industry and we have accumulated over 30 years of testing and certification experience. Through comprehensive intelligent testing suggestions and analysis, Allion can bring cable & connector related clients with a full range of testing solutions, assisting them to achieve strict product quality control, and provide a faster, easier and better integrated consulting services and solutions.
Faster
Allion has exclusively developed hundreds of high-frequency fixtures that can help improve cable certification efficiency, speeding up your schedule and the product testing cycle.
Easier
Allion's comprehensive solutions for cables and connectors also assist developers with ensuring product quality during certification.
Better
With more than 30 years of expertise, specialized technical team, and comprehensive testing environments and equipment, Allion is committed to providing clients with more improved quality of service based on extensive experience of User Scenario Testing.

If you have any further needs for testing, verification, or consulting services related to the Cable & Connector, please feel free to explore the services online or contact us through the online form.