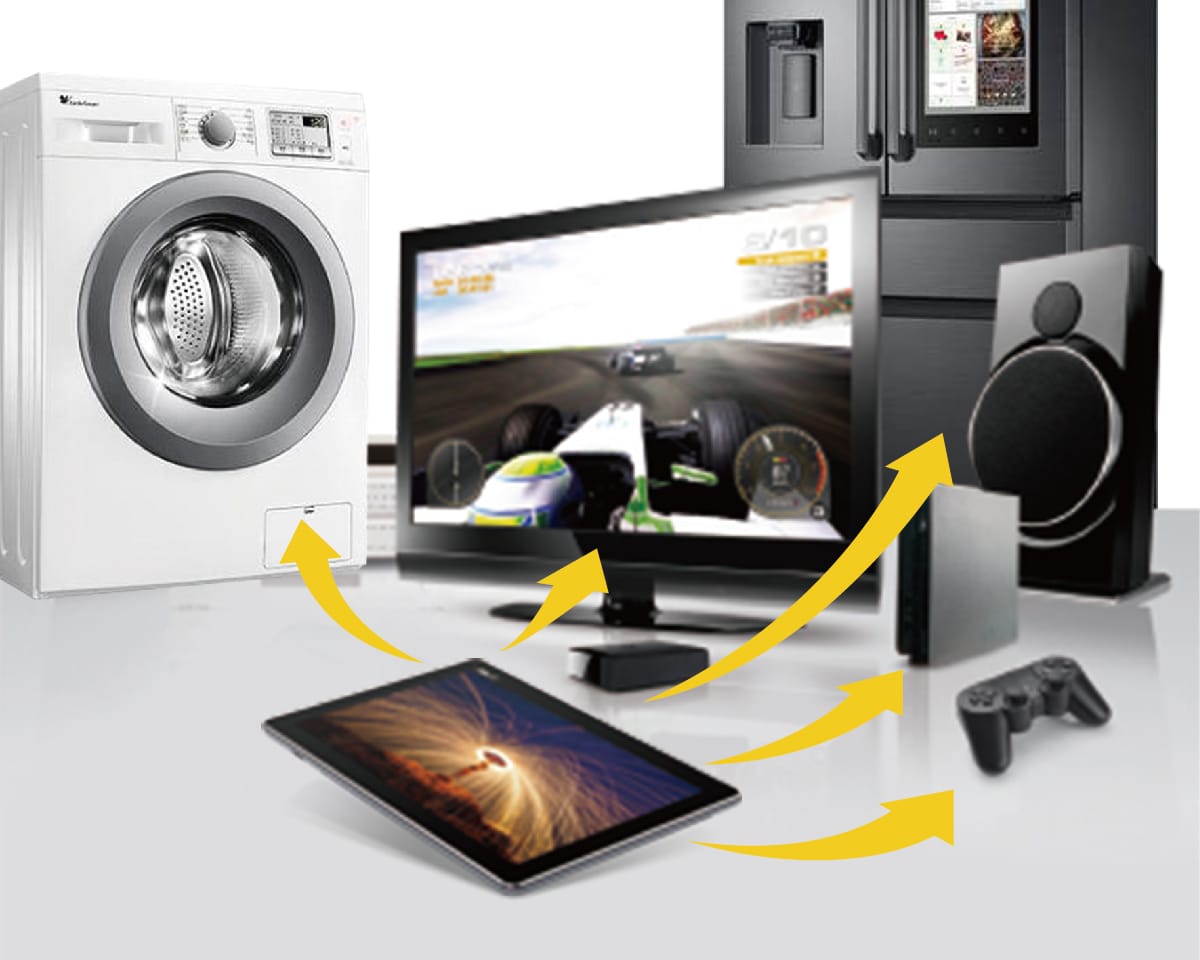 Interoperability Test Center
The objective of interoperability testing is to make sure our vendors' products can work harmoniously with different brands' in the market. Could Connected Problems in Smart Device Ecosystems be Solved?
As Machine to Machine (M2M) and IoT (Internet of Things) technology thrives, there are also some underlying issues that need to be solved. An IoT device passing functionality and performance testing don't mean that it will be interoperable with other connected devices in the ecosystem…
Wireless connection between IP Cameras and wireless APs always unstable?

A smart speaker not responding to voice commands?

USB Type-C displays cannot charge a mobile in wake up mode?
Why is the interoperability test crucial?
The increasing interoperability issues associated with a growing number of connected devices, which may deteriorate user's experiences and further destroy the company's brand reputation and business. Ensuring your device can connect with various devices is important. Allion thus provides the most efficient interoperability testing plans to assure your product perfectly works with the most popular products in the market.
Why choose Allion ?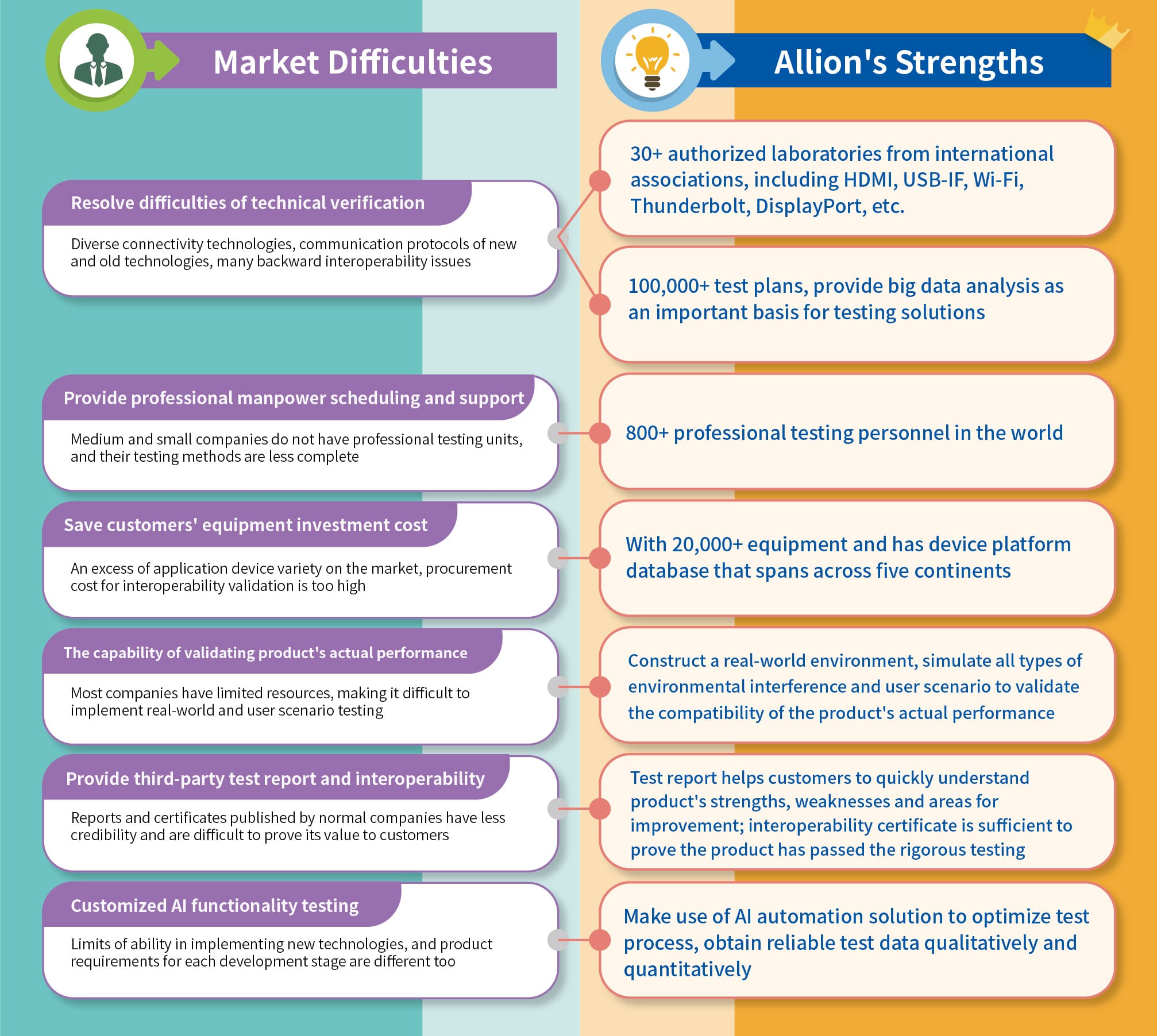 Allion Interoperability Services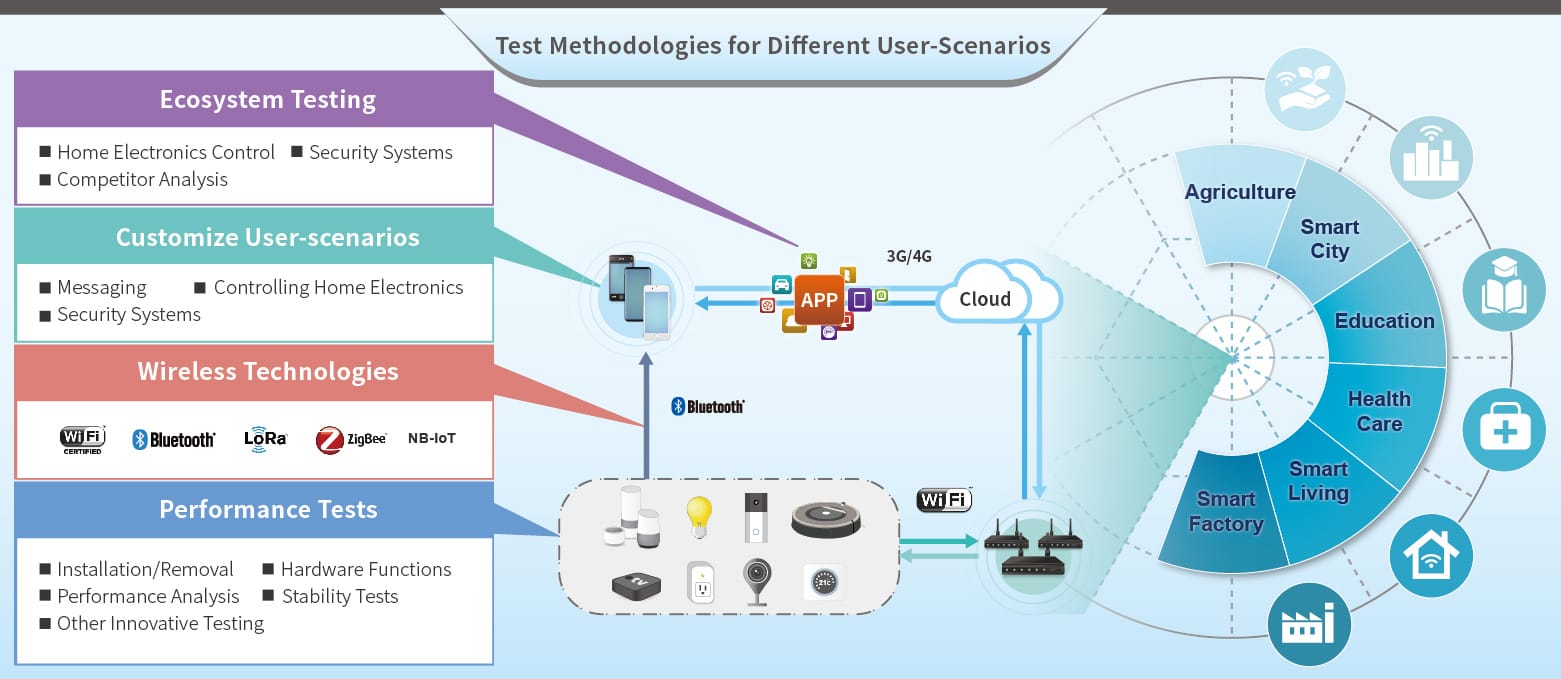 Allion's Validation Services
Other services
1. Certificate for Interoperability Testing
2. Debugging services
Finding the root causes of issues based on our accumulated experiences by utilizing the equipment for communication protocol and signal analysis.
3. Regression Testing
Providing solutions during the verification process, such as firmware/software updates or any other issues.
4. Customer Compliant Service Support
Assisting vendors in solving after-sales service problems, such as identifying customer complaint issues.
Global IoT Device Center  
Considering the fast turnover rate for consumer electronics, Allion constantly collects mainstream devices from different markets into our device library, cataloging over 10 thousand devices. Our global IoT device center aims to help your products interoperates with most popular products in your target markets.  
Interoperability Issue Case Study
Bluetooth® Interoperability: Issue
Based on Allion's issue tracking system analysis, connectivity issues account for 70% of Bluetooth® interoperability issues. Products featuring second-tier SoC with 40% of market share contribute most interoperability issues.

Common Functionality Issue:
Issue 1-The available Bluetooth® device name found incorrect on the mobile: the communication issue easily happens when the mobile is first paired with the Bluetooth® device, and this  may confuse and dissatisfy your users.
Issue 2– Disconnectivity after Pairing: According to our solid testing experiences, SoC embedded in the device may cause interoperability issues among devices.