Embrace Challenges when Implementing IIoT
Turn Your Obstacles into Opportunities
AI and IoT have dramatically changed the way industries function and operate. According to 2019 IoT Signals from Microsoft research,

Current challenges are:
Knowledge in Implementing IoT Technology
Horizontal and vertical integration of OT, IT, and IoT technical requirements
Employee training for digital business transformation
Enhance Efficiency of Manpower
Solve short-staffed issues and eliminate human errors
Provide new employees a seamless learning approach to the complex system operation
Increase Productivity
24/7 remote monitoring and preventive maintenance to avoid machinery failures and unplanned downtime
Quality deviation alert through analysis of manufacturing parameters
Optimize Operations
A cloud-based platform featuring data visualization which allows users to easily oversee multiple locations
Remote monitoring anywhere anytime
Cost Reduction
Power consumption evaluation and analysis to achieve power-saving

Avoid equipment stoppages and productivity decline via the preventive maintenance alert
---
Why Allion
Allion's cloud-based AIoT platform is capable of connecting and synchronizing data from multiple sources, e,g, sensors and equipment, to enhance management efficiency.
Our solution also supports real-time AI monitoring and analysis, and timely alert mechanisms to achieve high capacity utilization rate and productivity optimization.
Different from the ready-to-sell IIoT system solutions in the market, Allion has the following competitive advantages:
Customized solutions based on different scenarios
A Professional test lab that offers technical insight X quality service
Efficiently solve hardware connection and hardware & software integration issues based on over 20-year IT experiences in validation & debugging
AI Analysis for risk management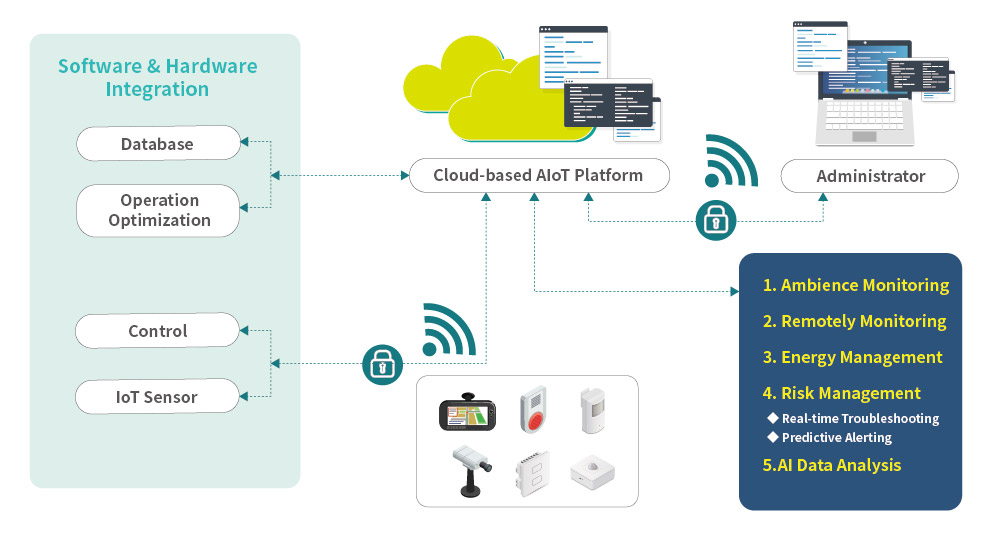 ---
Meet Allion Integrated IIoT Solutions
Preventive Alert X Anomaly Alert Notifications
User Friendly Design X Data Visualization
24/7 Real-Time Monitoring

---
IIoT Case Study
Case 1: AI Temperature & Humidity Monitoring
Temperature and humidity are important in maintaining suitable environments for different facilities. With Allion's AIoT Monitoring Platform, users can oversee their business operations 24/7, and monitor temperature and humidity in timely matters with alert mechanisms on APP, email, and SMS. Users can fix the issues promptly after they receive alerts, lowering the risks of damaging anything inside the facilities.
Case 2: AI Quality Monitoring in Construction Site
Air pollution, one of the biggest global issues, has been a threat to our health, climate, and food supply.Allion's AI Monitoring Platform enables users to monitor air quality in large and spacious fields.
Take a construction site as an example, Allion's AIoT Monitoring Platform can help the company maintain air quality in the ambient environment. The preventive alert function of our solution can also avoid the situation where the PM 2.5 level is elevated and exposed by whistle-blowers.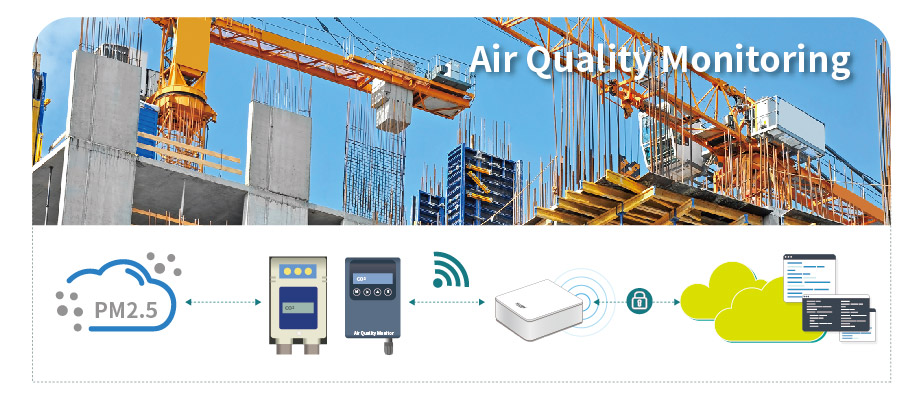 If you are interested or have any questions about Allion's Integrated IIoT Solutions, please contact us at service@allion.com