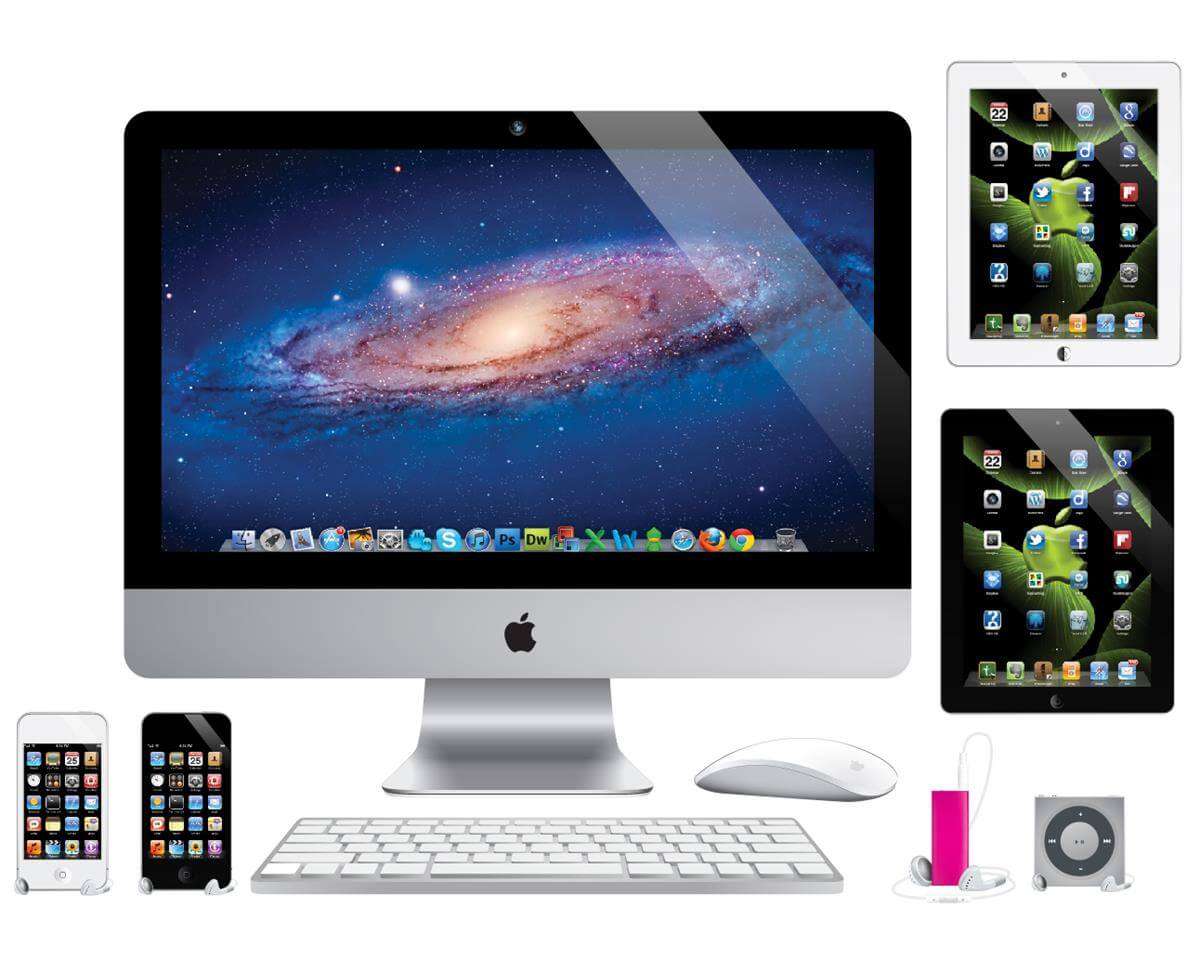 Apple Mac Test Lab
Apple Mac's increasing market share has driven the development of third-party peripherals. Vendors need to provide high-quality Apple peripherals that have good connectivity, stability, and functionality that work harminously with the macOS ecosystem, so as not to let consumers have a negative impression on the products due to interoperability issues.
A Test Lab with the biggest Mac collection
In order to satisfy our consumers' diverse and different levels of tests, Allion has, since 2010, been upgrading Mac models every year, including server Mac series, all-in-one iMac series, and portable MacBook.
In 2016, Apple replaced its multiport with the revolutionary Thunderbolt 3 port. In response to this trend, Allion equipped ourself with the required software and hardware resources at the very first time, providing vendors with interoperability testing services for Apple peripherals. In the past three years, the Test Lab's testing equipment has been in line with Apple's yearly upgrade, leading the industry by covering up to 100% of the model in every Mac series.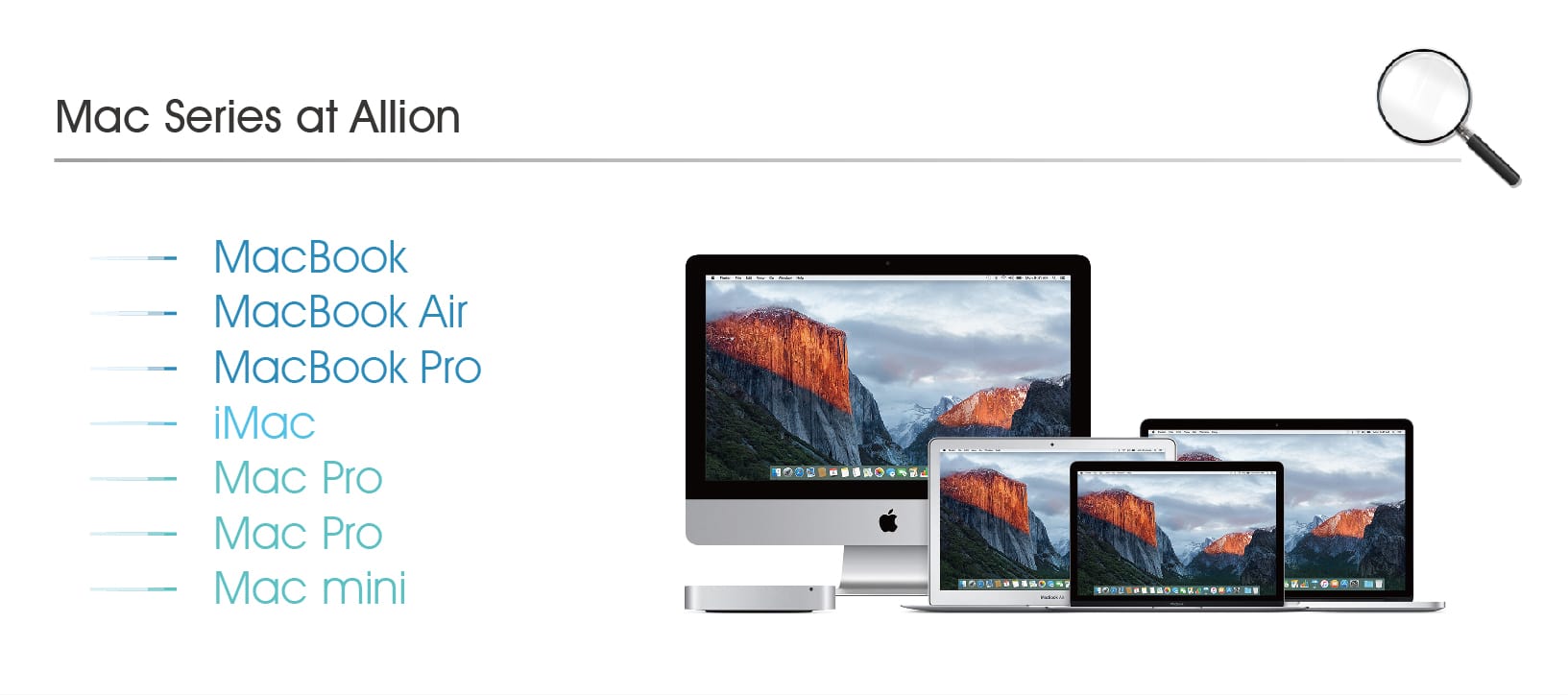 Apple launches a new version of macOS every year, and the content of the upgrade includes firmware, driver, and various OS core services, function corrections and built-in applications. When the latest macOS is launched, Allion is able to promptly carry out interoperability certification pertaining to software and hardware, such as USB, Thunderbolt, and AV devices.
This Test Lab is well-equipped and is continually upgraded, providing vendors the following relevant products' interoperability testing services to prevent consumers from encountering possible hidden issues.
Comprehensive testing services to detect potential risk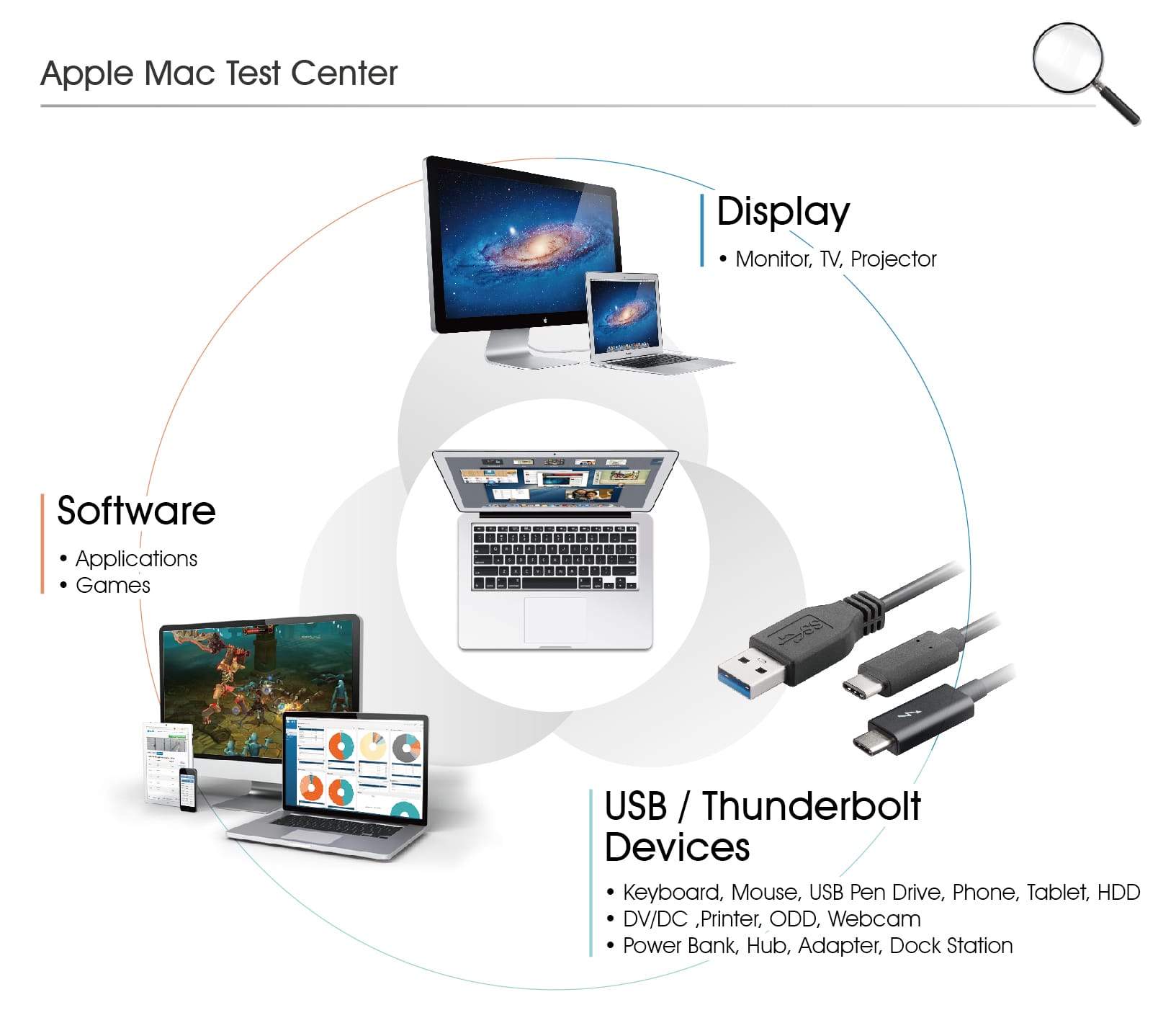 Based on Allion's years of testing experiences, display device, USB/Thunderbolt 3, and all kinds of software are most prone to interoperability issues with the Mac system.
Display devices
Nowadays, while users are pursuing more vivid and realistic audio-visual experiences, software and hardware specifications are getting more diverse. AV devices that support USB-C and Thunderbolt, or HDMI/DP interface connected through an adapter, when connected to Mac system, often encounter issues such as black screens, failing to support resolution, noises on the screen, and audio not transmitted, which significantly downgrades user experience.
USB/Thunderbolt
As notebooks are gearing towards a lighter and thinner design, various types of hub/adapter and docks have become a necessary extension device for the Ultrabooks that use the high-speed and new specification of USB-C/Thunderbolt interface. When these common peripherals are connected to the Mac system, issues such as being unable to identify, low transmission speed, or even improper power management operation or abnormal power supply may occur. Vendors have to be very cautious with such interoperability issues, vendors
USB/Application software
With the upgrade of macOS every year, ensuring own application service and software are compatible with the latest macOS is an important topic for vendors. From past testing experience, third-party applications are more easily affected after a system upgrade, and the most common problem is incompatibility of old version applications with new macOS, resulting in the software not executing smoothing.
Diverse solutions by Allion's Test Lab
Apple Mac Test Lab has the most complete testing equipment and latest macOS operating system, is able to simulate actual user scenario, and find out the pain point through repeat testing, focusing on connectivity, functionality, and stability of software and hardware.
On top of that, with Allion's testing experience on peripheral software and hardware, it is able to provide vendors with more diverse solutions. It provides testing service for Thunderbolt and USB Type-C, and standard certifications for VGA, HDMI, DisplayPort, etc., is able to execute tests of various aspects to improve product performance, and provides users with simple, stable, intuitive user experience, assisting vendors in winning consumers' trusts in the competitive Apple peripherals market.
Our Services