The Role of Smart TVs and OTT Set-top Boxes
Smart TVs have become the standard option for most consumers who are in the market for flat-screen TVs. Users can stream videos, play games, participate in video conferences, and more. The role of smart TVs in our everyday lives has gradually become more important. Smart functionalities in TVs have become necessary for sales. According to Strategy Analytics, from 2020 to 2026, the number of worldwide households that own smart TVs will increase from 665 million to 1.1 billion.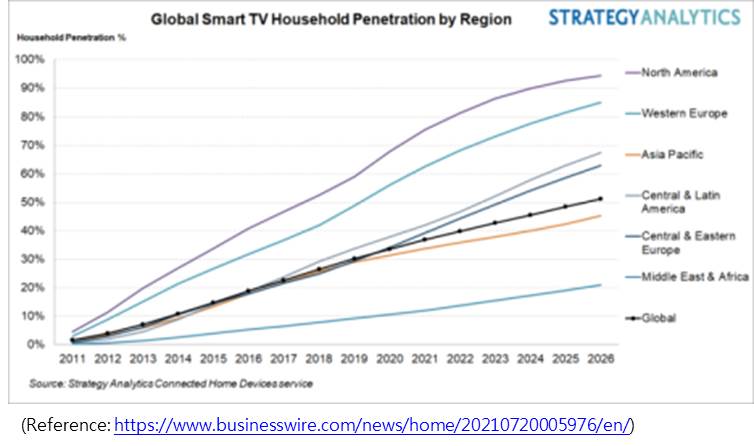 Another popular product is the Over The Top (OTT) Set-top Box (STB). The main function is to access the Internet and stream content without passing through exclusive broadcast networks such as satellites, cable, and others. In the US, OTT viewing has gradually replaced cable TV, resulting in users canceling their cable subscriptions. OTT has even attracted people who did not watch TV in the past to start viewing. According to the Technavio research report, it's estimated that the global OTT set-top box market will grow at 3% annually from 2021 to 2026.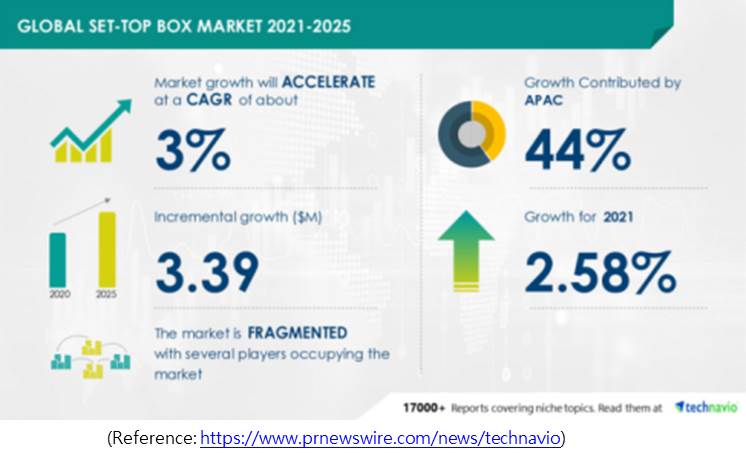 The Importance of Market Competitiveness and Consumer Needs.
When you're starting to enter the market, failing to understand users' needs and potential risks before launching the product is a fast road to getting negative reviews and low sales, especially with how fast word can spread on the Internet. This puts the manufacturer's investments at great risk, even having a chance of being eliminated by the market.
In the past, people's audio-visual experiences mostly came from shows and movies broadcast on their TVs. During that time, the resolution, colors, and sound output were more important than anything else. However, in modern times, TVs have become smart devices, having functions such as gaming, voice assistance, smart home management, and other various technologies. Consumers also consider user experience and online reviews in their purchasing decisions. These factors led to a change in the trend.
Common Issues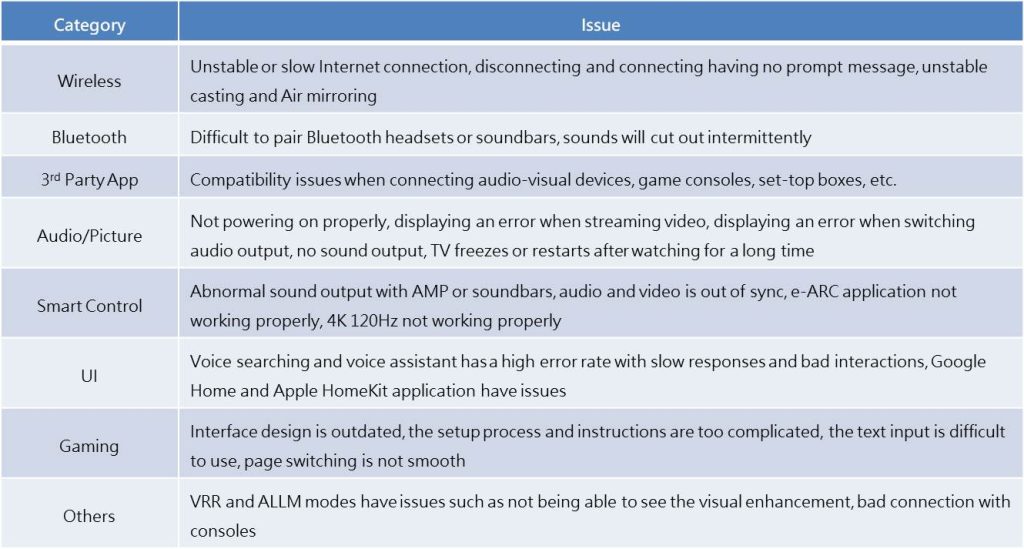 Market Analysis and Customized Testing
Allion has more than a decade of experience with testing smart TVs and set-top boxes and we continue to follow the latest market trends. We can customize solutions for our clients and provide in-depther analysis and results based on our experiences. Our clients can then receive evaluation reports and fully understand product competitiveness in their markets.
Professional Testing Equipment and Scientific Evaluation Standards
Allion can develop customized tests for our clients. With our professional test equipment and testing environment, we can provide our clients with trustworthy data.▷ Automated testing allows us to efficiently perform tests to ensure the discovery of low-probability or long-term issues.
▷ Modular testing allows us to expand or combine different testing functions for different user scenarios or client needs.
▷ Standarized tools allow for our test results to be comparable and repeatable, helping us discover and improve Wi-Fi and Bluetooth issues.
▷ Standardized environments do not allow external factors to interfere with test data or debugging.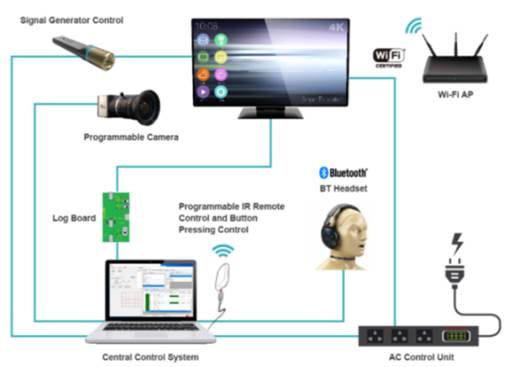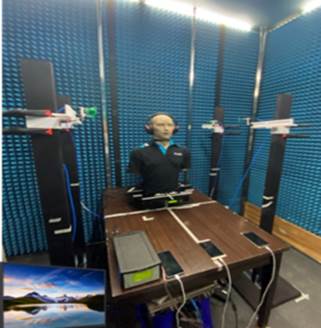 Our testing and evaluations utilize academic research to formulate scientific standards for each client's product.▷ For usability, user experience and performance testing, we formulate standardized testing criteria to assist our clients to improve their product design through competitive analysis.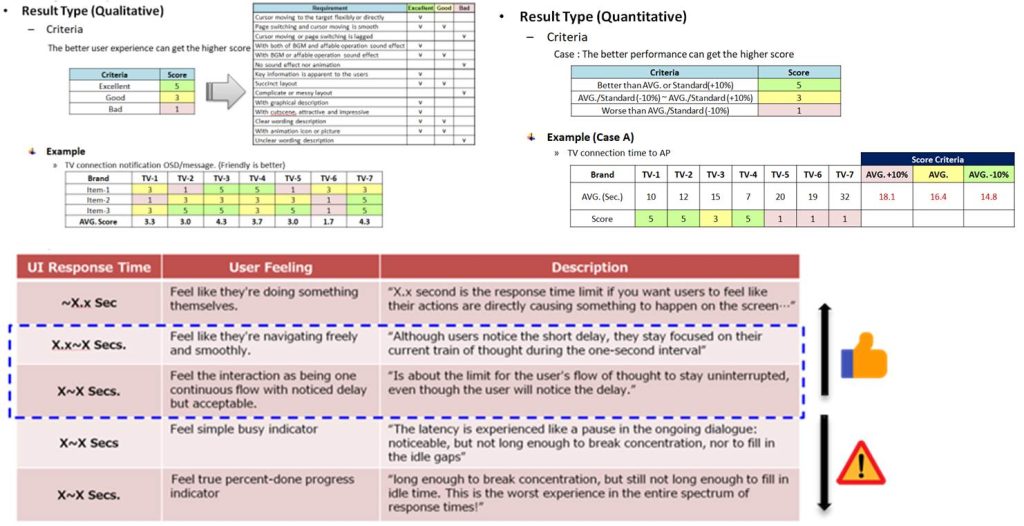 Analysis Reports and Recommendations
To save our client's time, we use visual methods to present key points to clients so they can quickly understand the problem at hand. For more important issues, further analysis is provided and suggestions are given to them based on our experience.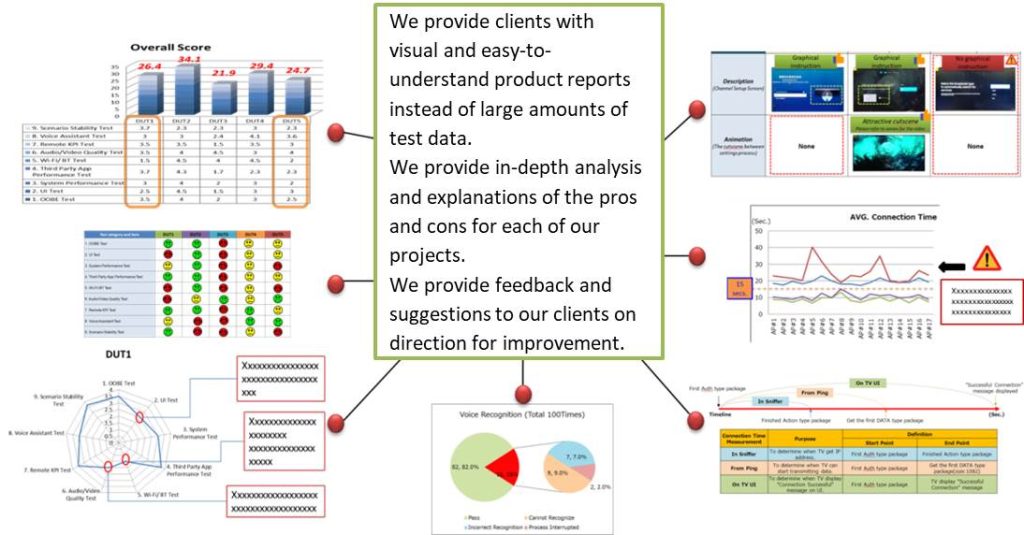 Related Services and Case Studies
Relevant testing case studies cannot be shared in this article today. If you're interested in the topics mentioned above and want to learn more, please refer to these links.
If you want to learn more or have related testing needs, please feel free to contact us . Our service team will gladly help you out.