In order to adapt to growing global market demand for mobile and IoT devices, Allion Labs constantly tracks the latest smartwatch trends from a testing and verification standpoint. This article examines these market trends and suggests possible product design improvements based on these insights.
In recent years, wearable devices have become hot consumer products. As these devices are now more powerful and easier to use, they also increasingly offer functions that were previously only available on their mobile brethren, smart phones and tablets, such as instant messaging, video calling, and multimedia streaming. The smartwatch segment of the wearable market also follows this trend, with more functionality and greater product differentiation, which translates to more choices for consumers.
Wearable Market Focus 2015—Smartwatches
According to IC Insights, a market research company, compared to the other four IoT Subsystems (Connected Vehicles, Connected Homes, Industrial Internet, and Connected Cities), Wearable Systems was projected to have the greatest IoT sales growth in 2015. Whereas the combined annual sales growth for the IoT sector was forecast to rise by 29% from $48.4 billion (2014) to $62.4 billion (2015), the Wearable Systems category was forecast to rise by 455% from $1.1 billion (2014) to $6.1 billion (2015), or roughly 4.3 times the growth rate for the entire IoT sector.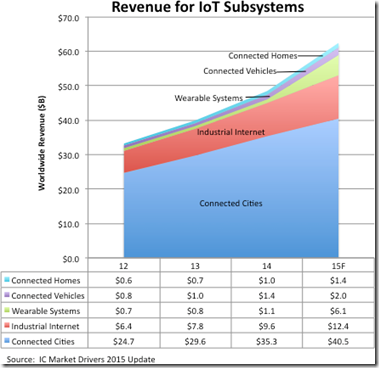 Revenue Forecast for Five IoT Market Categories (Source: IC Insights website, August 2015)
The main reason that IC Insights raised its projection for IoT-related revenues in 2015, showing much stronger growth in wearable systems, is due primarily to the launch of the Apple Watch in April 2015. According to IC Insights, the launch of the Apple Watch—jam-packed with ICs, sensors, and other components—provided a boost to semiconductor sales and unit shipments in the short-term. However, the long-term fate of the smartwatch segment continues to be debated. Whether smartwatches evolve into a major market category or remain merely a niche product, only time will tell.
Brands Strive to Promote Smartwatches, Push Up Market Value
The launch of the Apple Watch greatly expanded the smartwatch market in 2015. One market research company, Strategy Analytics, estimates that Apple sold four million (4,000,000) Apple Watches in the second quarter of 2015, capturing 75% of the market for the quarter, as shown in the table below. If these estimates are accurate, it means that Apple now holds the majority of the smartwatch market.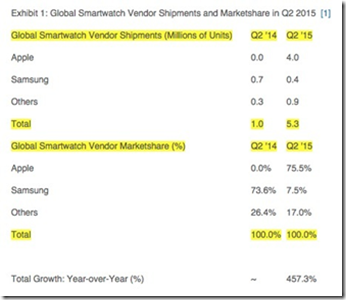 Global Smartwatch Vendor Shipments and Market Share in Q2 2014 and 2015 (Source: Strategy Analytics website, August 2015)
The success of the Apple Watch is due to effective branding, innovative design, and tight product integration with Apple's best-selling product – the iPhone 6 (+). Meanwhile, runner-up, Samsung sold an estimated four-hundred thousand (400,000) smartwatches, just one-tenth of Apple's shipments. At this point, the market for Android smartwatches is quite fragmented, since LG and Samsung are focused more on developing their own smartwatch operating systems that compete directly with the Android Wear smartwatch OS promoted by Google.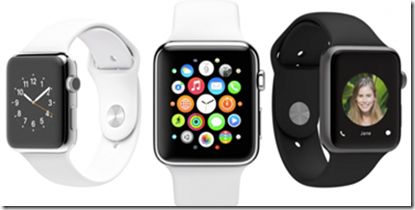 Apple's First Smartwatch—the Apple Watch (Source: APPLE website, August 2015)
There are three types of Apple Watch available: Apple Watch (Standard), Apple Watch Sport, and Apple Watch Edition. There are also two case sizes available: 38 mm and 42 mm. Beyond these options, there are a variety of watch cases, bands, and sizes—54 possible configurations in all.
A new and recent rival to the Apple Watch—Samsung's Gear A is available in three styles: Orbis S1, Orbis S2, and Orbis Classic. It is interesting that it comes in three styles, just like the Apple Watch. Some analysts theorize that Samsung is intentionally mirroring Apple's strategy of offering multiple smartwatch configurations.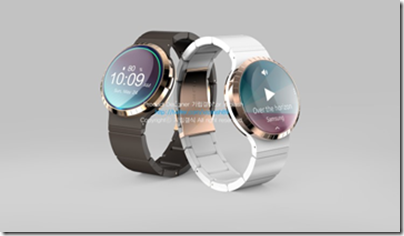 SAMSUNG's next smartwatch—Gear A has a circular watch face 
(Source: SAMSUNG website, August 2015)
Gear A boasts a circular watch face and includes Samsung's own Linux-based operating system, Tizen. Its on-board GPS allows the device to load maps faster and geo-locate without a paired smartphone, giving it an edge over the Apple Watch in terms of navigation. The Gear A is powered by Samsung's own 1.2 GHz Exynos 3472 dual-core processor (with a Mali-400 MP4 GPU). It also features Bluetooth 4.1, 802.11n Wi-Fi, NFC, a gyroscope, a heart rate sensor, and a 250 mAh battery.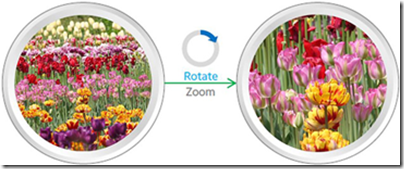 SAMSUNG's next smartwatch—Gear A rotating watch face frame (Source: SAMSUNG website, August 2015)
Samsung's next-generation smartwatch also includes a rotating frame, which allows users to enlarge the screen view. This feature is similar in function to the Digital Crown on the Apple Watch.
Exceeding User Expectations, Killer Apps are Key
Currently, most smartwatches are designed to pair with smartphones (via Bluetooth® technology), which function as information gateways, so that these watches can share phone notifications, such as text messages, email notices, or application alerts. However, smartwatches are not interchangeable, since they can usually only be paired with a limited number of compatible smartphones. For instance, Samsung's Gear A smartwatch only works with Samsung Galaxy series smartphones and the Apple Watch only works with iPhone 6 (+) phones. As a result, current smartwatches are more like smartphone accessories than standalone devices, since they require access to a compatible smartphone to relay useful information to their owners.
Allion Labs previously released a Smart Watch Test Report in 2013, which evaluated the three leading smartwatches (at the time) in terms of appearance, performance, and user experience. Many suggestions were provided in this report to improve smartwatch usability and overall user satisfaction. The report mentioned four main purchasing incentives: Product Design, Pricing, Innovative Function, and Battery Life. In the following paragraphs, we discuss the current crop of smartwatches using these heuristic categories. In addition to these four categories, we also consider the need for killer applications (apps) to move this product category from the early-adoption stage to mainstream acceptance.
As VentureBeat columnist Mark Sullivan points out, Apple reportedly sold 1 million Apple Watches on April 10, the first day of pre-orders, more than all the Android Wear watches sold in 2014. As a result, when consumers think of a smartwatch, they will now picture an Apple Watch, even though Android Wear devices were among the first generation of smartwatches available. Obviously, Android Wear smartwatches are simply not as alluring as the Apple Watch is to iPhone owners.
The cheapest price for an Apple Watch Sport is over US$300, almost double the price of the average Android Wear device. Such a premium price point means that many people cannot afford to buy one. Android smartwatch manufacturers should seize this opportunity and target these more price-sensitive consumers.
The Apple Watch raises the bar in smartwatch design, for both basic functionality and usability. It also offers tight integration with iOS system features. To remain competitive with Apple, Android smartwatch designers should respond in kind.
DIGITIMES reports that Android Wear smartwatches suffer from shorter battery life than the Pebble smartwatch, which can go without a recharge for an entire week. Smartwatch makers need to look for ways to improve this statistic or risk the wrath of consumers. The Apple Watch must be recharged every two to three days, but Apple believes this is not a problem because most of their customers are fine with charging their devices every night. DIGITIMES suggests that Apple may need 1 to 2 more years to improve the battery life of its smartwatch. This delay represents an opportunity for Android Wear developers to gain some market traction by increasing their battery life before Apple follows suit.
 Killer Application (Apps) 
For consumers, smartphones undermine the need for smartwatches; therefore they need to become more widely accepted as a necessity rather than a luxury item. Many analysts believe that until smartwatches become more than just smartphone accessories, most consumers will not see the need to buy one. What is missing right now is a killer application (app) that would stimulate consumers to purchase. This killer app needs to take advantage of the unique advantages of a wearable software platform.
Some analysts believe that potential killer apps could take the form of a Personal Digital Assistant (PDA) or mobile payment system (e.g. Apple Pay). On the other hand, other analysts believe health monitoring functions will be the key that opens consumer wallets. Many reports reveal that users expect wearable devices to support their health and fitness goals. Other potential areas of consumer interest include productivity and entertainment apps.
Strategies for Improving Smartwatch Quality
The ultimate success or failure of a consumer electronic device is not so much related to its technical specifications, but rather its overall design quality. To compete effectively, product vendors require communities of passionate users who can "sell" devices to their friends and family. In the case of Apple, its passionate fan base has allowed the first edition of the Apple Watch to smash all previous sales records in this product category. Apple's success is built on the premise that people are willing to pay premium prices for quality devices. Therefore, if other smartwatch vendors want to compete effectively, they should try to emulate Apple's formula for success and build brand advocates through quality design and engineering.
A typical smartwatch is equipped with sensors, CPU, battery, wireless transmitter, and display. The wireless transmitter is a critical piece of hardware that determines the speed and quality of data transfer. Whereas display size and quality are very important to users, touch displays also provide options for a variety of UI interactions. As a result, product designers should focus their efforts on the wireless transmitter and display, as these two components have the greatest impact on product quality.
In terms of data transmission, most smartwatches rely on Bluetooth® technology to communicate with external devices, such as smartphones. To reduce power consumption, most smartwatches now include Bluetooth 4.0 (Bluetooth® Low Energy/Bluetooth Smart). Bluetooth 4.0 has gained an early foothold in several industries, such as consumer electronics, PC peripherals, and automotive IVI systems, since these industries all require more energy-efficient wireless components. With Bluetooth 4.0, power consumption can be as low as one tenth that of traditional Bluetooth and peak current draw as low as 15 mA. Of course, product quality is not determined solely by wireless connection performance, but it goes a long way to improving smartwatch usability and extending battery life.
Allion Labs is a BQTF (Bluetooth® Qualification Test Facility) accredited by Bluetooth SIG that provides holistic Bluetooth® validation services to ensure product conformance with Bluetooth® specifications. Our BQE (Bluetooth® Qualification Expert) is also empowered by Bluetooth SIG to provide technical knowledge and consulting expertise. Together we can help your company make the move to Bluetooth 4.0 for extended battery life, IoT integration, and other product improvements. For detailed information about our Bluetooth® Qualification Service, please visit our website: http://www.allion.com/bluetooth.html
Since software systems and user interface designs are increasingly complex, Allion Labs also offers Software Validation and User Experience Optimization solutions that consist of scenario-based/behavior-driven testing, issue identification, and debugging support. By applying these solutions, Allion Labs can make your product development process more effective and user-centered. For further information, simply contact:service@allion.com. For more detailed information about Software Validation & User Experience Optimization, please visit our website: http://www.allion.com/ux.html