Video Capture Cards Are a Must

In recent years, live streams have become increasingly popular and video games have become the most popular type of content to stream. The instant interaction and constant presence of a streamer allow the audience to have a greater sense of participation, which can bring plenty of business opportunities in various industries. Popular streamers have even affected the sales performance of game developer companies.

With live video game streaming, it's easier to record and share content on a PC compared to game consoles such as PS5, Xbox, Switch, and others. The invention of the video capture card solves this problem as long as it's connected to a game console and PC. This product has rejuvenated the e-sports streaming market. However, video capture cards have several compatibility issues that can affect the live-streaming experience for both streamers and audiences.
What To Do When a Live Stream Starts Lagging
From our experience, Allion's e-sports consulting team found that the most common problem encountered during live streaming is there is no audio or the audio is laggy. This has caused a lot of trouble for streamers and audiences.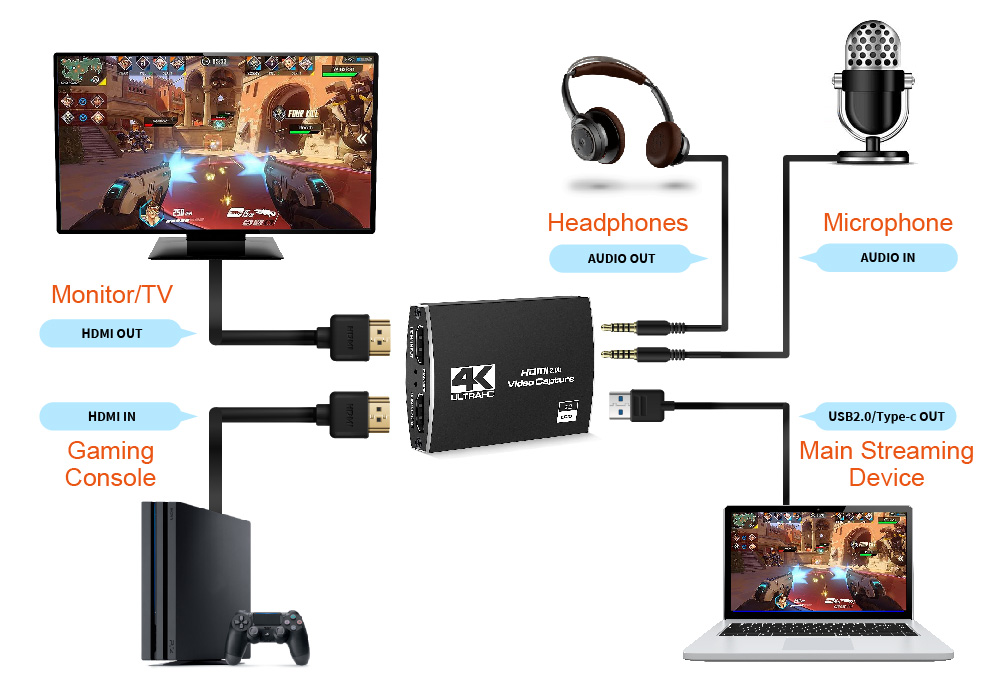 Figure 1: Common live-streaming user scenario
The Reason For Lag
Our e-sports consulting team experimented with the PS5 games first. The first step was to analyze and summarize the most common scenarios that streamers will be in, then connect all the devices that will be used (shown in Figure 1). The most popular streaming software was downloaded and used for this experiment. To simulate different streaming hosts, 9 different devices with various hardware specifications were experimented with, covering all possible scenarios. Lastly, 3 different video capture cards were chosen and applied to these scenarios, simulating a real user scenario that can help us discover potential issues that streamers encounter during their experience.
The table below shows the results of the experiment, which is when the PS5 gaming console is paired with an M2 Mac or Dell PC, audio issues such as no sound, low volume, or audio breaking up can occur.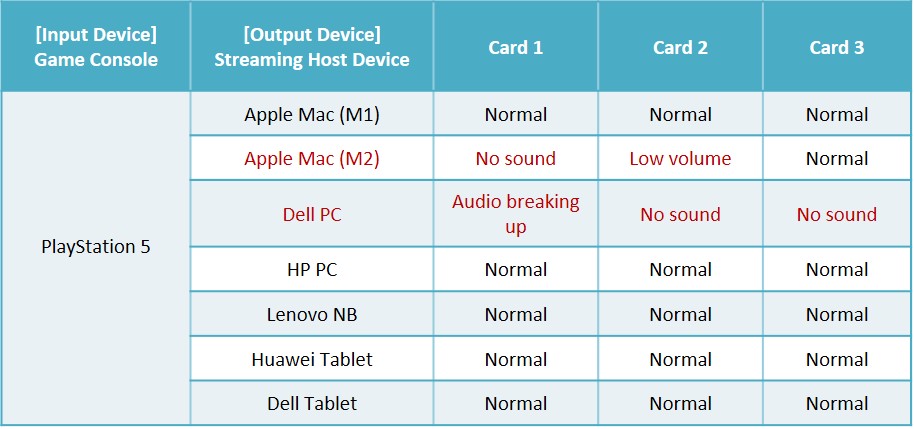 Figure 2 : The test result
Our e-sports consulting team further analyzed these audio issues and found two possible reasons for them:
Reason 1: Compatibility issues with built-in applications
Reason 2: Compatibility issues with the operating system and the audio card driver
Relying on experience, our e-sports consulting team took this issue step by step and finally solved these problems with a software update.
Our team also learned that other than the streaming scenarios mentioned previously, video capture cards also have usage scenarios for digital cameras, transcription of video and audio recordings, online meeting recording and screen sharing, and more. We can see that serious audio issues can only be found by simulating real-world scenarios like our team did, and there is much more to be found in other e-sports applications.
Faster, Easier, Better: The Most Trusted E-sports Product Testing Consultant
Our e-sports product solutions can also be applied to PCs, gaming consoles, microphones, headphones, monitors, or TVs. Allion can help you make your product development process more efficient and cost-effective. Our e-sports consulting team can assist you and your team to have a faster, easier, and better experience.
 Faster 
With industry-leading high-frequency and high-speed measuring capabilities, no matter what the product stage is, Allion is able to help our clients to further accelerate the product testing cycle for various standard or special specifications.
Quickly build an e-sports-related testing laboratory
Quickly design development verification strategies
Quickly obtain certification planning
 Easier 
By implementing AI and automation solutions, Allion ensures that every test is "qualitative, quantitative, and reproducible", helping our clients to improve product performance in a more efficient manner.
Provides less labor-intensive testing methods
Provides more efficient and cost-effective solutions
Provides more accurate results
 Better 
With more than 30 years of expertise, specialized technical team, and comprehensive testing environments and equipment, Allion is committed to providing clients with more improved quality of service based on extensive experience of User Scenario Testing.
Provides more complete user scenario testing solutions
Provides more complete verification testing plans
Professional issue isolation and debugging support

If you have any questions, please feel free to contact us through the online form. Our e-sports consulting team will work closely with you to maximize your value, allowing your customer base to have an amazing experience with your products!