Introduction to Ultra Short Throw Projectors
Recent years have seen the Ultra-Short-Throw (UST) Projector grow in popularity. While traditional projectors require a long throw distance to reach their maximum resolution, which is typically at 720P or 1080P, UST projectors require only a short distance of tens of centimeters from the projection wall or screen to achieve high-quality image results and a projection size of 80-150 inches. Many UST projectors support 4K UHD and are built-in with rich audio-visual streaming services, making them ideal for smaller homes and individuals.
UST projectors display images using Digital Light Processing (DLP), which passes light through a RGB color filter wheel and split it into red, green, and blue. A Digital Micromirror Device (DMD) then reflects the light back through the projector's lens and onto the screen to form an image.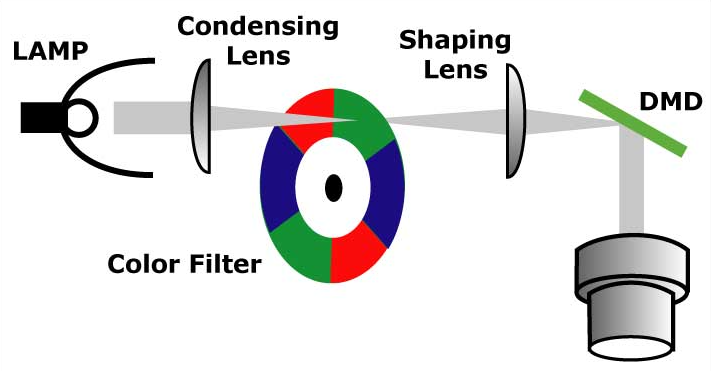 DLP (Digital Light Processing) is a patented technology of Texas Instruments (TI)
The term "Laser TV ", which is commonly used in the market today, actually refers to a type of product that combines an "ultra-short-throw projector" with a "special projection screen". Most projector manufacturers also sell anti-light curtains, which allow users to further enhance image brightness.
© Hisense
Market Potential and Main Models of Ultra Short Throw Projectors
The global ultra-short-throw projector market size is estimated at USD 1.2 billion in 2021 and is expected to reach USD 7.0 billion by 2028, at a CAGR of 28.56% during the forecast period.
Since 4K laser UST projectors launched in 2019, their sales have increased by 25-40% annually and grown even better following the COVID-19 pandemic. By 2024, sales of 4K laser UST projectors are expected to expand sixfold.
UST projectors are not priced particularly attractively. Most mainstream models start somewhere above USD 2,000, which is considered high-end for home entertainment equipment. That said, the market price for big-screen TVs has continuously declined, adding to the popularity of UST projectors as alternatives to traditional TVs for displaying 100-inch images.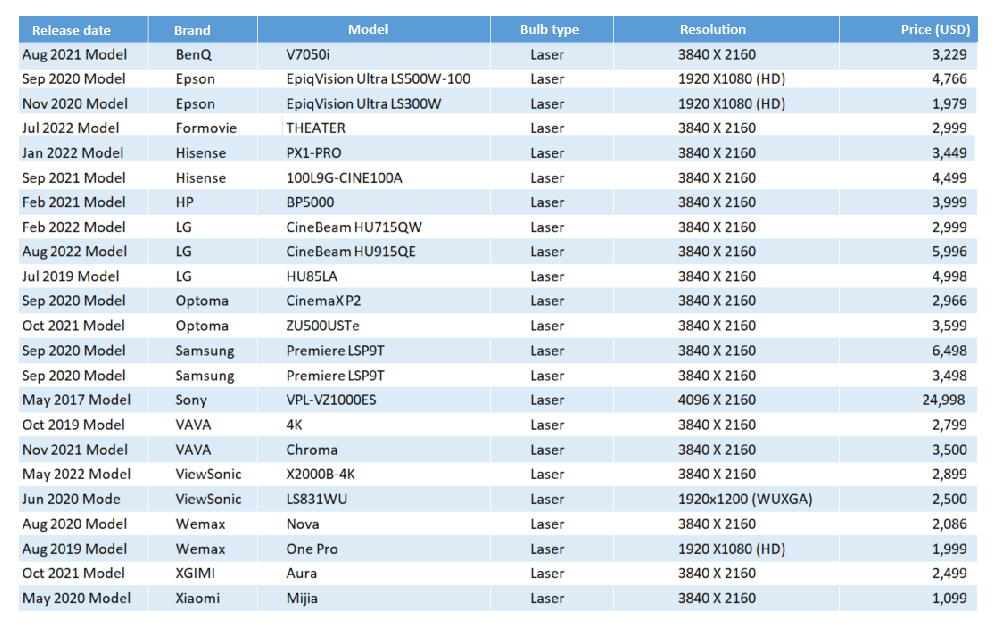 Prices of mainstream UST projectors in the market
UST Projectors vs. Traditional Projectors: Difference in Required Projection Distances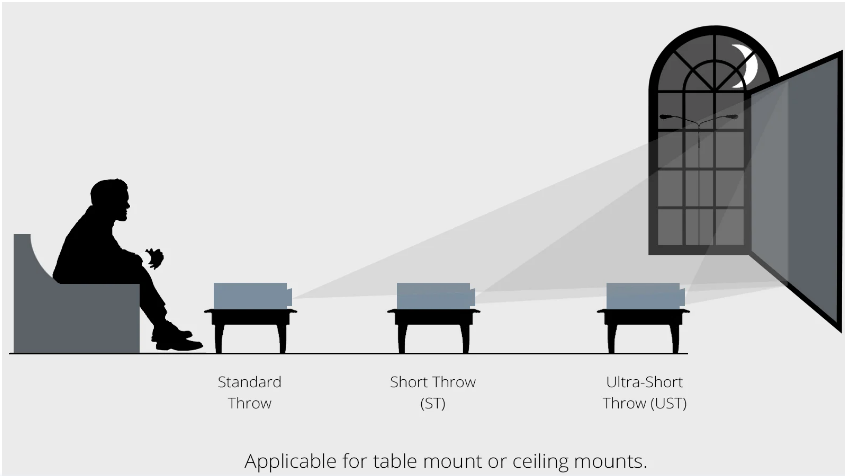 The throw ratio of a projector is calculated by dividing the throw distance by the width (rather than the diagonal) of the screen. For example, a projector mounted two feet from a screen that is 5 feet wide has a throw ratio of 2÷5=0.4.
If a projector has a throw ratio of no larger than 0.4, it can be considered an ultra-short-throw projector.
For those with small living rooms but who want a large projection, UST projectors are an ideal option, as they can be placed mere inches away from the screen or wall. Generally speaking, an ultra-short-throw projector only needs to be 20-30 centimeters away from the wall to project an image of 80-100 inches wide.
Diagram of the minimum distance requirements for UST projectors, which may vary depending on the model
Advantages of UST projectors
UST projectors require very short focal lengths and are usually used with anti-light curtains of 100 inches or above. There is no need to install additional wiring or mount the projector on the ceiling since most projector hosts can be placed on the TV cabinet in the living room.
Traditional projectors, on the other hand, are typically mounted on the ceiling and can be used with ordinary projection screens, but require separate wiring, making it more labor-intensive. Usually, a 100-inch screen can only be obtained when the focal length exceeds 3.5 meters, which is difficult to achieve for small-sized families.
Additionally, ultra-short-throw projectors use solid-state lasers as light sources, whereas traditional projectors generally use ultra-high-pressure mercury lamps. The life of the laser light source generally reaches more than 30,000 hours. If calculated based on 8 hours per day, the lifespan of the ultra-short-throw projector is estimated to be 12 years, which is better than the lifespan of traditional projector bulbs (about 6 to 8000 hours).
UST projectors are still generally considered high-priced audiovisual products. Most UST projectors support 4K UHD specifications, HDR10, and high-quality audio I/O, and provide at least two channels of independent built-in speaker components as well as Bluetooth expansion support. In contrast, the majority of traditional mid-to-low-price projectors only support 1080P FHD with basic functions.
In terms of color rendering, each UST projector manufacturer has its unique technology and usually puts more emphasis on having a color spectrum and accuracy close to high-end TVs than traditional projectors. Also, like the design of smart TVs, most UST projectors have independent processors and memory to run Android or their own operating systems, elegant user interfaces, and rich content for streaming. All of these are a great leap forward from what a traditional projector can do.
Note, however, that there is ambiguity in the brightness (lumens) declared by the manufacturers. Many manufacturers will advertise their products in terms of "LED lumens" or "bulb brightness" instead of ANSI lumens, but do not obtain results based on the international ISO21118:2020 testing standard. They may use internal test methods or even merely convert numbers. This may mislead customers and should be considered before purchasing.
Refer to the link to learn about the lawsuit filed by EPSON.
The I/O interfaces of UST projectors
UST projectors may support a variety of input interfaces and wireless connection options, providing users with a wide selection of audio-visual input sources and external audio equipment.
Below are the main interfaces.
USB 2.0 or 3.0: Supports USB thumb drives, external hard drives, and playback of audio and video files directly from external devices
HDMI 1.4 or 2.0/2.1: Supports ARC, Advanced eARC and 4K UHD 30P/60P input
RJ45 100M/1000M wired network: Some support DLNA domain NAS file sharing
S/PDIF: Supports optical audio input
5mm Audio: Supports traditional analog audio input
BT function: Supports Bluetooth speaker/headphone output, keyboard, and mouse
Wireless function: Supports Miracast®, AirPlay, and other wireless screen projection. Some models (LG) have built-in Google Assistant and Amazon Alexa, and Chinese brands may have built-in XiaoAi.
Moreover, different brands of UST projectors sold in different regions may come with different streaming services, such as Disney+, Netflix, and YouTube, and can be linked to social media platforms such as Twitter, Facebook, Instagram, etc.
UST Projector FAQ
Allion is well aware that due to the complex user interface and product features, customers can easily encounter problems or have poor experiences when using UST projectors and peripherals, which may negatively affect their user experience and lead to complaints and even product returns.
Let's look at some of the incompatibilities observed by us when testing these projectors: (Test results collected from 2019-2022)
Inability to project using specific MHL cables
Noise, snowstorms, or image overlaps when changing projector resolution
Black screen when switching input interfaces
Failure to maintain 4K 30Hz resolution when re-plugging in HDMI cable after STB connection
Weird color distribution once Apple TV 4K is set to 1080P HRD
Inability to detect signals when using a Sony player and switching the resolution to 720x480i @60Hz
CEC power linkage failure when connected to Xbox
OSD showing wrong 4K resolution information when connected to Sharp1 player
Resolution downgrades from 3840×2160/30p to 1080/60p after reinserting HDMI cable
The need to press the DUT's Bluetooth remote control several times to restart after turning off DUT and player
Inability to project wirelessly on the DUT with some commercially wireless mobile phones
Breakups of sound when the DUT is connected to certain Bluetooth speakers
Occasional abnormal imaging when connecting to the DUT via a PC
We took a closer look at the six most-reviewed UST projector models on Amazon. Here's the feedback for 1-3 star reviews: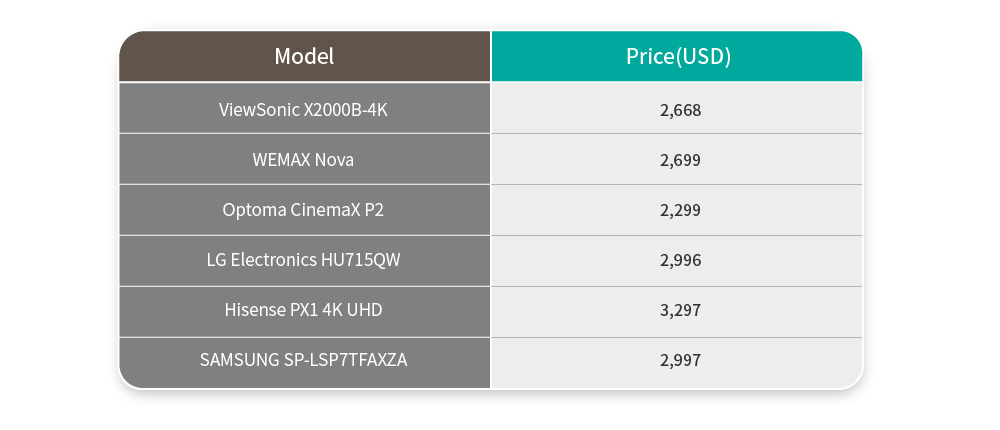 Issues reported by customers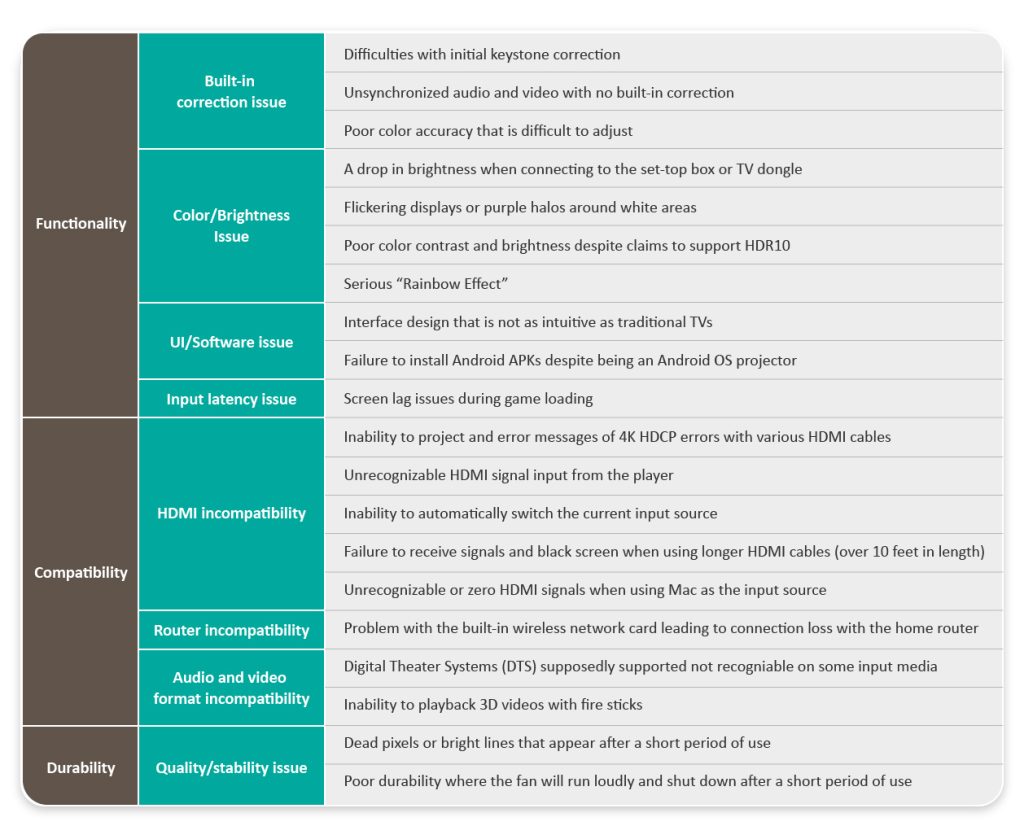 Apart from the functional issues of the projector itself, such as color, brightness, contrast, and durability issues, it can also be observed that UST projectors have quite a few compatibility issues just like traditional TVs or projectors. Since these projectors are new and expensive, consumers have high expectations for their quality and compatibility. Considering the constant evolution of peripherals and operating systems, selling defective UST projectors in the market without rigorous testing can harm the brand image.
Recommended Testing for UST Projectors
Based on years of projector testing experience and taking into account the current features and interfaces of UST projectors, Allion recommends the following test items during each development stage. Our recommendations can greatly assist clients in testing various mainstream peripherals and input devices available on the market before the official product release, thus reducing the likelihood of complaints and customer dissatisfaction.
Compatibility Test
Target devices:
PC/Mac/Game console/Mobile phones/DVD players/Blu-ray player/external hard drives/thumb drives/HDMI cables of different brands and lengths/home router/Bluetooth speaker/AMP & amplifier/Sound bars
Functional Test
Customized inspection based on product features
Plug & Play/OSD/Power function/CEC/ARC/Input switch/Video/Audio/Build-in APP
Stability Test
Identify potential product durability issues by playing for extended periods and paying attention to fan noise and power consumption
WiFi/BT Test
Thorough inspection of wireless features that are susceptible to environmental factors
Wireless Performance Test: Throughput/ Co-existence/ Idle
Wireless Connectivity Test
Global Streaming Service Test
Online streaming services are all the rage now, which is why most high-end projectors have various streaming services built-in. If your development or production location has restrictions on streaming services, Allion can assist in providing various streaming environments with peripheral devices for verification.
Allion has decades of experience in consumer electronics compatibility testing, and has tens of thousands of various peripheral devices to meet customers' compatibility testing needs. In addition to compatibility testing, we also service customized function verification based on each product's unique specifications. Please do not hesitate to contact us with any projector testing inquiries or questions you may have.