The Key of the Next-Gen Smart Cockpit: Common Issues for Car Voice Assistants
With the rapid development of AI technology, the user base of car voice assistants has grown in recent years. According to a research report on China's car industry, 28% of new cars in China are built with voice assistants. In 2020, 64.8% of cars in China were configured with voice assistants, and in 2021, it continued to increase to 86%.

Currently, technical issues related to "smart driving" make it difficult for development. However, the development of the "Smart Cockpit" is relatively easier. Therefore, various manufacturers have made efforts to promote this concept and have tried to obtain unique advantage differentiation for the smart cockpit. And one of the most important parts of the driver's seat is the In-Car Voice Assistant.
More and more car owners are now in the habit of using voice assistants when driving. Systems such as Apple CarPlay, Android Auto, and Amazon Echo Auto all provide voice assistants with different features. The current state can be divided into several major voice assistant service providers, as listed below.
Automobile Manufacturers (BMW, Benz…)
CarPlay(Apple), Android Auto(Google)
3rd Party Developers (Cerence, iFlytek…)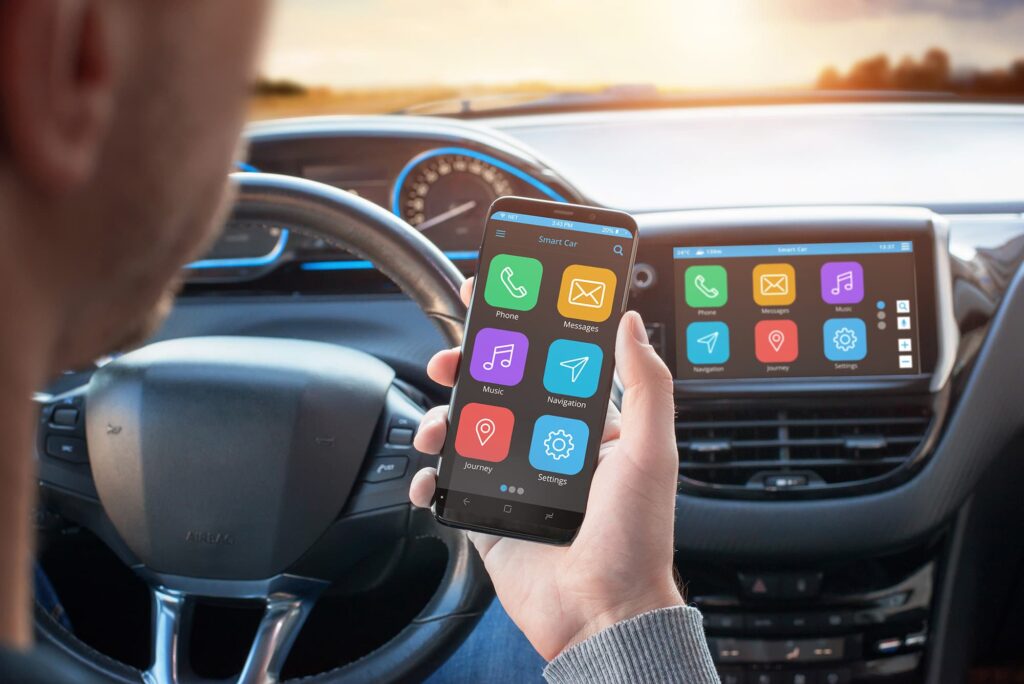 Regardless of how a product is developed, it's necessary to consider the issues that consumers care about when purchasing, the condition of the products, and how they compare to other manufacturers. These are important factors that should be considered during the design process. Just as the saying goes, "If you know the enemy and know yourself, you need not fear the result of a hundred battles."
Features and Common Issues
The in-car voice assistant industry chain has become increasingly complex in recent years. With various cooperation models between upstream, midstream, downstream, and third-party suppliers, the boundary between supply and demand has been blurred. Now we manage to divide them into different sources as below
Automobile Manufacturers
When a can manufacturer has enough development capabilities and resources, it will launch its own in-car system and car voice assistant functionalities.
Some manufacturers will brand voice assistants as one of the added features of their products. Their development abilities are relatively weak, so they will often choose to cooperate with other manufacturers to help them with development.
Some manufacturers will brand car voice assistants as one of the selling points. Most of these manufacturers have a certain degree of development capabilities, and will often develop it themselves.
However, car manufacturers themselves may not have sufficient capabilities or resources for maintenance and application management of the software and hardware.
CarPlay (Apple), Android Auto (Google)
CarPlay and Android Auto were developed by Apple and Google, both software equipped with in-car voice assistant functionalities. They allow users to quickly connect their phones to their cars.
Using these systems has advantages such as product ecosystem, cloud integration, and large amounts of user data.
These companies already have lots of experience and good quality
they already have their voice assistant ecosystem for different products, and the software has powerful voice recognition capabilities.
However, car manufacturers cannot customize these products as much, leading to compatibility issues with their car system, such as switching or linking between pages or functions. This may require additional resources to maintain the quality.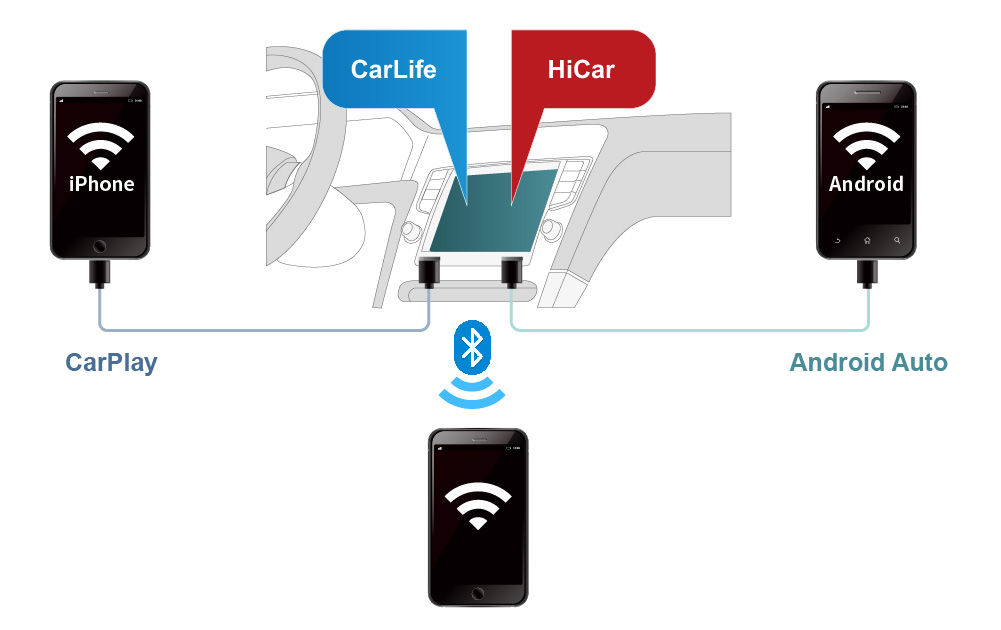 Third-party Developers
Some manufacturers do not want to reduce the amount of design flexibility and they want to ensure their consumers' data is stored on their platforms. In this case, they may cooperate with third-party developers, such as Cerence or iFlytek, to launch products together.
These developers provide an integrated solution with a high degree of freedom in design, allowing the manufacturers to save the consumers' information.
These developers have lots of experience and also powerful voice recognition software. For cases with multiple vehicles, they can also provide other voice technology application solutions.
However, third-party developers need to utilize other platforms to process data from different sources, such as third-party development app operation interfaces, speech recognition engines, car manufacturer information, user data information, map information, etc. Ensuring that the validity of different sources may be a big issue or risk.
Compatibility with the automaker's systems may also cause issues, requiring additional resources to maintain the quality.
Potential Risks
Here we've listed the issues that may be of concern for car owners. Some of these risks may cause driving safety, which shouldn't be taken lightly.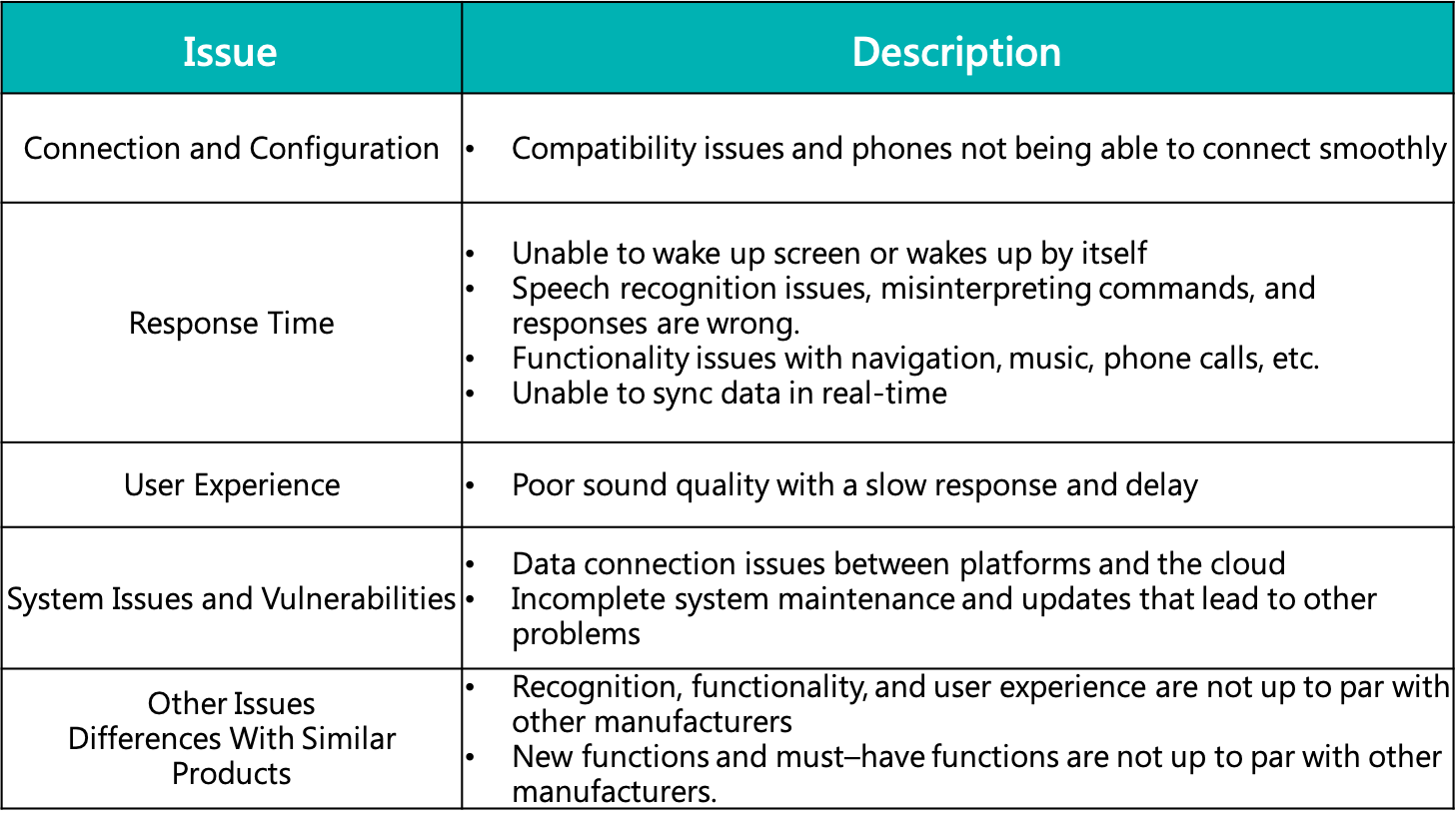 Allion Labs Test Plan Consulting
Allion labs designs test plans for in-car voice assistants on new and popular models. We also adjust the test content according to the current market situation and customer needs. Some examples are listed below.
Connection and Configuration


Response Time
With pre-planning and professional equipment, Allion evaluates the compatibility, recognition software, and functionality levels that consumers care about with: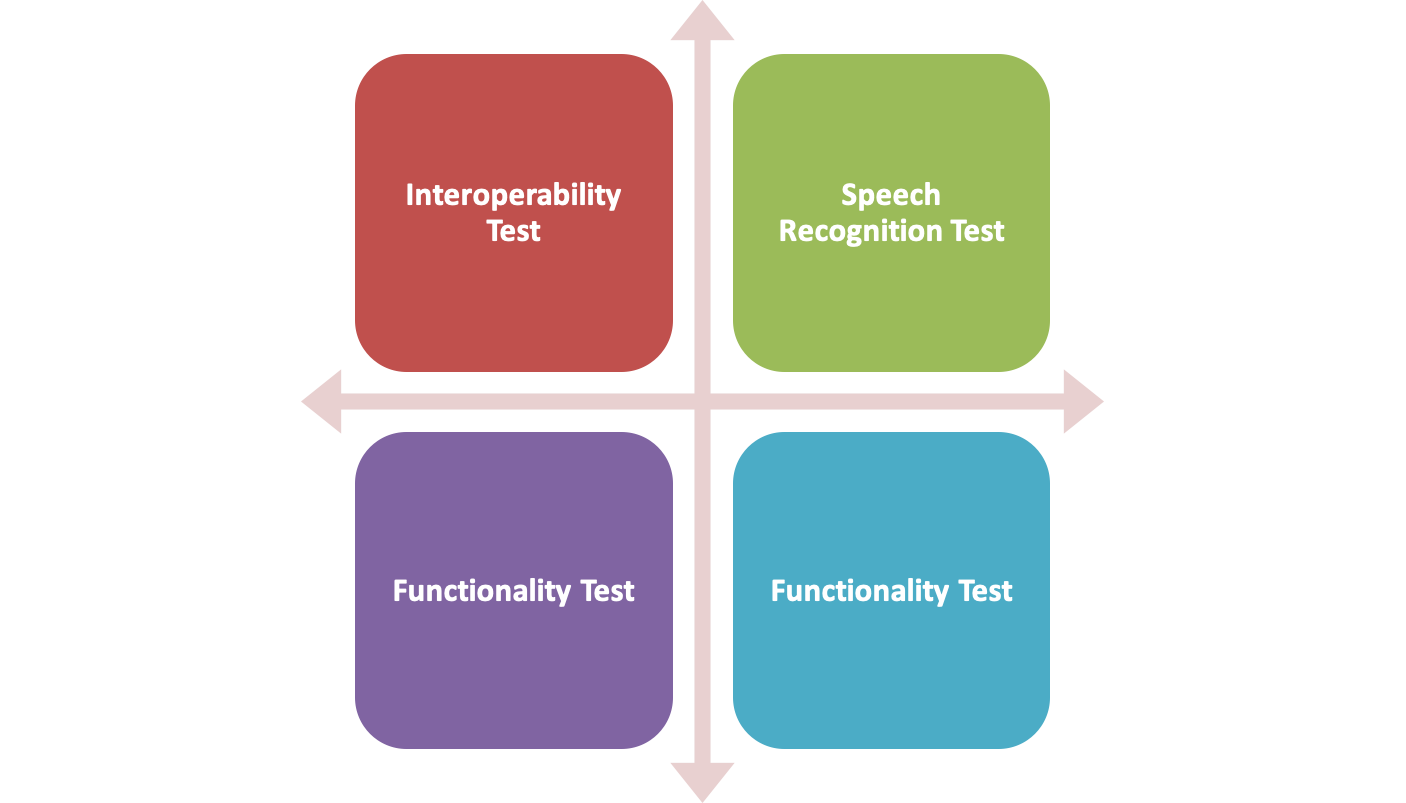 User Experience
Next, we evaluate the user experience with different user scenarios:
Usability / Performance Test
System Issues and Vulnerabilities
We design a test plan according to the development conditions, environment, and maintenance updates.
Verifications related to cross-platform and cloud data connection
Maintenance and update testing
Differences With Similar Products
Lastly, we analyze and compare the results and functions, providing a competitive analysis report for our clients:
How good are the voice recognition software, functionalities, and user experience?

Analysis from test results

Are there enough functions compared with other manufacturers? Is there support for new functions?

Analysis from comparison with others
Debug Consulting 
Allion Labs will formulate different strategies for dealing with verification according to which stage your product is in. Below are some examples.
Bug Verification Before Official Release
Before the SW version is updated, Allion assists our clients in verifying solutions for bugs, ensuring the release of the SW version won't have issues. Otherwise, a re-release or back-and-forth discussions are needed, which can lead to unnecessary resource consumption.
Bug Verification During Regular Testing
During routine SW testing, all types of issues will be found. Allion can ensure key points such as reducing issues, step-by-step clarification, issue-related clarification, fail condition troubleshooting, and more. this helps our clients save time and quickly find key points that can be lost in long discussions, especially during the SW development process when versions are constantly updated.
In addition, we can provide flexible and instant discussions of solutions. Through intensive real-time communication and discussions combined with test plans and debugging consulting, we can effectively help our clients solve difficult issues.