USB-C has now been adopted in the newly released iPhone 15 after using the Lightning port for many years. In addition to its excellent charging capabilities, USB-C has gradually replaced other interfaces such as HDMI, DP, VGA, and others. The biggest reason why Apple made this decision could be because of the Directive (EU) 2022/2380 that was announced by the European Union in 2022. It states that starting from December 28, 2024, mobile phones, tablets, wireless headphones, cameras, and other related electronic products within the EU must use USB Type-C connectors for charging purposes.
Potential Risks and Solutions of USB-C to HDMI Adapters
Most TVs support HDMI, but to output displays from USB-C products to the TV, users must use USB-C to HDMI adapters. So now various USB-C adapters have emerged in the market. Based on Allion's decades of testing experience and collected data, we found a major problem regarding these products. It was found that sometimes when you connect the adapter, you can only output video but not audio.
After our professional team analyzed this issue further, we found the possible cause of this issue. When a computer or mobile phone is connected to a TV with this kind of product, the source end fails to read the EDID of the display device. This causes the computer or mobile phone to mistake the TV as a DVI device instead of an HDMI device. Due to DVI devices not supporting audio transmission, this leads to the result of successfully transmitting a display but there is no sound.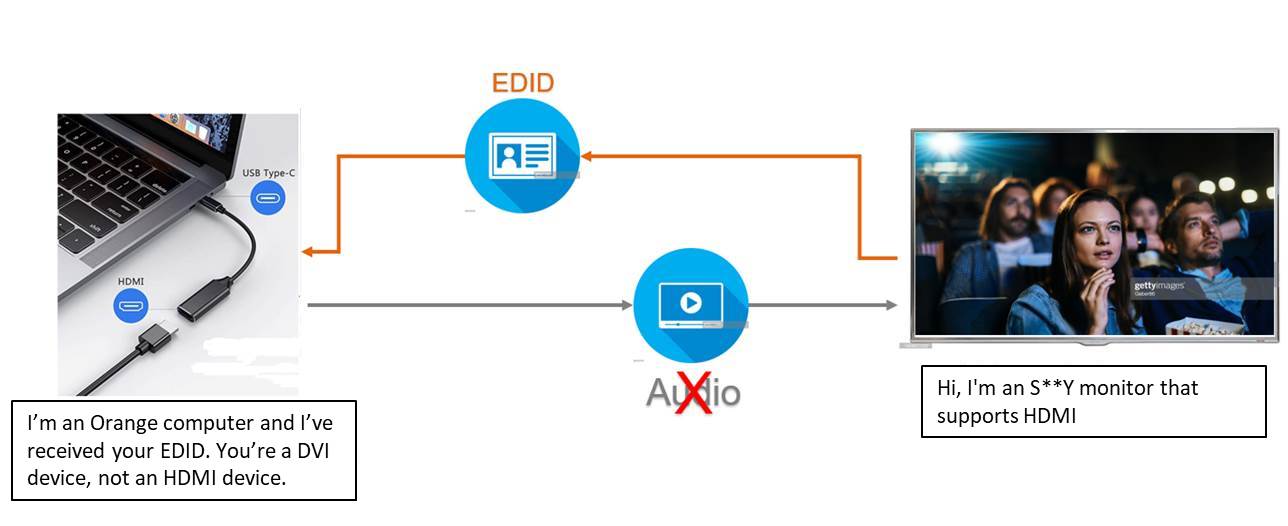 Most USB-C to HDMI Adapters claim to support HDMI 2.X, but these types of products cannot receive official HDMI 2.x ATC certifications. Most related products in the market today have not gone through relevant product verification and testing, which causes users to encounter issues. For issues like returns or customer complaints, Allion's USB-C to HDMI Adapter EDID testing services can help clients verify the capabilities of reading and identifying EDID data through their adapter. We can help clients find potential risks of USB-C to HDMI adapters and assist them with those issues.
Faster, Easier, Better: The Most Trusted Customized Consulting Service
As a professional testing and consulting company, Allion not only supports the clients obtaining logo certification, but we also utilize our decades of experience to conduct customized testing for various clients, providing them with the best service we can.
With plenty of experience, Allion designs customized testing plans for USB-C to HDMI products, providing the best consulting services for our clients and helping them eliminate issues they may encounter. This ultimately reduces the possibility of users returning their purchased products.
Customized Testing and Consulting Services: HDMI certification does not apply to these products, but Allion can ensure the connection between devices works properly through our test and verification items. Compatibility testing and user scenario simulations will also be conducted to ensure your products do not fail during use.
Compatibility Test
User Experience Test
Competitive Analysis and Consulting
Faster
With our rich testing experience and collection of testing equipment, we can provide clients with fast and accurate certification planning that effectively shortens the certification schedule and helps clients quickly obtain HDMI certification. Allion have a complete range of USB and HDMI testing equipment that can ensure compatibility amongst different kinds of USB and HDMI products, helping you with your quality control along the way.
Quickly build a USB and HDMI ecosystem testing lab
Quickly design development verification strategies
Quickly obtain certification planning
Easier
Allion has a complete range of hardware certification testing equipment and testing environments. With our testing solutions, we can ensure each client's certification process is qualitative, quantitative, and reproducible. We can assist our clients in obtaining accurate test results easily, ensuring the quality and performance of their products.
More accurate test results
Provides professional issue isolation and debugging support for our clients to make product development more convenient.
Better
Not only does Allion have professional teams with decades of experience, but we also know how to design quantitative tests and user scenario simulations, allowing our clients to comply with requirements and user expectations. Allion's professional teams can also provide suggestions for product modifications, assist with supplier management, and help with specifications requirements from international associations during product development. This further enhances the quality of our client's products, ensuring high standards that comply with international specification requirements.
Provides a better and more complete experience for brands to establish ODM ecosystem plans
Provides more complete user scenario testing solutions

If you have any requirements, please contact with us.