Keyboards and mice are the most commonly used human interface devices (HID) with electronic systems. In the past, mainly wired connections were used with them, but now Bluetooth connections have become mainstream. You might have even heard of the scenarios mentioned below. For example, using Bluetooth headsets for an online meeting, Bluetooth keyboards, Bluetooth mice, or other devices. However, when Bluetooth devices are used with other wireless devices, connection issues can occur, resulting in a poor user experience that affects the brand image and increases returns for the product.
To deal with these risks, Allion can provide user scenario simulation tests to see whether Bluetooth devices will encounter issues in various scenarios. With our rich testing experience and complete simulation environments, we can provide results that are both qualitative and quantitative. For example, a shielding box can be used to isolate external waves such as Wi-Fi or Bluetooth signals. The main test object and interference source can be placed in the shielding box to simulate a user's environment.
In the following simulation tests, we use a Bluetooth mouse and a Bluetooth Keyboard as a test object and an interference source. The Bluetooth mouse will perform a Bluetooth reconnection test, simulating a user using their computer. During this time, a connection between a Bluetooth mouse and a Bluetooth keyboard will be established. This test can simulate a situation whether there will be issues with the reconnecting Bluetooth mouse.
Test Results
Bluetooth Mouse Reconnection Test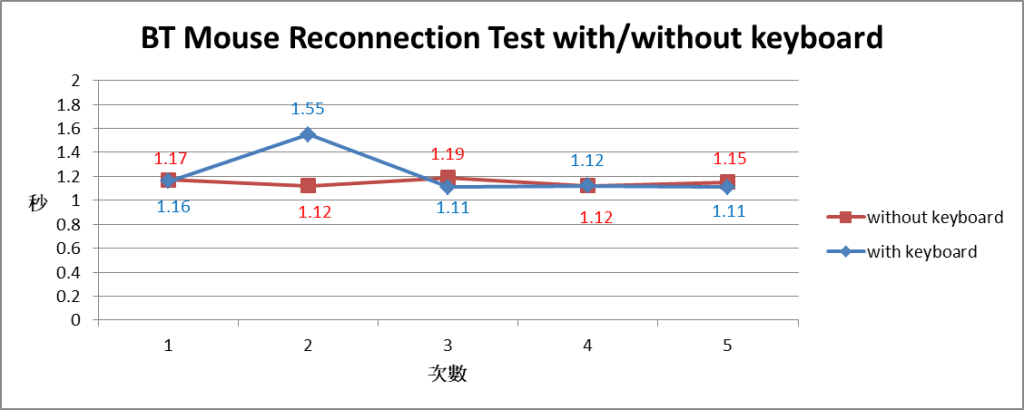 With the BT Sniffer software, we calculated the time intervals between the start and end of the connections. As seen from the table above, the reconnection time of both situations is very close. The average reconnection time in both scenarios is about 1.2 seconds. However, there was one time when the connection time was abnormal. According to our research, 1.2 seconds is considered a significant delay for users. Regardless of there being an interference issue, this mouse needs an improvement in its connection time.
After notifying our client of this situation, they quickly updated the firmware, greatly improving the results (shown below).

The new firmware shortened the reconnection time to around 0.1 seconds. This modification significantly improved the connection performance.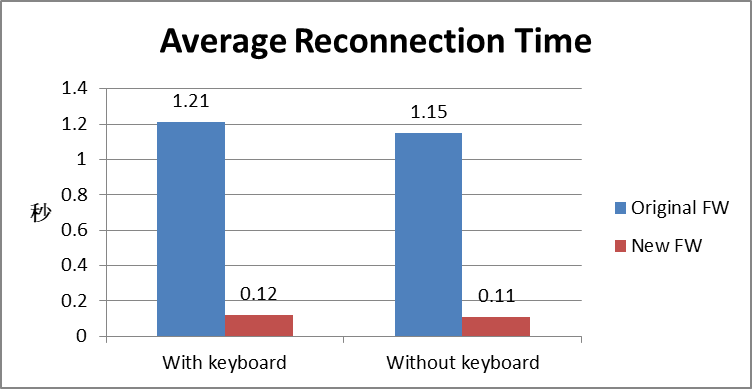 The new reconnection time was reduced by 90%, and the reconnection times of the two scenarios are also very similar, meaning there is no delay for the user. It can be said that this greatly improved the user experience of this product.
Faster, Easier, Better!
Customized Consulting Service for PC Accessories

From our results, we found that even without interference, the mouse designed by the manufacturer did not meet user expectations. In real scenarios, the connection issue would probably be even more severe. In the wireless interference scenarios, Allion can also perform different Bluetooth tests such as Swift Pair, Latency, or Reporting Rate Tests. Other wireless products can also be added to the mix such as mobile phones, computers, networks, or monitors. Actual scenarios of different wireless protocols can also be used such as Bluetooth, Wi-Fi, or even custom frequency wireless transceivers just to simulate different environments like e-sports Internet cafes, online meetings, customer service environments, and more. Allion is here to assist you with your overall product development stage. During this process, we can help our clients save time and reduce costs, ultimately increasing market sales.
Faster:
Allion has professional experience with RF and wireless interference testing, having conducted related tests with many major brands and manufacturers. We can assist our clients in identifying problems during product launches, accelerate product development, and make the debugging process even faster.
Quickly build a wireless interference ecosystem
Quickly obtain validation planning
Quickly design development verification strategies
Easier:
By implementing AI and automation solutions, Allion ensures that every test is "qualitative, quantitative, and reproducible", helping our clients to improve product performance in a more efficient manner.
Provides less labor-intensive testing methods
Provides more efficient and cost-effective solutions
Provides more accurate results
Better:
With more than 30 years of expertise, specialized technical team, and comprehensive testing environments and equipment, Allion is committed to providing clients with more improved quality of service based on extensive experience in User Scenario Testing.
Provides more complete user scenario testing solutions
Provides more complete verification testing plans
Professional issue isolation and debugging support

For more information or to discuss consulting needs, please contact Allion!