In recent years, consumer electronics (CE) products with smart features have always become the hottest topic in everywhere. Apart from the already widely-spread CE products, the automotive field has also started being part of the"smart family". For the automotive market, the Smart Car must be more functional and user-friendly to allow advanced technology adoption, such as In-Vehicle Infotainment (IVI) and satellite navigation system. As the core device for in-vehicle connectivity, Smartphone plays an important role to make car 'smart' in the in-car environment. Thus, two different market fields – Smartphone and In-Vehicle Infotainment, must be compatible with each other. With so many different technologies and functions are added to these two product types, it becomes challenging for them to work together effectively. With the needs of two-way connection between Smartphone and in-vehicle monitor, the latest standard MirrorLink™ introduced by Car Connectivity Consortium is therefore released.
The Car Connectivity Consortium was launched by eleven companies across different industries, which include known mobile phone manufacturers Nokia, Samsung and LG Electronics; vehicle manufacturers Daimler, General Motors, Honda, Hyundai Motor Company, Toyota, and Volkswagen; and system suppliers Alpine and Panasonic. Currently, it has 26 adopter members. The vision of CCC is to develop an open and common connectivity technical standard for IVI and corresponding mobile devices like Smartphone. In addition, the purpose of promoting MirrorLink™ standard is to develop a complete and qualified certification test plan through in-depth technical development and an open infrastructure, hence the quality and connectivity of certified product can be enhanced. As the picture indicated below, to enjoy a convenient in-vehicle user experience through MirrorLink™ is actually pretty simple. User only needs to connect a mobile device with the car to sync Smartphone functions on IVI system such as hand-free answering and audio playback.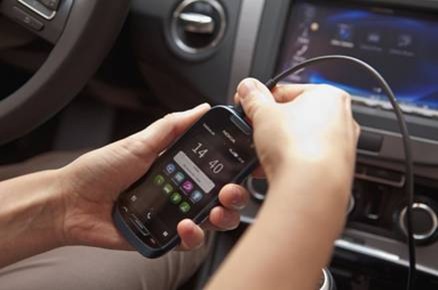 * Source: People 4 Embedded.
Apart from the major applied product lines like Smartphone and MP3, the future goal of product application includes tablet PC, e-book and small notebook. Even though the connectivity technology of Smartphone and car has been recognized in the market from the beginning of the time, vendors still have to keep tracking market demand in order to satisfy different types of consumers. To ensure that a product meets consumer's needs, standard certification plays an extremely significant role in product development. As CCC's Qualified Test Laboratory (QTL), Allion will keep assisting CCC to promote the MirrorLink™ standard/ technology and its certification program. For more details about CCC and related testing service, please contact Allion atservice@allion.com.