Due to its easy usability, convenient size and reasonable cost, USB is one of the most ubiquitous transmission interfaces in modern life. No matter at home or in office, people rely on USB to transmit data for TVs, notebooks, smart phones, tablets, desktops, printers or even In-Vehicle Infotainment (IVI) System in cars all the time.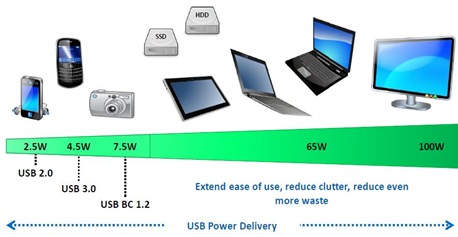 Picture 1
Along with the advantage of considerable, fast and reliable data transmission, USB has another very convenient advantage-power delivery through connected interfaces, or so-called power charging. However, currently USB power delivery function can only offer up to 7.5W the most; as in picture 1 we can realize the power delivery limitation of every mainstream USB technical specifications. At the moment, USB 2.0 can deliver 2.5W (offer 500mA through 5V), USB 3.0 can deliver 4.5W (offer 900mA through 5V) and Battery Charging 1.2 allows to deliver 7.5W (offer 1500mA through 5V) which may be qualified for the need of power charging for mobile devices like mobile phones or MP3s, but it takes longer time to charge and is beyond its reach to satisfy with power supply for large-size and high-power-consumption products like displays or notebooks.

Picture 2
100W Power Supply Brings Variable Possibilities of Applications
In order to popularize the application of USB power supply across diverse devices and reduce the use of power cords, here comes the brand-new USB Power Delivery standard. USB-IF recently announces power delivery standard-USB Power Delivery (PD) which aims to supply the need of power up to 100W to various devices with only one USB cable, shortening charging time and optimizing the convenience of mobile application. The basic technology structure (as in picture 2) is to use power storage function which is inside the chipset to temporarily storage power and deliver to power-demanding device. Meanwhile Power Delivery has bidirectional characteristics, allowing devices to transmit data and charge at the same time. Besides, Power Delivery would save time and increase the efficiency of use by unifying power cords, which means that there is no need of traditional power cords.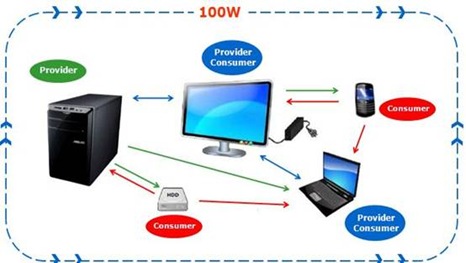 Picture 3
Take picture 3 as an example. In traditional circumstance, a host works as a provider to offer power to connected display, notebook or hard disk drive (HDD); and mobile phone and HDD are consumers to receive power from host or notebook. But if display and notebook both support USB Power Delivery, under this technique, they can both be provider and consumer. Therefore, when a notebook lacks power or not with power supply around, it can receive power through display and the display can receive power from host or notebook when it needs power. These two devices can also deliver power through USB interface to other devices like mobile phones or HDDs and transmit data at the same time. This two-way usage makes USB Power Delivery become a new technical application that every developer is looking forward to.
Complete Set Assures Technique Seamlessly Connect
USB Power Delivery standard has been officially established in July 2012 by USB 3.0 and USB 2.0 PromoterGroups. Currently the version is 1.0 which can coexist with USB 2.0 and USB 3.0 and the specification is available to download on USB-IF website. To make this standard seamlessly connect with the existing USB specs and the whole application eco-systems, USB Power Delivery's design features compatibility and reliability.
Here are some characteristics:
Works seamlessly with existing USB devices

Compatible with existing spec-compliant USB 2.0 and USB 3.0 cables and connectors

Forbidden to work with illegal cables (such as common Y Cable in the market) to reduce potential risk of destruction on devices

High-efficiency-and-low-consumption design structure between provider and consumer enables dynamic power management to perform power supply adjustment to different devices, optimizing work efficiency

Voltage and current among USB devices can communicate through existing Vbus pin, without extra complicated manual settings

Source and Sink are switchable; two-way power supply is high-elastic for power delivery

Able to coexisting with USB Battery Charging 1.2 without conflict
Therefore, when USB Power Delivery is providing vision of great power supply, it is also concerned about the practical aspect of application-whether able to let manufacturers implement Power Delivery function in an easiest and cost effective way that users can enjoy the convenience brought by Power Delivery without the requirement of accommodation.
Big Hit in the Market is Around the Corner
From the market's point of view, along with the technology initiator, Intel, Texas Instruments (TI) and SMSC would be the pioneers adopting this technology and proceeding to develop USB Power Delivery chip set soon. Besides, ON Semiconductor and NXP Semiconductors will also put power chipset into production. On this year's International Consumer Electronics Show (CES) in Las Vegas, USB-IF displays the practical technique application. A power-connected monitor, which conforms to USB Power Delivery standard, can deliver power to a 65W notebook and plus link to another monitor as an extended desk through USB cable. Simple exhibit like this makes people conjure up something more and unlimited.
Picture 4: USB Power Delivery Logo (left: USB 2.0, right: USB 3.0)
In the competition of high-speed transmission interface, Thuderbolt is faster than USB but USB has new function on power delivery, creating a more convenient using environment for the future. Moreover, USB interface has the advantage of cost efficiency and high acceptability to the market, so it surly will keep dominating the whole market in the near future. It is predictable that sooner or later the USB Power Delivery logo (as in picture 4) will be popular and a must among various electronics products and application field step by step.
As the Independent Test Lab (ITL) authorized by USB-IF, Allion Labs Inc. (Allion) is always paying attention to the latest technology standard and updating the depth of validation. Since the development of USB Power Delivery standard, we strived to study and master this technique and will also be focusing on other newly-established specs such as SuperSpeed Inter Chip (SSIC) and any updates of every spec in the future. For more information about USB and certification process, please contact service@allion.com.