Allen Liao / Allion Labs
With the recent withdrawal of 3.5mm headphone jack design in many mobile phones, more and more users are using Bluetooth® earbuds over conventional earphones when they commute or exercise. With the development of Bluetooth® technology, wireless earbuds have evolved into a very small size and cordless form factor that we call it True Wireless Stereo (TWS).
The Wi-Fi coexistence problem is a crucial topic for TWS products, since its size is so compact, and the antenna on TWS is much smaller than classic Bluetooth® earbuds. The long latency of TWS button function and choppy music due to frequency coexistence problems can be expected.
These connection problems will lead to bad user experiences. Users may leave bad reviews on the e-shop, which will affect the sales performance of the products, and also have a negative impact on the brand's impression.

Figure 1: 3 TWS products form different brands
In this article, we choose 3 TWS products from different brands to study the changes in performance, such as degradation and functions when these earbuds are exposed to interference.
Test Setup
All tests are carried out in the shielding room for isolating other external radio interference to maintain test consistency. We measured the sound quality with Audio Precision analyzer in an accurate means. The whole setup environment is shown in Figure 2.

Figure 2: TWS Coexistence Test Setup
We provide different coexistence scenarios for this particular test. There are several wireless communication technologies (WiFi, BT, and LTE), diverse and abundant devices, and different frequency usage can be simulated or created. In this coexistence condition, we applied 3 cell phones communicated with 3 Wi-Fi APs as interference sources.
How do we measure the performance of TWS?
For the button function latency judgment, we count the response time when we press the button and when the music stopped (or paused). The response time should be as short as it can be. We will run the test for a few trials and calculate the average time it takes the earphone to respond.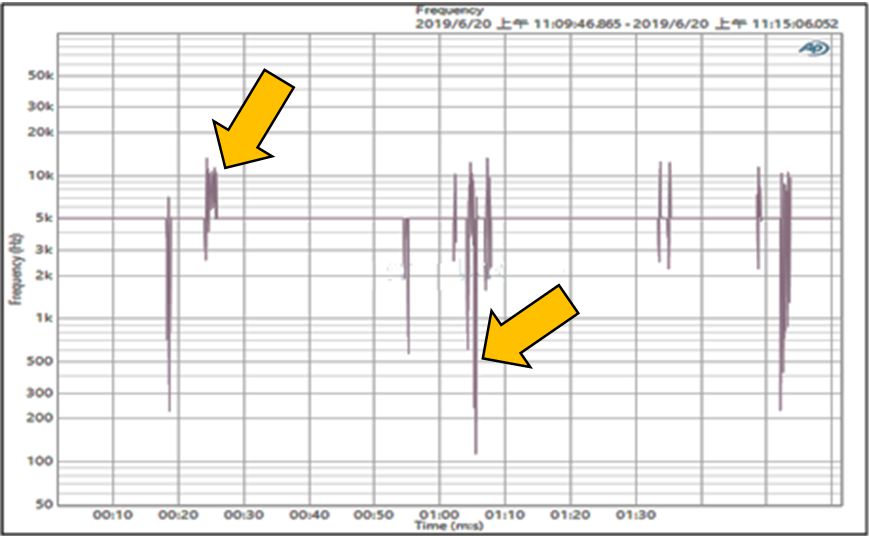 Figure 3: Sound glitch recording by audio analyzer
The "choppy sound" issue will be measured in "SER", or Sound Error Rate, for a fair measurement and judgment. First, we will play a constant 5 KHz music file as a reference sound source via the main PC, a microphone was attached to audio analyzer for recording the sound plays from TWS. In case the music choppy occurs, we can observe the sound frequency glitch (Figure 3). Then, we can summarize all the time span of a glitch in fixed time duration to calculate the SER. Lastly, we can compare how each TWS performs.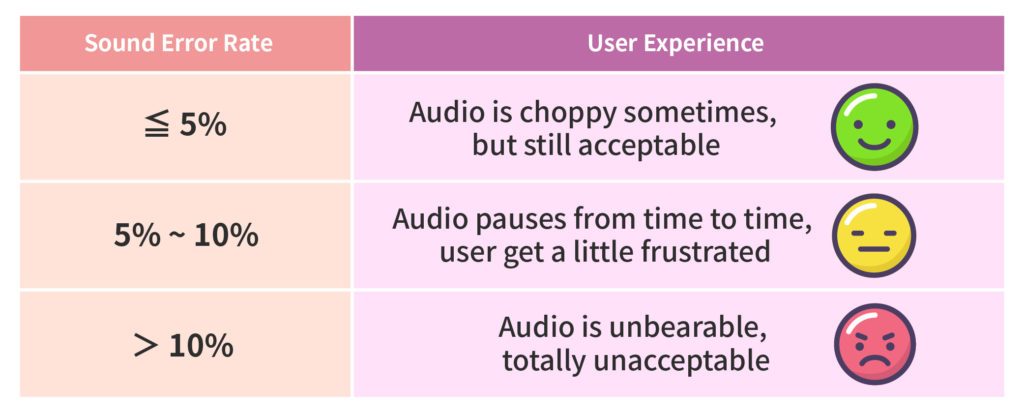 Table 1: User Experience vs. SER
Test Result
With no interference condition, latencies still occurred. The slowest response is audio-technica, about 2.4 seconds,  the other 2 TWS earbuds (Samsung and Optoma) also have similar latency patterns, which is around 1 second.
The order of better operational coverage is Optoma, Samsung then Audio-technica, according to table X-axis. When coexistence interferences were generated, there was degradation in operational coverage in all 3 TWS earbuds. The longest operational coverage is still Optoma.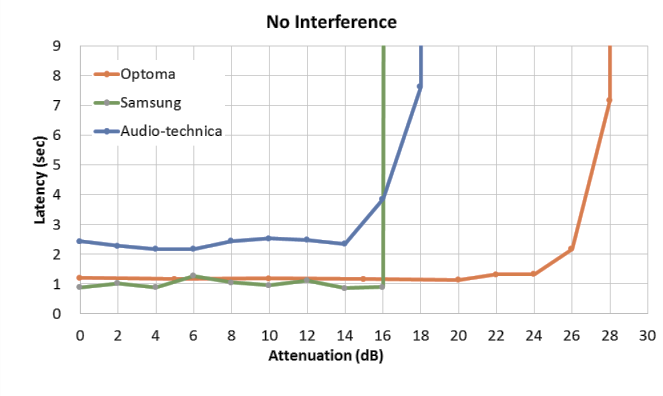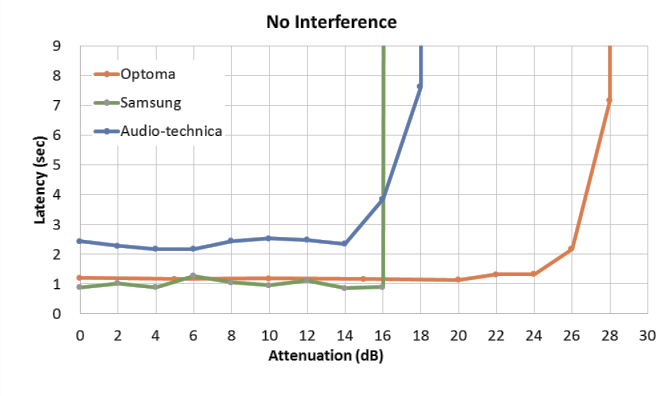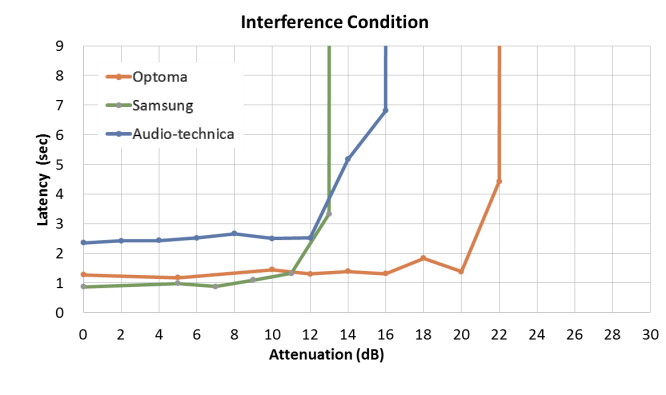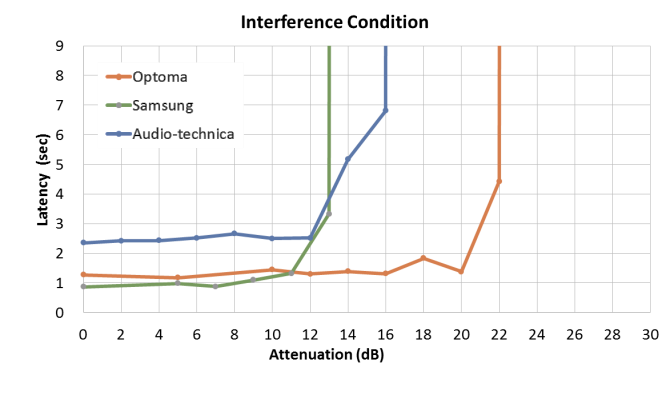 Figure 4: The respond time results
As mentioned above, we determine sound quality with SER. The following table will give you an idea of how users feel towards different SERS. To find out the answer, Allion Lab runs blind test with many different SER recording samples and gather all the users' feedback into Table 1. The SER 5% is the bottom line, which is the criterion for this TWS test.
Before we add interference, all 3 TWS earbuds can handle the SER < 5% at near operation coverage, but after the coexistence condition was created, the SER of Audio-technica drops to 10%, even the operation range is close to the main PC. Optoma is still the winner of these 3 products.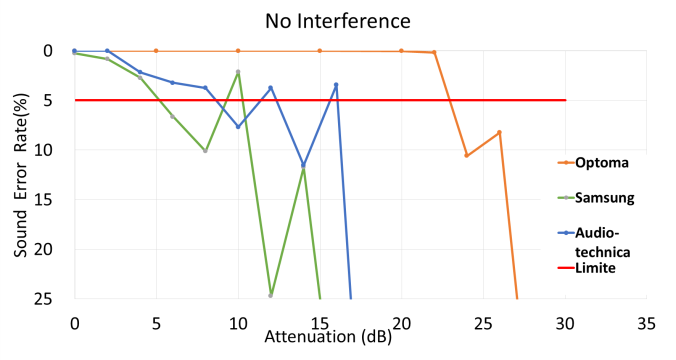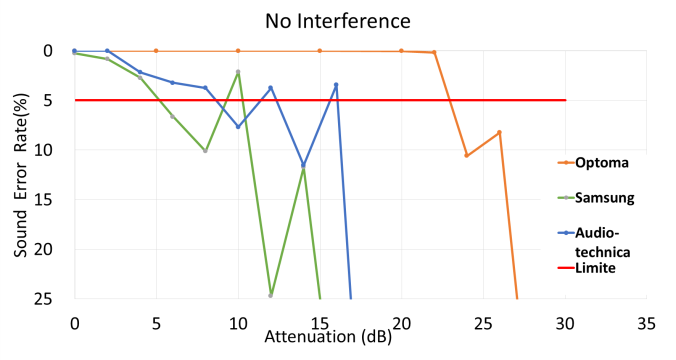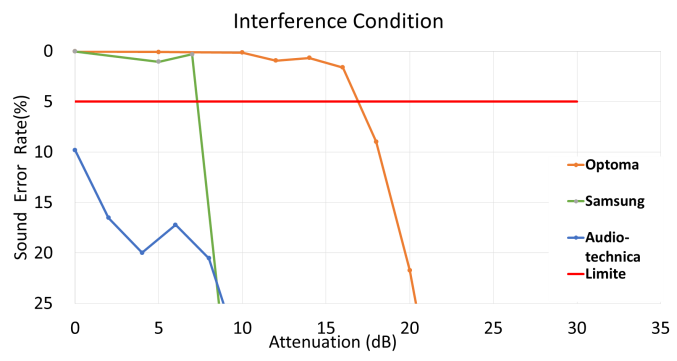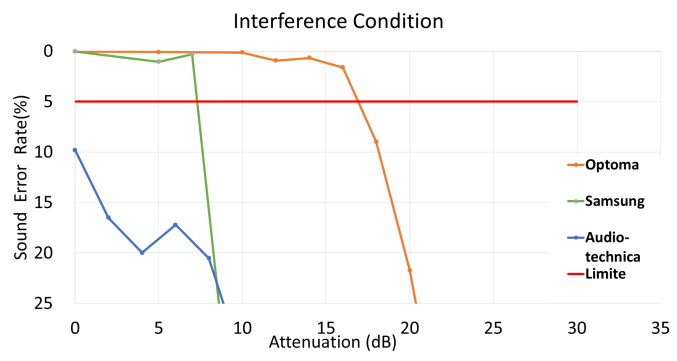 Figure 6: SER results
Conclusion
From the test results showed above, the Optoma TWS earbuds has a better latency/ SER performance against coexistence interference.
As more wireless products are being launched to the market, the problem of wireless coexistence also becomes inevitable.
Allion plays the role of overseeing product quality, and we strive to help product designers to improve their products and deliver a better experience to users.