Wi-Fi Passpoint is a key enabling technology that helps satisfy increasing consumer demand for mobile broadband service. This demand is being driven by the increased use of mobile devices, such as laptops, smart phones and tablets. High-bandwidth applications, such as VoIP and video streaming, are putting an added strain on cellular networks, especially in high-density locations, such as airports, shopping malls, conference halls, and coffee shops. As a result, cellphone carriers and mobile device manufacturers are increasingly turning to Wi-Fi Passpoint as a practical solution that balances peak cellular network loads in high-density locations.
When Passpoint certified devices enter an area with supported wireless service they seamlessly switch from cellular to wireless mode. Wi-Fi Alliance has prepared this introduction to Passpoint:https://www.youtube.com/watch?v=hw2Z6OuNQE4
Passpoint Features
In 2012, Wi-Fi Alliance introduced Wi-Fi CERTIFIED™ Passpoint R1 (Release 1) with support for the following features.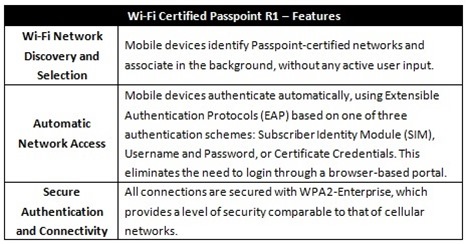 In 2014, Wi-Fi Alliance launched Wi-Fi CERTIFIED™ Passpoint R2 (Release 2). This release builds on the solid security and seamless connectivity of the first release by making it even more valuable for service providers, while opening up new opportunities for other players. These new features are introduced below.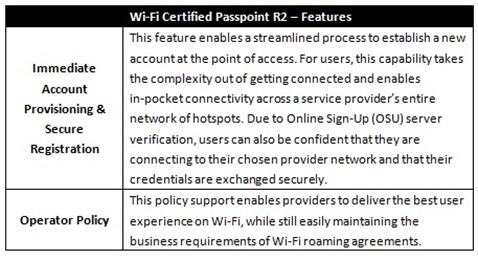 Business Case for Passpoint R2
Up until now, mobile device interoperability has been a major pain point for end users. For example, when users enter a coffee shop and wish to connect to the local wireless network, they are presented with a series of hoops to jump through. At a minimum, users need to find the correct network SSID and connect to it manually. For proprietary or secured networks, an additional authentication procedure is required, usually in the form of a user login. In most cases, the login procedure needs to be repeated each time that there is a loss of connection. In comparison, Wi-Fi CERTIFIED™ Passpoint greatly improves the wireless connection experience. It automates all the procedures described above, to the point where end users can simply sit down in the same coffee shop and immediately begin using their device.
Wi-Fi Alliance planned to let Passpoint R2 replace Passpoint R1 in April 2015. Although Passpoint belong to non-mandatory provision verification category, the manufactures still recommend Wi-Fi Passpoint R2 need to be treated as high consideration of product quality, such as incompatible and using problems need to be eliminated.
Wi-Fi CERTIFIED Passpoint R2 improves the wireless performance of mobile devices; and as shown in Figure 1, this improved performance will result in some tangible benefits for service providers, device vendors and consumers. For example, consumers will experience more reliable and secure connections; while service providers will enjoy an increase in customer loyalty and infrastructure cost savings.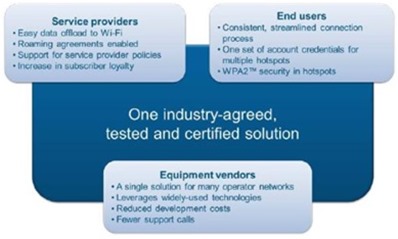 Figure 1: Passpoint R2 – Benefits
As service providers and customers begin to experience these benefits, the installed base of Passpoint R2 compatible hotspots and mobile devices will grow.
Passpoint R2 – Mobile Device Requirements
Networking equipment and mobile device vendors should already be aware of Passpoint R2. However, they may not realize that Passpoint R2 certification requires additional Wi-Fi certification, as outlined in Figure 2 below.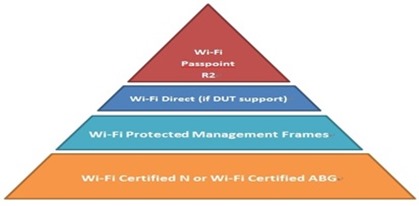 Figure 2: Passpoint R2 – Certification
Wi-Fi CERTIFIED™ n/abg (with EAP authentication)

Wi-Fi Protected Management Frames

Wi-Fi Direct (if DUT supports)
Main Technique and Certified Content of Passpoint R2
Wi-Fi Passpoint uses standard networking protocols and techniques. For example, ANQP protocol uses the IEEE 802.11u standard; WPA2 Enterprise Security uses the IEEE 802.11i standard; various EAP methods (EAP-SIM, EAP-AKA, EAP-TLS, EAP-TTLS with MSCHAPv2) use the IEEE 802.1x standard; and the Wi-Fi Alliance standard uses Operator Policy & Online Signup.
Passpoint R1 provides support for the following four types of back-end servers: DHCPv4, AAA, DNS and PPSMO Web. Passpoint R2 supports these server types, but also adds four new server types: Subscription Remediation, OSU, Policy, and OCSP Responder. In addition, Passpoint R2 content is divided into three forms:
1. Setting DUT standards: Includes APUT and STAUT and needs to conform to preset parameters, other need to check whether DUT packets include ANQP.
2. Compatible Verification: Wi-Fi CERTIFIED™ Passpoint products need to provide downward compatibility features and verification device needs to connect on the network without Passpoint CERTIFIED.
3. Passpoint Verification Procedure: The verification maintains the original Passpoint R1 connection and the stored procedure function. It also add the new R2 Registration and Provisioning function (see Figure 3).
a. Discovery function
b. Registration function
c. Provisioning function
d. Access function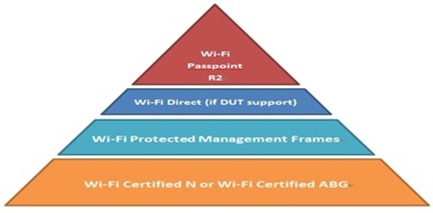 Figure 3: Wi-Fi Passpoint Provisioning Functionality
To get Passpoint R2 CERTIFIED, you also need to get other Wi-Fi verification test. The whole process might need 10 days of work, with repeat testing, debugging and other analysis problems. Therefore we usually advise manufactures to reserve some time when planning to obtain Passpoint R2 verification.
Wi-Fi Passpoint Release 2 with secured Wi-Fi user experience and uninterrupted connection
The technique of Wi-Fi Passpoint has fully used the Wi-Fi of user's equipment normally, and provide more attractive service event for users. This technique also let users use Wi-Fi network as seamless and securely changed the automatic cellular connection.
Most wireless hotspots have a limited range due to the rapid reduction of signal strength as a function of distance from the central hub. Wireless signal coverage is also often uneven due to interference with other signals and objects, such as walls.
For this year's Wi-Fi Passpoint Release 2, it also newly added (Online sign-up with immediate account provisioning and Secure registration) and (Operator policy) to make the technique more integrated. As Alliance planned to let Passpoint R2 replace Passpoint R1 in 2015 April, any Wi-Fi Passpoint product that need to be verify will be more functional and compatible. And will make greater market efficiency for service providers, equipment manufactures and end users in the future.
Wi-Fi association had setup many authorized test lab in different countries and areas. So far, Allion is one of the test labs that can completely provide all eighteen Wi-Fi verification services, including the new edition of Wi-Fi CERTIFIED™ Passpoint R2. (Pic 5: Allion, the all aspects of Wi-Fi verification services). According to Allion's years of Wi-Fi experiences, we are proud to say that no matter the client need Wi-Fi verification test or product development advisory service, Allion can provide you a full service and verification. For further information of Wi-Fi service, please visit our website – http://www.allion.com.tw/wi_fi.html .