Mobile App AI Testing
Hundreds of interoperability problems might arise when different mobile Apps get installed on different mobile devices. Although manual testing is costly and time-consuming, it sometimes seems to be the only option to tackle the interoperability-related problems. Now, Allion develops the exclusive AI Testing Solutions for mobile Apps. The exclusive testing services can boost the productivity in and out of working hours with the help of visual recognition, software integration, and hardware control.
From initial designs to final products, interoperability issues may occur in every stage of your business. Manual testing is a typical method to detect problems in this type of scenario. However, a greater chance of human errors will be always a pain in the neck.
To increase testing accuracy, Allion provides "AI Testing Solutions Specific for Mobile Applications." Our Mobile App AI testing solutions feature advanced technologies such as visual recognition, software integration, and hardware control. Such technological breakthroughs enable us to boost test efficiency, ensure test accuracy, collect and analyze the data in the testing process.
Set You Free from the Typical Nightmares—Ensure User Experiences across Different Devices
Cannot install an App

Cannot open an installed App

Cannot open an App after it gets updated

Apps perform less satisfactorily after they get updated

User interface (UI) does not fit different screen sizes

Cannot log in the APP after an App is open

Cannot open an App after the mobile OS is updated
Detailed Comparison between Allion AI Testing and Other Common Mobile App Testing
App Testing

Methodologies

Virtual Device Testing: Emulators and Simulators

Mobile Testing with Cloud Service

Real Device Testing

Restrictions on Other Mobile App Testing

Services are restricted by virtual device vendors

Hard to maintain across different software platforms

Highly possible to overlook interface problems (resolutions on different devices, customized interfaces, and brand differences)

Hard to select the most ideal cloud-based testing service provider for your business

Mobile devices must be open for access control or installed with third-party control applications

Risk of data leakage during the APK uploading process

Testing costs increase as mobile devices need to be purchased regularly

Mobile devices must be open for access control or installed with third-party control applications

Cannot maintain testing quality over a long period of time
Solve Your Problems with Our Visual Recognition and AI Robotic Arms
High Accuracy: AI visual recognition is able to identify and capture defects which emulators or simulators cannot

Greater Safety: Application source code leakage will be of no concern to our clients

Great Convenience: No need to change authority setting or provide Root access

High Productivity: AI robotic arms can run 24/7 smoothly and steadily

Cost Reduction: No extra fees for virtual devices or software platforms
Adopt AI, Be Adaptable to the Future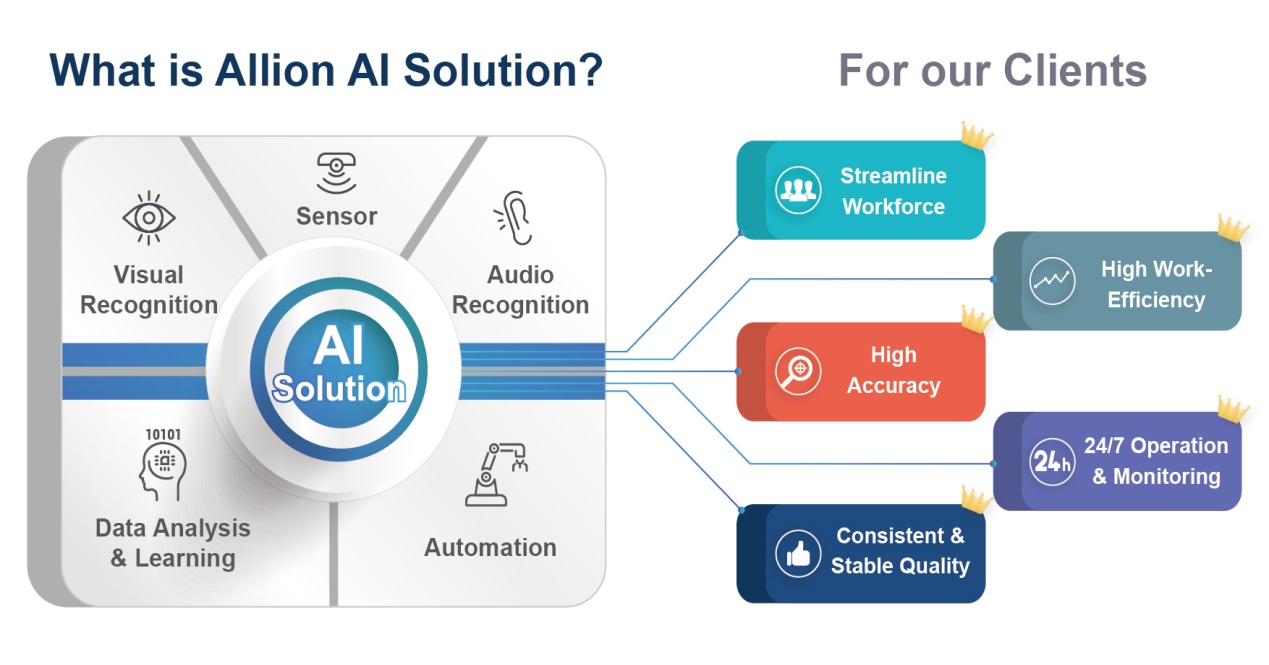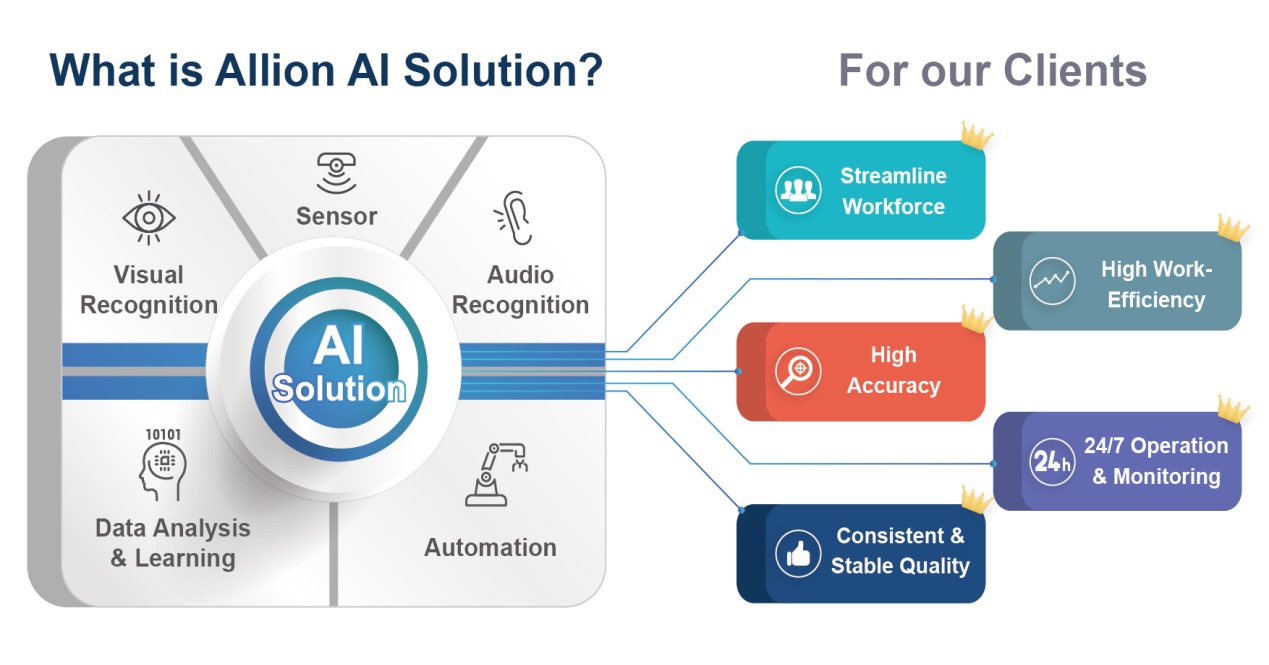 Powered by AI Complete Interoperability Testing in the Shortest Period of Time
Unlike traditional manual testing, Allion AI Mobile App Testing is able to simultaneously test 50 sets of mobile phones. Meanwhile, numerous AI robotic arms are utilized to enhance the testing scalability. If urgent cases occur, Allion AI engine will immediately arrange a customized test schedule for you.
Perfect Your Products in a Consistent, Accurate and Reproducible Testing Process
Allion AI Solutions can customize testing services depending on your requirements. These AI testing solutions are flexibly designed and reproducible with historical data tracking. They also minimize the risk of overlooking potential problems (which happens a lot in manual testing).
In the past, it was barely possible for engineers to perform testing operations in the specific time interval (for example, run the operation once per second), continuous high-speed operations, or to keep accurate test with real-time record over a long period of time. Starting from now, Allion is able to fulfill your expectations for ideal testing services.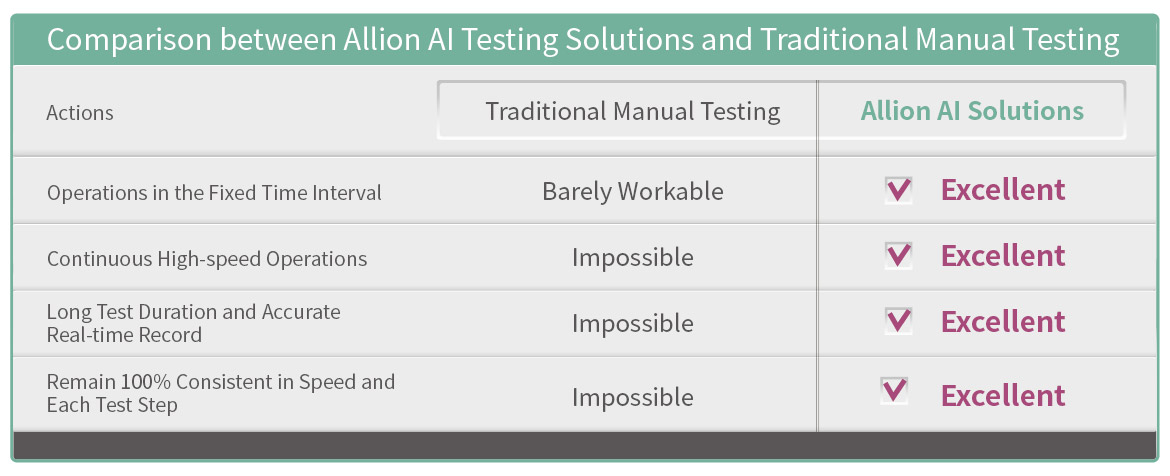 Adopt Allion AI Solutions, Make the Impossible Testing Possible
Allion AI Testing Solutions include the three key elements listed below. Each element can be applied and integrated to various industries, for example, manufacturing, product validation, IoT, and smart cars.
Visual Recognition:

See What You See

Software Integration:

Implement By Mind

Hardware Control:

Do By Your Hand

Three Elements of Allion AI Testing Solutions

A

llion's visual recognition system combines neural networks and deep learning AI algorithms. Through its cameras, the system can identify graphics that have been trained without being affected by different angles or tilt sensitivity. With its high accuracy, Allion's visual recognition can be widely applied in various fields.

Allion AI engine, a software platform, is able to manage Android phones and TVs. To tackle more issues on different operating systems, we are now developing iOS software platform that integrates PCs and Apps.

Allion introduces robotic arms for AI testing of DUTs. For example:

Paring between IVI device and mobiles

Type-C fast charging test with power delivery (PD)

Conduct intensive pull-and-plug test with our exclusively developed fixtures