Software Testing Ecosystem
In the era of IoT, software and mobile applications have become the driving force of the Smart World, and the integration between and software and hardware is going to have a huge impact on User Experience.
Since there is an expansive variety of software, operating systems, and hardware devices, it is challenging to ensure seamless connection among software and hardware to give users exceptional experience.
The keystone to exceptional UI/UX: Software Validation
Software testing is the keystone to the design of products. However, it is often neglected by vendors in terms of cost and time. But without thorough software validation and verification, it is very likely that the users will encounter issues, and this could lead to user dissatisfactions. This is especially true for e-commerce, gaming, and IoT device vendors, as their users are sensitive to the usability of software and APPs.
Allion's Software Testing Ecosystem: Making sure your software products and services meet UX goals
We recommend you to get your software tested in an independent testing lab like Allion. Not only do we offer comprehensive solutions, but with experienced engineers and expansive equipment, we also deliver unbiased insights that can improve your products.
Additionally, Allion incorporates AI-driven and automation tests to optimize the testing process. Our mission is to raise work-efficiency while collecting big data as the reference to pinpoint potential risks and enhance product designs.
Allion's Software Testing Ecosystem is consists of three parts: Software, Service, and Statistics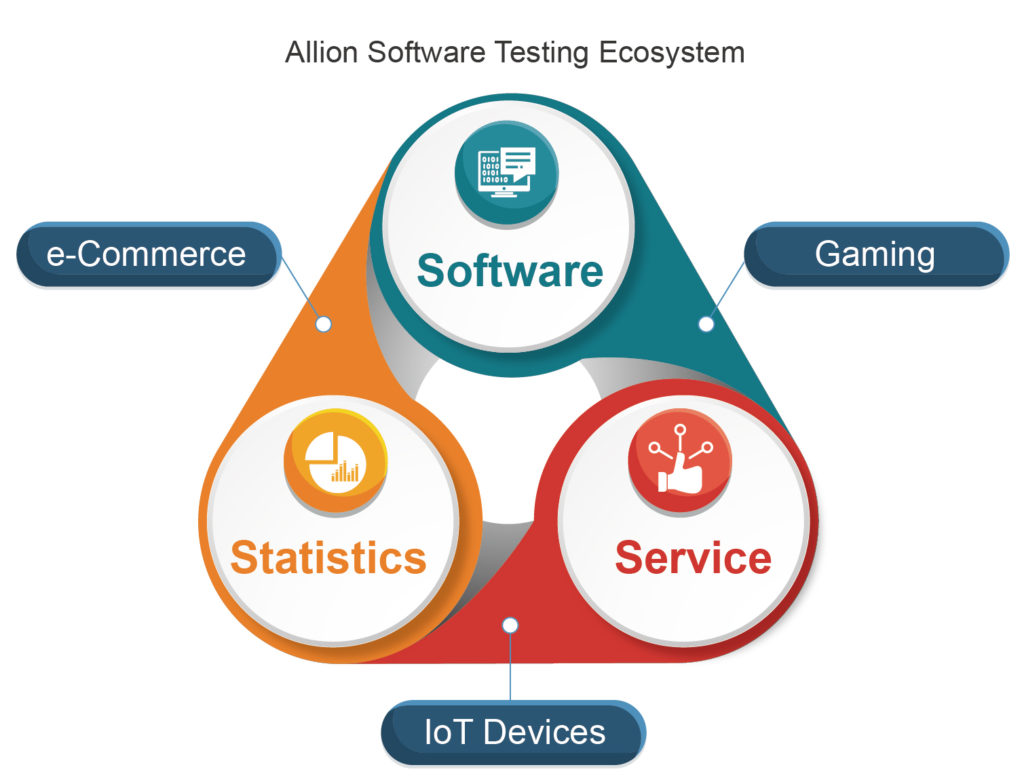 Software
Software and Hardware Integration
Many of the computer utilities and accessories need bundled software in order to carry out their tasks. For instance, IoT devices like smart watches that can monitor our sports performance usually come with a designated APP. However, even bundled APPs can be plagued with interop issues. This is why you need to get your software tested, along with its bundled hardware.
Allion's Software team can customize test solution in terms of your product features.

Who needs this service? Smart watch + Sports APP, Smart Speaker+ Music Streaming APP, Computer Peripheral Devices/Accessories+ Software
APP Validation
For APP validation, Allion can help gaming and e-commerce companies to validate and verify their APPs. The APPs will be tested for their interoperability with different phones, tablet brands with both the ios and android system. Why is APP Validation important? Taking gaming APPs as an example, they are often plagued with issues like APP flashing out and video/audio latencies, which can seriously lower user satisfaction. Therefore, it is essential to get your APPs tested before they are launched.
APP Validation focuses on OS and device interoperability, and we will add more test categories in terms of the product's features.

Who needs this service? Gaming, mobile games, VR games developers
Service
In Software testing, we help vendors evaluate product interoperability with different operating systems and devices. Whereas in Service Testing, we put emphasis on the performance of user experience and user interface.
When playing a game or shopping online, users expect the process to be easy and pleasing. But in reality, a lot of unexpected issues can occur, such as image displacement, malfunctioning shopping carts, unable to log into the account, and these issues will undoubtedly sabotage the interactive experience.

To build exceptional user experience, we need to start with comprehensive inspections on the software. Allion's Service validation is consists of two parts: Fundaments and User Experience.
The Fundaments consists of interoperability, functionality, reliability, and usability, which are the basic building blocks of software. We first ensure that the fundaments are well designed and functional. Next, we examine the product's user experience by evaluating its user interface.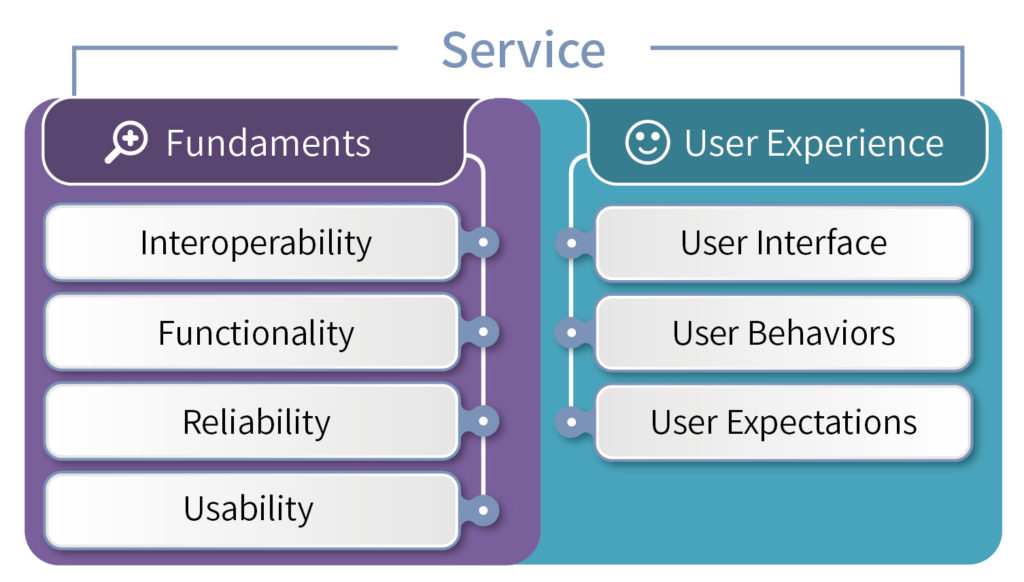 Who needs this service? e-commerce APP, Web, Audio and video streaming APP, Web developers
Statistics
AI Robotic Testing comes handy in software validations and verifications as a lot of testing now rely on automation But Allion's AI Robotic Testing is more than automation, as we also offer explicit data collection for each product. The data collected will not only be an important source of reference to pinpoint flaws in product designs, but our AI testing also includes additional features like real-time monitoring that provide users valuable feedback.