Allion Labs/Henry Hung
Sunlight, air and water are the necessities for human living, and among them, water is the most important element for our human body. Drinking sufficient water is the key to maintain our health and fitness.
Unfortunately, people sometimes get too busy to drink water in this changeable world. Therefore, a smart water bottle is invented to solve the problem of inadequate water in our daily lives.
"a Gimmick" or "a Trend"?
Although innovative, cutting edge technologies and successful crowdfunding make smart cup the most popular health product ever, consumers may still have a question "are they really worthy when they are compared to normal water bottles on prices?"
Currently, smart cup are mainly designed for adults and kids. The common features of a smart cup are:
Indicate how much water you drink per time.
Hours/Days/Weeks water intake tracking
Automatically drinking water reminder
APP interactive
USB/Wireless Rechargeable
LED lights and Vibration alerts
Sync with 3rd party APP
The multi-function features of smart cup might attract customers to get one immediately, but poor designed with bad user experiences will leave bad impressions on customers. Here are the top 5 scenarios people don't like:
Water intake record failed
APP connectivity and synchronization error
APP Operation failed
3rd party APP Non-Sync
Account creation and login problem
Real-world Scenario Test: It is time to get hydration for your kids!
So, here comes the question. Do smart cup help indicate our daily water intake? In a bid to verify the function of smart cup, we select a best-selling smart water bottle in our experiment – Gululu talk, which is designed to track children water intake.
Water Intake Tracking Testing
According to the above figure, it can be known that algorithms are imbedded in the water detection system. And thus data can be collected through drinking angle and drinking speed by the sensors. Based on the above conditions, we designed a series of tests to verify the functions. The test result showed only about 30% of the water intake was tracked (for example, in 10 total numbers of drinking times, only 3 times has been counted).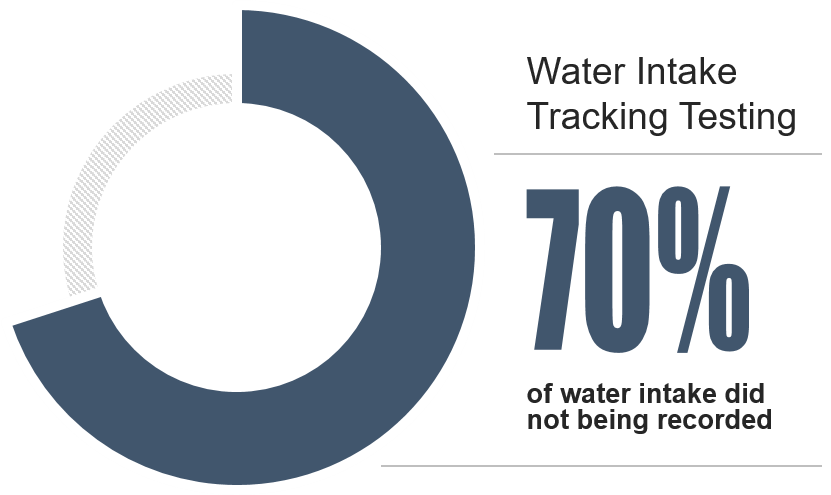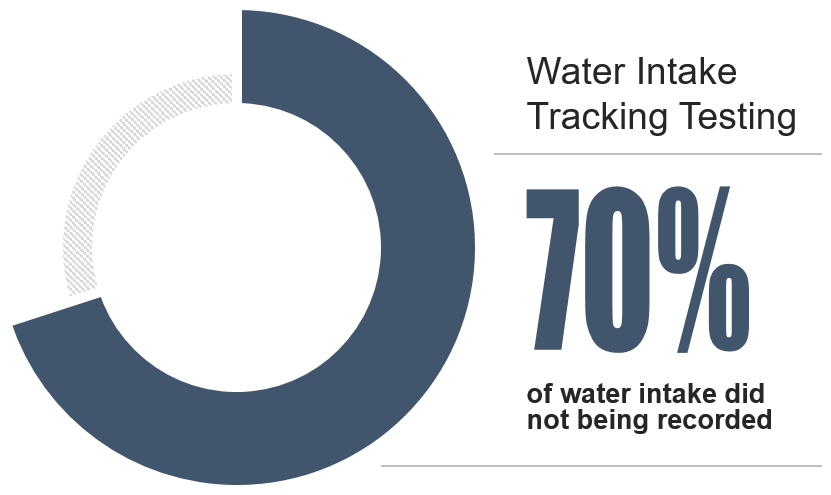 Water Volume
The controlled experiment has been taken with water volume of the 4 bottles.
Volume
Full
High
Medium
Low
370 ml
280ml
190ml
100ml
Drinking Angles
We design the 4 different drinking angles- 70, 90, 100 and 120 degrees. Each bottle was tested with those 4 angles. The result shows that the drinking angle "120 degrees" would have the best tracking correct rate.
Tracking Correct Rate
70 degrees
90 degrees
100 degrees
120 degrees
20%
30.43%
22.22%
50%
Drinking Speed
By using water consumption and drinking time to calculate the speed of drinking water (ml/s), we simply divided the speed into two-speed levels: swigging back and sipping water. It can be noticed that while users were swigging back the water, the tracking records of water intake are higher.
| | | |
| --- | --- | --- |
| Drinking Speed | Recorded | Non-recorded |
| Sipping Water (Slowly) | 12% | 38% |
| Swigging Water (Quickly) | 18% | 32% |
To summarize, the accuracy rate of the result was the highest while users were swigging back water at the angle of 120 degrees. However, the result might not be that optimistic since we were testing a kids' smart water bottle. The ideal results for kids are listed as below:
| | | |
| --- | --- | --- |
| Water Volume | Angles | Speed |
| Full | 70、90 | Sipping Water (Slowly) |
| High | 90 | Sipping Water (Slowly) |
| Medium | 100 | Sipping Water (Slowly) |
| Low | 100、120 | Sipping Water (Slowly) |
Water Intake Measurement Testing
Refer to the below table, the average deviation rate is 36.8%, which means that only 632ml was measured for every 1000ml of a bottle. This high deviation rate would damage the reputation of the brand.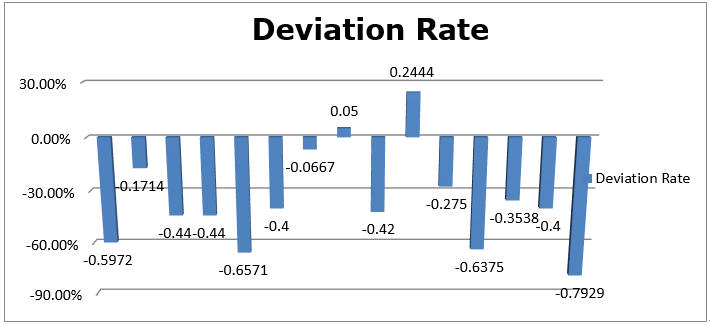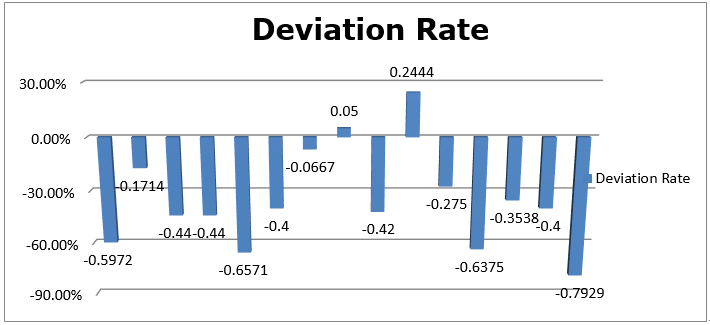 (Negative deviation rate is less than actual drinking water intake; Positive deviation rate is higher than actual drinking water intake)
Real-world Scenario Test:What are the potential risks of user experience?
The real-world scenario test is to  confirm whether the smart water bottle is interoperable with mobile phone and AP or not:
| | |
| --- | --- |
| Mobile Phone | AP |
| OPPO AX7 | D-Link DIR-600 |
| Samsung Galaxy S7 edge | Buffalo WHR-G54S |
| Apple iPhone Xs | TP-Link AX6000 |
1st Time Set-up Testing
As we know, smart cups should synchronize with the APP so as to work consistently. It is noticed that the smart water bottle has some problems in pairing tests, which is shown in the following table.
Pairing Test Issues
Bottle Operation
Operation process hang up
Invalid pairing code
APP Operation
Could not find the bottle
Pairing failed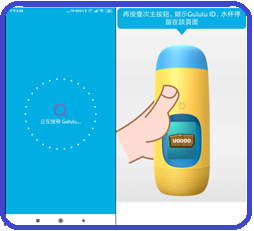 Connection Testing
After successful pairing, the mobile phone should send the Wi-Fi password to the bottle, which makes the phone and the bottle connecting to the same Wi-Fi network. However, there were some issues led to disconnections.
Networking Test Issues
Bottle Operation
Could not connect to the Wi-Fi
Could not connect to the Cloud
APP Operation
Could not send the Wi-Fi password to the bottle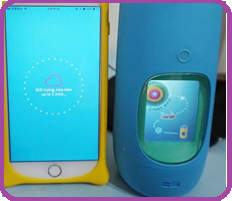 Data Synchronization Testing
After placing the bottle on the wireless charging pad, data of the bottle should be synchronized to the cloud, and the APP would download the cloud data. Hence, parents can view hydration data through the app. In this test, we found that data could not be synced at one time or on time, which might confuse users.
Data Synchronization Test
APP Operation
Data could not be synced at once
Data could not be synced on time
Charging Testing
The smart water bottle package does not include the power adapter. Any charger is supposed to charge your smart bottles. So we get the 7 chargers to verify the charging status.
| | | | |
| --- | --- | --- | --- |
| Charging Test | Voltage (V) | Current (A) | Watts (W) |
| Samsung Charger | 5.045 | 0.428 | 2.159 |
| Apple Charger | 5.104 | 0.426 | 2.174 |
| OPPO Charger | 5.116 | 0.421 | 2.154 |
| Phihong Charger | 5.129 | 0.421 | 2.159 |
| ASUS USB Hub | 4.171 | 0.566 | 2.361 |
| White Label vertical socket | 5.554 | 0.008 | 0.044 |
| Calpella Charger | 5.069 | 0.012 | 0.061 |
The test found that the smart bottle cannot charge properly with the two types of chargers. Since the vendor does not provide an extra charger in the smart water bottle package, there is a high possibility that users get a charger incompatible with the smart bottle.
Allion's Customized Services
Based on the scenario testing results, we know that bad user experience can affect the reputation of the brand. As a professional testing lab, Allion will not only support on root cause analysis but provide corresponding solutions, including interoperability test among different chargers, and the long-time charging trace test, which can help your product to avoid unnecessary troubles.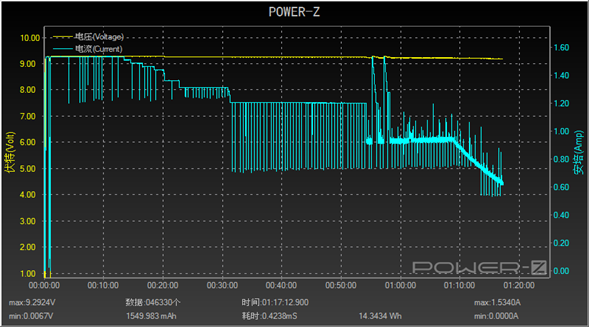 (As an example for long time charging trace diagram)
Allion focus on penetration testing and risk assessment for many years, we can provide compatibility and functionality tests for custom's products, also we offer a customized service to clients for the ecosystem.
Scenario Test
Cloud Application
Ecosystem Application
If you have any technical issues or questions, please contact Allion: service@allion.com