Allion Labs | Alvin Tsai & Chris Wu
Since the past, indoor Wi-Fi has not had common performance testing standards, which has led to manufacturers defining and performing their own tests. This phenomenon causes confusion in users when purchasing related equipment as product features cannot be compared across brands without common ground. This year, the international NGO Broadband Forum, together with manufacturers and laboratories, developed the indoor Wi-Fi performance test standard, and in February 2019 released the first in-home Wi-Fi performance test standard, TR-398 Wi-Fi In-Premises Performance Testing (the "TR-398 Standard").

The Broadband Forum is a non-governmental international organization and non-profit industry alliance dedicated to the development of broadband network specifications. The specifications released include wired network standards such as PON, VDSL, DSL, and Gfast. Its members include telecom operators, equipment suppliers, consultants, and independent testing laboratories (ITL). Its board members include BT, AT&T, Ericsson, Nokia, ARRIS, Calix, Intel, Deutsche Telekom, Telecom Italia, InCoax, Huawei, Chunghwa Telecom, China Telecom, and China Mobile. The world's major telecommunications companies are involved with the Broadband Forum; its status and influence cannot be underestimated.
How much do you know about the TR-398 Standard?
TR-398 provides performance test cases with 802.11n/ac pass/fail requirements based on IEEE 802.11ac.

TR-398 is a test developed specifically for 802.11n/ac AP devices.

The corresponding interoperability authentication processes are Wi-Fi 4 and Wi-Fi 5 of 802.11n and 802.11ac of the Wi-Fi Alliance, respectively.
The TR-398 Standard is the industry's first in-home consumer AP Wi-Fi performance test standard. Its test items cover a comprehensive range. Configurations, equipment to be used, and test environments are clearly defined. The pass/fail criteria of the test results are clearly identified, thereby efficiently assisting manufacturers to test the Wi-Fi performance of in-home gateways. Moreover, this test standard, led by router vendors (ARRIS, CALIX) and global telecommunications providers, systematically evaluates the performance of indoor Wi-Fi equipment and quantitatively classifies key KPIs into six dimensions, receiver sensitivity, throughput, coverage, multi-user support, anti-interference, and stability. It will become the unified test standard for Wi-Fi network connection performance in the future.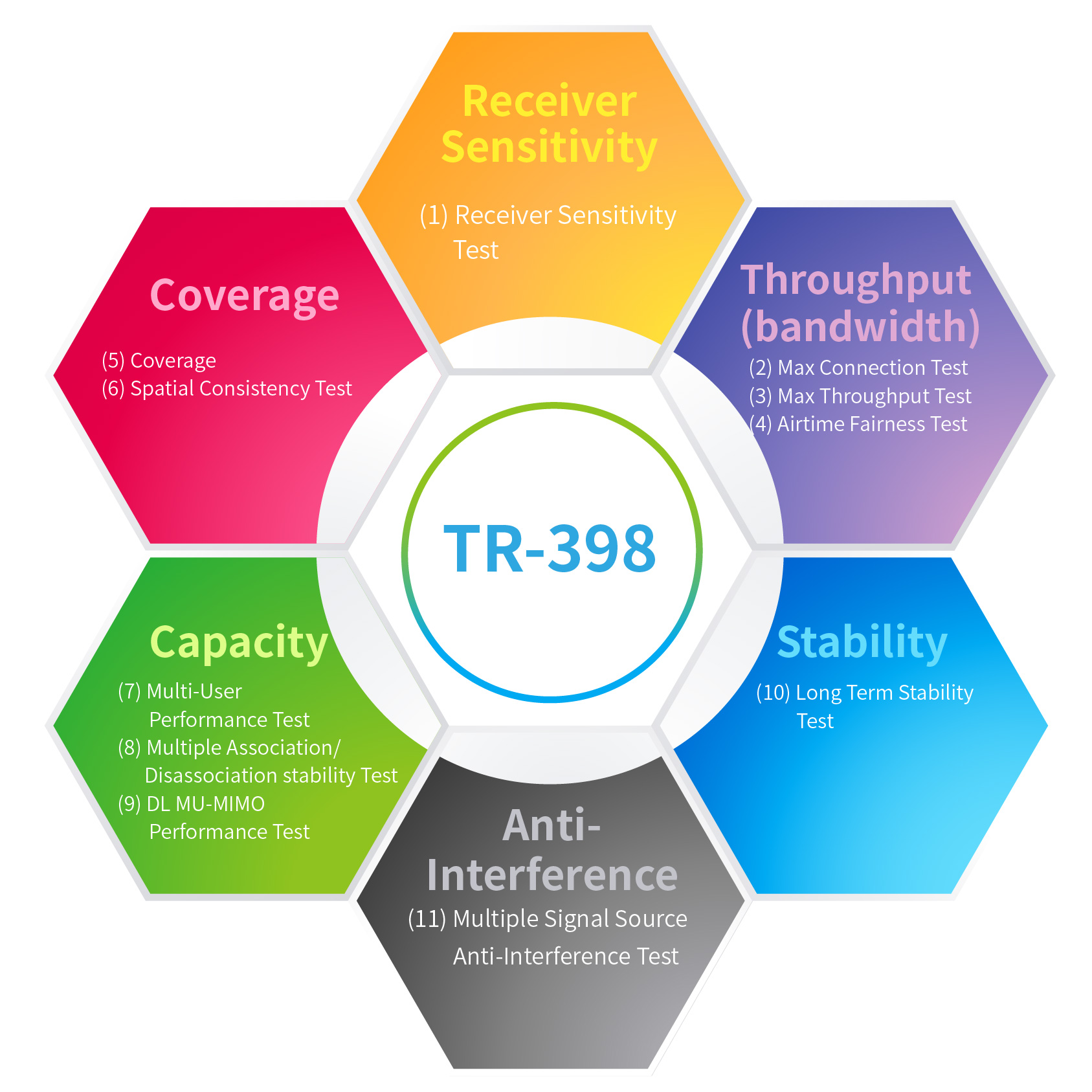 The Six Dimensions of TR-398
According to market research reports, the most popular place for the general public to access the Internet is at home, and the modern home network is mainly used for communication, playing media, live-streaming, playing games, and browsing forums. However, the various types of network devices and the different habits of users in using various wireless devices have created new challenges for the performance of indoor Wi-Fi. If there are multiple smart devices connected to the network at home, or when multiple people enjoy online media and games at the same time, the requirements for router stability, processing efficiency, and multi-distribution capabilities will become increasingly demanding.
Network Quality Performance Requirements
Bandwidth delay
1080P video
4K video
Online games
Smart home
> 10M
< 20ms

> 25M
< 10ms

> 5M
< 10ms

> 1M
< 50ms

Router application risk leads to poor user experience?
When the following conditions are encountered, transmit speeds may be slow or the devices may be disconnected from the AP:
Weak signals may occur at some special connection angles
When multiple devices are connected to the AP at the same time
Some channels do not provide maximum transmission performance
Slower 802.11a/b/g devices and faster 802.11n/ac devices are connected to the AP at the same time
Thus, in order to avoid these situations that affect user experience, a complete performance test is even more indispensable.
The impact scope of the TR-398 Standard
Telecom operators such as Chunghwa Telecom, AT&T, China Unicom, and telecom operators around the world are of first importance because they directly face users. Thus, a large number of customers will immediately give feedback for the quality of the APs used with their services.
Then there are AP manufacturers, such as Netgear, D-Link, Linksys, and other world-renowned manufacturers. Since TR-398 is purely established to test the performance of AP design, and since the unified standard has been set, manufacturers must be eager to know the differences between their products and that of other manufacturers.
Finally, the network-related equipment manufacturers. Although the TR-398 is designed for APs, but in reverse, as long as the AP's golden sample is developed, according to the test method, it can be extended to all network-related devices indefinitely. The scope of impact is endless.
Test Environment Requirements
Forms for recording information
Record the test environment information including the device under test, station, traffic generator, attenuator, test chamber, and antenna.
Network
The LAN shall support speeds of at least 1 Giga bps.
Traffic flow generator
Receiving and analysis should be done using traffic generation software that can generate TCP and UDP traffic with fixed data packet sizes.
Anechoic shielded chamber
The ambient noise signal power shall be less than -100 dBm as measured by a spectrum analyzer with receive sensitivity of at least -103 dBm.
Antenna
If external antenna is used, the direction of the antenna shall be adjusted perpendicularly to the horizontal plane.
Location
The station should be placed at the same height as the device under test.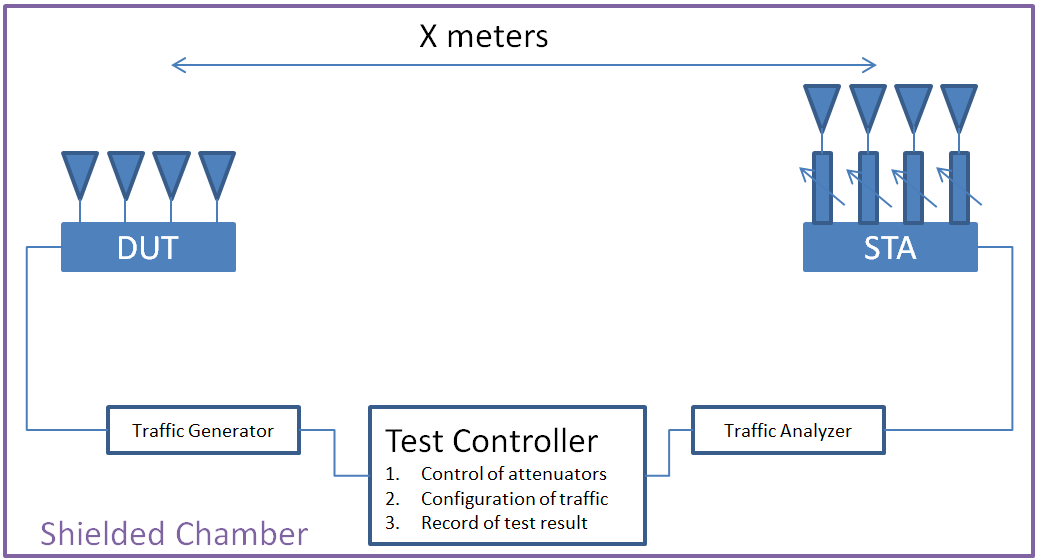 Next, Allion will explain the test categories of BBF TR-398 and its test items. In this article, we will introduce category 1: RF Capability.
Category 1: RF Capability
1-1. Receiver Sensitivity Test: Optional Test
Receiver sensitivity is the ability of the receiver to receive and correctly demodulate weak signals. This test provides a simplified measurement of the receiver's sensitivity relative to the total attenuation inserted between the device under test and the station. Weaken the signal until the PER is greater than 10%; this value is the receiver sensitivity.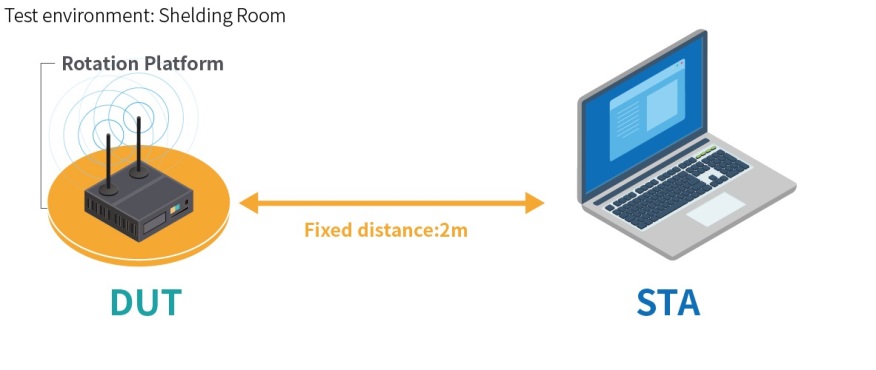 Test Requirements:
The measured average (between all rotation points) receiver sensitivity (with attenuation) should be greater than or equal to the desired receiver sensitivity as shown in the table below.
Required Receiver Sensitivity for 802.11n & 802.11ac
Test Index
MCS Index
Modulation
Approximately Receiver Sensitivity (dB)
Required (Nss=2)
1
0
BPSK
56
2
7
64-QAM
38
Now that you've read up to this point, we believe you have a certain understanding of the TR-398 Standard. For a more complete understanding of the TR-398 Standard's test points and their requirements, please stay tuned to Allion's technical articles!