Transform Your Cable-Connector Business
without Starting from Scratch
The Path to Transformation with Allion's Management Consulting
Based on 30 years of testing and consulting experience, Allion helps you redefine your cable-connector business in new markets and catalyze a total change.
The competition among cable-connector products has reached an unprecedented level. As the consumer electronics market gets saturated, more cable-connector manufacturers turn their attention to electric vehicles, IoT, and 5G. Breaking into new markets becomes inevitable if manufacturers want to maintain growth and profitability.
According to a market research report, up to 77% of companies worldwide are accelerating business transformation. However, it can be daunting to take the first step on the transformation journey due to limited resources. In view of this, Allion provides multi-dimensional strategy and consulting services, including risk assessment, data analysis, and laboratory establishment, to help cable-connector suppliers develop market entry strategies, overcome transformation barriers, and drive business growth.
It was once thought that business consulting service along with tech support was exclusive to large corporations. Now Allion makes it available to everyone.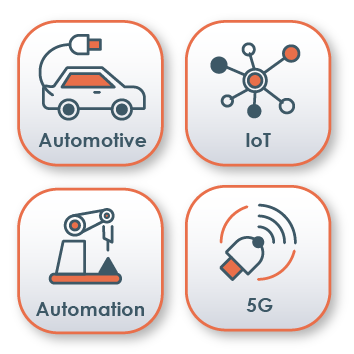 Explore Allion's Cable-Connector Consultancy and Management Services
We work with our clients to build custom and optimal solutions
Transform your business today