Imagine this: When you are ready to drive, in-built camera in car indentifies drivers and passengers, seats adjust automatically to fit in passengers in the most comfortable way, navigator and infotainment system switch to programs according to your preference and synchronize with your smart phones and tablets, downloading music or TV shows through your portable devices. Meanwhile, it is unnecessary to touch monitors on your portable devices; in-car equipment can control APPs on smart phones such as picking calls, watching videos or listening to music. When on road, navigator would provide real-time traffic condition report and instructions and monitor vehicle condition to conduct risk management. Car would search the nearest (or even the cheapest) gas station when gasoline or battery dies. It's all because of the extraordinary efficacy of In-Vehicle Infotainment (IVI) System, making smart drive come true.
IVI system is obviously a brand new practice of in-car computer, making transportation to be more than just moving one place to another. It carries a variety of inseparable information. Many famous car companies not only realize that IVI system would be the key point in the future, but also understand the characteristics of specialties and friendly usability would be the attractiveness to differentiate from competitors. Unlike in the past that you could only listen to the radios, music and watch films, new creative innovation would make your smart phones and other mobile devices connect with cars, which means the technology integration is a big challenge. According to Juniper Research, there will be 90 million cars that are about to surf on the Internet and able to work with the APPs on smart phones in 2016.
Chrat 1: History of IVI System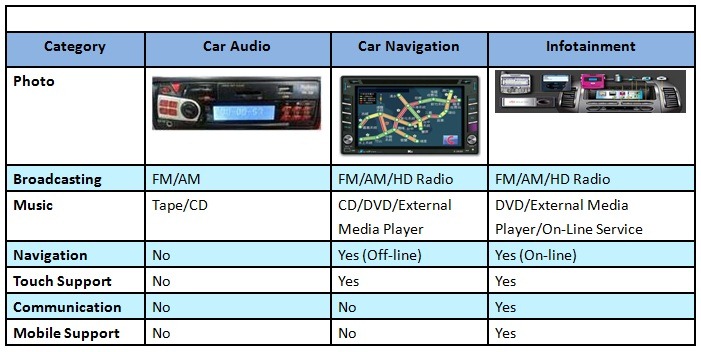 IVI System Is Ready to Roar
According to IHS Automotive Research published in March 2013, user's thought towards IVI systems would switch from non-essential to mush-have. It is estimated that by the year of 2018, the revenue of semi-conductor for IVI will reach more than 8500 million USD. China, one of the most important markets for IVI system, will take more than half of the global revenue, about 5300 million USD on its own. In an IHS report in April 2013, it predicts that the revenue of wired and wireless Internet and connection technology related to semi-conductor for car use will rise from 430 to 540 million USD. Moreover, due to the rise of IVI, related industries are expecting to indirectly benefit from it. For example, there were only 2% of cars sold in 2012 that were equipped with head-up display (HUD), but it is likely to gain to 9%, which would be about 9 million, in 2020.
There are two main reasons behind the gaining surplus of IVI system:
1. Sales amounts of cars equipped with IVI systems is expected to be two times the scale of now by 2018.
2. In 2018, the average revenue of one set of IVI system will be more than 200 USD. Facing this gigantic market, related companies need to update the latest technology and prepare impeccable products to compete with rivals.
When a car is not just offering transportation service, but through IVI as a media to communicate with variable electronic devices as a new-era artificial-intelligence product, it is more significant to certificate its compatibility and interoperability (IOP) test of related hardware and software to make sure functionality, quality, and efficiency are good enough to head on the road. In order to let all those applications mentioned above perform its best quality, the standard should be enacted strictly to make sure the technology protocol between smart phones, APPs, information content, IVI systems and Internet connecting are able to work well as a whole. So users can communicate with cars effectively through smart phones.
IVI System Certification Plan Enhances Connect Ability
When IVI system is getting more advanced, its service coverage is also getting more complicated and wider. Asides from basic navigation system, video streaming, APPs and storage technology, in-car computer is the key to affect the entire performance of IVI system which is also a main factor for consumers to purchase. Allion recently has been contacting with many test requests regarding to IVI system to make sure that IVI system is able to co-work fluently with software and hardware components from different companies. Therefore, in this article, we will introduce three mainstream technologies that connect different portable devices with in-car computer. Moreover, since safety standard and certification request for car specs products are much stricter than ordinary electronic products, for example, it is compulsory for in-car storage products to pass mechanical and physical tests to check its stabilities for different pressures, temperature and humidity. Therefore, we would introduce environment tests for car specs as well.
 Wi-Fi Miracast™ 
Based on Wi-Fi Display technique, Wi-Fi Alliance establishes Wi-Fi Miracast™ technology and launches Wi-Fi CERTIFIED Miracast™ Certification Program. Devices that are Wi-Fi CERTIFIED Miracast™ certified mostly keep Wi-Fi CERTIFIED Miracast™ product's joint usability, interoperability and safety. Via IVI system, user can watch clips or listen to music from smart phones, enjoying real-time content from A/V products. As in Pic 1, devices that adopt this technique can connect with each other without the need of extra Wi-Fi or connectors. In other words, device that is certified by Wi-Fi CERTIFIED Miracast™ has the Wi-Fi ability to connect directly and is not necessary to use existent access point. User can display photos, films or audio-visual media streaming service completely via smart phone on the car's monitor.
Pic 1: Topology of Miracast™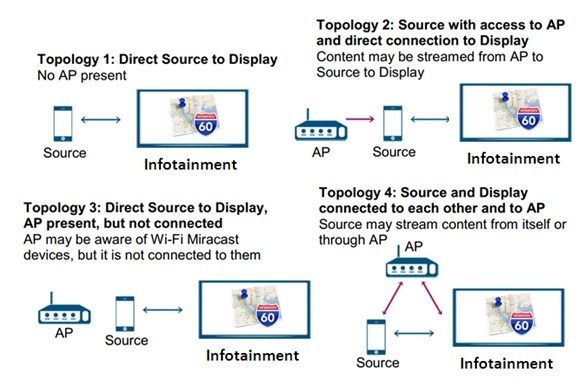 According to Wi-Fi Alliance®, "Wi-Fi CERTIFIED Miracast™ adopts many famous and dependable techniques from Wi-Fi, including Wi-Fi CERTIFIED n (improved throughput and coverage), Wi-Fi Direct™ (device-to-device connectivity), Wi-Fi Protected Access®2(WPA2™, safety protection/ security), Wi-Fi Multimedia™ (WMM®, traffic management)) and Protected Setup™ and so on." As a result, since Wi-Fi CERTIFIED Miracast™ certification program is based on the technical standards as mentioned above, when companies want their Wi-Fi products to get Wi-Fi CERTIFIED Miracast™ certification, their products are required to pass Wi-Fi CERTIFIED n, Wi-Fi Protected Access®2 and Wi-Fi Direct™ certifications.
 Bluetooth® 
According to a statistics by ABI Research, by the time of 2017, there would be 60 million cars equipped with Bluetooth® technology, which has a market growth rate about 47% compared to 2013. Bluetooth® technology is enacted by Bluetooth SIG for the purpose of hands-free communication and it is also one of the most popular technologies of short-range wireless standard. Through Bluetooth®, mobile phone's contact information would synchronize with IVI system, allowing users to conduct hands-free phone calls and text messages. Users are also able to surf on the Internet on IVI's bigger monitor with the Internet connection ability from mobile phone. For vigorous smart phone market, companies launch new products every six months or every year and update Operating System (OS) every three to six months while it takes about three years to develop IVI system and its market life cycle lasts for ten years. Therefore, companies need to make sure compatibility between portable devices and IVI systems, especially the inter-connect ability between different versions in case compatibility problems happen which may cause higher cost recovery charge and customer complaints. For example, common compatibility issues between mobile phones and cars are as below: three-way communication, voice control, contact information, redial from history and so on. These may result from the different versions of Bluetooth® technology and different supporting profiles which may affect customer's purchase intention.
When manufacturers are developing products with Bluetooth® technology, aside from Bluetooth® Qualification Conformance Test, interoperability test with other devices is one of the most important factors that spring up Bluetooth® technology. Therefore, it is necessary to take a whole test solution such as paring test with cameras, notebooks and smart phones. Allion has the newest devices and is equipped with state-of-the-art tools for conducting professional Bluetooth® test, helping companies' products with smoothly functioning with software or hardware from different brands and ensuring the integrity of Bluetooth® technology.
 MirrorLink™ 
The Car Connectivity Consortium (CCC) was launched by various companies across different industries, which include well-known mobile phone manufacturers Nokia, Samsung and LG Electronics; vehicle manufacturers Daimler, General Motors, Honda, Hyundai Motor Company, Toyota, and Volkswagen; and system suppliers Alpine and Panasonic. MirrorLink™ is a logo standard enacted by CCC for in-car inter-connection transmission. MirrorLink™ is an open and common connectivity technical standard for IVI system and corresponding mobile devices, offering users the simplest and direct way to create seamless in-car communication environment.
MirrorLink™ is a rising industry standard, allowing users to establish a network connection between smart phones and IVI system via USB, Wi-Fi, Bluetooth®, UPnP (Universal Plug and Play), VNC (Virtual Network Computing) and RTP (Real-Time Protocol) technologies. Some car manufactures have already adopted self-developing technologies such as ConnectedDrive from BMW, SYNC from Ford and Entune from Toyota. In the near future, what appears on the small monitors on smart phones would be seamlessly shown on car monitors, allowing users to use the buttons in the center console and even the buttons on the steering wheel to control their smart phone functions, such as hands free dialing, audio and video playback, navigation, mobile applications and so on
Not only does MirrorLink™ cooperate with smart phone developers or car companies to form an alliance, it is also working close with smart phone APP developers. Due to the importance of safety driving, the standard of APP is relatively stricter. There are two focuses for requirements specification: (I) Display interoperability, which specifies the size of icon, resolution and orientation. (II) User interface control, which includes single-touch and rotary/shift knob operation.
Besides, the system should not present information which may result in potentially hazardous behavior by the driver or other road users. A 5 x 7 (width-to-height) character matrixes shall be the minimum use for alphanumeric characters, in case of identification failure. Both automatic scrolling and user-controlled manual scrolling shall be prohibited. Moreover, drivers should be able to resume from an interrupted sequence of interactions with the system at the point of interruption or at another logical point. Therefore, it is not appropriate to transplant contend from smart phones when developing APPs for MirrorLink™. It shall follow EU's regulation to both improve the service coverage of MirrorLink™ and make it easier for their entertainment, audio/video and drive-safe APPs to satisfy necessary requirements for user's connected driving.
 Environmental Test for Automotive 
There are four aspects for environmental test for automotive: Climatic Environment Test, Mechanical Environment Test, Chemical Environment Test and Electronic Environment Test.
1. Climatic Environment Test
Unlike ordinary consumer electronics, car has more opportunities to be exposed under different temperatures such as in extremely hot dessert or freezing snowy road. Here is a series of temperature tests aiming at storage equipment of IVI system: (I) Temperature Shock Test. It contains test of wide range of temperature from -40°C to 90°C and 90°C to 25°C. (II) Temperature Gradient Test. It is based on every manufacturer's strict requirement to develop test of 25°C to -30°C or -30°C to 85°C. (III) Power Thermal Cycle Endurance (PTCE). For the performance test on IVI systems of heat generated by moving vehicles. (IV) Altitude Environment Test. It would test the performance when vehicles are under different pressure and temperature along with different altitude conditions.
2. Mechanical Environment Test
External shock may happen on your car since it's always unpredictable on road. Therefore, a Mechanical Environment Test would simulate when car is being hit by 70G and 120G and to check the integrity and safety of car body.
3. Chemical Environment Test
Air pollution and acid rain may influence car body and even indirectly erode the lines inside the car. Chemical Environment Test would have car body, storage equipment and connecting line to be exposed with several chemical gases such as NO2, CL2 and SO2 for several days.
4. Electronic Environment Test
One of the most rampant electrical maladies showing up in automotive service bays today is the phenomenon known as voltage drop. Voltage Drop Test can ensure that switch contact, relay, wire, connector and so on are not erratic under real using environment. Moreover, since IVI systems adopt Wi-Fi, Bluetooth® and Internet connection from mobile phone, it is significant to make sure devices with high frequency would not interfere with each other. Electro Magnetic Compatibility Test (EMC Test) is able to validate the performance of in-car storage and high-frequency device that are free from noise and interference.
Pic 2: IVI system needs a multiple-technologies-platform validation to ensure
its functionality and integrity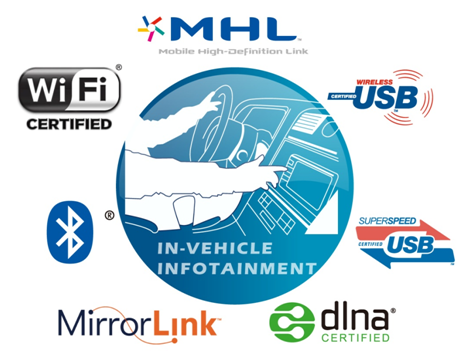 Besides to the technologies as mentioned above that need certification, for users, User Convenience and User Experience (UX) are the most direct experience when it comes to "smart car". Hence, it is necessary to have a professional expert team for related companies to design a cross-platform certification focusing on User Experience Design (UXD), improving IVI system performance and meet up with user's expectation.
There are three kinds of available APPs on the market for automobiles: music broadcasting, life information and content integration. But we do believe that as long as the market goes maturity, it will appeal to more consumers. By the time car manufactures would open its system standard and the cooperation mode would be opener. It is estimated that the standard for content service developers will be lowered and more and more car manufacturers and developers will devote themselves to this industry, reaching a win-win situation. A proper test plan should follow manufacture's requirements and car's specialties thus precisely adjust to a multi-angle test plan that fits the singularity of the client, focusing on the details of standard specs and reducing potential ricks and root causes. With the raising heat of the market, IVI system's scalability and interoperability will definitely be the keystone of success in the future. In order to make sure your IVI system is able to conquer the market, Allion's self-designed testing solution is your one and only choice.