Allion Labs / Abel Hsu
What will the next-generational laptops be like?
The next generation of laptop not only has a thinner appearance, but also faster  system performance. In the new generation product design, supporting Artificial Intelligence (AI) is an indispensable feature that helps computer to understanding user's behavior.
Battery life is a key factor for consumers to purchase laptops. However, conventionally in the pursuit of long-lasting battery life, the laptop will inevitably be bigger and heavier. The new generation of laptop can overcome this problem via optimized power management, coupled with fast charging technology such as Power Delivery (PD). These new features will greatly enhance the endurance of the laptop, providing users with nearly a full day of work time.
What is Project Athena? 

Project Athena was released by Intel in the 2019 CES. It strives to enhance interaction between users and notebooks through new technologies such as artificial intelligence, so that the notebook can give users the best experience in accordance with user habits, movements and different scenarios.
Intel defined 6 key goals for Project Athena: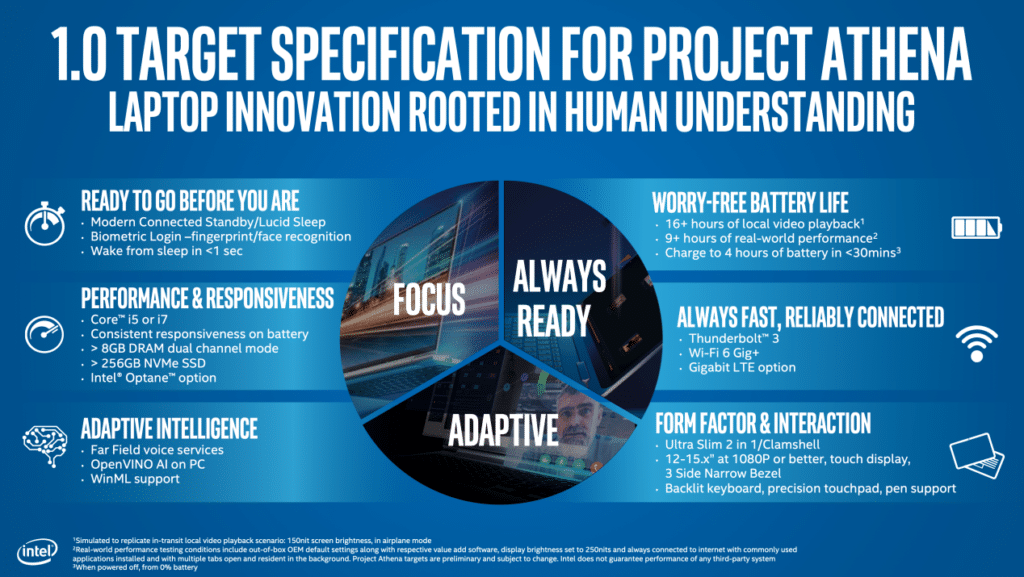 Source: Intel Newsroom
Ready to go before you are
Support for functions such as Modern Connected Standby/ Lucid Sleep through biometrics to supported rapid system resume, which is resume from sleep for less than 1 second
Performance and Responsiveness
Use the latest Intel CPU (i5 or i7 family), with system memory is bigger than 8GB. Storage drive support NVMe SSD and capacity is higher than 265GB, also supports Intel Optane Memory fast wake-up technology
Worry free battery life
The system has a video playback capability of more than 16 hour, and with Power Delivery fast charging technology, you can recover to 4 hours of battery life in 30 minutes
Project Athena Open Lab         

                  Source: Intel Newsroom
Intel is opening laboratories in Taipei, Shanghai, and California to test vendors' laptop components and ensure they are compliant with Project Athena's specifications. Independent hardware vendors (IHVs) will have the opportunity to submit parts for compliance assessment via Project Athena Open Labs, and Intel's OEM partners can also nominate preferred component vendors for participation.
Manufacturers and component developers can submit parts to the laboratories for assessment. Open Labs will test them under identical conditions to guarantee consistency across Project Athena laptops from various brands.
Allion Solution: Ecosystem Validation Program for Intel® Platforms
Allion is currently the only third-party test lab to offer testing for Intel Project Open Labs. Our role in the Open Labs is to offer Ecosystem Validation Program for Intel® Platforms, which provides testing and certification of low power display technology (LPDT) and interoperability of external displays with Intel Platforms.
The Program also aims to improve the quality of products in the Intel eco-chain and can be used as a reference for brands or ODMs in their product development. By verifying the specifications with the Intel Platforms, we can assist vendors to solve product problems in advance to improve market confidence in new products and technologies.