The 9th LoRa AllianceTM All Members Meeting, Open House & Market Place (AMM) was held in Suzhou, China, October 17-20, 2017. The event attracted 600+ attendees from household and commercial tech industries, including ZTE, Cisco, ARM, and Alibaba. Besides sharing the latest information of LoRaWANTM, LoRa AllianceTM also announced Allion Labs as its NEW Test House in Asia.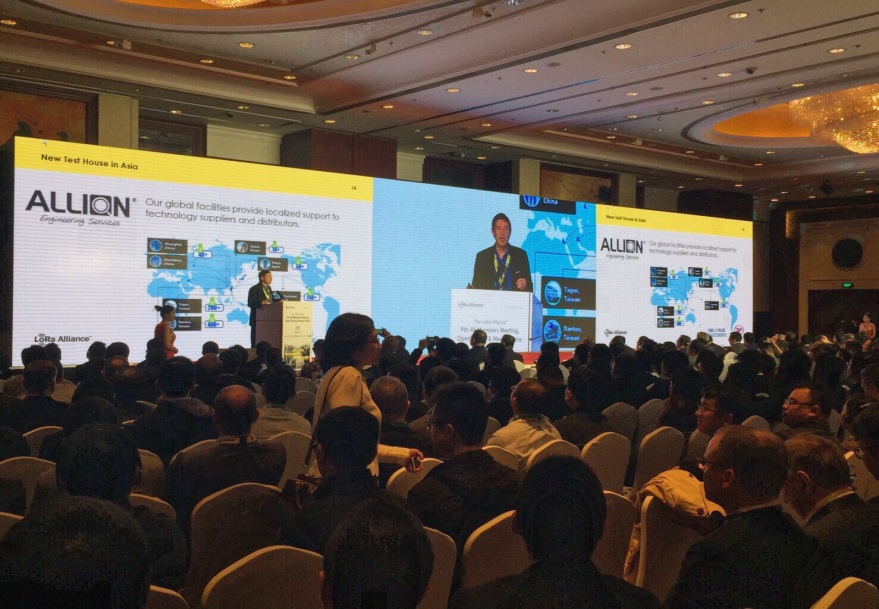 Believing the IoT (Internet of Things) era is coming. LoRa AllianceTM is dedicated to the deployment of a globalized Low Power Wide Area Network (LPWAN) standard, enhancing the interoperability among diverse smart devices. According to the Chairman, Geoff Mulligan, the membership of the LoRa AllianceTM has surpassed 500, and "we have [also] seen more than 20,277 downloads of the LoRaWANTM specification" since 2015. These achievements have allowed LoRa AllianceTM to become one of the mainstream wireless technologies that features in long distance but with minimum power consumption.
The LoRa AllianceTM has developed LoRaWANTM Certification Program to fulfill the key demands of IoT products, such as "security," "power efficiency," "secure bi-directional communication," "Geo-location" and "interoperability." The LoRaWAN network architecture is built in a "stars-of-stars topology," which establishes multiple gateways as communication bridges between end-devices and the central network server in the backend.
Since the end-device only needs to send messages to the gateways in a certain period of time (i.e. the device does not have to keep sending messages to check if/or which gateway is receiving its data), IoT products are more power-efficient. In addition, The LoRaWANTM network protocol guarantees "interoperability" between LoRa network operators in one open global standard. Throughout this Certification Program, vendors can ensure not only the connectivity of their certified products, but also the ability of commercializing their offering around the world.
Intending to provide a more prompt and convenient service for its members, LoRa AllianceTM decided to establish Allion Labs as its new Test House in Asia during the 9th all members meeting in China. In the near future, we will provide our world-class testing and consulting services to support LoRa AllianceTM to promote its standardized network protocol, preparing the world ready for the IoT Era.