Probably you have visited the booth of Allion Lab during Embedded World 2017. Foreseeing the market growth potentials, Allion Lab is ready for the era of IoT by providing related engineering services that was also our theme during this trade fair. To welcome the international visitors around the world, Allion not only demonstrated a set of simulated IoT testing elements with various smart products on the markets that have been certified by Allion, but also offered professional consulting in details of our related testing services with solutions as our guests interested.
Following its 15th round, Embedded World has once again in 2017 impressively reinforced its status as the No. 1 international gathering for the embedded system technology sector. Over 1,000 exhibitors and numerous speakers from 42 countries was presenting the entire spectrum – ranging from construction elements through modules and full systems, operating systems, hardware and software to services – to more than 30,000 trade visitors and approximately 1,700 conference participants from 73 countries.
Based on a concept of "IoT is changing our lives", the exhibits this year are from our special invitation to several of our business partners, including JVCKENWOOD, Clarion, Elitegroup, Switchmate, Cat® Phones, Kodak and U-Way, in order to reward our guests a more macroscopic view of a kind of smart life from the IoT-related products on display, including wireless charging devices, In-Vehicle Infotainment system and smart home appliances.
We could say that IoT market is now at the beginning point of its maturing phase. However, as the market potential is turning into profits, the various standards among the IoT applications are still remaining to be in interoperability. Anne Tsou, the head of Strategy & Planning division of Allion, has mentioned, "The crucial issue for all of us now should be how we can through technologies integration in the near future achieve a successful popularity of IoT application into home appliances under the smart home concept" since IoT has actually involved even more complicated technical interoperability across various tech fields.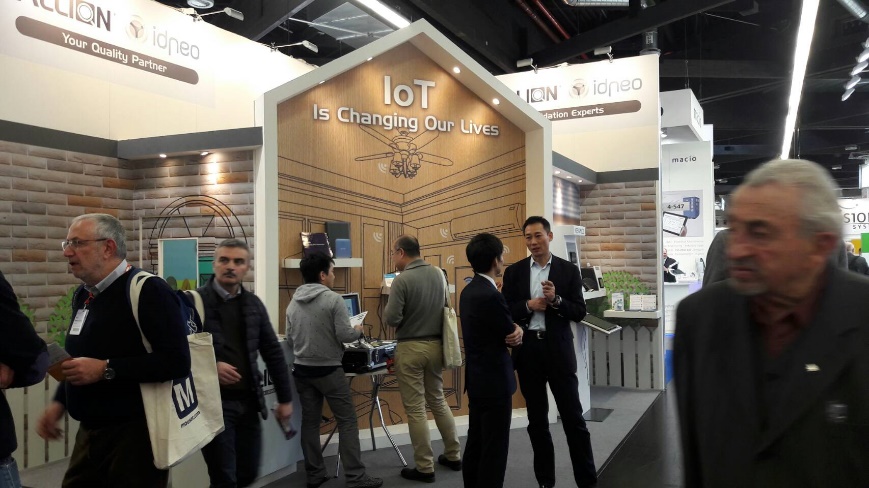 Allion's Booth during Embedded World 2017- A virtual Smart Home responding to "IoT is changing our lives"