The Tokyo Olympic in 2020 will be adopting 8K broadcasting to bring a new experience to the world. Although HDMI is now the mainstream, it still improves its technology to provide high-definition and super-speed quality to consumers.
As experts and specialists in the field of high-speed signal transfer technology, Allion has custom-designed & developed our own HDMI qualification test controller "ALLION AJSC-1" and the corresponding test point adapter "ALLION AJSC-TPA-RR". Both controller and adapter have successfully been validated by HDMI Forum to conduct HDMI compliance tests.
HDMI Compliance Test (Protocol test)
You can carry out the following testing written by HDMI CTS
CTS ITEM: HF1-23, HF2-10, HF2-31, HF2-32, HF2-35, HF2-53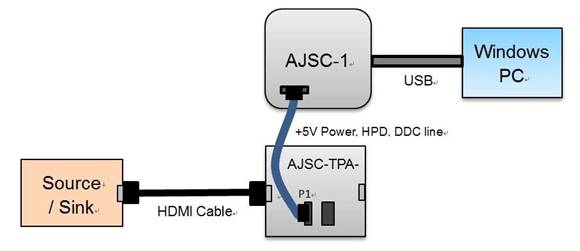 More Test Tool Info: HDMI TEST POINT ADAPTER "ALLION AJSC-TPA-RR"
If you want to buy our products, please contact us directly: +886-2-7722-8800 or service@allion.com