[Exclusive Interview] USB-IF Developer Days conference was held on January 2, 2022, in Seattle, USA, unveiling the USB 4 Version 2.0 standard. USB-IF presented the latest USB4 Version 2.0 and related updates for USB Type-C and USB Power Delivery based on USB4 Version 2.0. Allion participated in this conference and will provide you with in-depth information on the updates.
Base Specification and Logos Release and Update
The latest USB4 Version 2.0 mainly provides the following features:
▶ Replaces traditional NRZ with PAM3, achieving a transmission rate of up to 80Gbps.
▶ Newly added Asymmetric (120Gbps/40Gbps) applications.
▶ Existing USB4 USB Type-C passive cables can still be used.
▶ Newly defined 80Gbps USB Type-C active cables (LRD & OIAC).
▶ Optimized data transmission and display transmission protocols.
▶ Supports USB Gen T tunneling to support USB 3.2 up to 20Gbps.
▶ Supports DisplayPort Revision 2.1 & PCI Express Revision 4.
▶ Backward compatibility with existing versions of USB.
With the release of USB Version 2.0, new USB 80Gbps logos have also been introduced. They are divided into the following three types:
1. Packaging logos for external packaging
2. Port logos for USB devices
3. USB Type-C cable logos for USB Type-C cable assemblies (Divided into 60W supporting SPR and 240W supporting EPR)

Old logos no longer emphasize specification versions that are easily confused by end-users (USB 3.1 Gen1, USB 3.2 Gen2x2, USB4 Version 2, etc.), but instead focus on the speed during operation.

The new logos are divided into Performance Logos for Host and Device, and Cable Logos exclusive to USB Type-C cables, as shown in the table below: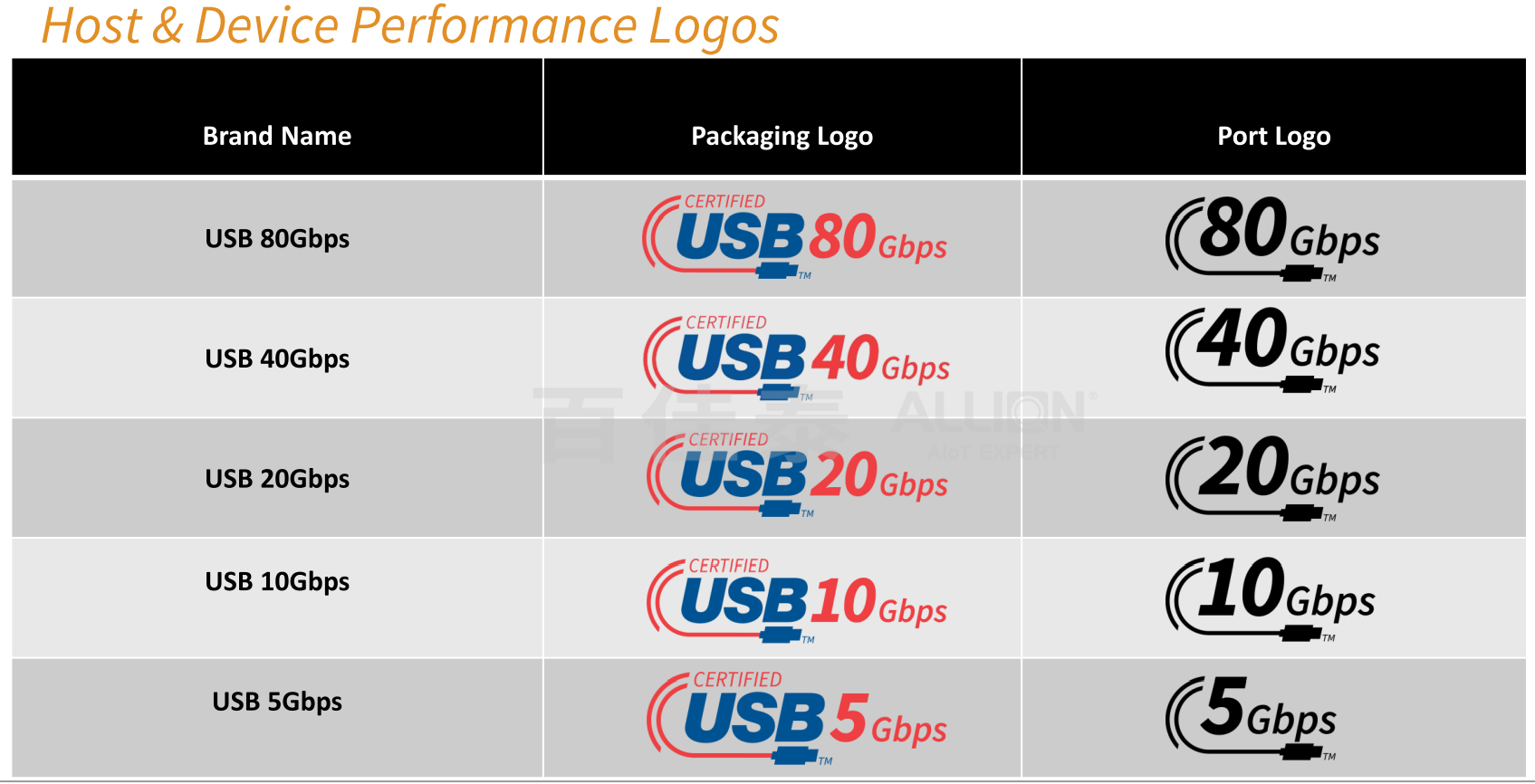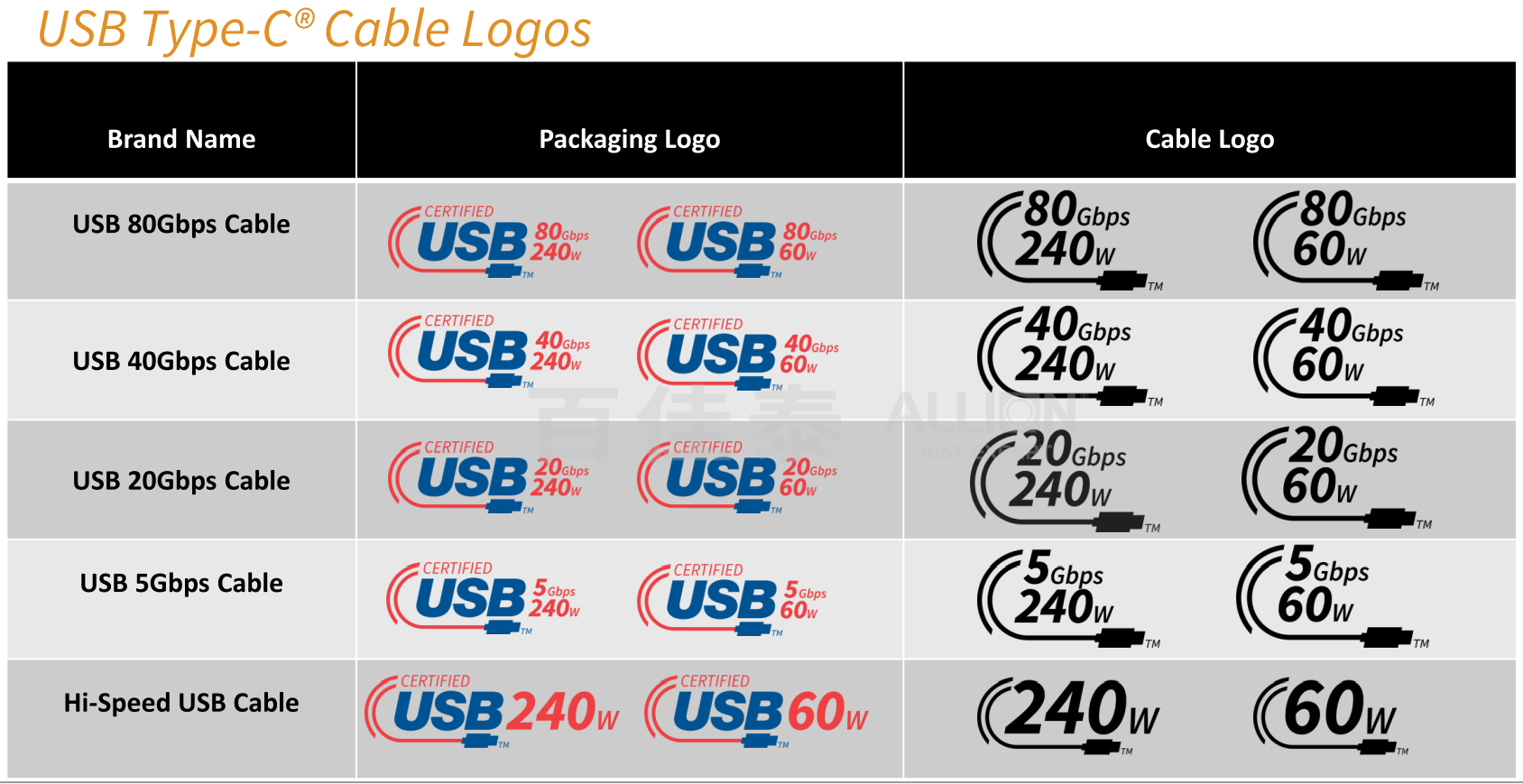 For USB products that have already been certified and wish to use new logos, USB-IF provides the following methods:
▶ USB vendors contact USB-IF administrator
▶ Provide TID to USB-IF.
▶ USB-IF checks whether the required USB vendors have signed the Trademark License Agreement (TLA).
▶ USB-IF checks whether the product information provided is correct.
▶ After confirming the correctness, USB-IF will provide the appropriate new logo artwork files to the USB-IF vendors who submitted the application.
Regarding the Base Specification, in conjunction with USB Version 2.0, USB-IF also released updates for USB Power Delivery 3.1 and USB Type-C Release 2.2. USB Power Delivery 3.1 mainly updates USB4 Version 2.0 discovery, while USB Type-C Release 2.2 mainly updates USB4 Version 2.0 discovery and USB4 80 Gbps active cables (LRD and OIAC).
Four Major Updates of USB-IF Certification
a. USB4 USB Type-C Passive Cables Certification
The signal integrity requirements for USB4 Version 1.0 certification have prioritized the data transfer bandwidth of USB4 Version 2.0. Therefore, existing cables can directly support it, but eMarker needs to be updated to declare support for USB4 80Gbps. For power support, USB-IF requires that if it supports up to 5A, in addition to SPR voltage (maximum 20V), it must also be able to transmit EPR voltage (28V, 36V, and 48V). If it supports up to 3A, only SPR voltage transmission is required.

b. USB Type-C Active Cables Certification
b. USB Type-C Active Cables Certification In addition to requiring support for 80Gbps and Asymmetric (120Gbps/40Gbps), USB Type-C Active Cables have more detailed and rigorous specifications for Optical Active Cables [including Hybrid Optical Active Cables and Optically-Isolated Active Cables (OIACs)] in this update.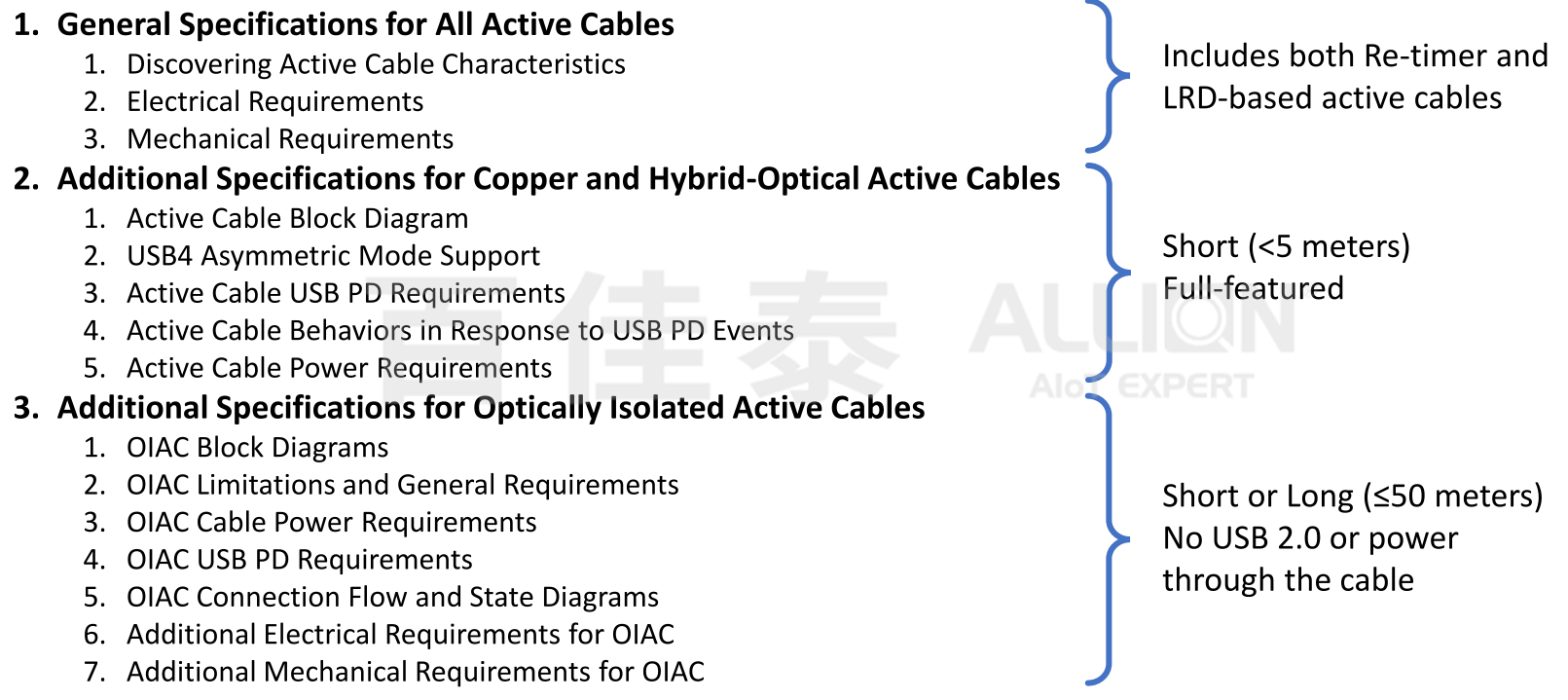 For the certification of USB 3.2 LRD chips, USB-IF has designed Pre-channel fixture/ISI board and Post-channel fixture for certification.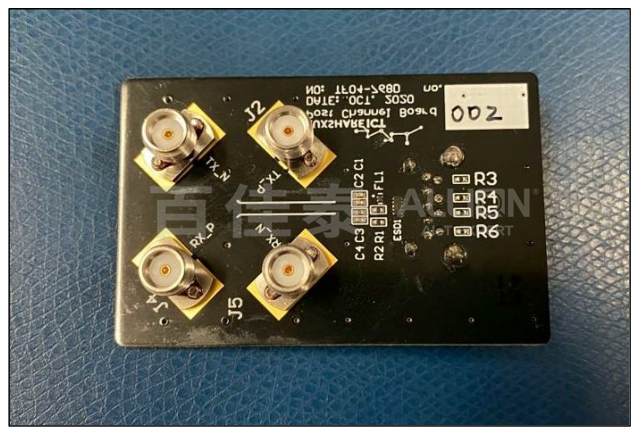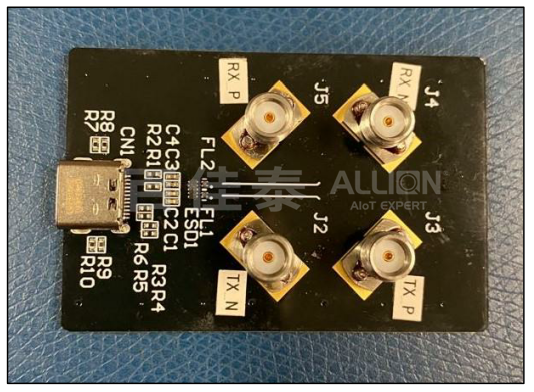 The test items are mainly divided into Stand-Alone Test, which verifies the test object alone, and Interoperative Test, which verifies it with a passive or active cable (requiring two test objects).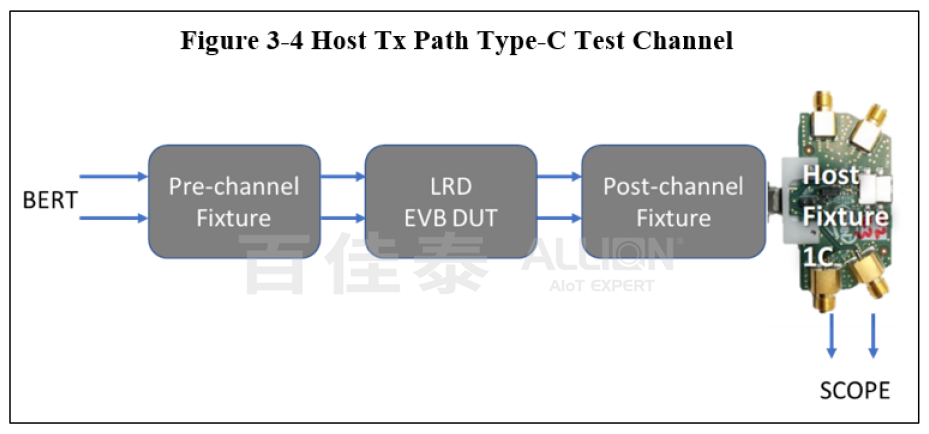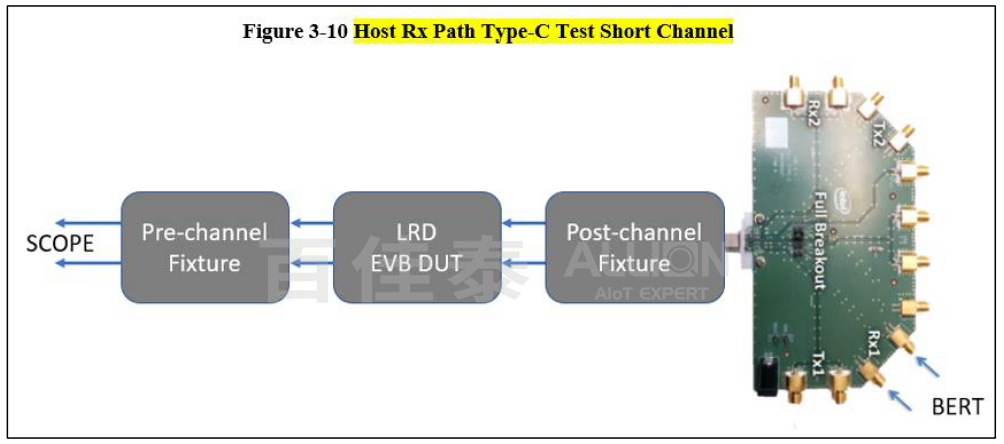 USB4 LRD cables have currently updated the USB Type-C specification. The electrical certification of USB4 LRD cables mainly focuses on insertion loss and output noise in the frequency domain. Relevant compliance test specifications (CTS) and tools have also been announced in the Active Cable Work Group. The certification testing for USB4 Gen4 LRD cables will be similar to USB4 Gen2/3, where data in the time domain is captured to calculate whether each parameter complies with the specifications. USB-IF will also launch the LinearCableSigTest tool to simplify the analysis process and shorten the analysis time. The ETT tool will also be updated to generate SBU messages needed for LRD testing to simplify the testing process.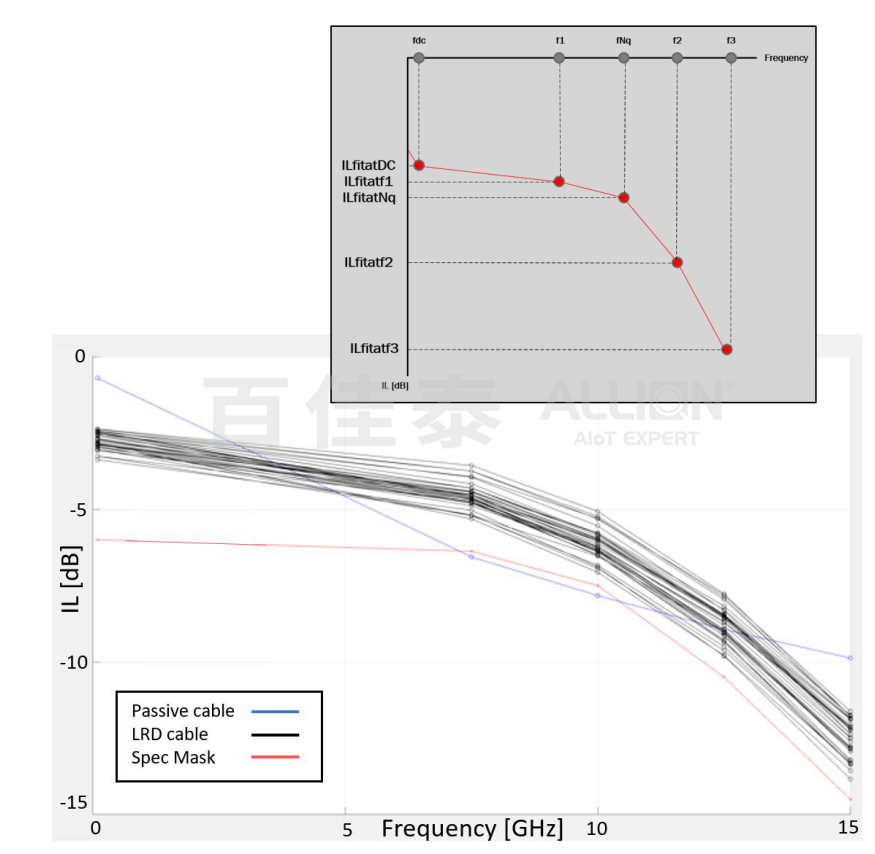 Regarding Optically-Isolated Active Cables, there is currently no clear certification schedule. USB-IF's requirements for OIACs are as follows:
▶ High-speed transmission using light only
▶ USB 2.0 transmission is optional (if not supported, it will downgrade to USB 2.0 and notify the user through Billboard)
▶ Does not support Vbus and Vconn (no Vbus, Vconn, and GND wires)
▶ Both USB devices connected to OIACs need to be self-powered
▶ DP Alt Mode & USB4 Gen4 Asymmetric Mode are optional
▶ Support for Thunderbolt 3 is required
The requirements for hosts/devices connected to OIACs are as follows:
▶ The USB devices connected to both ends of the OIACs need to source Vconn.
▶ The USB devices connected to both ends of the OIACs need to support USB Power Delivery.
▶ One of the USB devices connected to both ends of the OIACs needs to perform DR_SWAP.
▶ The USB Power Delivery engines of the USB devices connected to both ends of the OIACs need to be able to accept transmission delays of USB Power Delivery.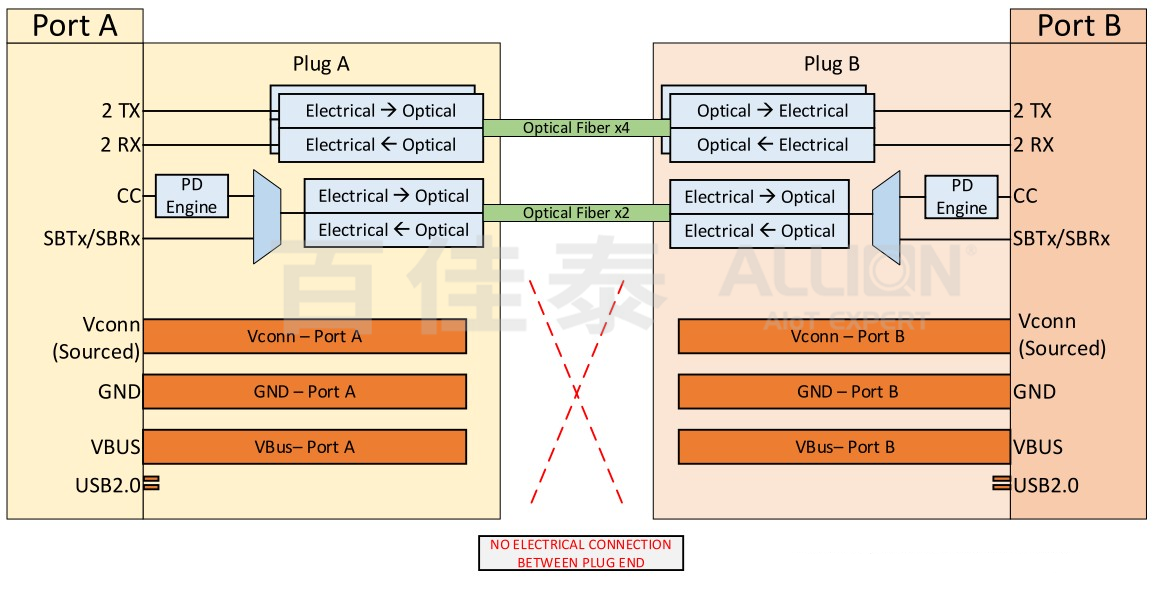 c. USB Power Delivery Certification
USB-IF specifically mentioned that the VDOs of each product should provide a clear direction. The relevant information is as follows: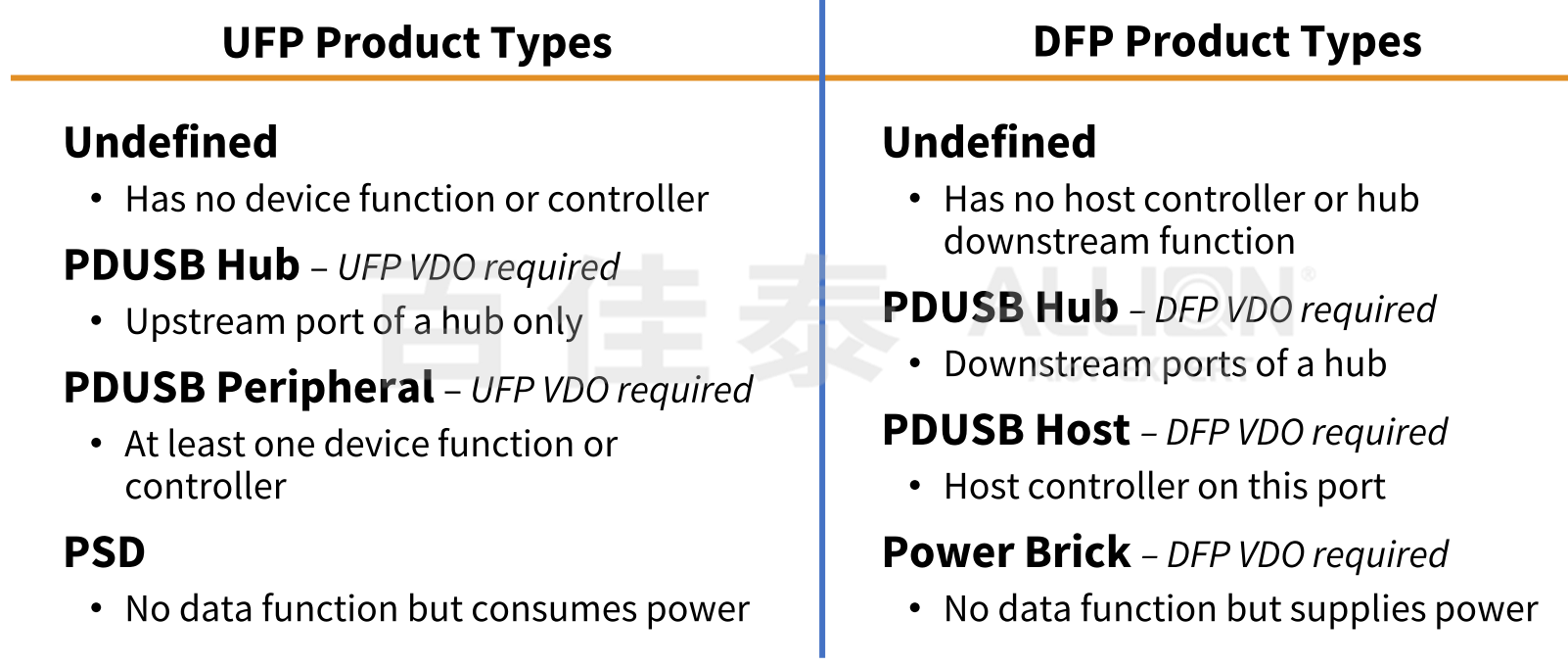 d. USB4 Certification
USB-IF recently updated the USB4 certification matrix, mainly to update the certification items for USB4 terminal products in the USB4 section. In order to provide a good user experience for end users, USB-IF has decided to require the certification items that were previously only required for USB4 chip products to also be executed during USB4 terminal product certification.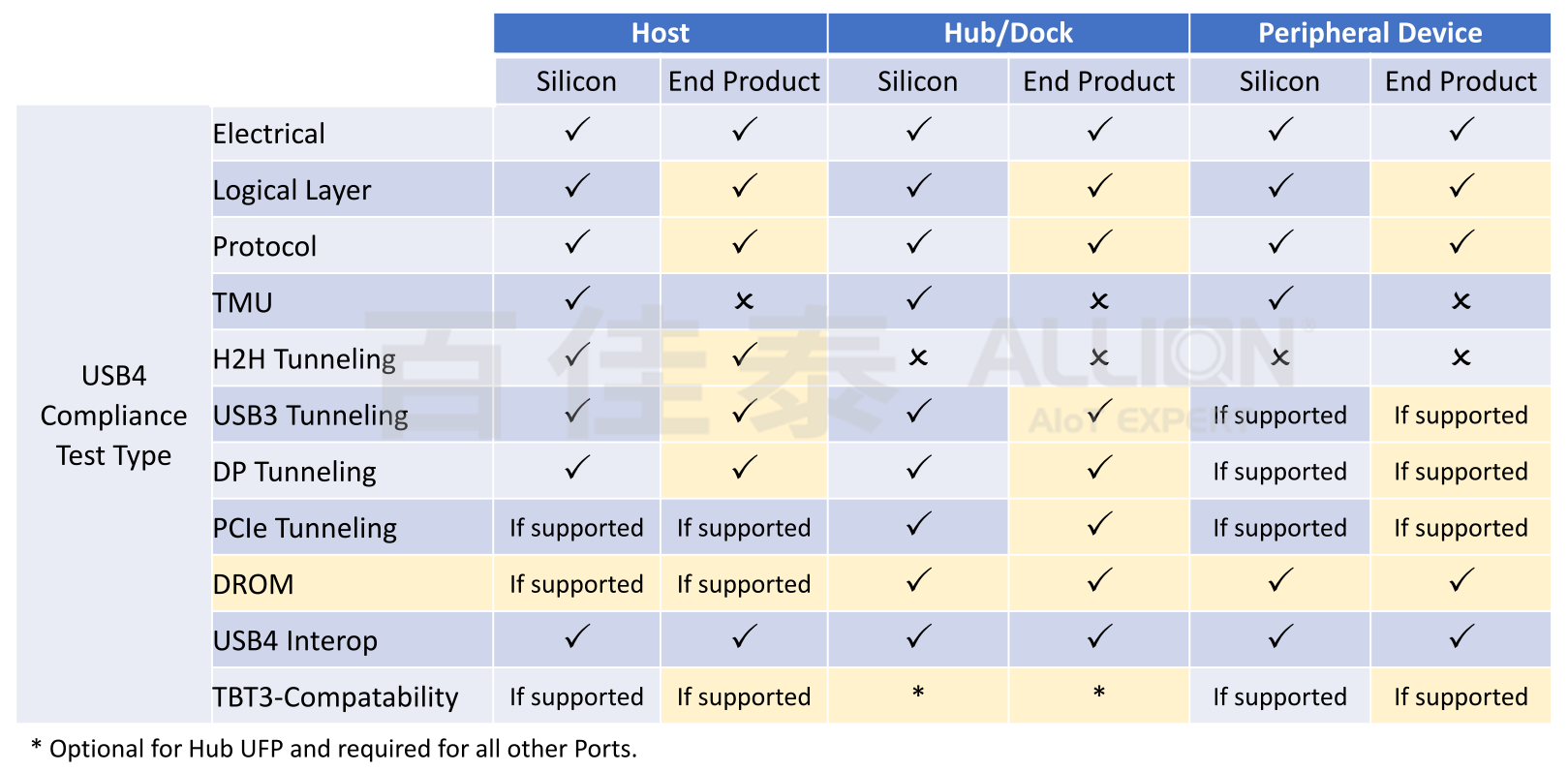 In addition, USB4 products actually include different tunnels (USB3, DisplayPort, and PCIe), and each tunnel can be transformed into its respective standard connectors in Hub/Dock and Peripheral Devices to dock with their respective standard terminal products. Therefore, compatibility is highly demanding, and USB-IF mentioned that the USB4 Interop will require three weeks to execute testing.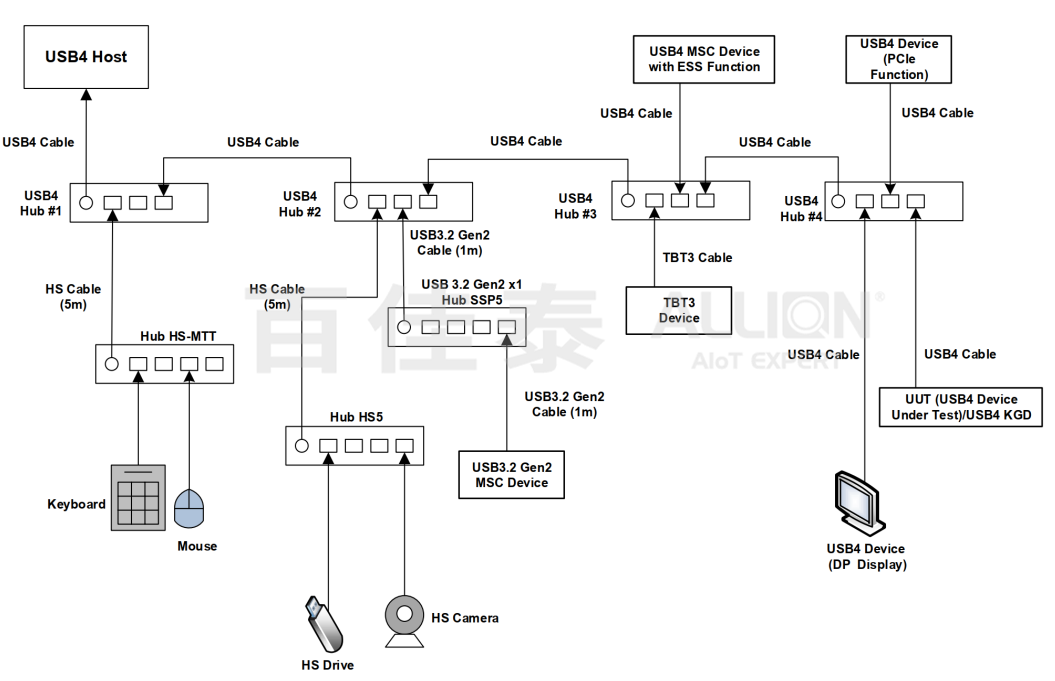 USB-IF mentioned that when USB4 products are used at USB 3.2 or USB 2.0 speeds, the following behaviors should be observed:
▶ When operating at USB 3.2 or USB 2.0 speeds, USB device class should be used to achieve the same functionality as USB4, but with lower performance allowed.
▶ When operating at USB4 functionality, if USB device class cannot be achieved at USB 3.2 or USB 2.0 speeds, the USB Billboard Device Class should be used to warn the end user that the product's functionality is limited.
▶ When USB4 uses PCIe tunneling for data transmission and falls back to USB 3.2 or USB 2.0 speeds, MSC Class should be used for data transmission (lower performance is allowed).
▶ When USB4 uses PCIe tunneling for display data transmission and falls back to USB 3.2 or USB 2.0 speeds, the USB Billboard Device Class should be used because there is no equivalent function to replace it.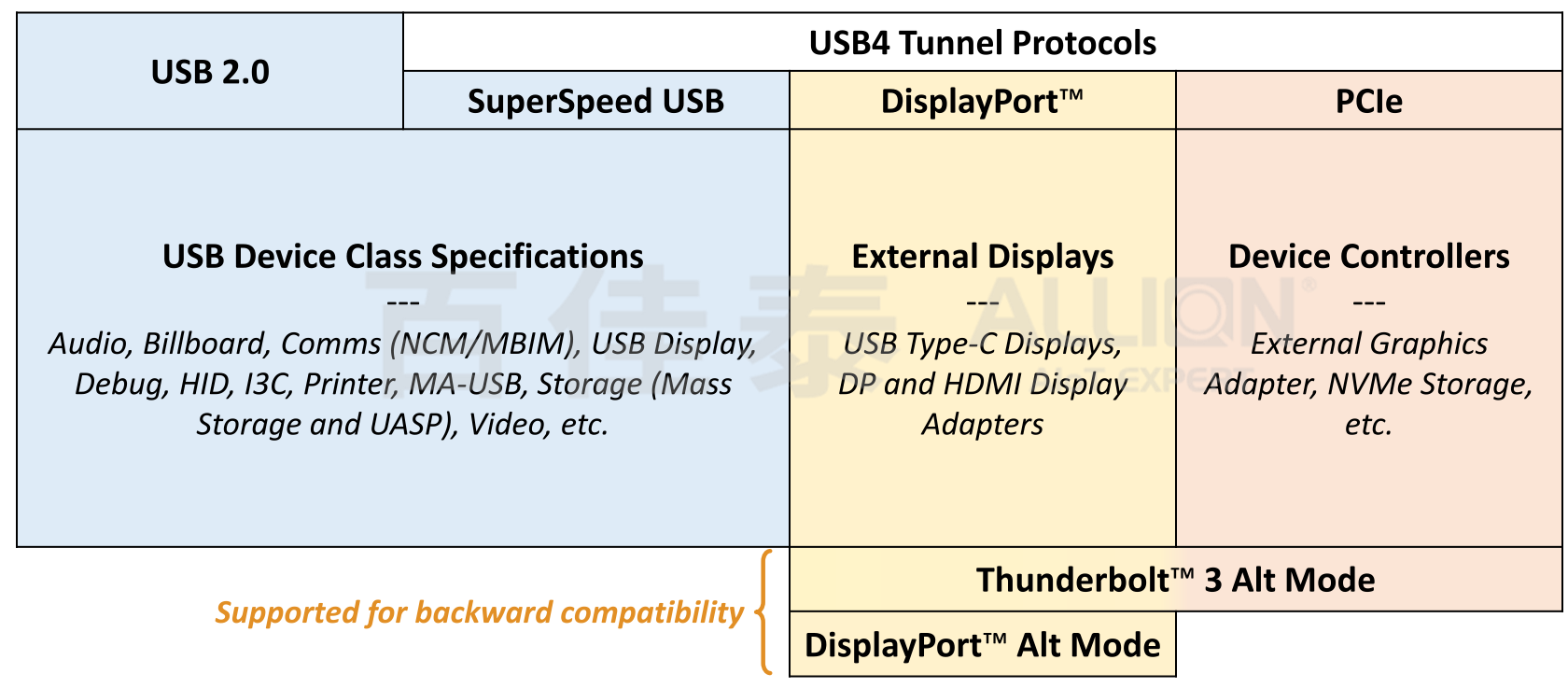 For USB4 V2 certification, USB-IF currently uses the test items and tools established for V1. The new features added in V2 will be verified using new test items and tools. There is no distinction between V2 and V1 in certification, only the USB4 Compliance Program. USB-IF will continue to certify USB4 V1 products, but because the new test items for V1 and V2 products' docking are still being defined, temporary waivers will be granted during the grace period. The planned USB4 V2 certification schedule by USB-IF is shown in the figure below:

To learn more: If you are interested in USB Type-C Active Cable testing, we invite you to join the Active Cable Work Group to access relevant testing specifications.
The above is a summary of the key points from the USB-IF Developer Days Seattle. If you have any verification needs or would like to obtain more detailed information, please contact Allion for further assistance.
For any other technical inquiries, please don't hesitate to reach out to us at service@allion.com.
About the USB-IF
About the USB-IF The non-profit USB Implementers Forum, Inc. was formed to provide a support organization and forum for the advancement and adoption of USB technology as defined in the USB specifications. The USB-IF facilitates the development of high-quality compatible USB devices through its logo and compliance program and promotes the benefits of USB and the quality of products that have passed compliance testing.
About Allion Labs
Founded in 1991, Allion Labs is a pioneer in the validation and certification of IT and consumer electronics. Based in Taipei, Allion has branches across the globe in Japan, China, Europe, and the USA, providing over 30 compliance certification tests, such as Wi-Fi, Bluetooth, LoRa, Wi-SUN, USB, DisplayPort, and HDR10+ Certification services. Allion provides quality test services such as product compatibility and reliability testing to help manufacturers build quality products.
Allion has been a USB Authorized Test Lab for decades, capable of performing all USB-related test services. We offer the newest USB4 and 240W certifications services as well as USB4 Gen. 3, USB4 Gen. 2, USB 3.2, USB 2.0, USB Type-C®, and many more. In addition, we provide test fixtures such as the USB4 Golden Plug and other superior test fixtures.
If you have any USB testing needs, please contact us at: service@allion.com
USB4®, USB Type-C®, and USB-C® are USB-IF registered trademarks.
PCI Express® and PCIe® are PCI-SIG registered trademarks.
DisplayPort™ is a VESA registered trademark.