On 15 February, 2022, Allion Japan has successfully assisted 11 Giv-Tech, Inc. products in passing the ZETA Certification Test, according to specifications set by the ZETA Alliance. The certified products include APs, motes, and sensors—now displayed on the Official ZETA Alliance Website as one of the first ZETA Certified products in the world. This marks an important milestone for Allion, playing a key role in the certification of the first products utilizing ZETA.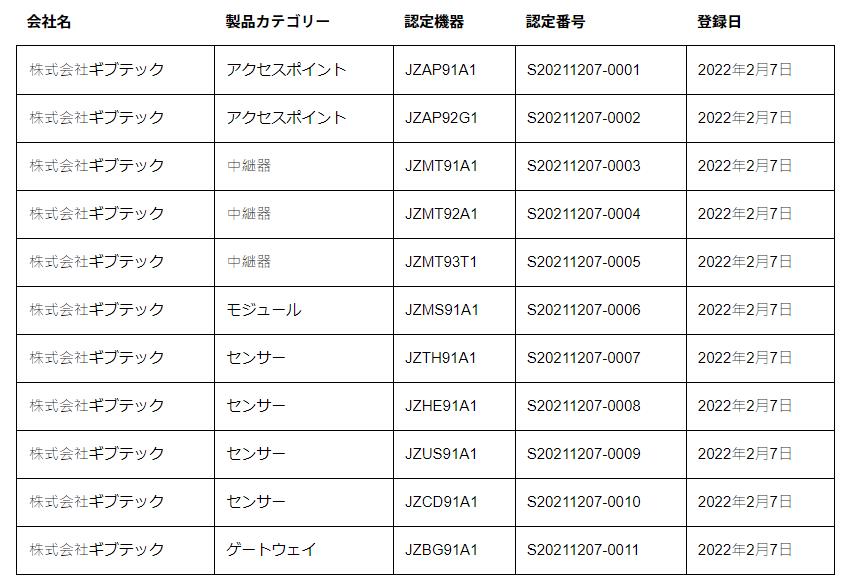 Image: First Wave of ZETA Certified Wireless Products
Allion believes in and promotes the ZETA certification, with Giv-Tech being one of the first adoptees of the LPWA technology. Allion is honored to be the first ZETA Certified Test Lab and participate in this milestone, and will continually provide the best certification services for clients.
Allion has had years of wireless validation experience, with ZETA, Wi-Fi, Bluetooth, LoRa, and Wi-SUN testing capabilities. Familiar with the multitude of different scenarios in IoT validations, Allion assists vendors in eliminating issues before mass production and prior to customer complaints.
For more information on the ZETA Certification or more, please feel free to contact us at: service@allion.com.
■ About the ZETA Alliance
ZETA Alliance Japan was founded in June, 2018. As of October, 2021, there are a total of 109 corporations and 14 universities as members, with a total member count of 123 organizations. The ZETA Alliance promotes the use of ZETA technology in a diverse set of applications, aiming to build a framework to achieve Society 5.0. ZETA is a LPWA communication standard using multi-channel Ultra-Narrow Band (UNB), mesh access and multi-hop capabilities, as well as low-power, bi-directional communication.
■ About Giv-Tech, Inc.
Giv-Tech is a company that produces and sells LPWA communication equipment and provides IoT system introduction services. Giv-Tech has created the brand, JAZE, for Giv-Tech's communication equipment using ZETA as the communication technology. In addition to providing APs, motes, smart sensors, and other equipment required for LPWA communication to companies introducing smart buildings and smart factories, Giv-Tech also provides consulting and technology to manufacturers who are expected to adopt LPWA technology IoT systems.
■ About Allion
Allion is committed to the validation and certification process of IT and consumer electronics. In addition to performing wireless certification tests such as Wi-Fi, Bluetooth LoRa, Wi-SUN, and more, Allion also provides USB, DisplayPort, and HDR10+ Certification Services. Combining the test experience and technical knowledge accumulated over the years, we provide quality test services such as product compatibility and reliability testing to help manufacturers build a more complete IoT ecosystem.