[Taipei, June 14, 2023] – Allion, a globally recognized leader in Wi-Fi certification testing, is proud to announce its pivotal role in assisting AsiaRF, a leading wireless connectivity company, in obtaining one of the world's first Wi-Fi CERTIFIED HaLow® end product certifications from the Wi-Fi Alliance®. This historic achievement marks a groundbreaking milestone in the advancement of wireless connectivity and the Internet of Things (IoT).
The Wi-Fi HaLow certification from Wi-Fi Alliance is specifically designed for low-power, long-range wireless connectivity in IoT devices, meeting the increasing need for efficient communication in various industries. Allion, as a trusted Wi-Fi Alliance Authorized Test Lab, provided comprehensive testing services and expertise to AsiaRF, ensuring their products met the stringent requirements for Wi-Fi HaLow certification.
Through Allion's rigorous testing and evaluation processes, AsiaRF's cutting-edge HaLow-enabled devices successfully met all necessary criteria, including interoperability, security, and performance benchmarks. Allion's state-of-the-art testing facilities, combined with their technical proficiency, played a pivotal role in validating the functionality and reliability of AsiaRF's Wi-Fi HaLow gateway.
Exploring Growth Opportunities with Industry Collaborations, Wi-Fi HaLow Rises with Confidence
"We congratulate AsiaRF on their groundbreaking achievement of obtaining one of the world's first Wi-Fi HaLow end product certifications," expressed Brian Shih, CTO of Product Certification of Allion. "As a leading Wi-Fi Alliance Authorized Test Lab, Allion is committed to delivering top-notch testing services to our clients, enabling them to bring innovative and reliable IoT solutions to the market. We are proud to have played a part in AsiaRF's success and remain dedicated to shaping the future of wireless connectivity."
"Obtaining one of the world's first Wi-Fi HaLow end product certification is a remarkable achievement for AsiaRF. While our success this time is attributed to the efforts of our entire R&D team, it is also thanks to the expertise and support provided by Allion that the AsiaRF Wi-Fi HaLow gateway was able to achieve certification smoothly." stated Paul Lai, CEO of AsiaRF. "Allion's unwavering commitment to excellence and adherence to Wi-Fi Alliance standards were instrumental in guiding us through the certification process. This achievement solidifies our position as a leader in wireless connectivity solutions, empowering industries and consumers alike."
The successful collaboration between Allion and AsiaRF not only demonstrates the capabilities of both companies but also emphasizes the significance of comprehensive testing in ensuring the quality and performance of IoT devices. The Wi-Fi HaLow end product certification obtained by AsiaRF signifies the company's commitment to providing seamless, low-power connectivity solutions that are poised to drive the next generation of IoT applications.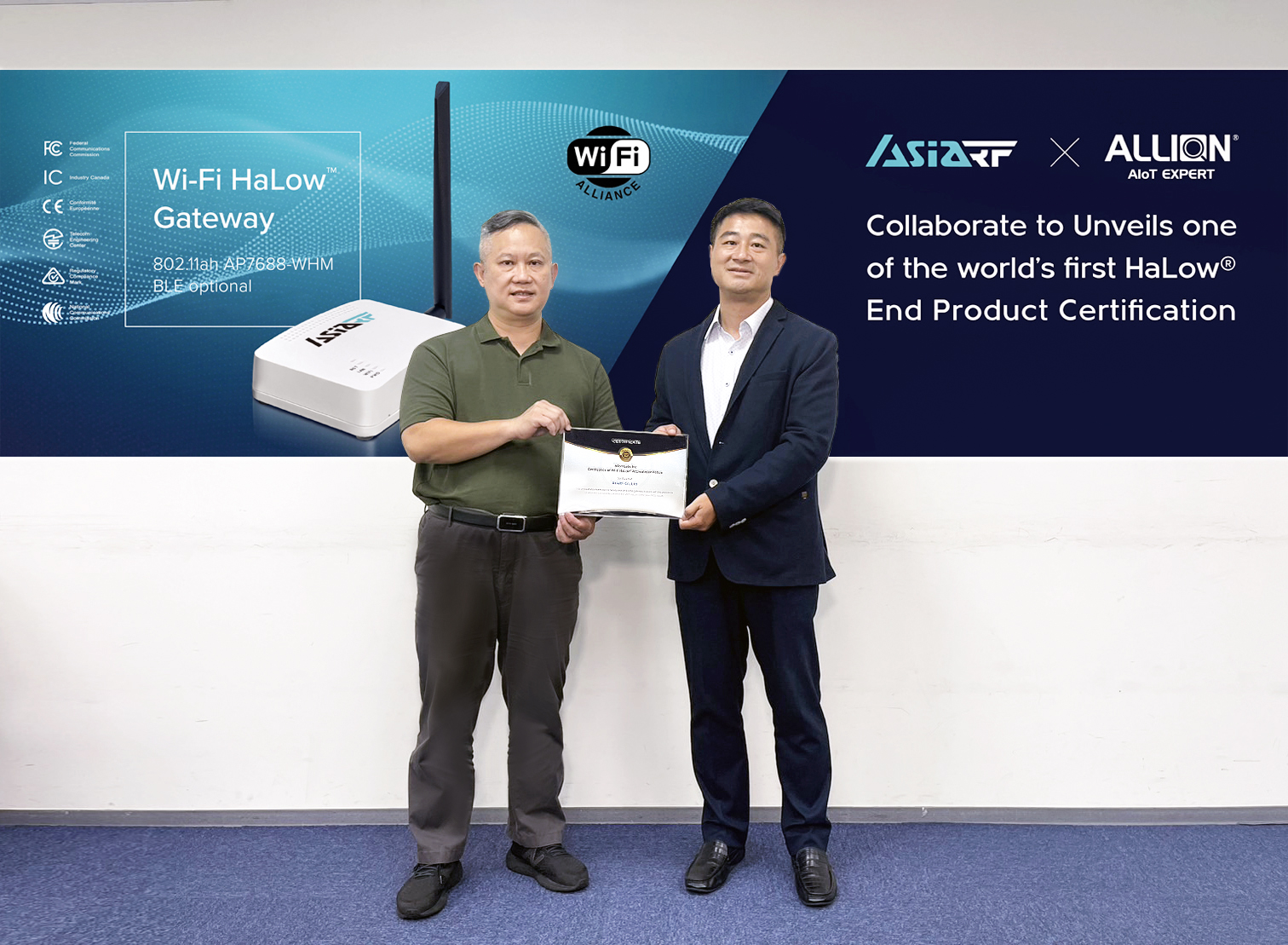 Allion Labs empowers AsiaRF to achieve one of the world's first HaLow® End Product Certification
Morse Micro, the chipset solution provider for AsiaRF's HaLow devices, also praised Allion for their invaluable support. "We extend our congratulations to Allion for their outstanding assistance in AsiaRF's achievement one of the world's first Wi-Fi HaLow end product certification," said Eddie Chang, V.P. & Country Manager of Greater China Region. "Their technical expertise, attention to detail, and commitment to industry standards have been instrumental in ensuring the success of this groundbreaking certification. Allion's role in the process has undoubtedly helped solidify AsiaRF's position as a leader in wireless connectivity solutions."
Maureen Gallagher, Wi-Fi Alliance VP of Marketing, also commended Allion's achievement in assisting AsiaRF to obtain Wi-Fi CERTIFIED HaLow end product certification. "Wi-Fi CERTIFIED™ assures the highest industry standards for interoperability and security among Wi-Fi® devices through rigorous testing and reviews. Wi-Fi Alliance Authorized Test Labs, like Allion, are an important part of delivering secure, interoperable Wi-Fi CERTIFIED devices to users worldwide. We are proud of our worldwide network of labs delivering testing services that are contributing to availability of interoperable IoT connectivity solutions."
The Wi-Fi HaLow certification obtained by AsiaRF opens up vast opportunities for businesses across industries, including rural internet improvement, smart home automation, industrial IoT, healthcare, and agriculture, among others. With Wi-Fi HaLow's low-power consumption, extended range, and robust penetration capabilities, AsiaRF's certified Wi-Fi HaLow gateway promise to revolutionize wireless connectivity in IoT applications worldwide.
About Allion
Allion is a global leader in providing wireless transmission consultancy, inspection, and certification services for wireless technologies, IoT devices, and consumer electronics. With state-of-the-art facilities and a team of seasoned experts, Allion ensures the highest standards of quality, compatibility, and performance for products in the connected world.
About AsiaRF
AsiaRF, a global leader in wireless connectivity, is committed to pushing boundaries, delivering high-performance IoT devices and solutions, and redefining what's possible in the world of connectivity. Our mission is to extend people's reach by making IoT technology more accessible, efficient, and practical for businesses and individuals around the globe. www.asiarf.com.
About Morse Micro
Morse Micro is a cutting-edge semiconductor company that develops ultra-low-power Wi-Fi HaLow chipsets for Internet of Things applications. With a focus on energy efficiency and performance, Morse Micro's chipsets enable seamless and reliable wireless connectivity for a wide range of IoT devices.
About Wi-Fi Alliance
Wi-Fi Alliance is a global nonprofit organization dedicated to driving the adoption, interoperability, and advancement of Wi-Fi®. With a mission to connect the unconnected and foster innovation, Wi-Fi Alliance brings together industry leaders, technology experts, and stakeholders to collaborate on developing and promoting Wi-Fi standards.
For media inquiries, please contact: