HDMI Licensing Administrator, Inc. (HDMI LA) has recently added a new product category – "Active HDMI Cable" in the updated version of "Premium HDMI Cable Specification Version 1.1." Allion has planned the "Premium Active HDMI Cable" testing service which will be available in the fourth quarter of 2018.
There are four product categories included in the standard HDMI cable certification program (Up to 3.4G):
Wire: wire-only construction with neither active nor passive components built in.

Passive (Equalized): passive components built in.

Active: active components built in with equalizer function.

Converter: features Rx and Tx function for signal transmission, such as wireless transmission, optical fiber, etc. It could be used as 1 to 1 repeater where both ends are cable plug.
Recently, HDMI LA has expanded its product categories in the Premium HDMI Cable Certification Program (up to 6G), range from the existing Wire Cable to the Active Cable. The certified "Premium Active HDMI Cable" is able to support the full 18Gbps bandwidth with the EMI test that ensures cables minimize interference with wireless signals. Furthermore, the certified cable is enabled to transmit the signal farther as well as deliver 4k/Ultra HD images.
Cables passed "Premium HDMI Cable Certification Program" could not only ensure the high quality performance following HDMI 2.0b features, but also use the official Premium HDMI Cable Authentication Label. Users are able to verify cables' identities by using HDMI Premium Cable App on smartphone.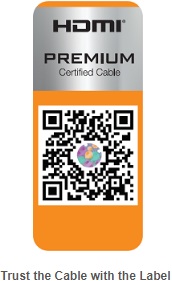 As the HDMI ATC subcontracted by Sony HDMI ATC (Authorized Test Center), Allion is able to provide comprehensive compliance programs for variety of product categories, including source, sink, repeater, and cable to ensure your product to meet the HDMI criteria. If you are interested in learning more about Premium HDMI Cable Certification Program, please contact us directly at service@allion.com
Allion HDMI related service:
http://www.allion.com/index.php?view=products&g=74&d=265