April 23, 2019, Geneva, Switzerland, SGS, the world's leading inspection, verification, testing and certification company has entered into a joint venture with Allion Labs, a renowned IoT testing service provider. This new partnership, SGS-ALLION Automotive Communications, will provide world-class one-stop testing, inspection and certification solutions for emerging Internet of Vehicles (IoV) supply chains. This JV spans the fields of automotive electronics, network communications, software development and other IoV technologies.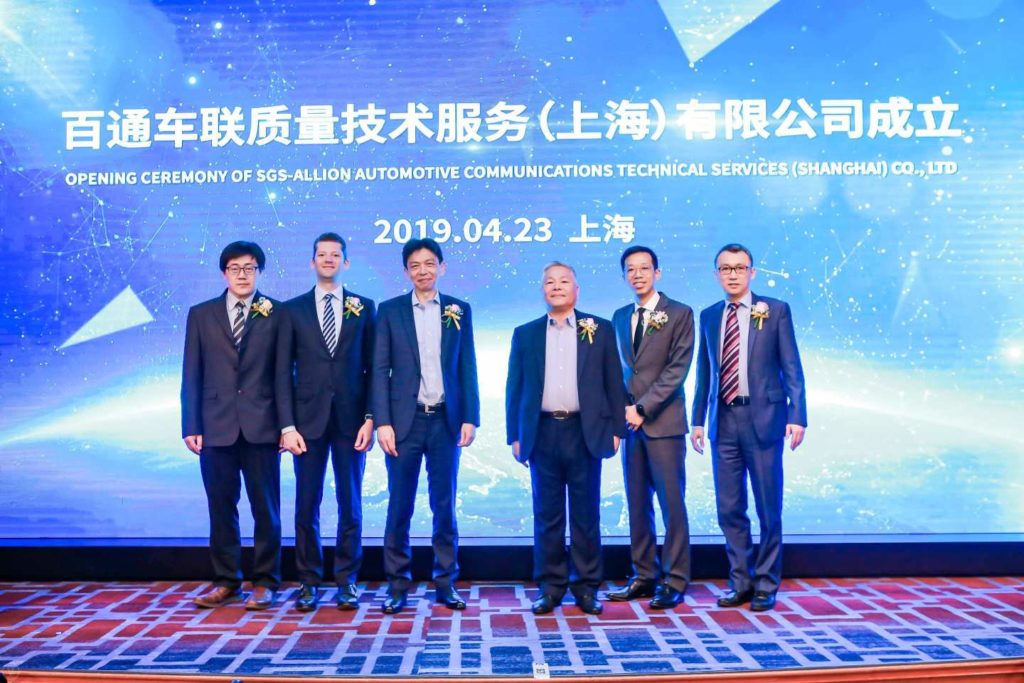 ▲Executives from SGS and Allion taking a group photo on the stage.
With the evolution of new technologies such as 5G, IoT, AI and big data, automakers are facing challenges tapping into the intelligent and connected vehicle market to address a lack of global standards and regulations. Often automakers must work with different testing, verification and certification partners during R&D. SGS-ALLION Automotive Communications creates a one-stop technological shop, removing the need to work with different third-party organizations. Services include:
Logo certification (Bluetooth, Wi-Fi, USB Type-C, HDMI, etc.)
Product compatibility
Voice recognition
Signal measurement
Software verification, as well as wireless & RF testing such as 5G communication, Cellular V2X, DSRC V2X, NB-IoT
Foreign telecommunications operators network authentication
Automotive safety and mechanical reliability
Environmental simulation verification
Automotive EMC and many other fields
Leveraging its expertise of the relevant international standards, regulations and extensive experience, SGS-ALLION Automotive Communications will also provide a variety of customized solutions for the automotive industry. In addition to serving traditional automotive electronics and OEMs, it can provide automotive application verification and testing services for automotive communications, home communication systems, and center console navigation.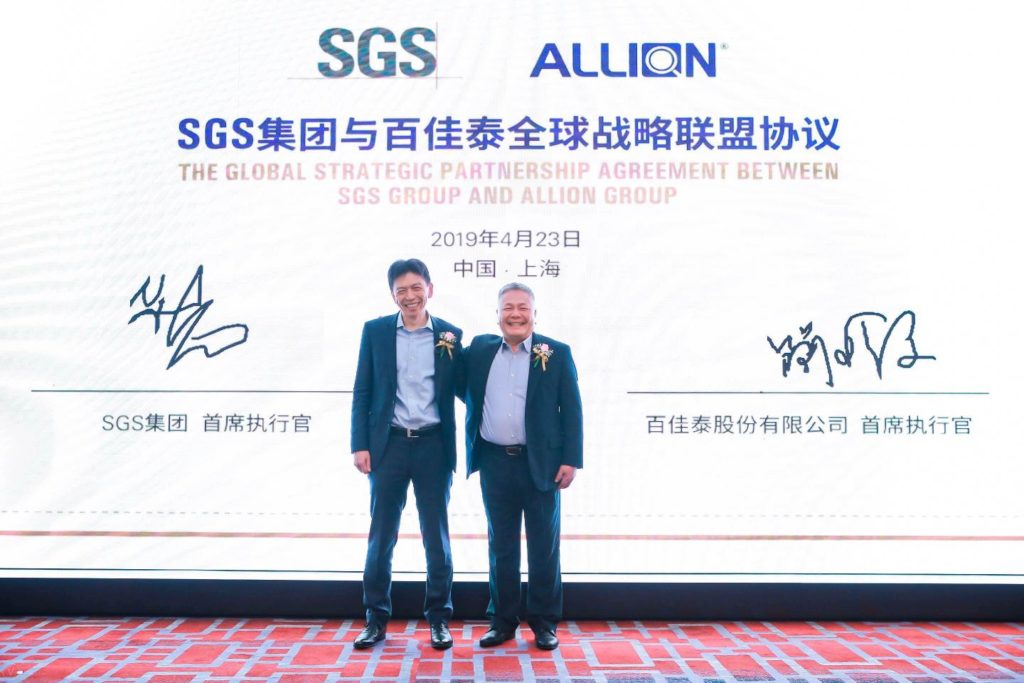 ▲Mr. Summer Chien (Right), Chairman of SGS-ALLION Automotive Communications and CEO of Allion Labs, together with Mr.Frankie Ng (Left), CEO of SGS taking a photo on the stage.
Mr. Summer Chien, CEO of Allion Labs and Chairman of SGS-ALLION Automotive Communications said: "I am glad that Allion Labs and SGS can co-found this company. It will maximize the advantages of both parties in the field of testing and certification."
Mr. Frankie Ng, CEO of SGS Group, said: "SGS and Allion Labs share the same vision for the global testing, verification and certification market. This partnership represents a milestone in our existing global strategic alliance that will strengthen over the long term."
SGS and Allion created a global strategic alliance by becoming exclusive partners in vehicle network communication, software compatibility and other testing areas in Taiwan, Japan and North America. The establishment of SGS-ALLION Automotive Communications extends this alliance to the Chinese market. The two parties will continue to explore expanding to new markets in Asia, Europe and America.
Mr. Joe Chen, Regional Director of SGS Greater China and Japan Wireless Communications Division and General Manager of SGS-ALLION Automotive Communication commented, "SGS-ALLION Automotive Communications is a new company, but we can leverage the strength of our technical resources and laboratory networks of our parent companies; SGS and Allion labs in China and the Asia Pacific region. To the automotive and IoV industry, SGS-ALLION Automotive Communications is definitely one of the best partners offering the most comprehensive qualifications and in-depth industry experience."
The IoV Testing and Certification Technology Forum was also held on the same day with over 100 automotive and IoV professionals attending to discuss the latest hot topics.