Allion has been approved to provide all Universal Stylus Initiative (USI) active stylus certification testing, including the USI standard protocol and electrical testing.
USI defines the industry's first open standards for cross-system active styluses. Compared with other stylus specifications, USI offers less expensive, low power yet highly accurate standard implementations. Moreover, the USI specification is widely adopted in the education market. Every stylus that achieves the USI certification is able to communicate smoothly with touch sensors, touch controllers, and various touch-enabled devices.
USI Products: Styluses or laptops with USI functions
USI Test Categories: Protocol testing involves two test levels—stylus and device (system)
Stylus Test Level: Styluses are tested with the equipment provided by USI
Device (System Test Level): Styluses are tested with the laptops provided by suppliers
* USI will continue to launch new test standards and certification programs
USI Certification Flowchart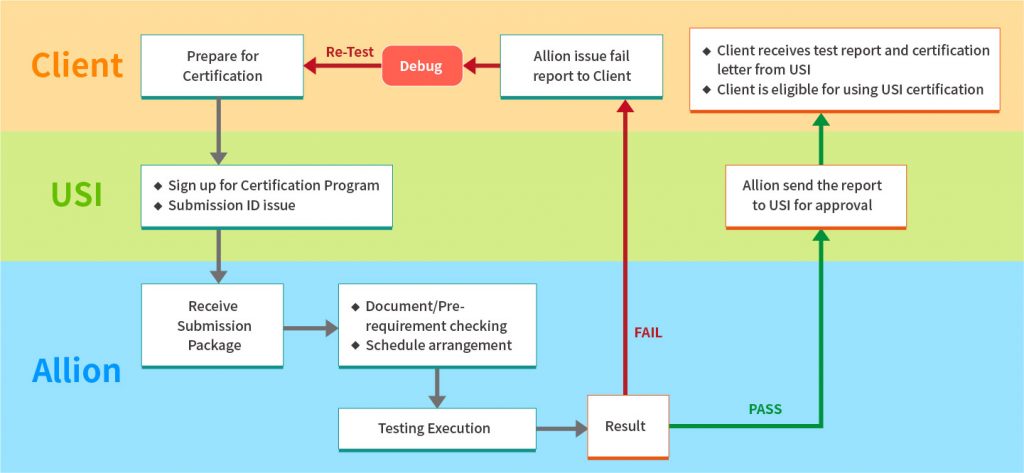 Allion is accredited by the USI to perform certification programs. With 30 years of testing experiences, Allion can deliver all-embracing and one-stop testing services, including electronics, integrated systems, Logo compliance, automotive devices, IIoT solutions, and other customizable verifications.
If you are interested in or curious about USI testing, please contact us at service@allion.com