Allion Labs / Jacky Hou & Vanex Hsu
Quality Control – Validation and Verifications 
Manufacturing is a complex process that involves various stages of incoming supply control, production, verification, packaging, and shipment. Every segment of the manufacturing process is governed by strict operational procedures and quality requirements. Audit and inspection are at the forefront of product quality to avoid defects being carried out to the end of the manufacturing process. But one inspection is not enough, brands will deploy QA engineering teams or outsourcing contractors to engage in random audits and FATP to maintain high yield rates.
Trusted by global leaders – Allion QA Team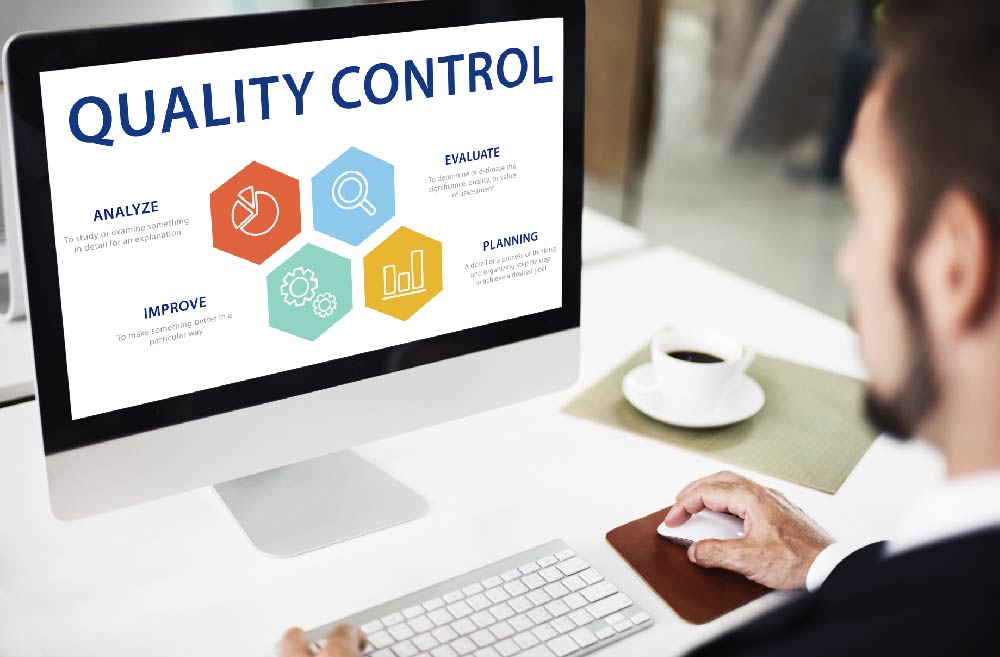 As an independent Test Lab, Allion also designates a team of professional engineers to engage in QA for vendors. With years of experience, we have developed a standard operating procedure to cope with the different manufacturing processes and production lines. This QA Team has been delivering services even amidst the influence of the global pandemic. As almost all business travels and activities have been suspended, vendors are looking for alternatives to fulfill the manpower gap. Allion Team has been providing localized services for the past thirty years; our teams can respond quickly to situations like this and help vendors monitor factories or on-site productions that they cannot reach out to currently.
Factory Quality Control Procedures
Incoming Quality Control: Validation on the quality of supplied parts and components, ensure they are compliant with the quality standardized by brand owners.    
In-Process Quality Control: Quality checks conducted throughout the production process, which includes

Audit workstations
Prototype Inspections
Random Inspections
Final Quality Control: Random inspections before packaging, quality checklists include product features, functional test, electricity test, interoperability test, reliability test (performance test, life cycle test)  
Outgoing Quality Control: In addition to random sampling, packaging labels, products, and peripheral layouts are also checked.
Customized Procedures
To meet the different requirements of products, we always conduct a comprehensive assessment to deliver the most suitable testing solutions for our clients. First, we start from the product quality assurance and quality standards provided by our clients, and from there we will create a standard procedure with customized IQC, IPQC, FQC, and OQC. This systematic, resilient cooperation model will allow us to quickly respond to the vendor's needs and provide timely supports.

Production Line Management—Why are we different?

The frontier of product quality is to effectively carry out the standard operational procedure. In this time of difficulty, Alllion Team still maintains the momentum to continuously offer services to our worldwide clients. The key factor that made our service deliveries possible is the experienced engineering teams at Allion, and the customized solutions.
One-stop Solution: Allion does not only have one of the best engineering teams, but we have the most experienced ones. 30 years of planting in the test sector has allowed us to participate in every stage of the product cycle and offer relevant technology consulting services. These services are not only limited in hardware assurance, but also software validations such as interoperability, user experience, and also logo certifications, and debugging services.

Also, we work closely with equipment providers to ensure that we purchase the latest and most efficient testing instruments on the market, all to ensure that we deliver precision and efficiency through our testing services.
Customized Projects: Allion services span across different sectors in the high-tech industry, and we are able to horizontally integrate all the resources to create customized audit and inspection services for our clients. The AI Automation Tracker is a tool specifically built to provide product cycle management and is adopted by industry-leading tech companies to engage in quality assurance.
Localized Management: For years we have been providing localized services across the world. The localized teams can carry out tailored services and engage in on-site quality assurance activities. Weekly meetings are also held to give the latest updates and make sure that our clients do not miss a single detail on the current circumstances. Over the years, this has significantly prevented potential risks and increased yield rates.
Communication: Our team members are all well-trained, bilingual engineers who act as the bridge between clients and localized markets.Allion has helped worldwide clients in increasing yield rates — even exceeding the standard requirements of OEMs and ODMs by 2% to 4%.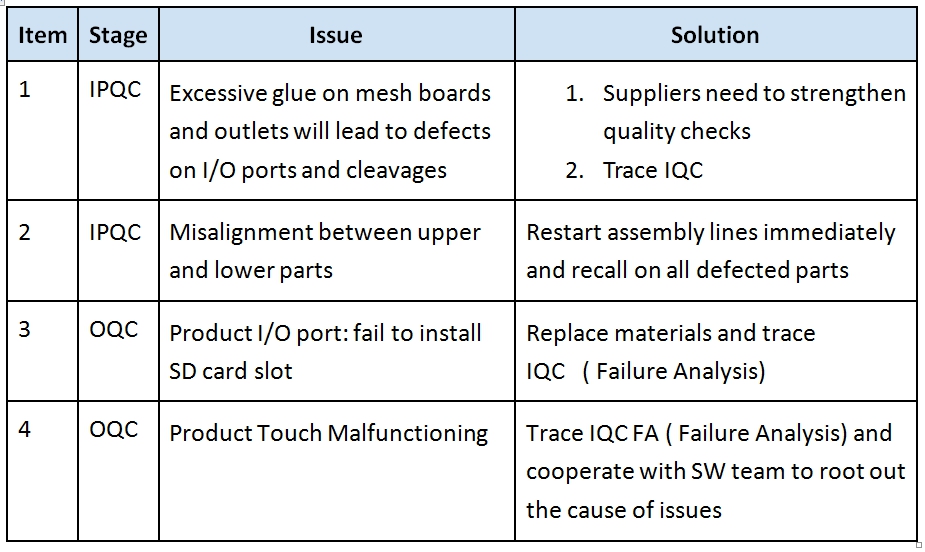 Items 1, 3, 4 are traced back to the IQC stage for material inspections. We will review the reports from suppliers and ask for exchange if necessary.
Quality assurance and checks are the only ways to ensure high-quality products. Through efforts in constant product validation and verification, not only will product quality be enhanced, but the operational procedures are also optimized. Vendors can further reduce costs as they can effectively oversee the whole production line and unveil risks early.