Allion Labs | Franck Chen
What's ATSC 3.0?
There are lots of different TV systems are used around the world, among which the Advanced Television System Committee Standards (ATSC) is used in North America and South Korea, which replaced the traditional NTSC analog signal. However, as the popularity of cord-cutting and satellite audio-visual platforms grew in recent years, consumers' eyes were set on wireless transmission or even free wireless TV broadcasting. Lastly, with the combination of 5G, a new generation of ATSC 3.0 was created.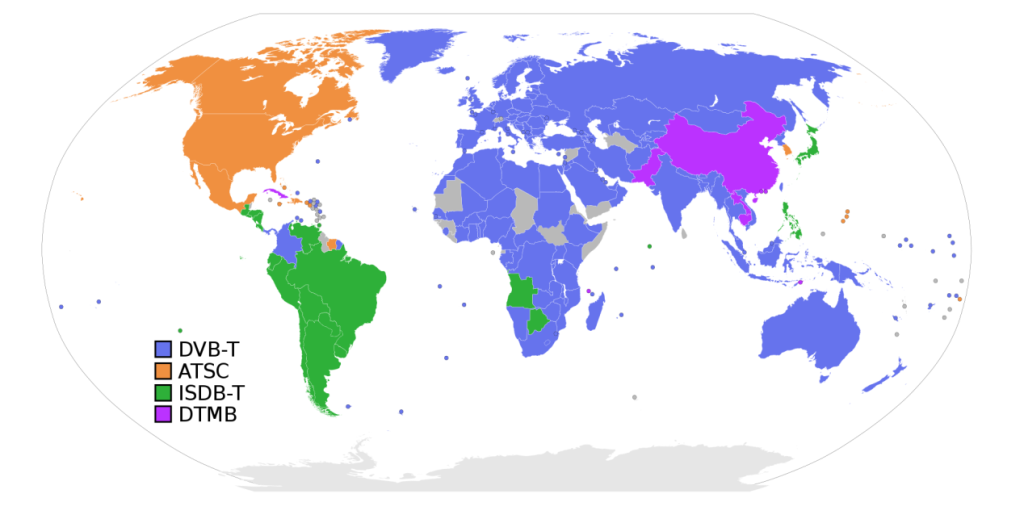 ATSC 3.0 is also known as "Next-gen TV". The difference between these two terms is that "ATSC 3.0" is a technical term, mainly used by the Advanced Television Standards Committee, and "Next-gen TV" is both a marketing term and certification mark created by the Consumer Technology Association. It's estimated that by the end of 2022, the signal coverage in the entire US is expected to reach 75%, and the annual sales of TVs and set-top boxes that support ATSC 3.0 are estimated to be 4.5 million units. Next, we will introduce the upgrades and business opportunities of ATSC 3.0 for viewers and broadcasters.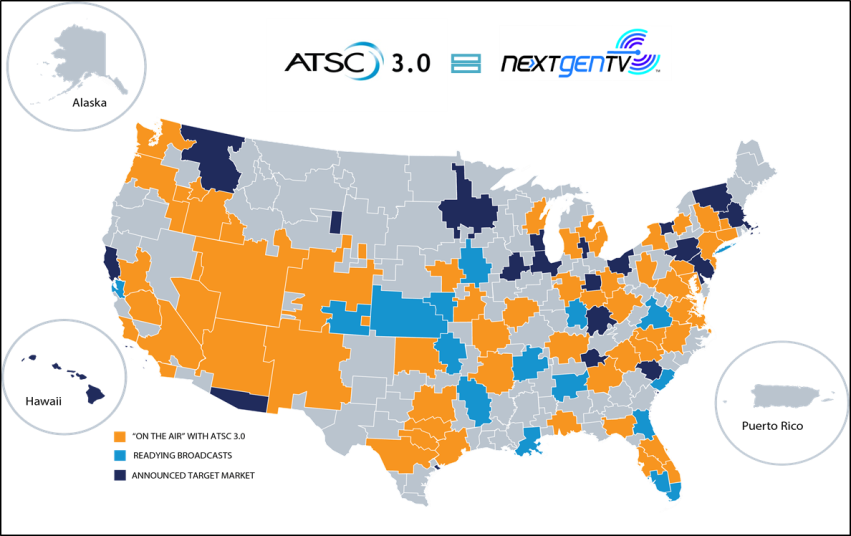 Upgrades and Applications
ATSC 3.0 is a standard based on the IP communication network, which improves the wireless TV's video and audio transmission quality, mobile reception capability, and spectrum efficiency. It has both broadcast and broadband network characteristics, which enables wireless broadcasters to provide more applications and services. The most direct benefit for viewers is that they can watch 4K HDR content, Dolby ATMOS, DTS:X standard programs/live broadcasts, interactive digital programs, and real-time news (such as severe weather warnings) for free.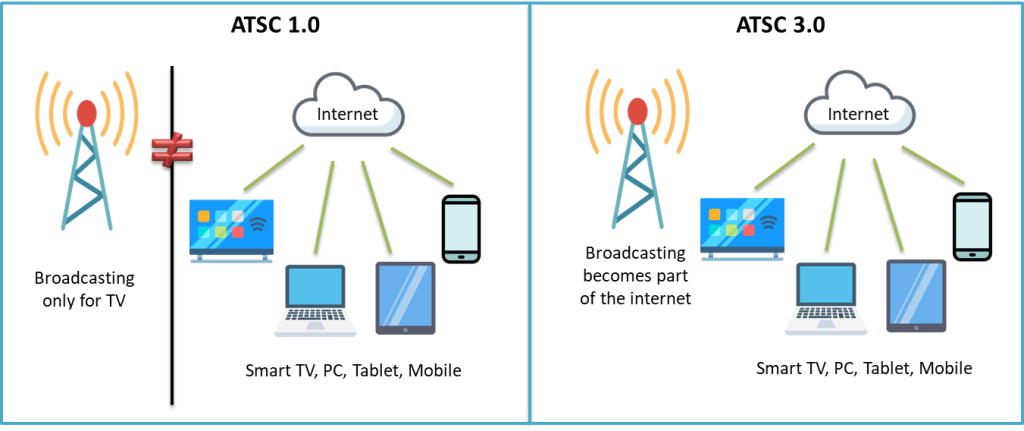 For broadcasting companies, the development of ATSC 3.0 creates more applications and business opportunities when combined with 5G such as:
Getting new advertising revenue by using 5G network capabilities to deliver interactive ads targeted to specific locations, households, or specific people.
Providing other innovative broadcast services such as self-driving, smart agriculture, or long-distance education and medical care.
Providing IoT applications such as enabling AI robots or drones to provide multi-angle footage for sporting events and news, enabling map downloads outdoors, and more.
With 5G-ATSC 3.0, the problem of bad reception of traditional 5G inside buildings can be solved. The following figure is an example of combining ATSC 3.0 and 5G to develop in-vehicle TV services.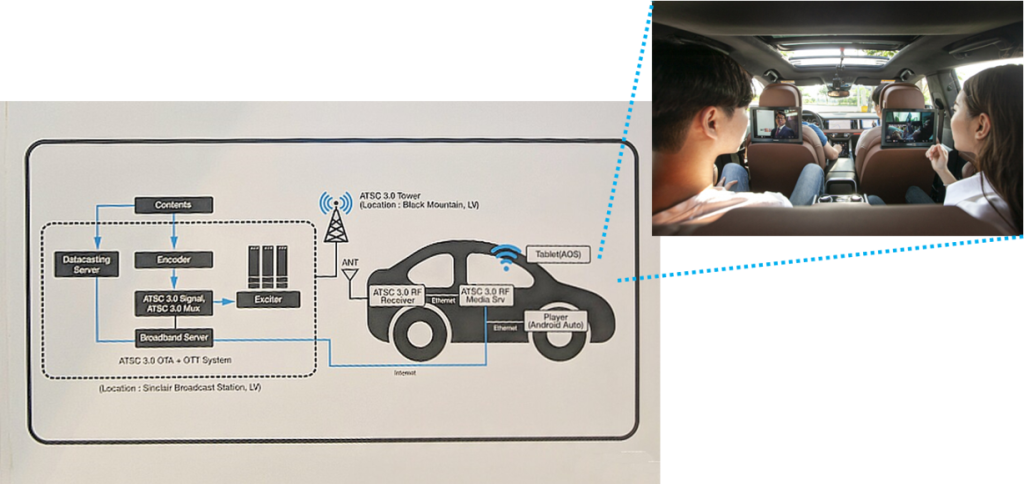 Source: SK Telecom
The applications, trends, and business opportunities mentioned above are still in their infancy and will continue to evolve in the future. This article will focus on the ATSC signal and the potential problems of ATSC 3.0 household products.
Home Ecosystems and Application Scenarios
Smart TVs With a Built-in ATSC 3.0 Tuner

This allows for the smart TV to directly connect through the coax for channel scanning and program viewing. The TV outputs sound through HDMI or Bluetooth to the sound bar or AV receiver.

Set-top Boxes or Video Recording Device With a Built-in ATSC 3.0 Tuner

After the set-top box or video recording device is connected through the router, all devices connected to the same network can scan, watch, or record channels with software or webpages through internal and external storage devices.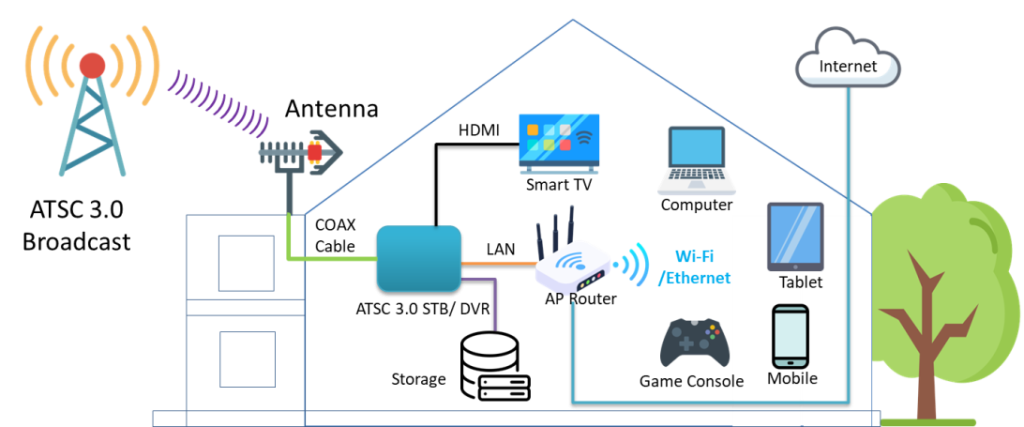 Gateway Set-top Boxes with a Built-in ATSC 3.0 Tuner

The set-top box can be connected to the TV through HDMI for viewing, while other devices can be connected to the set-top box wirelessly to scan and watch channels with other software.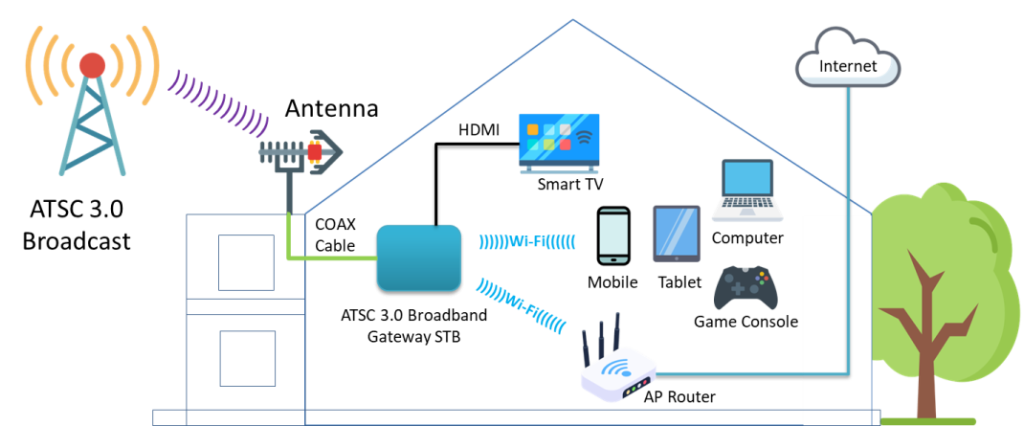 Common Potential Problems
Issue Type
Symptom
Sound
1.       No audio out in ATSC 3.0 channel.

2.       The audio in the ATSC 3.0 channel has lip-sync issue.

3.       The volume adjustment cannot be stored after zapping ATSC 3.0 channels.

4.       There is a beeping noise while navigating the menu in the ATSC 3.0 channel.

Picture
1.       The screen of the ATSC 3.0 channel is flickering.

2.       The Closed Captioning in the ATSC 3.0 channel does not work.

Channel Scan
1.       The scanned ATSC 3.0 channels cannot be stored.

2.       The channel information of ATSC 3.0 is incorrect in the channel list.

3.       The scanned ATSC 3.0 channels were lost after a few days.

4.       Signal level display strong but scan no channel.

Recording
1.       The content of the recorded program is insufficient.

2.       The reserved recording task did not active.

3.       The recorded list is empty after the recording task is finished.

UX/UI
1.       Only a full scan option but no single scan or adding options.

2.       There is no signal level information on ATSC 3.0.

3.       Some STBs did not support HDMI output and only supports Wi-Fi connection, which is not convenient for the user.

Performance
1.       The ATSC 3.0 app crashed while watching the ATSC 3.0 channel.

2.       The zapping between ATSC 3.0 channels was very lag.

Interoperability
1.       ATSC 3.0 TV with AVR/Soundbar via HDMI/BT connection.

2.       ATSC 3.0 STB/DVR with TVs via HDMI connection.

3.       ATSC 3.0 STB/DVR with storage devices via USB connection.

4.       ATSC 3.0 Gateway STB with APs, TVs, mobiles, and tablets via Wi-Fi connection.
Allion Testing Equipment
As a professional TV testing company, Allion has invested in various professional equipment and can record TV signals from all over the world. This is so we can provide our clients with the best testing and service quality.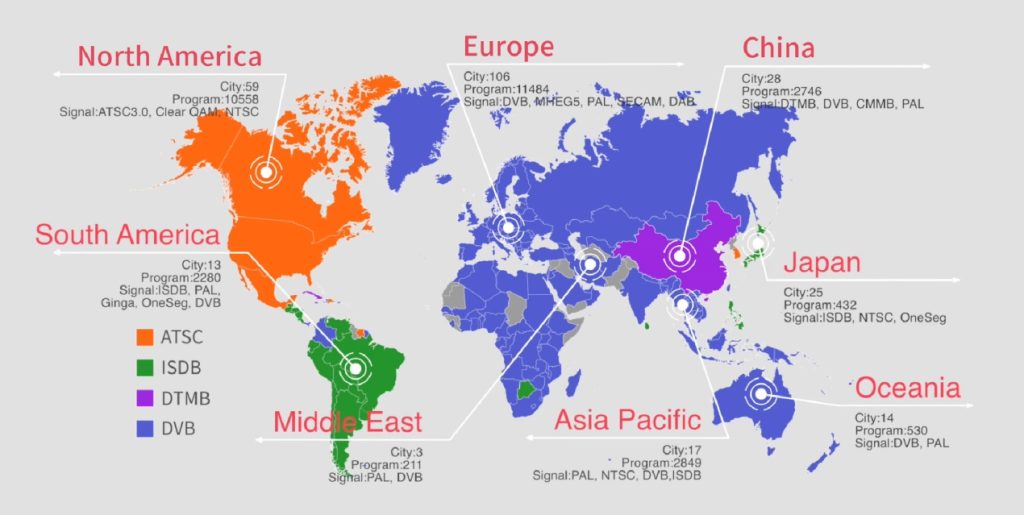 In addition to recording different global signals, we also have a base set up in the US, which provides real ATSC 3.0 signals to our clients.
Allion Test Services
We can provide the following customized testing services according to our client's product type and needs:
ATSC 3.0 FT, VFT
PQ, AQ Validation
Recording, PVR Validation
UX, UI Design Validation
HDMI, Bluetooth, USB, Wi-Fi Device Interoperability Validation
RF Signal Attenuation, Wireless Interference Validation
User Scenario Exploratory
Latency Measurement, Stress, Performance Validation via AI Tool
If you have any questions or needs regarding ATSC 3.0 product testing, please contact us at service@allion.com.