Touchscreen, as the name implies, is a combination of a monitor and touch functionality. It's a display that can receive input signals from contact with a finger or a stylus, replacing mechanical buttons. Touchscreens can be seen in many different products of many sizes such as smartwatches, smartphones, large conference touch displays, and touchscreen signage for commercial use. As you can see, touchscreen displays play an important role in our modern lives.
Touchscreens are Everywhere
Touchscreen technology is gradually becoming more mature. A smooth touch experience and interface designs make this method a favorite in the industry. There is a wide variety of products that use touchscreens, here are some examples.
1. Smartphones
Presently, most smartphones use touchscreens, replacing the button design. The intuitive touch function combined with the video and gaming experience allows consumers to quickly accept this new feature. The rapid development of smartphones also changed the way people live. Now the smartphone has become indispensable in our everyday lives.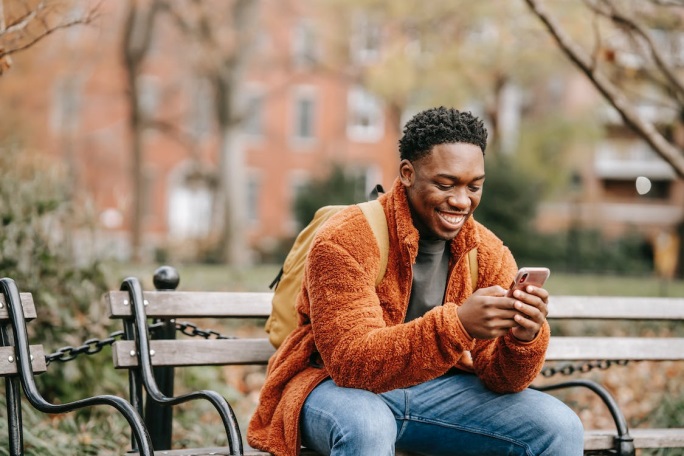 2. Tablets
Similar to smartphones, consumers want to use a large screen to enjoy video content or just want to carry it around and share content with others. A tablet is a great device for you, especially if you do not want to use a mouse and keyboard.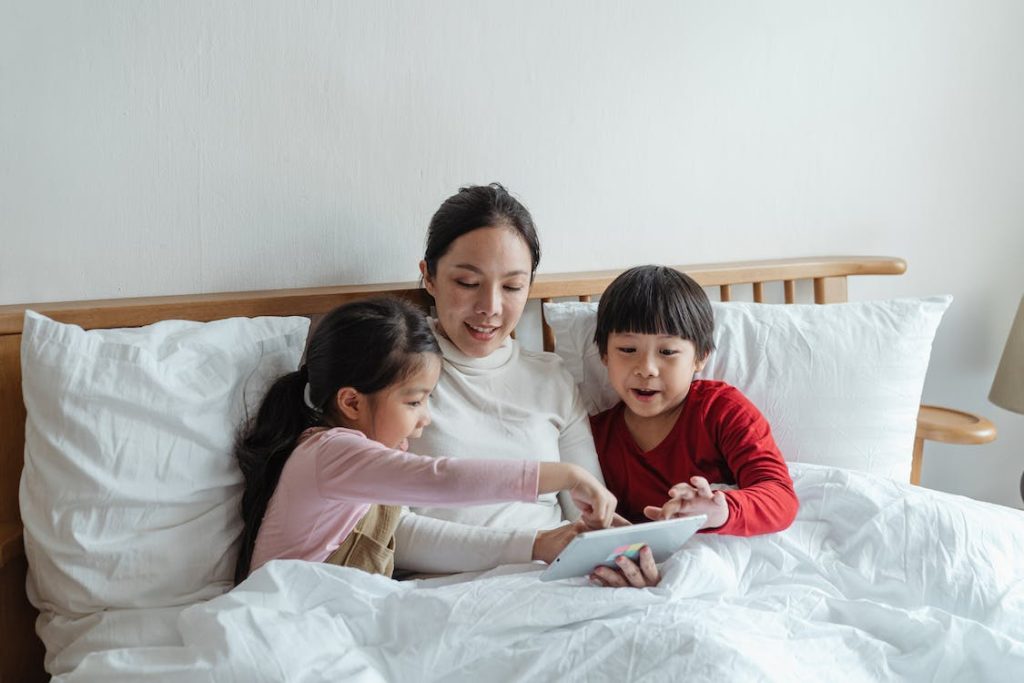 3. POS Machine
POS machines are commonly used in ordering and checkout counters in restaurants, airports, ticket booths, hotels, and more. POS machines can increase efficiency when dealing with purchases and their touch function is one of the main contributors.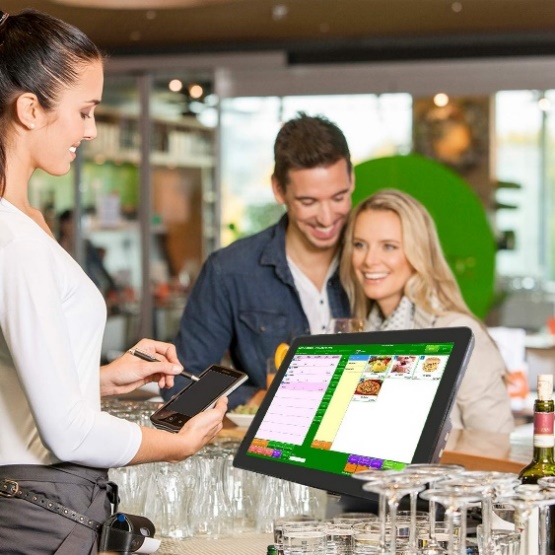 4. Smartwatches
Smartwatches have a built-in operating system like a small computer. In addition to time display, many other functions make life more convenient such as step counting, weather, notifications, reminders, exercise monitoring, heart rate monitoring, and more. A touchscreen is a must to operate the smartwatch on your wrist.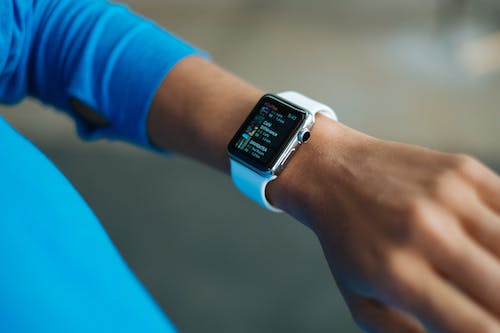 5. Drawing Tablet
Mostly used by digital artists, a drawing tablet is a device that can be directly connected to a computer and can control the cursor on a board. Most early drawing tablet did not have display functionalities, so users needed to look at the computer screen when drawing. However, after putting displays on the drawing board, it made the process seem more like drawing on real paper, making creating digital art more convenient.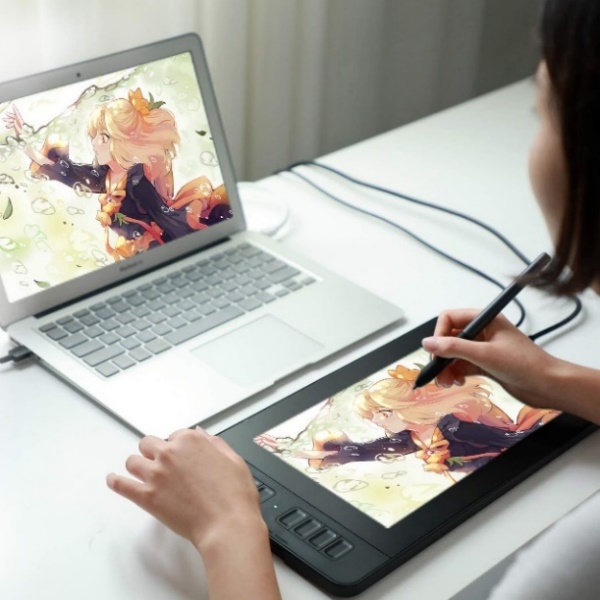 6. Touch Monitors
Touch monitors are widely used everywhere. In addition to general desktop touch monitors, there are two other kinds of touch monitors. One is a portable touch monitor, which focuses on productivity and helps your main computer have a second screen at any time.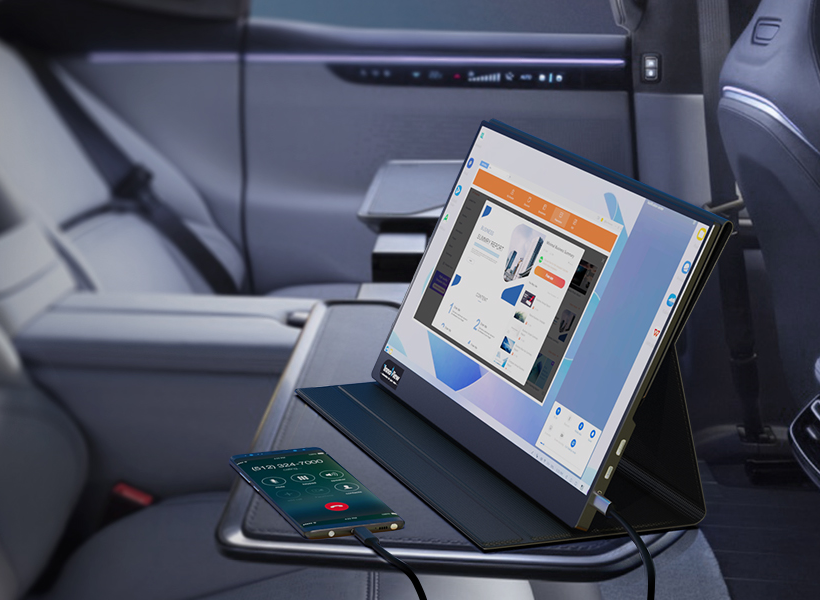 An interactive digital whiteboard
The other kind is an interactive touch monitor, which is mainly used in conferences or educational contexts. It usually has a very large screen that is made for presentations, collaboration, or replacing traditional whiteboards or blackboards.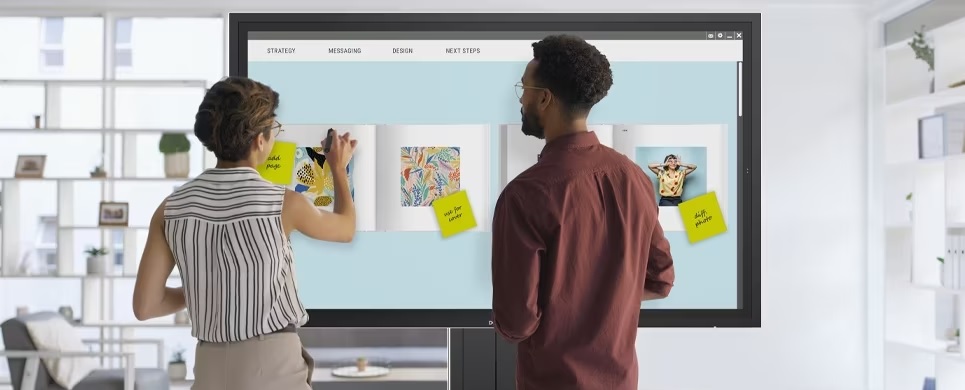 An interactive touch monitor, Source:Dell Website
Portable touch monitors and interactive touch monitors both have different advantages for work and education.
Portable Touch Monitors
Portable touch monitors are an easy way to add a second monitor to a laptop or increase the display size of a mobile device. They've become a popular work accessory to have. Compared with desktop monitors, portable touch monitors can be more flexible in different environments, whether you're in the office, at home, or outside, you can easily add a second screen. In addition to improving productivity, it's also very suitable for entertainment during transportation or even camping.
Below are some advantages of a portable touch monitor:
Size: Since these products are portable, the size should be controlled between 12 inches and 16 inches.
Weight: For better portability, the weight should be under one kilogram. Some products even weigh around 500 grams. To reduce weight, most products do not have a built-in battery.
Screen orientation: To easily display different tasks such as editing pictures, editing videos, or writing code, sometimes turning the screen from horizontal to vertical can allow you to have a better viewing experience. Portable touch monitors are better at doing this than normal desktop monitors.
Connectivity:
Display connectivity
Powering the display
Portable displays are designed to be thin, light, and easy to carry around, so too many large ports are not suitable for this product. USB Type-C is a great solution to this problem. It only needs one cable to simultaneously provide display and power to the screen. The USB Type-C port is very small, so most portable displays are designed to support USB Type-C.
Touchscreen: Whether they're used to display presentations, notes, or team discussions, using a touch monitor can make productivity more efficient.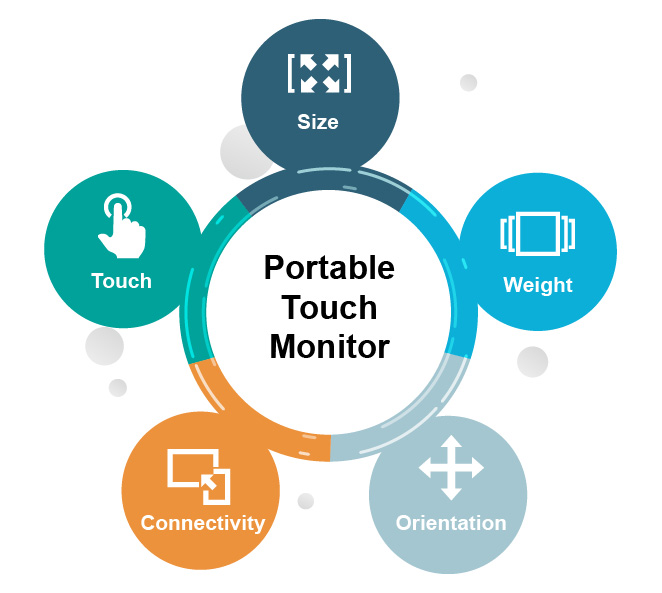 Interactive Touch Monitors
The interactive touch monitors can allow multiple people to use it at the same time. It's mainly used in teamwork, conferences, education, and more. In education, interactive touch monitors are also called interactive whiteboards. They're used to replace traditional whiteboards and blackboards. Interactive touch monitors can assist teams to work more efficiently and are very suitable for presentations. In education, interactive whiteboards can make discussions more vivid and diverse, also allowing students to record and share class content.
Below are some advantages of an interactive touch monitor:
Size: To let multiple people participate at the same time, interactive touch monitors are large, usually about 55 inches to 86 inches.
Touchscreen: The touchscreen function can increase efficiency when presenting, note-taking, meetings, and recording courses. Since interactive touch monitors require multiple people to participate, most support more than 20 touch points. To have a good writing experience on an interactive touch monitor, manufacturers should pay more attention to the tactile feel when drawing or writing with the stylus.
Software: A key factor that makes an interactive touch monitor good is the interaction with other people. To allow for smooth teamwork, the software should be designed with this in mind, improving the user experience.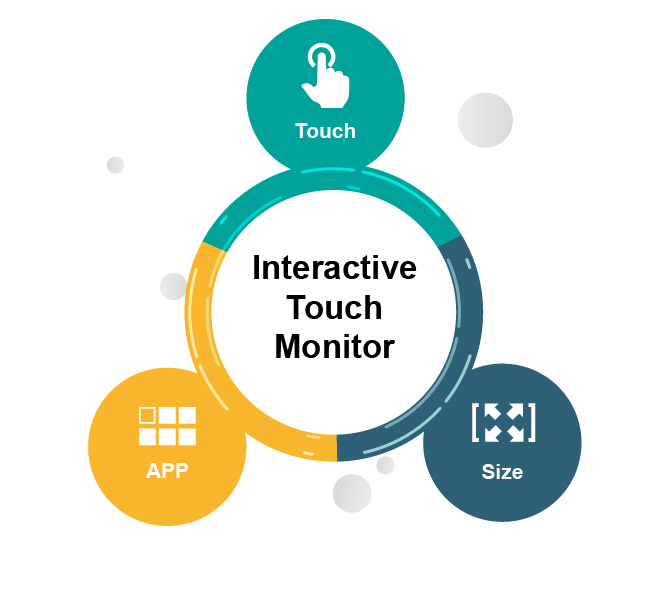 Touch Monitor Software
To increase the convenience of users, software solely designed for these touch monitor products is a must. This software should have a wide range of apps that can be used for reports and presentations. There is also interactive conference software and electronic whiteboard software used to improve the traditional whiteboard and blackboard teaching models. This software allows users to operate the interactive display smoothly for different purposes.
The software has changed the method of interaction in the past. For example, electronic whiteboard software has changed traditional teaching methods. This type of software includes BenQ EZWrite, ViewSonic myViewBoard, and others. Take BenQ EZWrite as an example. This software provides a variety of writing tools, convenient for teachers to write and annotate certain things. It also has some other tools such as geometric drawing tools, screen splitting, and more.

BenQ EZWrite is a writing and annotation tool, Source: BenQ Website
In addition to writing tools, there is also the cloud function, which not only allows the touch monitor to collect the content written by smart devices and display it on screen but also can share class content and notes for students to save to their devices. This can strengthen the interaction and discussions during the class.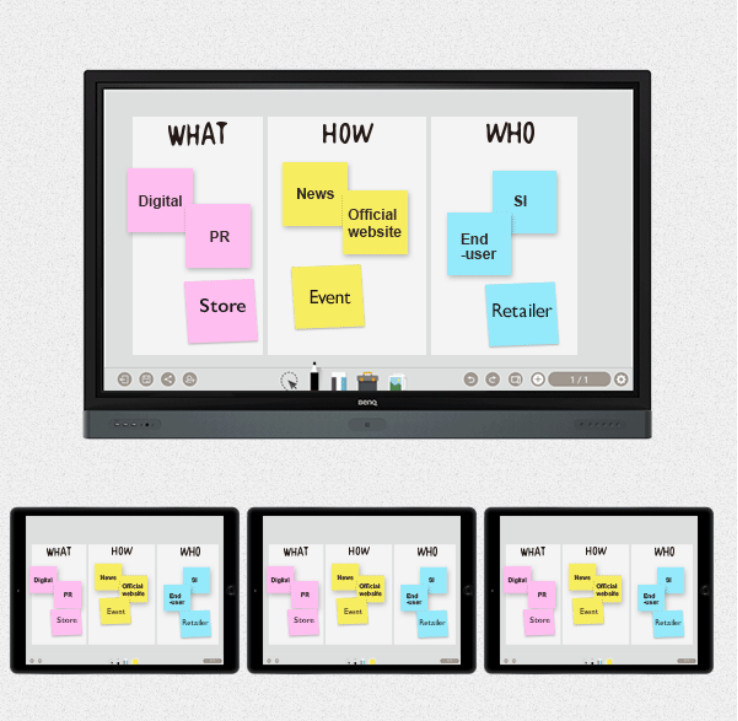 BenQ EZWrite's cloud-sharing function collects students' content and displays it on screen, Source: BenQ Website
Multi-person interactive software for conferences like Zoom Rooms for Touch adds the Zoom Whiteboard to a conference and allows participants to take notes and edit. It even supports touch writing. Editing notes together in a Zoom meeting can help participants brainstorm and get a better result from this interactive experience. The Zoom Whiteboard can also be exported and shared with the participants.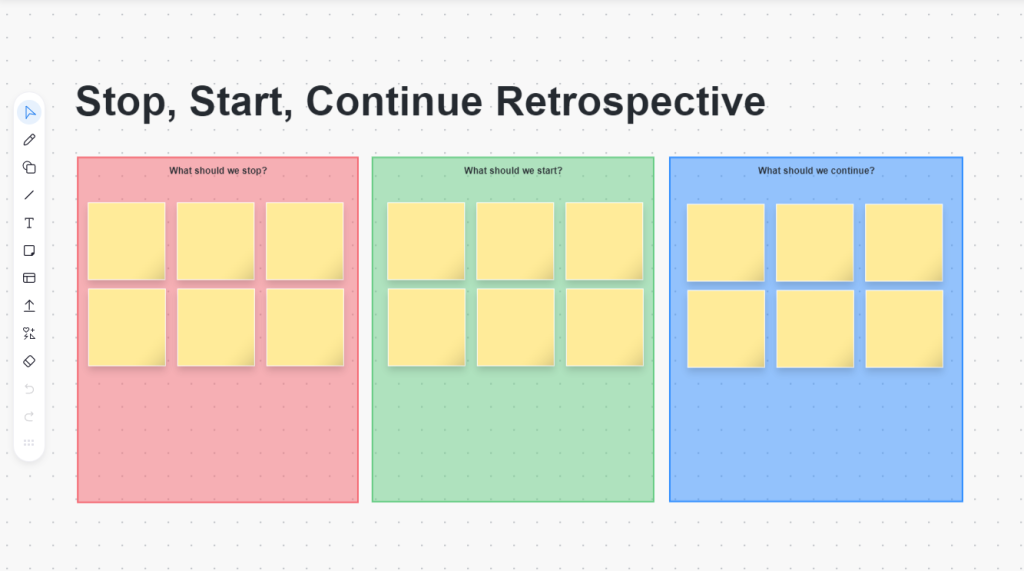 This touch monitor software brings users a better experience and allows them to utilize the advantages of touch displays. They can even change how people have conferences, how teachers teach in classrooms, and how exhibitions are presented. Touchscreen software makes interaction more interesting. This is a great example of how technology, when used right, can pull people together.
Potential Issues
From the points mentioned above, we know that touch screens are widely used in various contexts. However, if a good product is not properly checked for potential issues, it's likely to bring on negative effects on the user experience.  According to Allion's big data database and Amazon customer reviews, here are some potential problems.
1. Touch Function Not Working
For example, sometimes there is no response to a touch, or the position of where you touched is calculated wrong. This issue is usually related to the touch driver in the system, which is a very serious compatibility problem.
2. Application Software Issues
The software can have powerful functions, but when it's matched with different monitors and systems, it's easy to encounter software malfunctions or errors.
3. Touch Delay
When the user touches the display, the response is not fast enough, the touch sensitivity is poor, and the delay can be seen by our eyes. This can affect the user's experience tremendously.
4. Poor Accuracy
When the user touches the display, the location of the reaction is different from where the user clicked or touched the stylus. This can affect the user experience as well and hurts the quality of the display. Allion will have another article discussing more in-depth the issues of touch delay and poor accuracy.
5. Slow USB Type-C Charging
Some portable touch monitors have a built-in battery, a USB Type-C interface, and support power delivery charging. If the USB Type-C Power Delivery is not properly checked, users may encounter problems when they connect to the touch monitor. When the device is connected to a laptop through USB Type-C, it's being charged at the same time. But when the charging speed is slower than the speed of power consumption, the device will automatically shut down due to insufficient power.
6. Mac OS Doesn't Support External Touch Monitors
When a Mac OS device is connected to a touch monitor, the screen can be displayed normally, but the touch function does not work. The main reason is that Mac OS does not have a built-in touch monitor driver. So when Mac users want to use a touch monitor, they need to use third-party software such as UPDD Touch Software.
Testing and Services
Touch monitors can increase user interaction, making meetings, presentations, teaching, and other tasks better. It can optimize productivity and make entertainment more enjoyable. However, many compatibility issues can occur when using different systems with one another. To provide users with a good experience, touch monitor testing is essential. Allion can run the following tests for testing touch monitors.
Compatibility Test
Touch Function Test

Coverage Function
Gesture Function
Multi-touch

Touch Software Test
Touch Pen Test
User Experience Test
Charging Test
Touch Latency Test and Touch Accuracy Test
In addition to these tests, Allion can carry out customized tests tailored to your product to optimize test results. Allion has a rich and diverse range of touch display products and testing equipment including mobile phones, tablets, adapters, and more, covering most brands in the market today. If you want to learn more or have related testing needs, please feel free to contact us . Our service team will gladly help you out.