What Is a Webcam?
In response to the global COVID pandemic, people have started working and learning from home, creating a remarkable increase in video learning and conferencing needs which generates business opportunities for webcams. In this article, Allion will introduce the hardware and software components of webcams. Additionally, the article will showcase potential issues that may arise with hardware products and offer corresponding solutions.
First, we need to know what a webcam is. The webcam has many names, also commonly known as a web camera, PC camera, conferencing camera, or internet camera. It is primarily used for video calls, online teaching, or video conferencing. Webcams often use the USB connector when connecting with computers.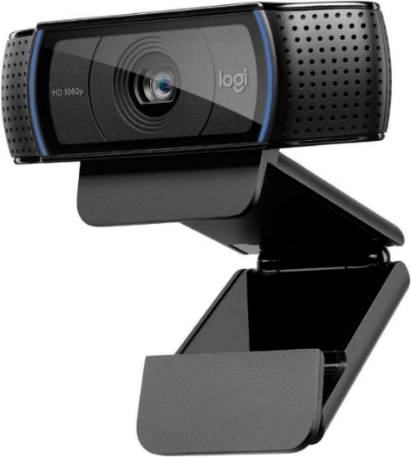 What Is an IP Cam?
An IP cam, also known as an IP camera or network camera, is sometimes confused for a webcam, as many brands and manufacturers use these product names loosely so consumers should be careful when purchasing these products.
The IP cam is used primarily to protect and monitor, and it mainly uses the connector RJ-45. There are however some exceptions like the Mi Home Security Camera 360° that lack an RJ-45 connector but are still considered IP cams. Another difference is that IP cams operate independently from computers and use the internet to transmit real-time video.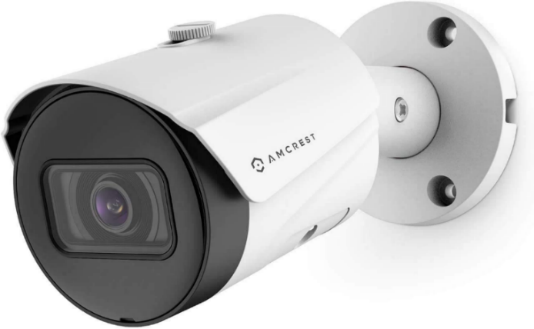 Monitors with Webcams: Functionality and Applications
From the brief description above, we've learned the major differences between a webcam and an IP cam. Another difference is that webcams can be individual accessory products sold on their own, or they can be integrated into other products such as laptops and even monitors. We will discuss in this article the use of these monitors with built-in webcams, which also utilize USB to connect to a computer and are used with video conferencing software. The most common video conferencing platforms are listed below:
1. Google Meet
Google Meet is a video conferencing software developed by Google, which incorporated Google Duo in 2022. The video conferencing software runs on Windows, Apple macOS, Chrome OS, Linux, Android, and iOS. The software interface is simple and easy to use, and most people have a Google account, so it has a large user base.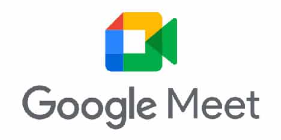 2. Microsoft Teams
Microsoft Teams is a communication software developed by Microsoft. In addition to video conferencing, it also integrates functions such as file storage and Office 365, making it convenient for sharing files and working together. It supports a variety of operating systems, including Windows, Apple macOS, Android, and iOS are also supported on mobile devices.
3. Zoom Meetings
Zoom is a video conferencing software developed by Zoom Video Communications. It is known for its simple interface and ease of use. It also supports multiple operating systems, including Windows, Apple macOS, Chrome OS, Linux, Android, and iOS. This software gives the host of the meeting a great command of the program to ensure the smooth progress of the meeting.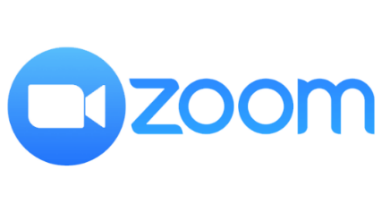 4. Skype
Skype is an instant messaging software released in 2003, making it one of the first video conferencing software. It supports a variety of operating systems, including Windows, Apple macOS, Chrome OS, Linux, Android, and iOS.
5. FaceTime
FaceTime is a video calling application developed by Apple that uses Apple's communication protocol. Originally, the software was only available for Apple macOS and iOS, but starting in 2021 it began to support browsers like Google Chrome or Microsoft Edge on different operating systems like Android or Windows.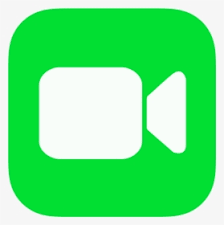 In addition to the video conferencing software introduced above, there are many other convenient and straightforward software to use with video conference monitors, such as Line, Facebook Messenger, WeChat, and more. Each software has different functions and features, and users only need to choose the best suitable product for themselves.
Aside from general video conferencing, video conferencing monitors have other applications, such as:
Application 1: Microsoft Windows Hello
Windows Hello is a login method that uses PIN, facial recognition, or fingerprint recognition to access Windows. It is simple, fast, personalized, and secure. Windows Hello's facial recognition feature uses an infrared camera to quickly log in to Windows 10/11. As long as the monitor with webcam supports Windows Hello, the user can enable this feature and the system will automatically log in to the system via facial recognition when they leave and return to their workstation, combining security and convenience.
Windows Hello's operation is triggered by:
The first verification type, occurring the most, activates with the scenarios below:
When the user wants to unlock the device
When a moving object passes the lock screen
The second verification type, occurring less, functions as a re-verification in the following situations:
When applications/websites need to reconfirm user identity.
Windows Hello completes verification within 2 seconds in all of the scenarios above.
Application 2: Human Presence Detection
Human Presence Detection is a feature that uses sensors to detect whether a person is in front of the computer, and can automatically lock or unlock the screen without manual control. The advantage of this feature is that it helps users quickly lock/unlock the screen to improve their efficiency and information security, without worrying about leaving their seat and forgetting to log out or lock the screen, which may lead to data leakage.
The conditions must be met to enable Human Presence Detection:
The system supports Modern Standby Sleep
Human Presence Detection sensor and webcam are required
Human Presence Detection operates in two major modes:
Wake on Approach (WOA)
Walk Away Lock (WAL)
Wake on Approach (WOA) is a technology that automatically wakes the system from Modern Standby Sleep and logs the user in using facial recognition when the user approaches the system with no manual operation. This feature can enhance the user's experience and optimize productivity, and it operates as follows:
The system enters Modern Standby Sleep mode
The user approaches the sensing area
The sensor senses the user
The system wakes from Modern Standby Sleep
Windows Hello activates facial recognition to achieve login without manual operation
Walk Away Lock (WAL) automatically logs the system out and locks it after a reasonable amount of time when the user leaves the front of the system. This feature can increase security, save power, and extend the battery life of laptops. Its operation process is as follows:
The user is in front of the system.
The user leaves the system.
The sensor cannot detect the user after a prolonged period
The system turns off the monitor and logs out
Shortcut Keys of Monitors with Webcams
For the convenience of users, some monitors with webcams have shortcut keys designed to support video conferencing software, which can help users easily and quickly operate some functions of the video conferencing software, as shown in the figure below.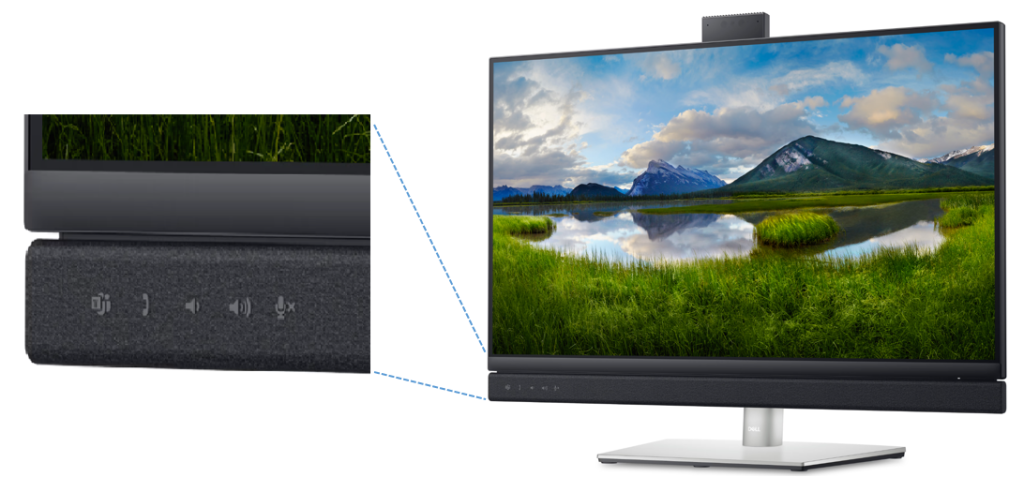 Shortcut Keys of Dell C2722DE, Source: Dell website
Using the Dell C2722DE, this monitor with webcam has several shortcut keys for video conferencing and has been certified by Microsoft Teams. The shortcut keys are introduced from left to right as follows.
Microsoft Teams:
The indicator light is used to confirm Teams login status, prompt Teams message notifications, open Teams, open Teams messages, and open Cortana
Hook-switch:
The light indicator shows the call status, to answer call, end call, and reject call
Volume Up:
Increase volume
Volume Down:
Decrease volume
Mic Mute:
Unmute mic, mute mic
Another device is the ASUS BE27ACSBK and its shortcut keys as shown in the figure below: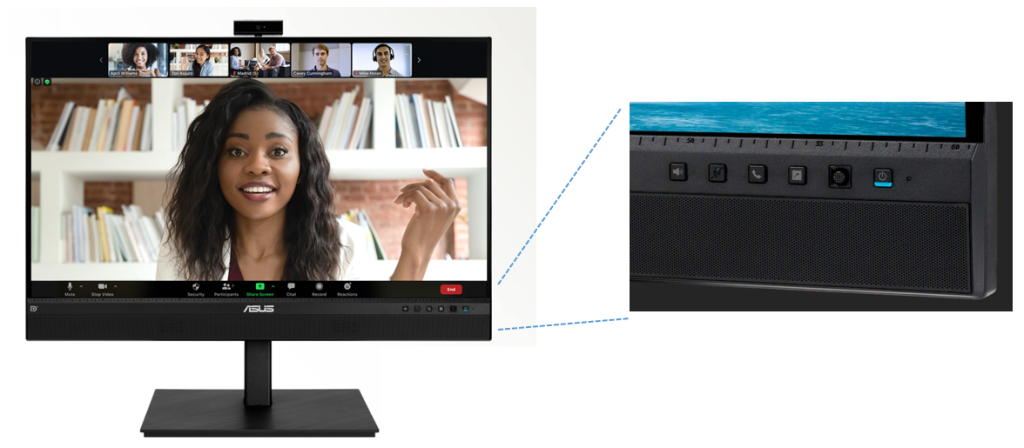 Shortcut Keys of the ASUS BE27ACSBK, SOURCE: ASUS Website
The display has been certified by Zoom. There are three main shortcut keys for video conferencing, which are introduced from left to right as follows:
Volume Up/Down
Microphone On/Off
Pick up Incoming Skype Call
The two monitors above with shortcut keys have slightly different functions, but both can be used with video conferencing software to enhance the user's video conferencing experience. These products have also been certified by Microsoft Teams and Zoom, but are also usable with other video conferencing software. However, the compatibility of the shortcut keys with the other software is not always complete, which is something manufacturers should pay attention to.
The Risks of Monitors with Webcams
The monitor with webcam is not just a display, but it is also an excellent assistant for video conferencing after being paired with shortcut keys. It can even use Windows Hello and Human Presence Detection to achieve security, convenience, and productivity.
Such a convenient product, of course, has its potential risks. According to the issue analysis of Allion's database, we have organized the issues resulting from monitors with webcams, as shown in the figure below: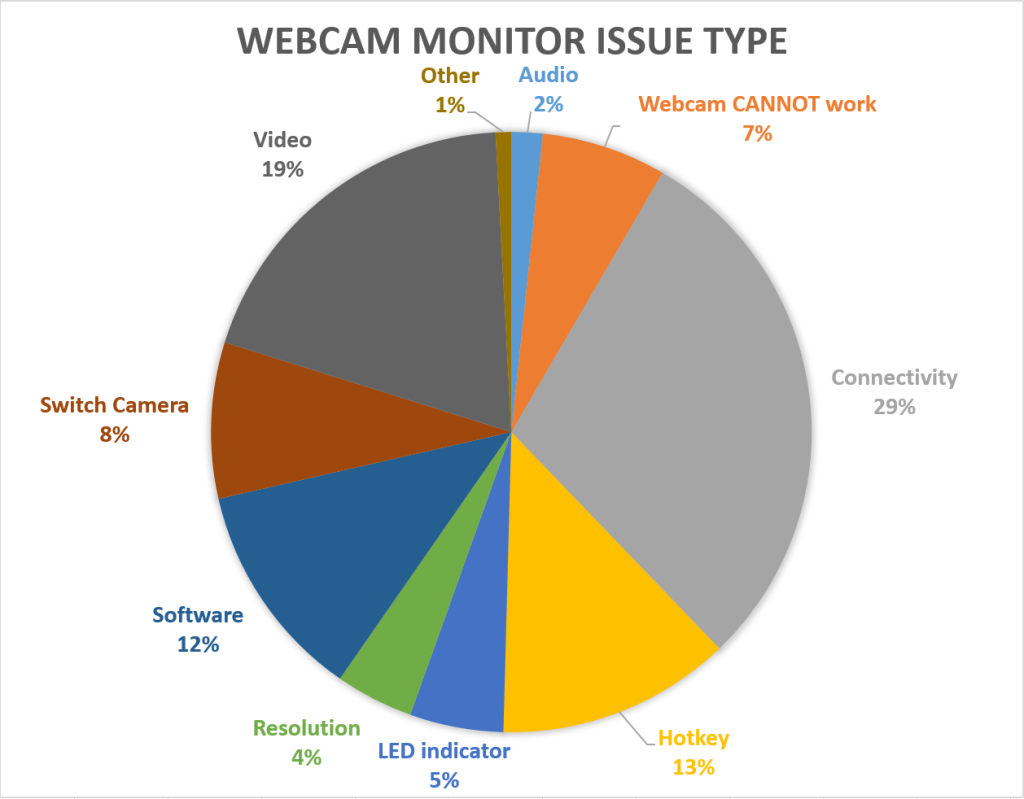 According to the figure above, the top question categories are:
Connectivity – 29%
Video – 19%
Hotkey – 13%
Software – 12%
Switch Camera – 8%
The highest proportion of issues is with connectivity, which renders the monitor with webcam unusable. It can be further divided into two specific types:
Webcam undetected
Webcam undetected by video conferencing software
Video issues refer to the abnormal display of the screen when using the webcam monitor, such as jitter, flicker, stillness, noise, and abnormal halos. In some cases, the monitor with webcam's display is functional, but the recorded video or photo has noise or abnormal color.
Hotkey issues are caused by the shortcut keys mentioned in this article. This type of problem includes the shortcut key not working, or the shortcut key is not compatible with certain video conferencing software which causes unsynchronized. The latter problem often occurs in the compatibility test of video conference shortcut keys, so special attention is required.
Software issues usually pertain to interface-related errors that hinder the software's optimal performance. Examples of such errors include page display issues, setting values that are unfixable, or certain functions of the video conferencing software that fail to operate correctly. For instance, a common software issue is the inability to save recorded images.
Switch Camera issues are when there are multiple cameras in the system environment, the Webcam cannot correctly switch to the desired camera, or when there is an abnormality after switching like showing a black screen after switching. If the monitor with webcam is connected to a laptop, the monitor's webcam and the laptop's webcam should both be usable, but the video conference software cannot switch to the specified Webcam smoothly.
Judging from the information above, it turns out that if the compatibility test of the monitor with webcam is not performed properly, there will be a variety of potential problems and risks, which may affect user experience, product quality, and ultimately brand image.
Testing Services for Webcam Monitors
A video conferencing monitor can provide users with security, convenience, and productivity optimization. However, when used with the numerous systems and video conferencing software available on the market, compatibility issues can arise. To provide users with an excellent experience, testing video conferencing monitors is crucial. For monitors with webcams, Allion developed the following tests for video conferencing monitors:
Compatibility Test
Webcam Function Check
Video Call Test

Skype
Google Meet
FaceTime
Zoom Meetings
Microsoft Teams
WeChat

Windows Hello and Human Presence Detection Test (if supported)
Webcam and Collaboration button Test (if supported)
Webcam Image Quality and Audio Quality Test (please refer to our

Video Conferencing Ecosystem Validation

)
Besides the tests mentioned above, Allion can also create customized product testing for the specific needs of your products. We have a myriad of products and equipment surrounding the webcam monitor, including systems, mobile phones, tablets, and adapters of many brands.
To learn more about our product testing, please contact us.