Are You Ready For Automotive High-performance Computing in Future Smart Cars?
The Rapid Growth in the Demand of Smart Cars
In recent years, the global automotive semiconductor chip market has grown rapidly. According to Morgan Stanley in 2023, the automotive high-performance computing semiconductor market will triple in the next five years, and the overall market will reach 2 billion USD in 2023. They predict in 2027, the overall market will grow to 6 billion USD with a 29% compound annual growth rate (CAGR). Thanks to the increasing demand for the customization of HPC chips for automobiles, the estimated revenue of chip design manufacturers is also expected to increase by 2 billion USD in the next five years.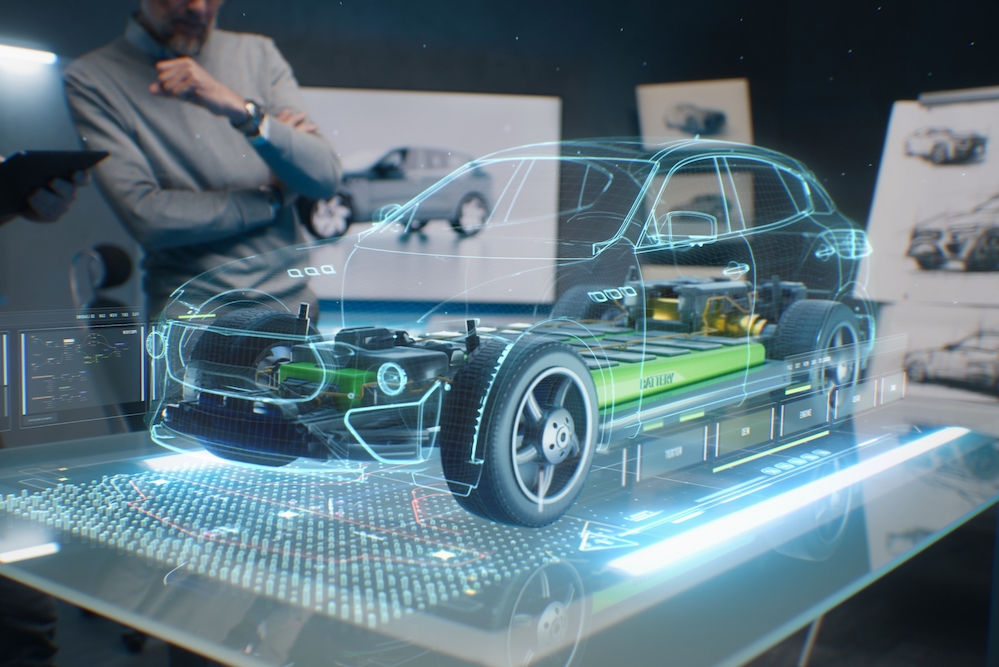 High-speed Computing, Data Communication, and Data Transmission
As connected cars are now the trend, high-speed data transmission and automotive HPC platforms need management and processing for each vehicle's electronic control unit (ECU). In response to various ECU data transmission and low-latency requirements, automotive HPC chips should also be equipped with a PCIe packet switch that complies with PCIe standards and AEC-Q100 certifications. This is required to achieve high-speed integration, communication, and transmission for each terminal.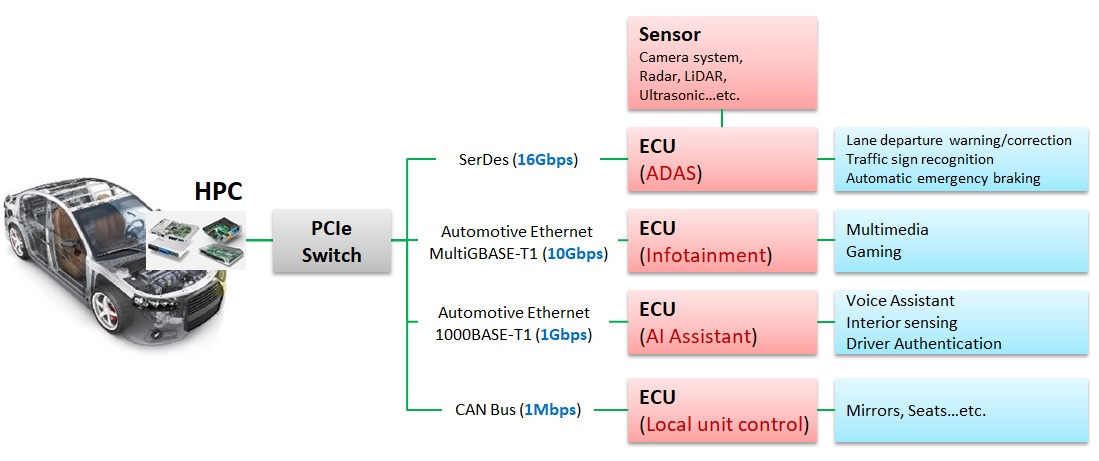 Let's take high-frequency millimeter-wave radars as an example. Through the ECU. the radar data will all be collected within the image processing unit of the automotive HPC. This type of data processing needs a reliable high-speed, low-latency interface with excellent synchronization, such as the Automotive Ethernet MultiGBASE-T1 with transmission speeds of up to 10Gbps.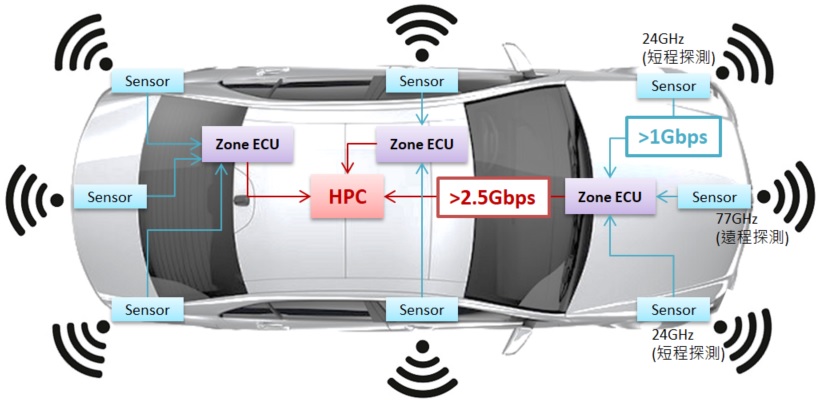 Similar to PC motherboards, automotive HPC is a platform-based integration with PCIe channels with CPU, memory, and I/O interfaces. This is how different ECUs in the car can be controlled and integrated.

Types of High-speed Computing:
Real-time environment data analysis
Smart driver's seat / User data calculation
Vehicle control / IoT and cloud services
Self-driving functionalities
Vehicle safety and motion sensor functionalities
Automotive HPC is closely related to high-frequency/high-performance computing components, high-speed transmission interfaces, complex processing, and computing resource allocation. Not to mention the complex user scenarios for each vehicle, it can be said that automotive HPC has strict requirements for signal transmission, data processing, system stability, durability, compatibility, and safety.

Potential Risks of Smart Car Ecosystems
Developers/manufacturers are not familiar with automotive HPC ecosystems
Most car manufacturers lack experience and expertise with PC components, let alone complex high-performance platforms such as automotive HPC. In 2021, Tesla had a recall involving flash memory issues. The reason for this is that the developers in the factory are not familiar with the specifications and designs of PC-related components.

Developers/manufacturers do not fully understand user scenarios
Under the conditions of a user scenario, when vehicle temperatures drastically change, the HPC components will be affected. When the CPU overheats, slows down, or restarts, the display screen could fail to display the rearview camera, gear status, windshield visibility, warning lights, or other control settings, increasing the risk of accidents. In 2022, Tesla had a recall involving overheating CPUs. This was caused by high-temperature conditions, which could have been avoided during the development stage with a user scenario simulation.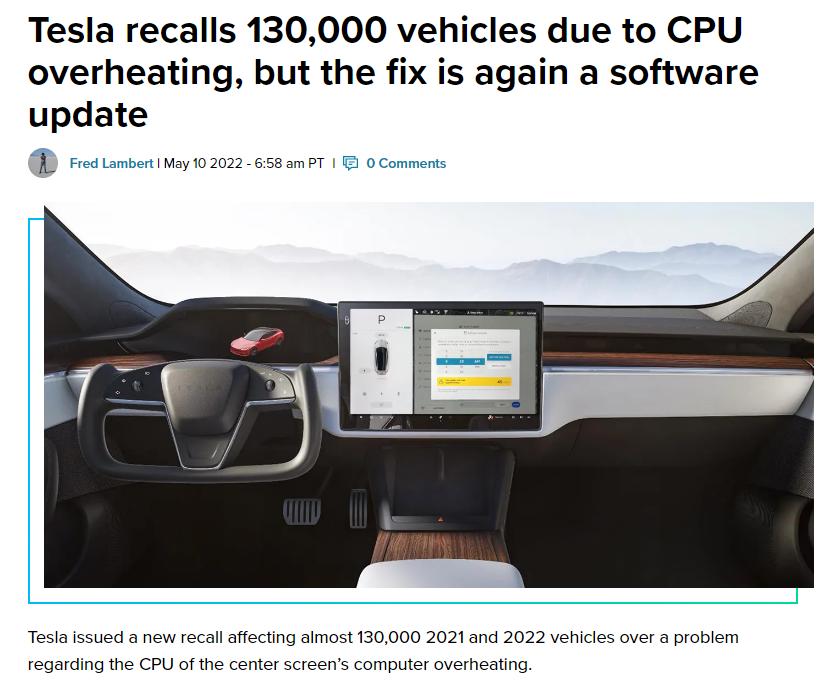 Potential Issues For Various User Scenarios:
Poor wireless signal quality prevents drivers from receiving traffic information
The transmission error rate is too high or influenced by outer noise, causing the vehicle to malfunction
Smart driver's seat functions malfunction, making it difficult for drivers to focus on the road
High-temperature environments, strong vibrations, and poor durability cause malfunctions
Information security issues or hackers cause the vehicle to malfunction, increasing the risk of accidents.
Compatibility issues with the smart driver's seat and smartphones/accessories.
These issues usually come from the following problems in the product development phase.
Common Issues For Automotive HPC With High-frequency Transmission:
Pairing failure
Delay
Excess noise
High attenuation
High bit error rate
Poor signal strength
Incorrect format
The main reason why these issues occur is because developers encounter the following challenges:
Possible Technical Barriers For Car Manufacturers:
Lack of experience in this field

Limited resources and equipment

Difficult to set up certification testing environment

Unfamiliar with new technologies

Testing specifications and standards cannot be updated in real-time

Difficult to design user scenario simulations and tests

Lack of consultation from qualified professional teams

Faster, Easier, Better: Customized Consulting Service for Automotive HPC
Allion can provide the corresponding equipment needed for certification testing and consultants that assist developers with automotive HPC standards, specifications, and other needs.
For high-frequency, high-speed platforms like automotive HPC, the product planning stage is crucial for success. Component selection, wiring arrangements, specification data, or design mistakes can significantly affect cost and time during the product design phase. Although the product design phase does not require a lot of testing, it still requires constant communication, discussion, and evaluation with manufacturers. This is what Allion mainly focuses on with our clients and partners.
With advanced planning, professional equipment, and decades of experience, Allion can provide clients with consulting, strategy development, and suggestions on specifications during the automotive HPC development phase. Allion can help you get your product quality under control for the sake of your consumers by providing you with faster, more efficient, and more complete solutions.
Faster: Helping Clients Speed Up Product Testing

High-frequency Fixture Design and Testing
Allion's R&D team has developed high-frequency testing modules based on research in the market, which meet the Tx/Rx Electrical Signal testing requirements. (Allion Test Fixture https://www.allion.com/fixtures)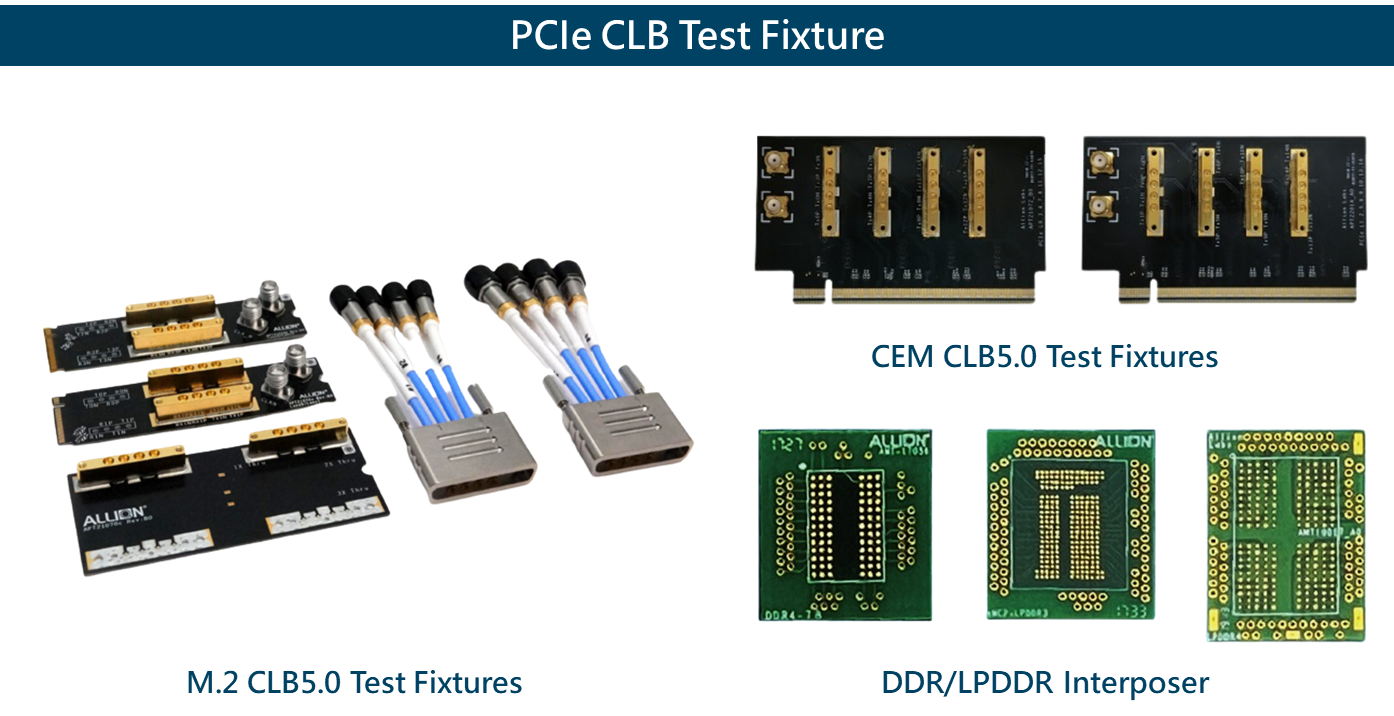 High-frequency/High-speed Measuring Equipment and a Complete Testing Environment
Cables in the vehicle will go through seats, doors, wheels, and engines. In a complex environment like this, we need to consider interference throughout the entire system during the development phase. Allion can provide customized consulting certification solutions for various environments, such as high temperatures, high humidity, high pressure, multi-signal interference, and more. Professional measurement instruments will also be provided to ensure performance with the cables in the vehicle.
High-Speed Interface for Automobiles  https://www.allion.com/automotive/vehicle-interface-testing/
Scope: Keysight 33G, Tektronic 25G, R&S
BERT: Keysight 32G, Tektronic 20G, Anrizu 32G
Network analyzer : Keysight 20G, Anrizu 20G
USB-PD: LeCroy, MQP, Ellisys, GRL, Chroma
IOP: Vector
Authorized by Intel, Apple, Microsoft, USB, HDMI, Wi-Fi, ETC
Temperature chambers, humidity chambers, vibration testing equipment, RF chambers, darkrooms, anechoic chambers, and more.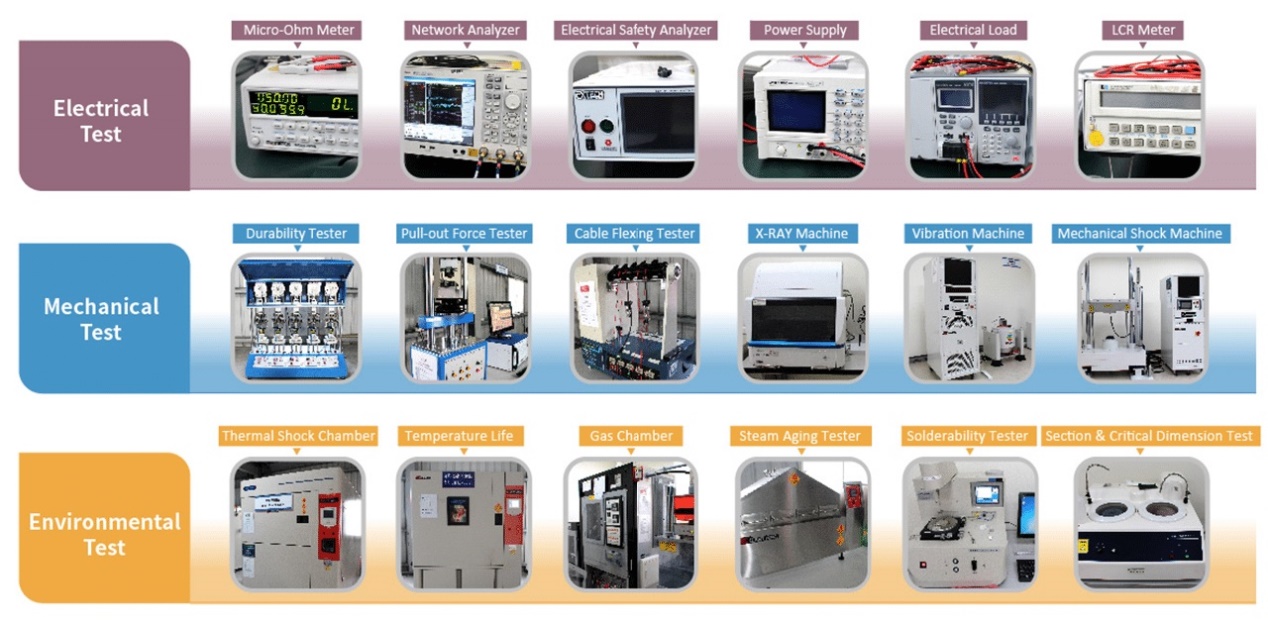 Easier: Helping Clients Improve Product Performance More Conveniently
Product Certification Services
ART Smart Solution For Vehicle Testing
A system-level integration test can be carried out for automotive HPC platforms or smart cockpit functions. This can be customizable which is very suitable for different user scenario simulation requirements in the smart cockpit. It's also possible to carry out user scenario simulation tests in different vehicle environments such as high vibration, high/low temperature, and more. A combined cycle performance test can also be an option.
Automotive HPC Testing for high-speed transmission interface
Automotive HPC Testing for key component
Head Unit Wired Interface Testing
Head Unit Wireless Testing
Voice assistant certification
User scenario simulation and function integration testing
Product software and hardware update certifications
Hardware in the Loop (HIL) Solution
Highly Accelerated Life Test (HALT)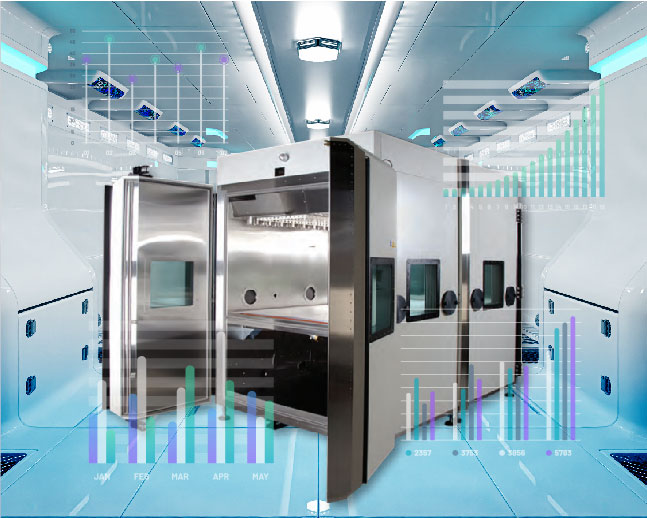 Better: Providing Clients With a More Complete Service
Consulting and Strategy Services
Regulations, technical standards, and training
Component supplier evaluation
Automotive HPC specification design evaluation/consulting
Automotive HPC software and hardware integration assessment/consulting
Early-stage sampling testing, modification suggestions, and improvement strategies based on test results
Test planning and strategy discussion
Product certification and problem analysis
Clarification of customer complaints and improvement suggestions

As a pioneer of major certifications and specifications, Allion maintains close relationships with various associations, providing our clients with professional guidance and testing for design and applications. We continue to cooperate with Mercedes-Benz, BMW, Volvo, Audi, Toyota, Ford, Nissan, Mazda, and other internationally famous vehicle manufacturers with multiple counts of cooperation. We've developed a number of vehicle-related technologies that bring our clients the latest technological changes and directions. Allion sincerely invites you to continue advancing in the automotive industry together.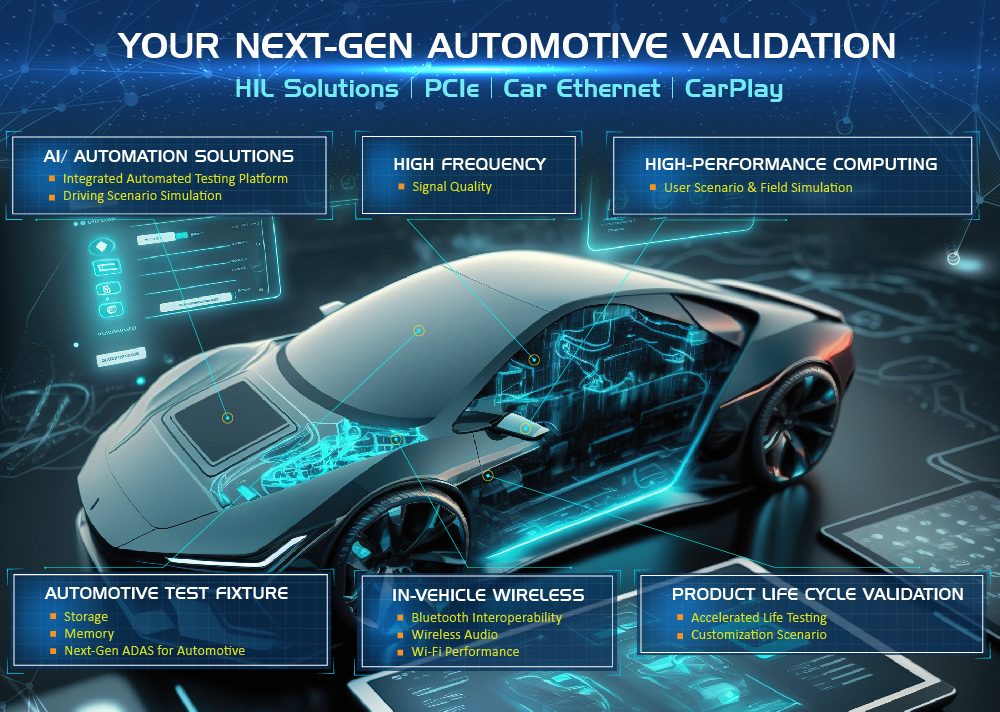 If you have any further needs related to testing, certifications, or consulting services regarding automotive products, please take a look at the services we provide on our website, or contact us through this online form. We will be glad to help you.
Allion Quality Management Standard for Head Units  www.allion.com/automotive/head-unit-standards-contribute/
Allion Automotive Ecosystem Consulting  www.allion.com/headunit-validation/