Allion Labs
The Rise of Type-C Audio
The smartphone is a portable product that combines internet access, communication, video watching, music listening all together and can be used for both business and entertainment. It used to be a standard for every smartphone to have a 3.5mm headphone jack; but in recent years, smartphone manufacturers have decided to ditch the 3.5mm headphone jack. So what happened?
Oppo R5 launched in 2014 was the first smartphone without a 3.5mm headphone jack. It used USB micro B to 3.5mm dongle to replace the 3.5mm headphone jack in order to realize a thinner and lighter design. The overall thickness of Oppo R5 was only 4.85mm, making it the thinnest smartphone at that time. Interestingly, Vivo later broke this record with its X5 Max, measuring just 4.75mm but still retaining a 3.5mm headphone jack.
In 2016, while other brands were still debating whether to ditch the 3.5mm headphone jack or not, Apple iPhone 7 announced to cancel the 3.5mm headphone jack, drawing a conclusion for the entire smartphone market. On the one hand, dropping the 3.5mm headphone jack could bring more benefits like making the phone thinner and lighter, and the space freed up could be stuffed with a larger capacity battery, extending the standby time. On the other hand, the emergence of USB Type-C could achieve the vision of having a variety of uses with only one port. It not only reduced the number of ports in the host, but also made high-resolution audio DAC chips an additional product to be purchased separately, decreasing the cost of smartphones. Therefore, other manufacturers have followed suit and started to remove the 3.5mm headphone jack on smartphones.
What Is USB DAC and the Market Trend?
What are DAC chips? What does DAC to do with the 3.5mm headphone jack?
DAC stands for digital-to-analog converter, which is a device that converts digital signals into analog signals for human ears to hear. In terms of accuracy, the cost of high-end DACs can be several times greater than that of low-end DACs.
For smartphones with a 3.5mm headphone jack, a DAC is needed to convert digital music into analog signals in order for humans to listen through headphones. Usually, smartphones' built-in DAC chips are not too costly, and some of them are even directly integrated in the CPU. Therefore, headphone enthusiasts know very well that plugging high-end headphones into the 3.5mm jack is not going to bring out the delicate sound quality that the headphone should provide.
The Type-C audio market has been booming since all smartphone manufacturers have gradually replaced the 3.5mm jack with single USB Type-C port. DAC can be designed as an independent USB Type-C product through UDA specifications. According to users' needs, there are different levels of DAC products:
DACs: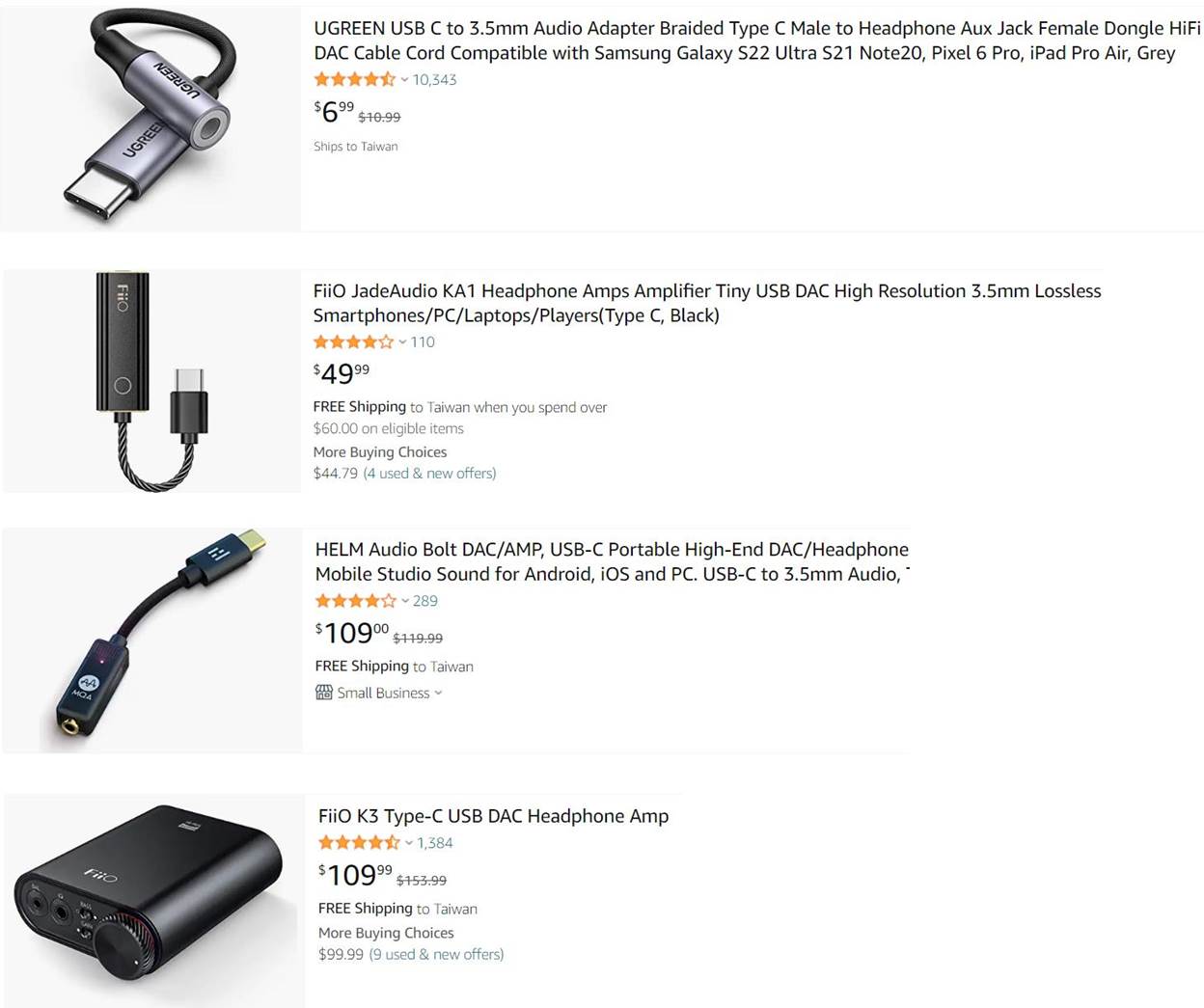 Consumers can choose DAC products based on the quality of their headphones and enjoy the delicate sound on their phones with ease.
Headphones with a built-in DAC: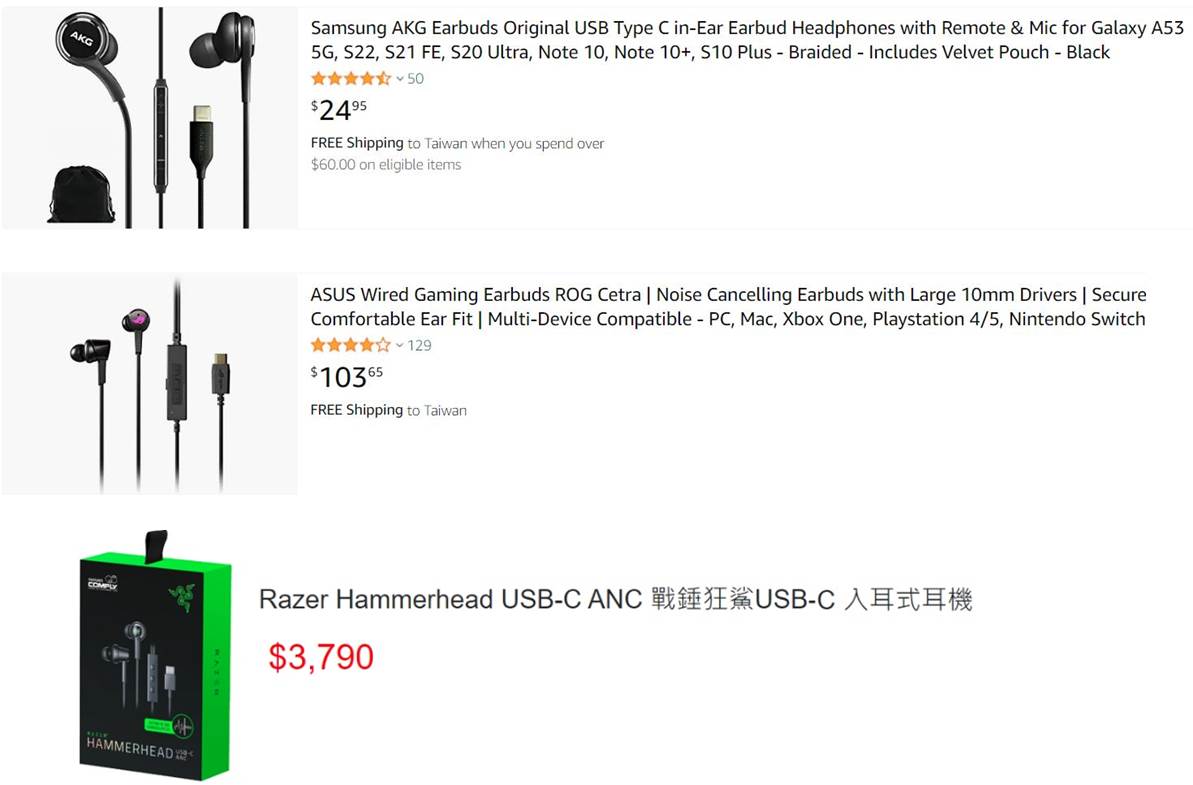 Since most headphone enthusiasts still have many high-end 3.5mm headphones, Type-C to 3.5mm audio adapters are still the mainstream products at this stage. Type-C headphones with a built-in DAC are difficult to be accepted by the market because their price is inversely proportional to their performance, and they have no downward compatibility as they are only compatible with Type-C. In addition, most manufacturers have started to develop wireless headphones, resulting in fewer and fewer similar products on the market.
More and more smartphone manufacturers have replaced USB micro B with Type-C, and they want to achieve a multi-function use with the high bandwidth and expandability of Type-C, resulting in the decreasing proportion of smartphones with a 3.5mm headphone jack year by year. From the table below, we can see that the proportion has decreased by about 5% every year. Therefore, we can predict that by 2025, the market share of smartphones with a 3.5mm headphone jack will be less than 50%.
| | |
| --- | --- |
| C.E. (year) | Smartphones with a 3.5mm headphone jack (unit%) |
| 2015 | 96.04% |
| 2016 | 93.52% |
| 2017 | 88.61% |
| 2018 | 84.45% |
| 2019 | 79.14% |
| 2020 | 72.86% |
| 2021 | 68.58% |
| 2022 | 66.37% |
(Trend table of smartphones with a 3.5mm headphone jack)
For smartphone manufacturers: Removing the 3.5mm headphone jack can reduce the size of the phone, add in a larger battery, and gradually lower the cost of DAC.
For music providers: As Type-C DAC products can provide an audio output better than 44kHz/16bit, music providers are starting to gain in the lossless audio market such as Apple Music, Tidal, Spotify, Qobuz, Tencent Music, NetEase, YouTube Music, Amazon Music, Deezer, Yandex…
For consumers: You don't need to put up with the output of only 44kHz/16bit provided by the 3.5mm headphone jack anymore. You can choose a high-quality Type-C DAC product based on your needs.
Bad Case Analysis
Type-C headphones cannot be detected by SUT.
After connecting SUT to Type-C to 3.5mm DAC, the battery power decreases rapidly.
After connecting SUT to EC270 Dongle (Type-C male to 3.5mm + Type-C female adaptor) and to the charger, the charging current of the SUT is only 0.35A.
After connecting SUT to Type-C headphones, there is no sound on Skype calls (the sound is normal when playing music).
After connecting SUT to Type-C to 3.5mm DAC, it cannot switch to the highest supported format 2ch 24bits 192kHz (only 2ch 16bits 44.1kHz).
After connecting SUT to Type-C headphones, songs cannot be changed using the control buttons on the headphones.
Test Design and Suggestions
There are more and more Type-C DAC products on the market, the compatibility with smartphones or other hosts must be tested and verified in order to win consumers' trust. Allion Labs has accumulated lots of testing experiences and provides compatibility test for hundreds of USB DAC products such as Type-C headphones, Type-C microphones and Type-C mixers.
Compatibility Test

Device detection
Plug and Play Test
Dongle Test (C to 3.5mm)
Dongle Test (C to Multi Devices)

Function Test

Microphone Function Test
Control button Test
Voice Assistants Test
Streaming Service Test
Hi-Res Audio Format Test
Sim card Phone Call Test
Calling by LINE, Wechat, Skype, etc.… Test

Power Management Test

Charging/Discharging
Power consumption
In addition to the above-mentioned test items, Allion Labs also customizes test items for your products and helps you compare your products with competitors' products, etc. If you would like to know more details or test the completeness of products related to Type C hubs, please contact us through our online form. Allion Labs' team will serve you sincerely!