Allion Labs 
The USB Type-C to HDMI Adapter
After decades of USB Type-A being the standard, the connectors for our mobile devices such as smartphones, laptops, and tablets have gradually changed to USB Type-C. However, as the name suggests, mobile devices are easy to bring around, meaning it's probable that there won't be a large screen for these devices. Consumers usually want to sit comfortably on their sofas and watch TV, YouTube, Netflix, or Disney+, but TVs don't typically have DisplayPort interfaces. Therefore, the USB Type-C to HDMI adapter has become the most commonly purchased portable equipment, allowing users to conveniently project the screens of their mobile devices to a large TV. 
HDMI is a popular interface for most home TVs and monitors. Usually, TVs support 2-4 HDMI interfaces, and computer monitors support 1-2 HDMI interfaces. After the introduction of USB Type-C, the HDMI Association launched the HDMI Alt Mode for USB Type-C. HDMI Alt Mode allows for products that support it to project images to HDMI TVs or computer monitors. However, HDMI Alt Mode only supports HDMI1.4b at the moment and it only provides the following functions:
4K Resolution

Surround Sound

Audio Return Channel (ARC)

Supports 3D video (4K and HD)

HDMI Ethernet Channel

Consumer Electronic Control (CEC)

Deep Color, x.v.Color, and content types

High-bandwidth Digital Content Protection 1.4 & 2.2 (HDCP)
Although the HDMI Association has already released HDMI Alt Mode, there's no product on the market putting it into practice. In addition, the functions supported by HDMI Alt Mode also lag behind the current mainstream specifications in the market, so most products nowadays that support DP Alt Mode use a chip to convert DP signals to HDMI signals, then transmit the display to an HDMI TV or computer monitor. So, compared with USB Type-C to DisplayPort adapters, the USB Type-C to HDMI adapters have more problems. Next time you're in the market for related products, you should pay more attention and avoid making the wrong purchase.
How to Pick the Best USB Type-C to HDMI Adapter For You
HDMI connectors are relatively simple to understand. Although there are also mini HDMI connectors, only a handful of products such as cameras use the mini HDMI interface. USB Type-C adapters are mainly used on ordinary HDMI interfaces, which cover 99% of consumer needs. However, some consumers have more specific needs, for example, they want to charge their mobile phones while projecting their display, but their mobile phones only have one USB Type-C connector. In this scenario, it may be necessary to purchase a Y-shaped adapter with a charging function or an adapter with a charging input.
There are hundreds of USB to HDMI adapters on the market, so how should consumers choose one with good quality? Based on our testing experience and feedback from Amazon users, we've organized the most common problems users may encounter and customer complaints, allowing consumers to avoid these problems before purchasing.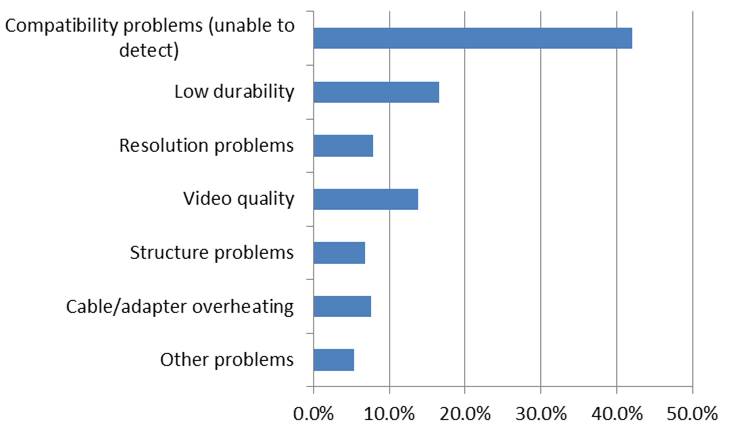 The problems and complaints can be split into seven categories. From the graph above, we can see that the most common problem is when the product is connected to the device, the display cannot be projected onto the TV or monitor. In other words, the device could not be detected. There are many reasons for this problem, one of them being the user bought a defective product in the first place. The most common reason in practicality is that there's a compatibility issue. These problems may be solved after connecting the product to other systems, mobile phones, or tablets. 
Within the user feedback data, some consumers stated which type of equipment they used, and the results are as follows: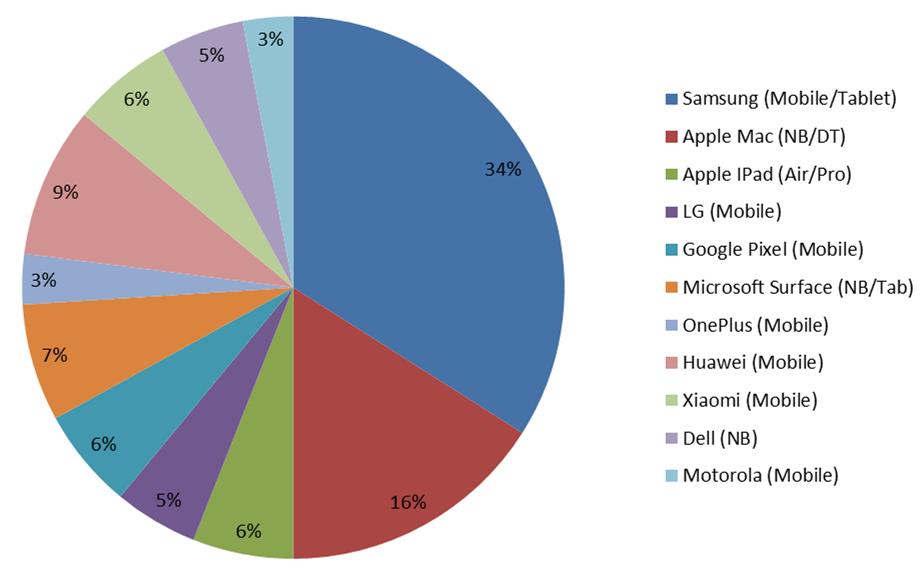 From this analysis, we see that consumers using Samsung and Apple that have compatibility issues have a combined percentage of 56%. With Samsung and Apple being the majority of mobile devices owned by consumers, it's very important that manufacturers make sure cables and adapters are compatible with these two brands. 
In addition, some consumers pointed out that the product's website had false information. For example, manufacturers claim on their website that their product is compatible with Samsung or Apple devices, but in reality, the products aren't. When consumers feel deceived, it drastically reduces the consumer's desire to purchase this product. More importantly, it builds distrust toward the brand. This is definitely a situation manufacturer must avoid before producing and selling their products.
The durability of a product is also an issue that consumers are concerned about. 
Generally, products on the market have warranties ranging from one to three years. However, according to the feedback from consumers, products often break or cannot be used within a few months or even a few days for no reason. In the eyes of a consumer, this is also a severe problem. 
In some cases, there may be problems with the system driver and the EDID of the TV or monitor, resulting in the correct resolution not being able to display, even with a direct HDMI connection. If this problem already exists, the probability of this issue occurring will significantly increase if you connect through an adapter. This is also a problem that manufacturers must avoid.
Regarding the quality of the display, consumers have reported many different situations which affected their user experiences, such as green lines appearing, the entire screen turning purple, noise appearing on the display, videos not being able to play smoothly, the display starting to shake, and more. Although these problems don't always happen, these situations still affect the experience of consumers negatively.
In terms of product design, try to avoid adapters with large connectors, because it's possible that it doesn't fit your device. It's likely that the USB Type-C or HDMI end cannot be plugged in. According to the feedback from users, about 6.8% of products have this issue, meaning they cannot be used directly after purchasing. This isn't a problem with the function of the adapter, but it'll be troublesome for the user to return the product and they'll be inclined to leave a bad review. 
If the wrong materials are used to build the product, it'll also cause potential problems. For example, if the material of the adapter is made of plastic instead of aluminum, leading to poor heat dissipation, users need to wait for the product to cool down before using it again. This type of issue should be avoided in the early stages of product design. If the mold has already been made for mass production, only to learn about these problems from consumer feedback, the extra costs will be impossible to calculate.
Other than the common problems mentioned above, Allion's technical consultants have also organized and classified other user feedback problems with a lower probability of occurrence. Some interesting issues users ran into after connecting the adapter to a device were a moisture alert would pop up, the sound could not be output, and the Wi-Fi connection would be affected. Regarding the moisture alert issue, the Amazon Kindle Fire was reported to have this problem most often, followed by Samsung phones. Regarding the sound issue, both Samsung devices and Microsoft Surfaces have been pointed out with this problem. After connecting the USB Type-C to the HDMI adapter, the display works fine, but when playing videos or music, the sound doesn't pass through the TV's or monitor's built-in speakers. Some consumers have also pointed out that on Apple systems, Wi-Fi connections were affected after connecting a USB Type-C to an HDMI adapter. Although these issues aren't a part of the majority, missing small details can easily cause consumers trouble, making them turn to other brands. As a manufacturer, if we could help consumers solve these problems from the beginning, it can greatly improve the users' experiences and perceptions.
Testing and Services for USB Type-C to HDMI Cables and Adapters
Most households own TVs that support HDMI interfaces, and devices with USB Type-C connectors such as laptops, mobile phones, and tablets are mainstream. This results in a high demand for USB Type-C to HDMI products in the market. Collaborations between different brands can lead to infinite possibilities, but it can also lead to lots of compatibility or functional problems. For USB Type-C to HDMI cables and adapters, Allion provides the following tests:
Compatibility Test: Laptops, mobile phones, tablets, TVs, monitors, and projectors

Functionality Test

User Experience Test

Competitive Analysis and Consulting

Cable Connector Test

VESA Certification Test
In addition to the tests above, Allion can also provide customized tests for different products. Allion can participate in the early stages of development and product design to assist you to produce a high-quality product. 
Allion USA-SGS has a complete collection of testing equipment such as systems, tablets, mobile phones, monitors, hubs, and more. We believe that with the most complete equipment collection, we are confident in providing the best quality control for your products.
If you have any certification testing needs, please feel free to contact us by email or contact form.