Allion Labs | Ralph Liao
What You Need to Know About Connecting From USB-C to A Displayport Monitor
As USB-C is increasingly being adopted and popularized by system manufacturers, virtually all new systems, gadgets, smart devices, and peripherals are equipped with USB-C connections. While this is true for desktops, laptops, mobile phones, and tablets, the USB-C interface is less popular with external monitors, which are still using legacy DisplayPort or HDMI.
Though it is not entirely unheard of, very few monitors support USB-C natively. When connecting a USB-C device to a monitor, a USB-C cable or adapter is often needed, making the "convert" crucial in real-life use cases. There's an abundance of cables and adapters available for connecting to DisplayPorts. Here, we will explore the USB-C to DisplayPort connection specifically.
The USB-C to DisplayPort adapter cable is one of the most common adapters. A cable of this type connects a USB-C device directly to a monitor's DisplayPort interface. It may look something like the below picture: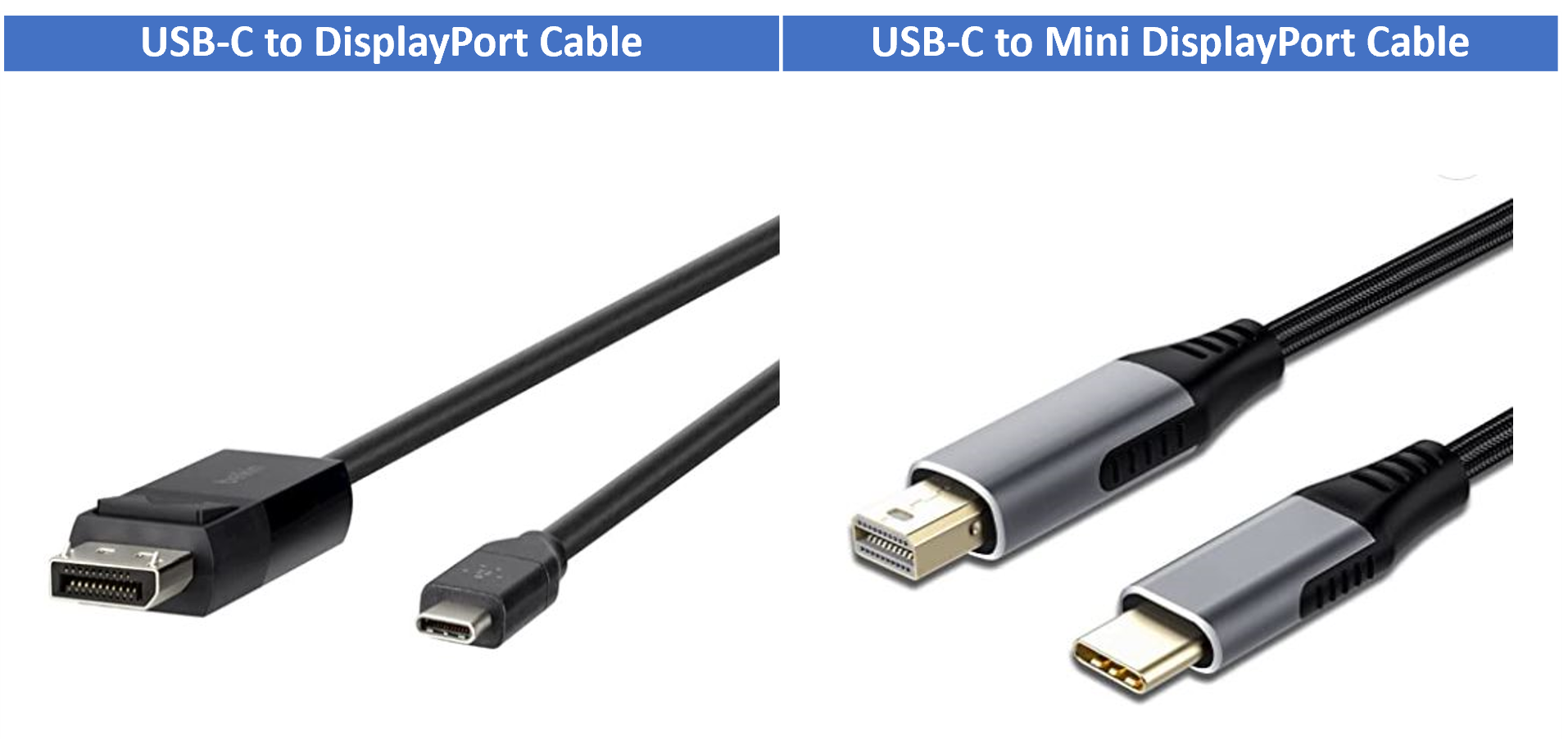 Another option for connecting a USB-C device to a DisplayPort is using an adapter that features the right female-to-male or male-to-female connector. Since these types of devices are usually lightweight and portable, they are better suited for homes or offices with double-ended DisplayPort cables—a single adapter will do the trick. An adapter usually looks like this: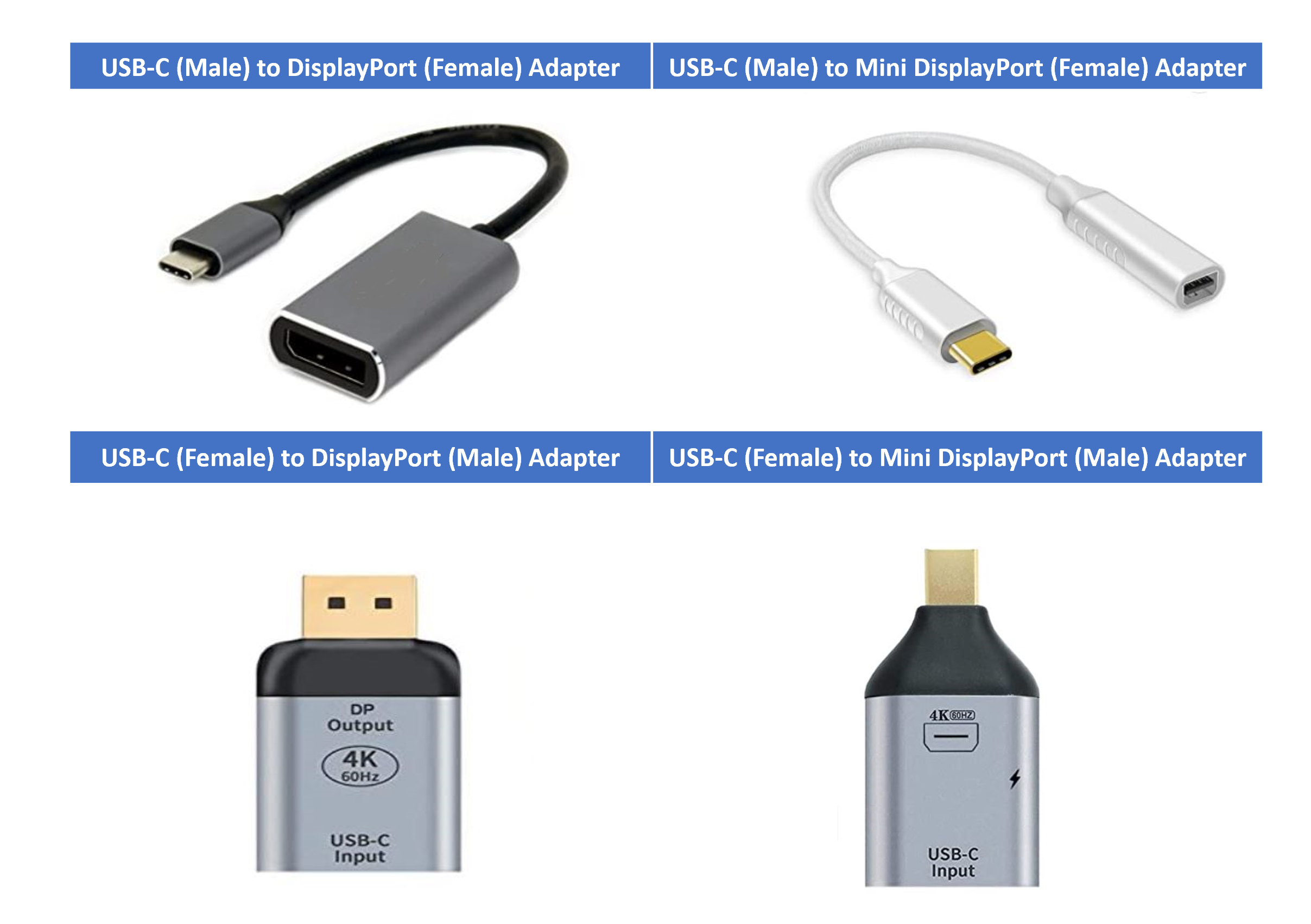 Additionally, such cables and adapters support different DisplayPort versions, namely DisplayPort 1.2 (4K@60 Hz) and DisplayPort 1.4 (8K@60 Hz). Those with a 4K@60 Hz monitor and no plans to upgrade will benefit from a cable or adapter featuring DisplayPort 1.2, which is less expensive. However, if your monitor supports 4K@120 Hz, 8K@60 Hz, or higher resolutions, it is recommended that you use a DisplayPort 1.4 cable or adapter to ensure optimal display.
Note, however, that all cables and adapters are directional. In general, the USB-C end connects to the system or mobile device, while the DisplayPort or Mini DisplayPort end connects to the monitor. With that said, some manufacturers have rolled out bi-directional cables, meaning the system end can be connected to a DisplayPort or a Mini DisplayPort, while the USB-C end can be connected to a USB-C monitor. It is important to check the product's suitability before you buy.
After the Purchase, What's Next?
Based on Allion's internal testing and feedback from Amazon users, customers often encounter the following issues with USB-C to DisplayPort adapters and cables: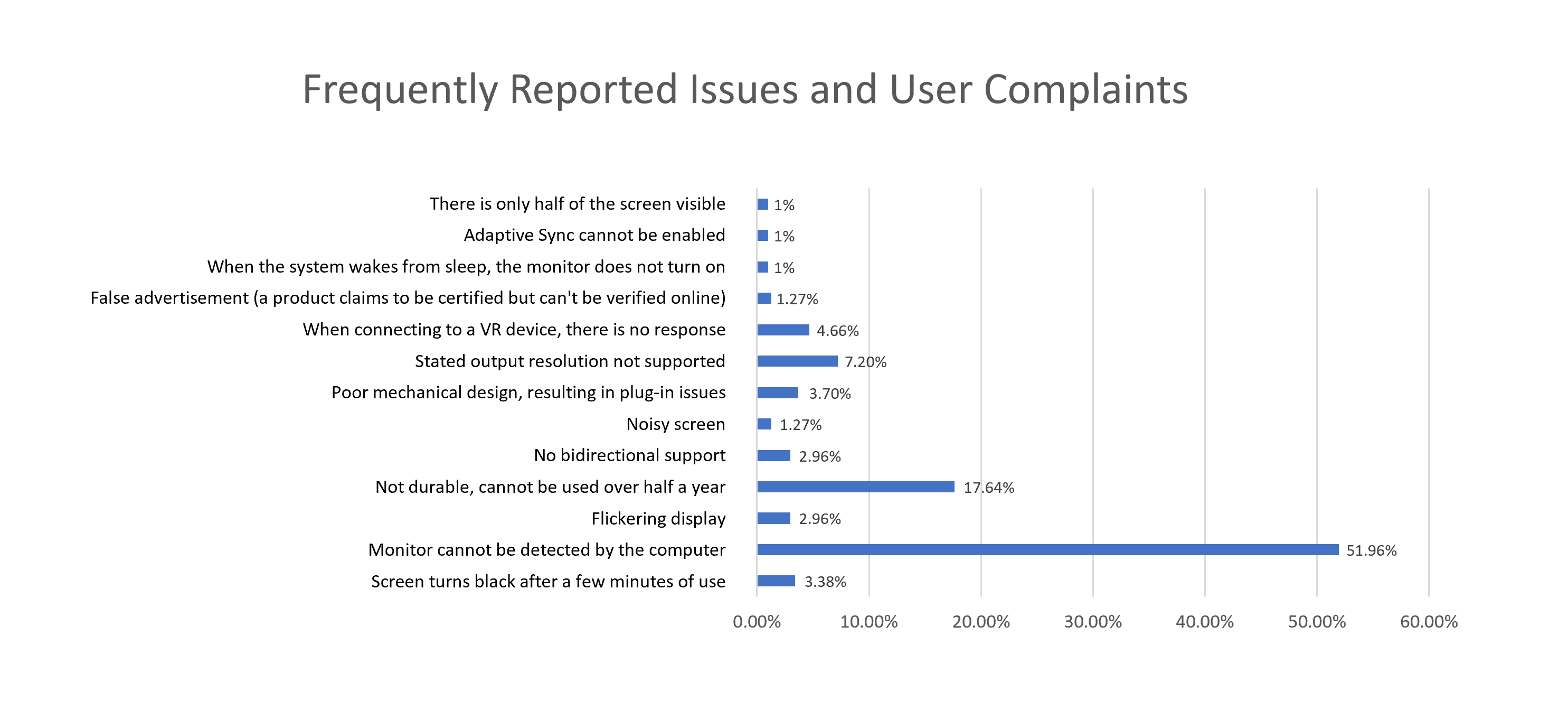 The reported issues can be categorized into four main types:
1. Compatibility Issues
Compatibility issues are the most common complaint from users. It is possible, for example, that the device administrator cannot detect the system when it is connected to the monitor via a cable or adapter—which can be a serious defect in the eyes of an end-user. Or, in slightly better situations, the device can be detected, but the screen may turn black after a few minutes. Debugging is still required in this case, which can be very troublesome.
Product durability is also a key consideration for many users. A number of users complained that their product had problems within half a year of use. Returning the product, even if it is still covered by warranty, would be a hassle, not to mention that a brand loses its reputation and sales if the product quality is poor.
2. Functionality Issues
In some cases, even if the monitor is detected by the system initially, issues may arise later. This category of issues includes half-visible screens, inability to enable Adaptive Sync, unsupported resolutions despite stated support, compatibility issues with VR devices, lack of bidirectional connection support, and detection issues after waking up from sleep.
3. Display Issues
Some customers experience noisy or jittery display. This will also lead to poor user experience.
4. Mechanical Issues
Some users report that their cables or adapters products are poorly designed, making it difficult to plug in or unplug. On the brand's official website and Amazon, some customers expressed doubts that the product was not VESA certified, but the brand didn't come forward to dispute the rumors. Alternatively, for brands that did pass the certification, having a certification will encourage users to have a higher level of confidence in the quality of the product.
Cases where consumers doubt the authenticity of a product's being VESA certified:

Source: Maxonar

Source: Amazon
To confirm whether a product is VESA-certified, check on the VESA website below.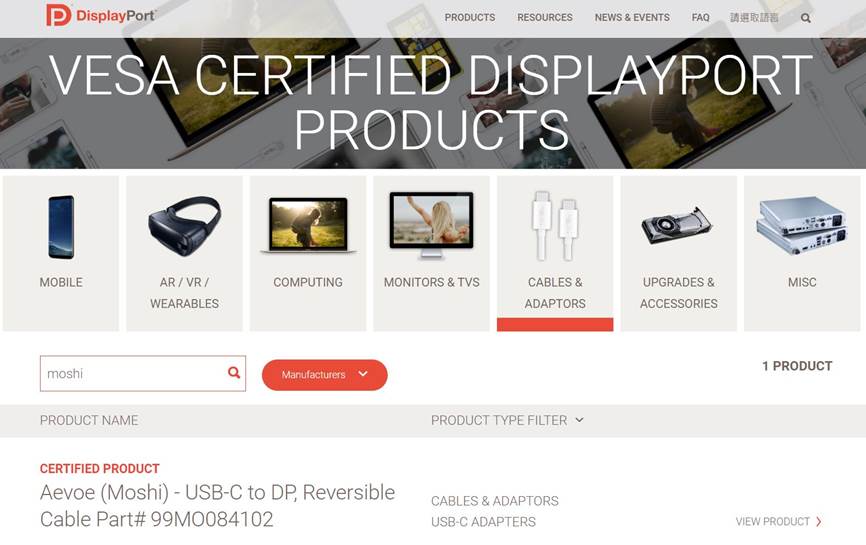 Source: DisplayPort
Testing and Consultant Services of USB-C to DisplayPort Cables and Adapters
Since the demand for USB-C to DisplayPort cables and adapters is high, and there are many systems, mobile devices, and external monitors to choose from, unexpected connection issues are quite common. The following tests are designed by Allion for validating USB-C cables and adapters:
Compatibility Test: Checks the product's compatibility with various host systems, mobile phones, tablets, and monitors
Functionality Test
User Experience Test
Competitive Analysis and Consulting
Cable Connector Test
VESA Certification Test
In addition to the above test plans, Allion can also design custom test plans based on our customers' needs. From systems, tablets, mobile phones, and monitors, to hubs, Allion has the most comprehensive portfolio of testing products and equipment covering most brands to offer the most stringent quality control for your products. If you are interested in relevant testing and validation, please do not hesitate to fill out our inquiry form. We will get back to you shortly.