Allion Labs
Smartphones nowadays are equivalent to pocket-sized PCs. Many things that could not be done before are possible now. In the past, noble families would have slaves, maids, or housekeepers to help with daily tasks. However, in the modern age, we utilize smart home devices to handle simple tasks. Whether you're on board or not, smart home devices will gradually start to affect everyone's lives.
Can you imagine if we could only use a traditional alarm clock to wake us up in the morning? With the help of smart devices, we can use smart curtains, smart speakers, human sensors, and smart sockets to assist us with unnecessary work. We can set a wake-up time for smart curtains to wake us up and decide how much we want them to open. Meanwhile, smart speakers will play music at your wake-up time, so you won't be startled by the sound of an alarm clock, starting your day with a nice and relaxing method. The coffee machine also turns on automatically with your smart socket as your day begins. This is a great example of how you can mix and match smart devices to your liking, and also a part of modern life that more people should consider.
There are hundreds of smart home devices and platforms on the market today. Later we'll show you our analysis of different smart home platforms and connection methods to help you choose. A good way for consumers to choose is to decide by the specific mobile OS or by the apps they are used to.
Smart Home Platforms
There are so many smart home platforms on the market because when a manufacturer releases a new product or device, an app is often created to control it. As a result, users have to learn to adapt to different brands and manufacturers and they naturally go towards the bigger and more reputable brands. Smart home platforms allow users to control their smart home devices. Below is an introduction to the most common smart home platforms on the market today.
Smart Home Platform
Apple HomeKit
Google Home
Amazon Alexa
Mi Home
Released in
2014
2016
2014
2016
OS
Apple OS (iOS/iPadOS/Mac OS/TvOS/Watch OS
Android/iOS
Android/iOS
Android/iOS
Supported Devices
Only Apple devices with the built-in Home app
iOS or Android devices with the Google Home app
iOS or Android devices with the Amazon Alexa app
iOS or Android devices with the Mi Home app
Remote Control
Requires a "Home Hub" (Apple TV/HomePod/HomePod Mini/iPad)
N/A
N/A
N/A
Automation
Buit-in
Requires third-party software (Ex: IFTTT)
Built-in Amazon Alexa app (Alexa Routine)
Built-in
Smart Speakers
HomePod/HomePod Mini
Google Home/Nest
Amazon Echo
Xiaomi Smart Speaker
Voice Assistant
Siri
Google Assistant
Alexa
Xiao Ai
Supported Languages for Voice Commands
English, Chinese, French, German, Italian, Portuguese, Spanish, Japanese and other 19 languages
English, Chinese, French, German, Italian, Portuguese, Spanish, Japanese and other 15 languages
English, German, Italian, Spanish, French, and other 4 languages
Chinese and a few other Chinese dialects)
Automation Triggers
Time/Location/Sensors
Time (only with third-party services like IFTTT)
Time/Location/Sensors
Time/Location/Sensors
Pros
Different locations (families) can be automatically changed with authentication, so security and privacy protection are very high.
1.      Supports more than 10,000 products

2.      A relatively open ecosystem

1.      Supports more than 20,000 products

2.      A relatively open ecosystem

1.      Affordable

2.      The best choice for Chinese speakers

Cons
1.      Closed ecosystem

2.      Products need to be certified (high entry threshold)

3.      Relatively higher prices

4.      Only 500+ products support HomeKit

1.      Less stable without the need for certification

2.      No built-in automation, and has restrictive use with third-party apps

1.      Lacks native OS platform

2.      Must buy an Amazon Echo to use voice commands

1.      Only 300+ products support Mi Home

2.      Lacks native OS platform

3.      Must buy a Xiaomi Smart Speaker for voice commands

4.      Products from mainland China have security concerns
References: HomeKit Accessories List; Google Home Accessories List; Alexa Accessories List; Mi Home Accessories List
Smart Device Connection Methods
In addition to smart home platforms, different connection methods also affect its performance. Consumers must evaluate their home environments and equipment before purchasing to find the most suitable connection method for them.
Zigbee
Zigbee is a common connection method for smart home devices. Since mobile devices are unable to communicate with smart devices directly using Zigbee,  a network bridge is required for a relay connection.
Pros
Uses low power so there's no need to replace batteries frequently
Different Zigbee devices can connect to the network bridge and the network bridge is connected to the router/AP. When the router/AP is replaced, reconnecting devices is unnecessary.
Cons
To use Zigbee devices, you must also purchase a network bridge. Zigbee cannot be used alone.
Bluetooth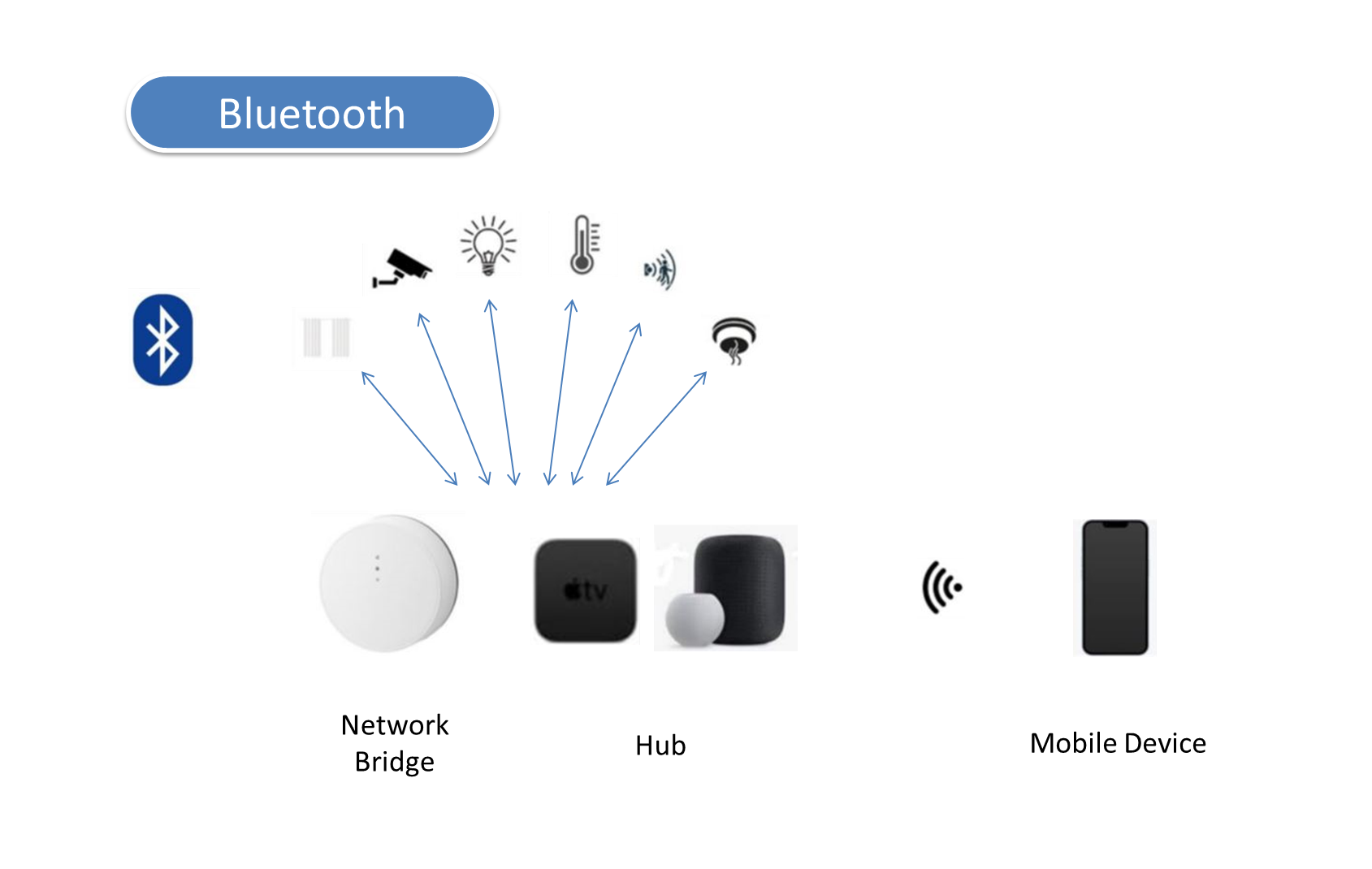 Bluetooth is a communication tool that has been used and developed for a long time. Most mobile devices around us today have built-in Bluetooth. When smart home devices use Bluetooth as their connection, the mobile device can be directly connected with a dedicated app. It can also allow connections to a Home Hub such as Apple TV.
Pros
You can decide whether to connect through the Home Hub or not. The mobile device can also connect directly to the smart device.
Cons
Slow reaction speeds often have delays.
Higher power consumption.
Wi-Fi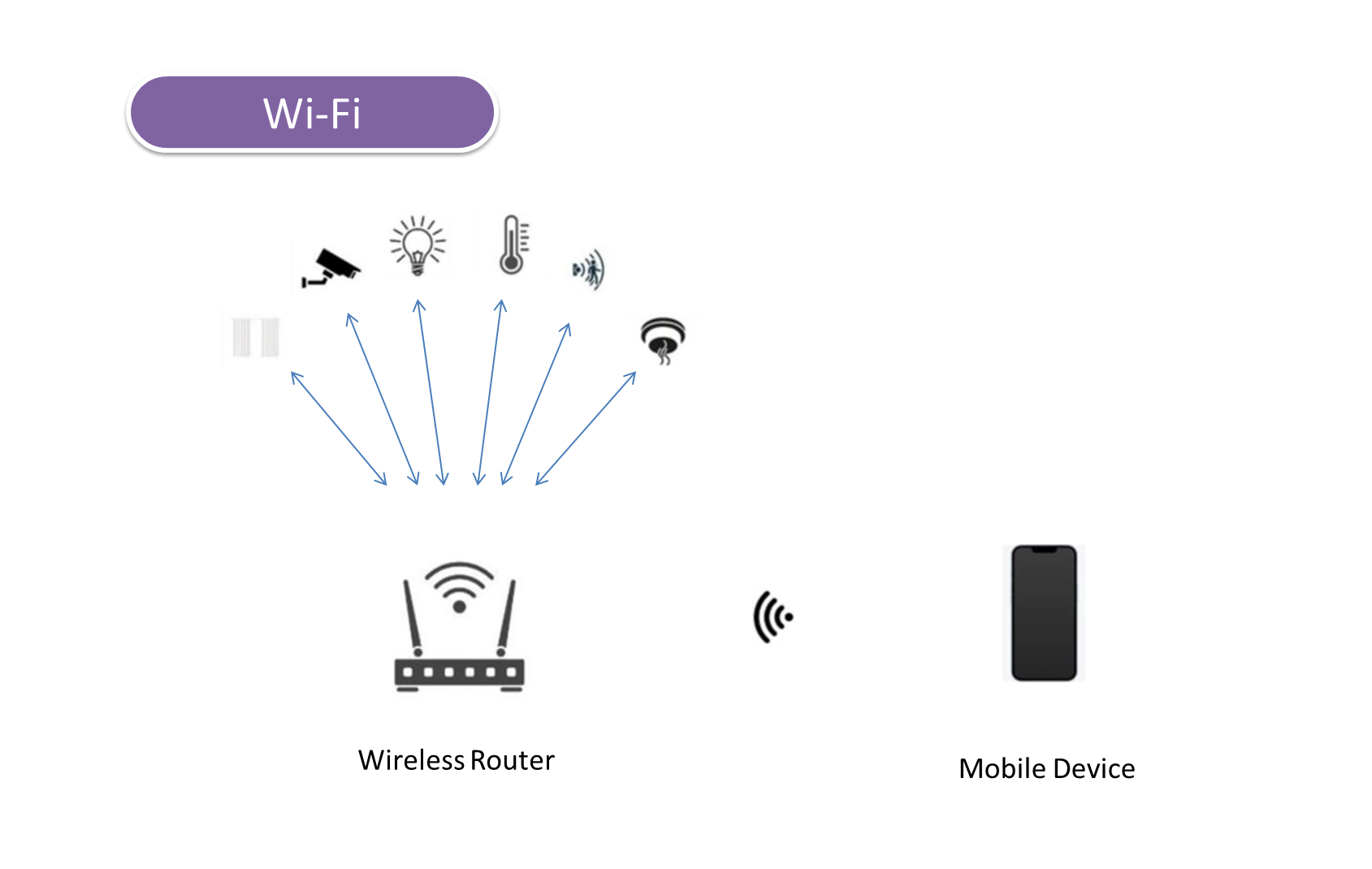 A home Wi-Fi AP is a very popular device that assists us in accessing the Internet wirelessly at home. If the method of connection of the smart device utilizes Wi-Fi, it can be connected to the router as a client.
Pros
Doesn't require a Home Hub
Easy and fast to set up
Cons
The performance of the router affects the smart devices. If there are too many connected devices, the response time might be delayed.
You must reconnect all smart devices when you purchase a new router.
Thread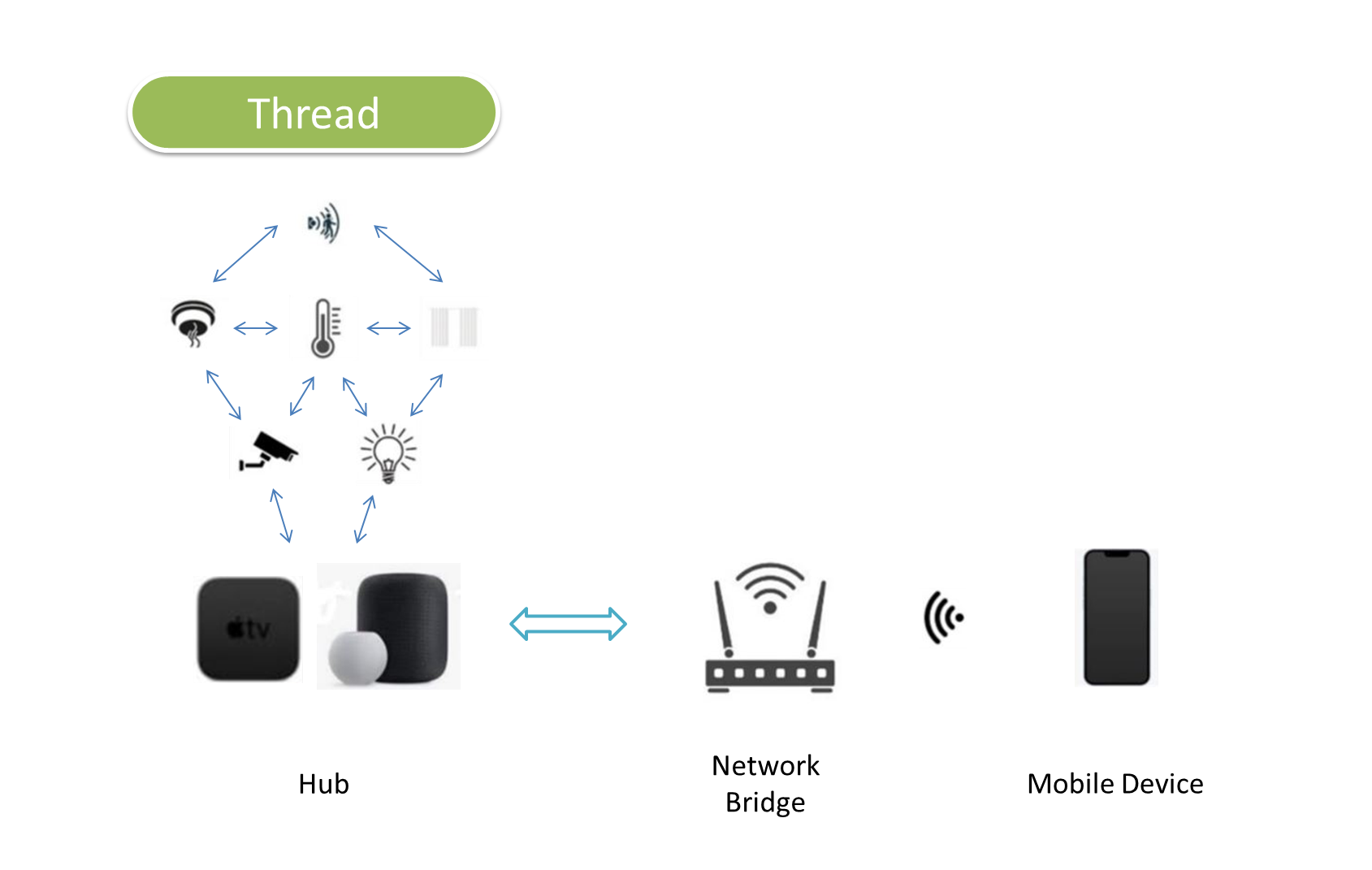 Thread is a relatively new connection method. Smart home devices need to be connected to a hub. Thread utilizes serial connections to allow devices to communicate with each other, forming a mesh network.
Pros
With a mesh network, the stability and response time of the overall connection are enhanced.
Can continue operation when a node fails to function.
Cons
Not many products support Thread. Below is a list of products that support Thread currently:

Home Hubs: HomePod Mini, Apple TV, and Google Nest Hub Max
Routers: Eero 6 Pro and Google Nest Wi-Fi
Products: Nanoleaf Essentials Smart Light Bulbs/Light Strips, Eve Door and Window Sesnors, Eve Energy Smart Plug, and Belkin Wemo WiFi Smart Plug
Matter
Because most manufacturers use different platforms and standards to control their own smart home devices, they cannot be interconnected. In some instances, different smart devices that support the same platform can be used together, but in most cases, consumers cannot use one single platform to control all of their different smart home devices.
Some manufacturers have realized that this makes smart home devices inconvenient for consumers to use, so Apple, Amazon, Google, and the Connectivity Standard Alliance (CSA) have jointly initiated the development of a new agreement that exempts patent fees, simplifies the development cost of smart homes, and improves product compatibility. This led to the creation of a new IoT standard named Matter.
Matter will allow these smart home devices to have better compatibility, making them easier to use, no matter which brand, platform, or connection technology. Presently, more than 250 companies have already joined Matter.

Matter Logo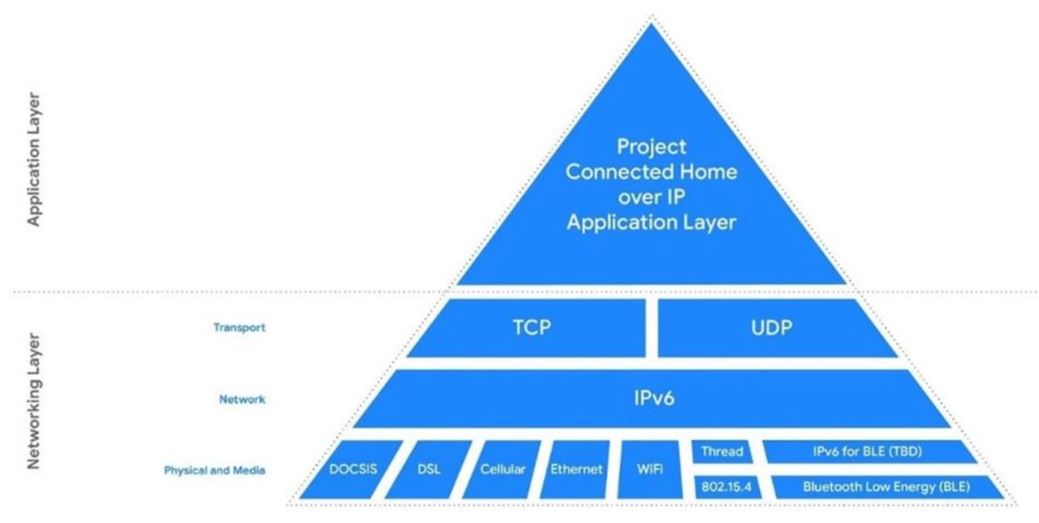 Matter Structure
Technologies
The Matter standard is IP-based and uses the following technologies to connect: Bluetooth (BLE), WIFI, Thread, DOCSIS, Cellular, Ethernet, and 802.15.4 (Zigbee).
Source: The Connectivity Standards Alliance
Note 1: Data-Over-Cable Service Interface Specifications (DOCSIS)
Note 2: 802.15.4 (This protocol supports simple devices that consume low amounts of power used in personal spaces within a 10m diameter)
Advantages of Matter
Security enhancement
Low cost
Diverse purchase options
Cross-platform integration
Disadvantages of Matter
The functions of a product might differ when used on different platforms. For example, Amazon has just released a smart video camera that conforms to Matter's guidelines. The Amazon smart device also supports HomeKit and can be displayed on the Home app. You can record and view the video camera normally from the Home app, but other functions such as human body sensing, face recognition, detailed logs, and security notifications are not available on the Home app. You can only use Amazon's app to utilize these functions.
Take the Next Step
In response to the various platforms, brands, and connection methods of smart home devices, Allion can provide up to 1000 kinds of testing equipment. Not only does this allow for a complete compatibility test that ensures our client's products can be used on different platforms, but also catches major problems in the early stages of research and development, saving our clients valuable time and money. Below is a list of the items we can provide our clients with:
Compatibility Test
Functionality Test
Wireless Test
User Experience Test
Competitive Analysis and Consulting
In addition to the items above, Allion can also design customized tests just for your products. If you want to know more, please feel free to contact us through this online form, and Allion's customer service team will gladly help you.