Allion Labs | Ralph Liao
As personal computers have grown in popularity, almost everyone now has a computer. Allowing users to utilize Human Presence Detection (HPD) sensors for turning on, turning off, or locking screens has become a very important direction for various manufacturers.
HPD Applications
Not only does personal privacy come into play, but information security is also another important aspect in this context. Imagine using a PC and temporarily needing to leave your seat, if you forget to lock your computer, you run the risk of leaking your data on the computer, which is harmful to any type of user. We will provide some scenarios below for HPD usage:
Work Offices
Public Places
WFH Applications
What are the benefits?
Faster response: When users are close to the DUT, they can be detected immediately, and the system can wake up automatically without clicking the mouse or pressing a key.
Power saving: When the user leaves the computer, the screen will automatically turn off or enter Modern Standby Mode within 15 seconds.
Information security: After entering Modern Standby Mode, the system will be locked. Using the login password, fingerprint unlocking, or facial recognition will be required to unlock the computer. This protects the user from forgetting to log out or shut down the device when leaving the computer, reducing the risk of having data stolen from them.
Potential Problems
The diagram below explains what HPD does for users in a simple way.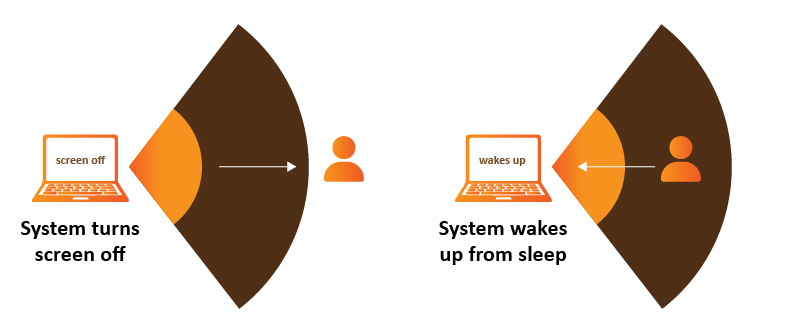 When the user leaves the sensor area, the system automatically turns off the screen to avoid data leakage, and it even locks automatically for higher security.
On the contrary, when the user enters the sensor area, the screen will turn on automatically, allowing the user to immediately start working, as shown below:
This HPD function has been adopted by three major brands that use Windows 10, and it's installed on the following systems:
Dell Latitude/Precision (with an HPD sensor and a dedicated "Express Sign-in" app)
HP EliteBook X360 1030/1040 G7 (with an HPD sensor and a dedicated "HP Presence Aware" app)
Lenovo ThinkPad X1 Nano Gen 1 (with an HPD sensor and a dedicated "Lenovo Vantage" app)
In response to the development of this function, major brands have also built this into the OS on Windows 11, but the following conditions must be met to enable it:
The system must support Modern Standby
Must have a built-in HPD sensor and camera equipment (NB, external monitor, external camera, etc.)
According to Microsoft's specification requirements (under different distance settings, the system must be woken up within 15 seconds and the fail rate should be less than 5%), we found during our experiments that the DUT had different problems under different FWs, with very high failure rates.


Our Services
Allions provides the following services and helps clients find critical issues in the early stages:
Compatibility Test with DUT (monitors, cameras, etc.)
Functionality Test (DUT: systems, monitors, cameras, etc.)
Extended Test (environment, appearance, etc)
Allion has many years of Iot testing experience and can provide a wide range of suggestions and testing gear for various products to improve product stability, reliability, and compatibility. The following are some additional tests we provide:
Compatibility Test for Monitors, Cameras, etc.
Functionality Test for Systems, Monitors, Cameras, etc.
Extended Test (Environment, Appearance, etc.)
User Experience Consultant
For more information on our services, please contact us at service@allion.com.