Allion Labs | Goldberg Chen
What Is a KVM Switch?
Due to the COVID-19 pandemic, remote work has become mainstream. In order to balance work and entertainment, most people have multiple computers or gaming consoles at home. However, each computer or console must usually be equipped with a set of monitors, keyboards, and mice. Problems such as taking up too much space and switching between computers can be very troublesome. To solve these problems, a KVM switch would be your best bet.
KVM is an acronym for keyboard, video, and mouse. It's a device that allows users to control multiple computers through only one set of keyboard, monitor, and mouse, saving money and space while increasing productivity. In the past, engineers had to deal with hundreds or thousands of servers. However, with a KVM switch, only one set of controls are needed, so there's no need to physically go to each server. A powerful tool for efficiency is the KVM hotkey, with it you can quickly switch to any server. Below are some advantages of the KVM switch:
Easily control multiple computers (or servers)
Saves costs on computer equipment
Saves space and reduces workspace clutter
Increases equipment expandability, for example, some KVM switches can function as USB hubs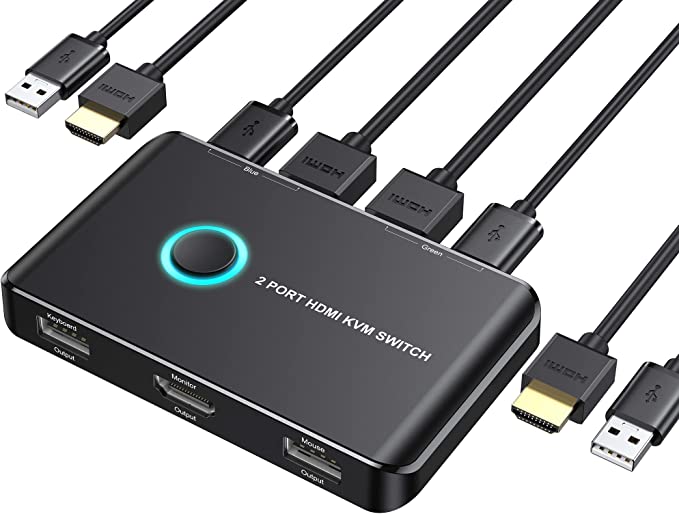 KVM switch (Image: Amazon)
The maximum number of computers or servers that can be connected to each KVM switch varies and the number of ports on a KVM switch can range from 2 to 64 ports. In the picture above, the KVM switch has 2 ports.
The KVM Monitor
A KVM monitor is a monitor that has a built-in KVM switch, which saves users from buying a separate KVM switch. The usage of the KVM monitor is shown in the picture below. You only have to connect the different systems to the multiple upstreams ports in the monitor, then connect the shared keyboard and mouse to the USB ports (downstream ports). After setting things up in the on-screen menu, you can switch between multiple systems easily!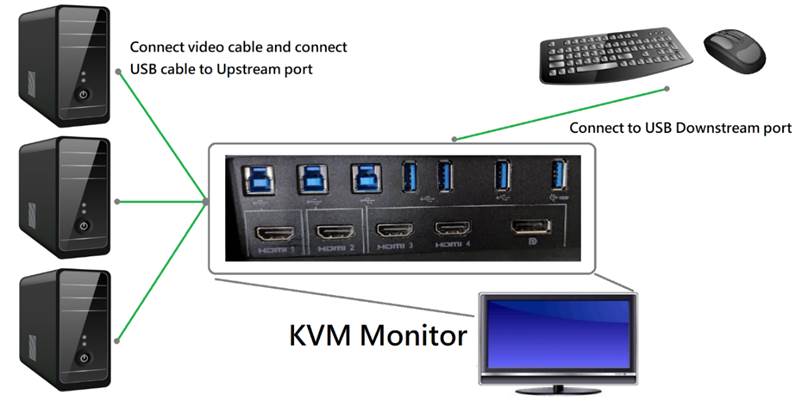 KVM Monitor Instructions
KVM monitors have similar advantages to a KVM switch, making them suitable for homes and offices. It's also very convenient to use them for entertainment purposes, allowing for the user to switch between different devices without having to unplug wires. Although the KVM monitor is convenient, there are two small drawbacks:
KVM Monitors usually only support a small number of devices for switching, usually ranging from 2-4 ports
Some KVM screens are not designed with physical hotkeys to switch devices, so you have to use the controls on the monitor and the on-screen-display menu to do so.
Bugs and User Feedback
In theory, KVM products are very convenient and have many advantages, but are there any risks behind them? Allion's bug report analysis and feedback from Amazon users are compiled into the diagram below: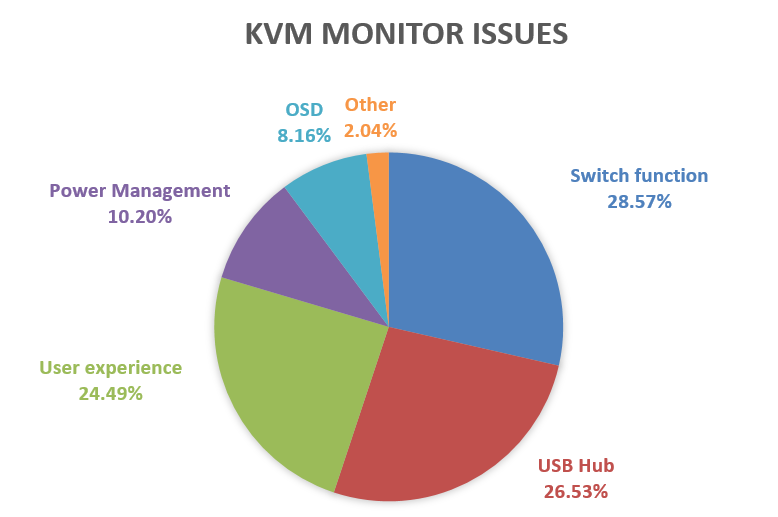 The switch function, USB hub, and user experience take up the highest percentage of the issues, with almost 80% combined together. Allion has analyzed these three issues more in-depth.
The first problem, the switch function, refers to problems while switching devices, functional defects, or conflicts between functions, such as:
KVM is unable to switch displays and keyboard/mouse at the same time: Keyboard and mouse switching and device switching need to be manually switched twice
KVM is unable to switch devices: Automatically jumps back to the original system after switching fails (or monitor enters power saving mode)
KVM is unable to operate
KVM switching takes a long time: Smooth and seamless switching affects what the users think of the quality and performance of this product
Problems caused by KVM switching to a system with no display signal (such as system sleep or shutdown): No longer able to switch back to the original system or keyboard and mouse not syncing back with the original system
Problems with KVM in combination with other monitor functions: Auto source function malfunctioning
From the issues listed above, other than bugs that the KVM function has itself, it's also very easy to encounter problems when the KVM monitor enters power-saving mode or connected devices are shut down. In addition, the built-in KVM may also have conflicts with other functions of the monitor, causing inconvenience to the user.
The second problem, the USB hub, refers to problems such as:
A constant noise when a USB device is connected to the USB hub
When the KVM switches to a second system, the keyboard and mouse is still synced with the first system
After KVM switching, the USB hub stops working: This problem has the highest percentage within this issue, including problems like the USB device cannot be detected by the system or the USB device is unable to operate normally
After KVM switching, the LAN port on the monitor is unable to function: This problem can occur because some KVM monitors support LAN port switching
The third problem, user experience, refers to issues from Amazon reviews, consisting of feedback mostly related to product design rather than bugs:
No KVM hotkeys
The monitor controls are not convenient for KVM switching
Too few upstream and downstream ports
KVM setup is too complicated
Among the user experience issues, the one with "No KVM hotkeys" appeared the most times, which tells us that being able to easily switch between systems is the most important thing for users. Designing hotkeys for a KVM monitor is one of the most important things that manufacturers need to think about when designing KVM monitors.
Testing and Services For KVM Monitors
While KVM monitors bring users convenience, according to the bug analysis and user feedback, these products can also cause trouble for users. In order to effectively improve the quality of KVM monitors, Allion's professional engineering team has designed the following tests:
Compatibility Test
Mobile Device Test
USB Charge Test
Power Delivery Test (If supported)
HDR Test (If supported)
Webcam Test (If supported)
Thunderbolt MST Test (If supported)
Compatibility Test for KVM

Host (Systems, mobile phones, tablets, game consoles, set-top boxes, etc.)
Keyboard
Mouse
Other USB Devices (Pen drives, external hard drives, webcams, etc.)

KVM Monitor Switch Functionality Test
In addition, you can also conduct customized test planning for your product. If there's an app for your product, we can also include them to achieve the best results.
Allion has a rich and diverse range of over 3000 KVM monitor testing products including operating systems, mobile phones, tablets, game consoles, set-top boxes, adapters, keyboards, mice, headphones, pen drives, external hard drives, webcams, and more. There are also more than 700 monitors for verification and comparison, covering a variety of brands on the market. If you want to know more or have related product testing needs, feel free to contact us through a contact form or email. Our service team will gladly provide exclusive services for you!
More like this: The Convenience and Importance of the USB Hub!