Allion Labs
Gaming controllers are devices that allow gamers to control operations in games. Such devices include:
Gamepads
Gaming Joysticks
Gaming Trackballs
Gaming Throttle Quadrants
Gaming Steering Wheels
Gaming Light Guns
Gamepads are the gaming controllers that we are most familiar with. In general, this product boasts the most varieties with the greatest sales volume. Different from the conventional impression that controllers are merely used in game consoles and computer games, there are game controllers exclusive for mobile phones or tablets available on the market recently.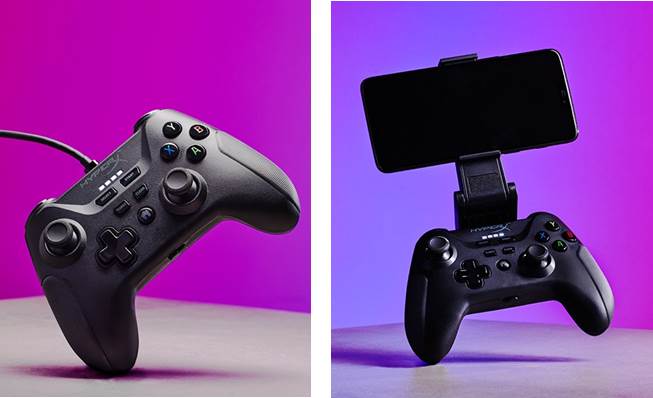 Thanks to the stay-at-Home economy under the impact of COVID-19, the sales volume in game-related industries has been increasing rapidly. According to an analysis report made by Emergen Research, the global output value of gaming controllers reached USD 1.78 billion in 2020. It is estimated that the global output value will reach USD 3.49 billion by 2028, while the compound annual growth rate is estimated to be 8.9% from 2021 to 2028.
In recent years, the rapid growth of mobile games has become the greatest factor contributing to the growth of gaming controllers. In 2020, the number of mobile game players amounted to 200 million simply in the USA. Gaming companies all rush to the fore to develop mobile games for gaining short-term profit growth. Thus, controllers exclusive to mobile phones have also benefited from this phenomenon. As for mobile games, numerous players spread all over the world in competitive games such as "Arena of Valor" and "PUBG: Battlegrounds". There is a tendency for competitive game players who would like to use dedicated controllers with enhanced comfort and maneuverability.
Common Problems in Gaming Controllers
Being a professional testing company, we care about various kinds of issues regarding the quality or designs found in our products that have been sold on the market. Therefore, we conducted some research on a controller manufacturer who always gains big profits on Amazon. We observed two models of its best-selling wired controllers and wireless controllers, and then compiled most of the negative comments with 1~2 star left by consumers on the website, which has been summarized as follows:
The targeted controller was "Amazon US Best Seller in PC Gamepads & Standard Controllers".
We researched 500 comments in total.
All the authors of these comments were consumers who did purchase such products in reality and who had been verified by Amazon.
Wired Controller L
Issue Categories

Breakdowns of Negative Comments
Ratio
Analog Stick issues
Analog performance issue – kinematic viscosity
66%
Analog performance issue – drifting when using it
Excessive dead zone setting – according to consumers' responses, the range of motion sensing is approximately 10~50%, which cannot be calibrated by means of the complimentary software.
Analog performance issue – unable to move with 360° all-round precision.
Issues related to LR Button
LR button/D Pad is difficult to use – the finger gets tired because of pressing it for too long or too hard
25%
Fragile LR buttons that are prone to failure
System Compatibility issues
Poor compatibility with Win7
7%
Compatibility issues with Mac – incomplete functions after installation
Poor compatibility with PC game emulators – incapable of use
Durability issues
Durability issues – Windows cannot detect it after using it for several weeks
3%

Wireless Controller L
 Issue Categories
Breakdowns of Negative Comments
Ratio
Wireless Performance issues
Sudden disconnection with PC and repeated disconnections
44%
Poor wireless signal strength – stable performance only within 1 ft. When it is over 1 ft, disconnection or latency may appear
Serious latency – about 1 second of motion sensing latency
Analog Stick issues
The execution of an analog motion may be interrupted, e.g. in the process of circling
33%
Excessive dead zone setting – some adjustments can be made by means of the complimentary software, but it is approximately 25% at least
After standing still, the analog center will not go back to zero; deviation problems occur
System Compatibility issues
Official Driver has not been updated, resulting in compatibility issues with Windows 10/11
11%
Issues related to LR Button
Hard springs – it's too hard when using an L/R button
7%
Software issues
Wrong self-defined button customizability – many buttons cannot be configured according to the user's thoughts
5%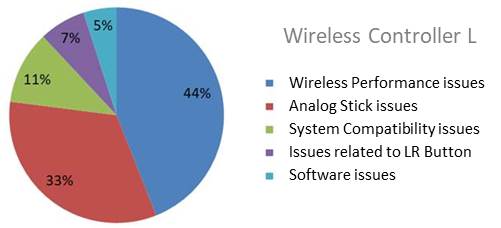 From the research survey mentioned above, we can see that the ratio of dissatisfaction regarding analog performance shown by wireless controllers accounts for more than 30% (indicated in red words), whereas the ratio of dissatisfaction related to the analog performance shown by wired controllers accounts for more than 60% (indicated in red words). This indicates that consumers pay much more attention to whether the relevant functions of analog sticks can meet their needs.
The so-called "analog stick" consists of the element on a gaming controller that is used for direction control. It is primarily used in first-person or third-person games nowadays, which is a kind of d joystick that can control characters' various movements in 360° directions.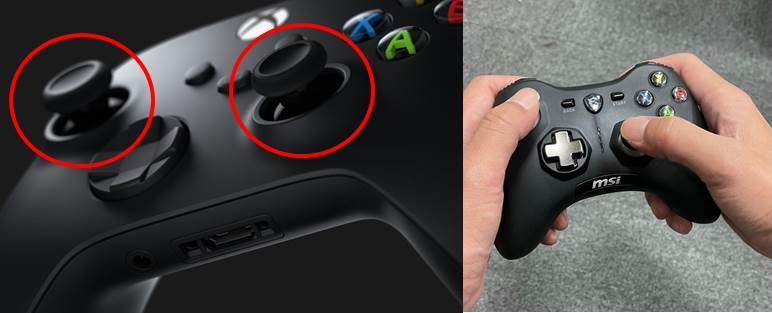 Introducing the Dead Zone of the Analog Stick
The dead zone on a stick refers to the inaction when a stick is slightly pushed within a certain scope (The scope size is depending on the configuration of a stick. Some controllers can be calibrated via software). It is no use pushing the stick slightly. Only when the stick is pushed beyond this scope in a game can a player receive data and make movements accordingly. The smaller the dead zone is, the more sensitive it is. An FPS game is more likely to need a dead zone with a smaller scope setting. However, if the setting value is too small, the phenomenon of drifting may appear. For example, the characters in a game may move by themselves even when the player does not touch the stick.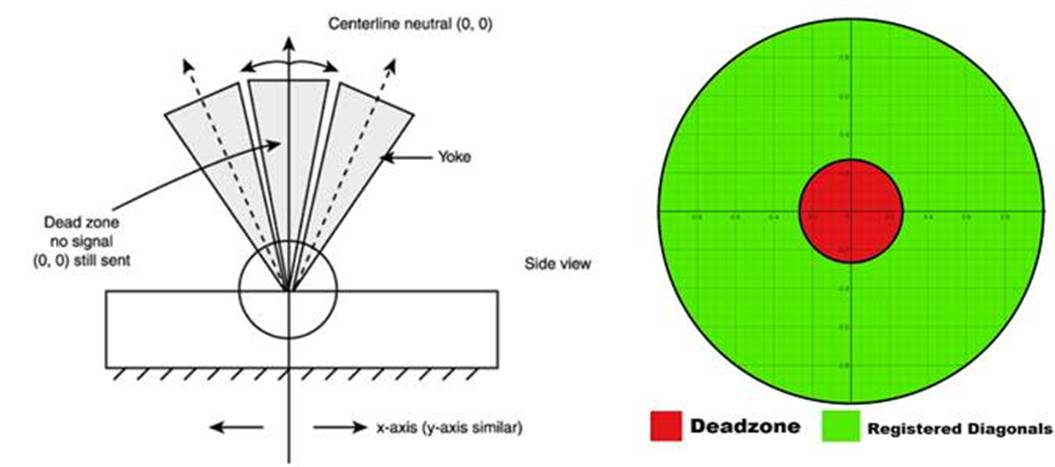 Usually, manufacturers will not especially indicate the scope of the dead zone in product specifications. There are no specific regulations regarding how large the scope of a dead zone should be. However, action game players who usually care much more about game operations will prefer that the smaller the dead zone scope is, the better it will be.
Basically, analog sticks are one of the two major elements tremendously applied in all the games. An analog stick is involved with precision and stability in the process of operations, while LR Trigger Button is the main default button for firing and attacks in a game. Thus, the length of the stroke, the sense of force feedback, and the latency may all affect the gaming experience.
The main negative feedback about a wireless controller is a common issue; that is, the problem severity lies in disconnection and latency in wireless products. These poor phenomena should be spotted and solved earlier, by means of the tests on wireless performance, stability, and anti-interference.
Professional Test Solutions
Since the performance of analog sticks is usually criticized by many consumers, we conducted verification tests based on our curiosity. We used the testing equipment exclusively researched and developed by Allion Labs, to conduct high-precision push on the selected analog sticks of the controllers. Based on 0.05mm as one unit, we conducted 13 pushes (the push stroke distance of the analog sticks sold on the market is about 6.5 ~ 7.5 mm or so) respectively to the bottom, left, and lower left, starting from the default center of the analog stick. Next, we used the display function "HTML5 game controller API" on Gamepad.tester (a website exclusive for game controller testing), and then recorded the coordinates reported by every push. We observed the shifting situation of every coordinate per a cycle of 5 repeated pushes under the operation with fine-grained precision that is difficult to be achieved merely by human thumbs. In this way, we can observe the stability of an analog stick.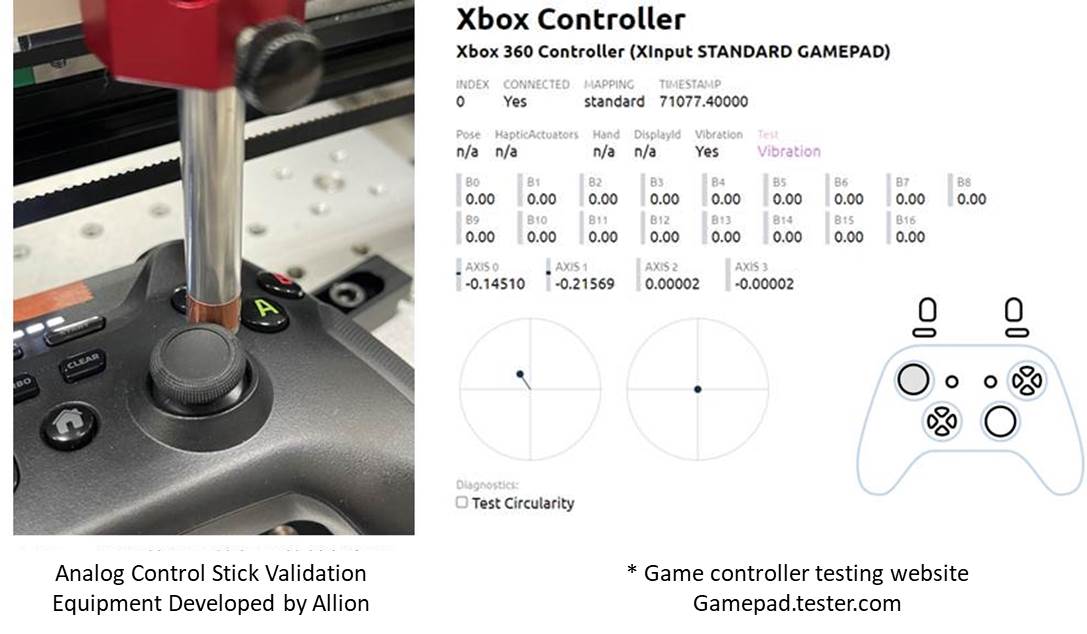 We selected two models of standard 360° gaming controllers, namely Controller A from Company H and Controller B from Company M, to serve as the subjects to be observed in the tests.
First, let's have a look at the stability performance of Controller A in three directions:
Controller A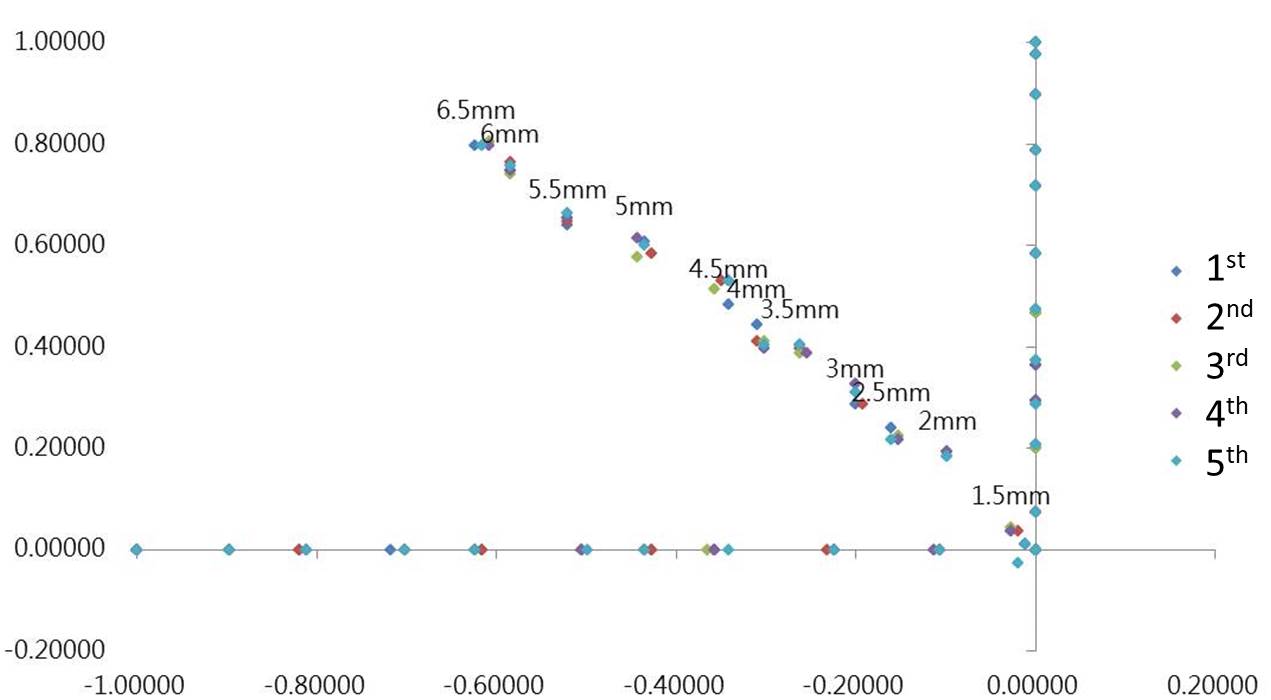 We can see that the coordinates of every fixed push towards the three different directions are quite intensive. Most of the coordinates can perfectly overlap with each other, which means insignificant drifting; in comparison, the controller can offer relatively stable operations. In addition, data begins to return after 1.5mm has been pushed from the center, so the dead zone is about 1.5mm. This is an excellent controller with relatively stable analog performance.
Controller B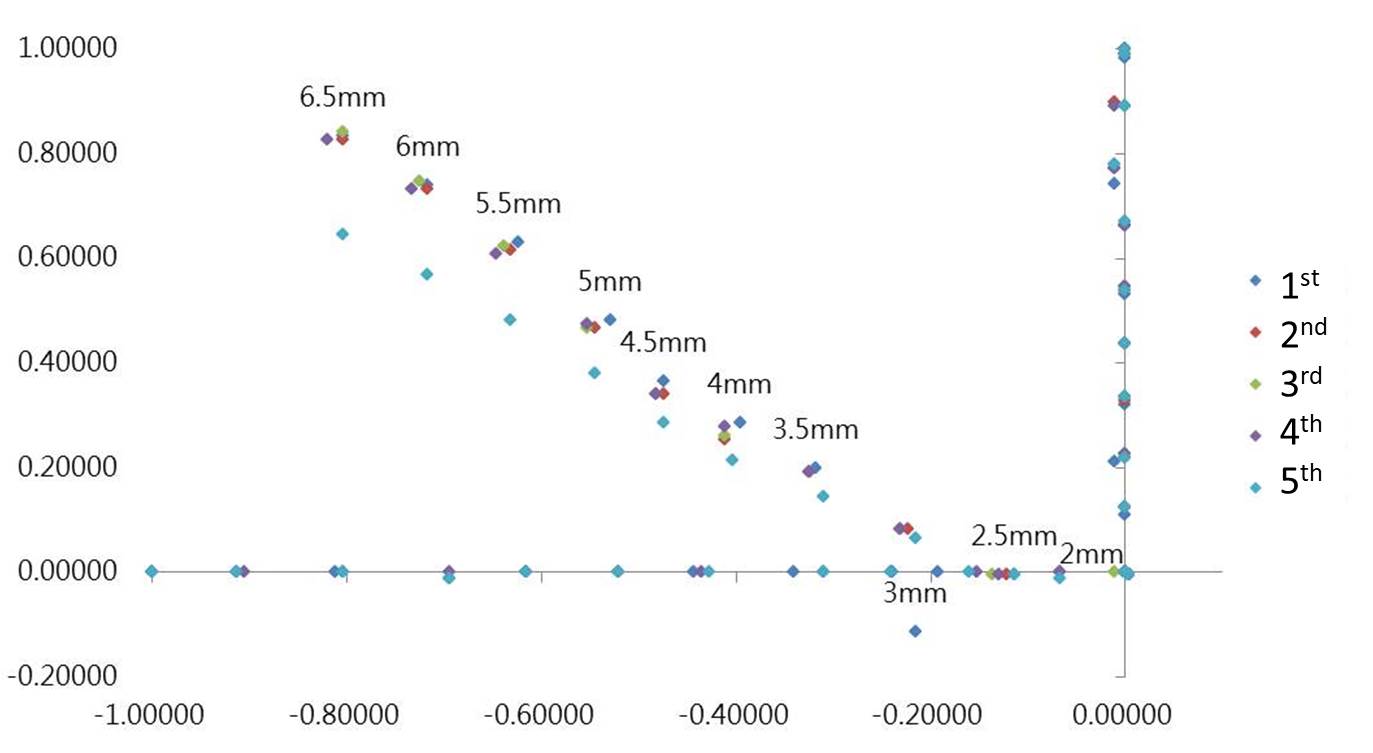 In comparison, the coordinate layout of Controller B's coordinates is more dispersed. Especially, when there is a diagonal shifting, all the coordinates may sometimes deviate significantly. During vertical pushing, it is more unstable compared to Controller A. Besides, data will begin to return after 3mm has been pushed, so the dead zone of this controller is about 3mm; it has a greater scope of configuration. In actual gaming experience, we also discover that slight drifting appears indeed.
By observing these data, we can have an overview of the stability inclination of analog sticks. Although manufacturers do not have an open standard for the performance of analog sticks, however, a slight deviation may probably affect the overall experience of the gaming operation. Nevertheless, since these highly-priced gaming controllers are known as "gaming level", they should be able to offer higher stability and precision for players who pursue precise operations.
In addition to the foregoing verification examples, Allion Labs, who has many years of testing experience in various computer peripherals and who is very familiar with the fields cared by consumers, suggests the following tests to safeguard the overall quality performance and compatibility of gaming controllers, by reviewing the poor feedback we've observed on actual markets:
Analog stick
Sensitivity: smoothness and accuracy of four directions/eight directions/circles
Whether deviations exist in motion/in standstill
Whether the size of dead zone scope matches its design or the adjusted dead zone matches the design
Wireless-related
Connection stability testing
Connection distance and connection stability testing
Anti-inference tolerance testing
Latency testing of analog sticks/various buttons
Compatibility
Depending on the scope of product support, compatibility tests are conducted on different operating systems or platforms, while verifications of the controller's functions are performed as well
LR Trigger Button
Observation of press feedback
The pressure value is measured to see whether it is accurate or not, if there is a pressure sensor simulation (such as the accelerator of a racing car or reeling in fishing)
Whether ineffective pressing occurs after consecutive presses
Allion Labs has rich experience in testing gaming peripherals. With a variety of testing environments for mobile phones, computers, laptops, gaming consoles, etc. accompanied by the software, hardware, and testing tools exclusively researched and developed by us, we can customize your unique testing plans based on your needs. We can assist our clients in selecting more stable products and suppliers, thereby reducing post-sales costs of different channels as well as customer complaints. If you have any doubt about the quality and performance of your products, please feel free to contact us, so that we can provide you with your exclusive testing service based on your needs.