Allion Labs
Why USB-C to Ethernet Adapters?
Slim, lightweight laptops have been appearing on the market in large quantities as consumer demand for portable PCs increases. With thinner laptops, bigger connection ports that exceed the thickness of a laptop, such as the RJ45, are among the first to be discarded. Yet, wired Ethernet provides stability and speed unrivaled by wireless networks, which is why USB-C to Ethernet Adapters are the ideal choice for having a stable, quick connection.
There are many kinds of USB-C to Ethernet Adapters on the market, usually sold according to different speed requirements. Currently, most mainstream speeds are around 1Gbps (1000Mbps), but consumers can make optional purchases depending on their systems or different intranet support capabilities. Details are shown in the table below.
| | |
| --- | --- |
| Internet transmission speed | USB specification |
| 100Mbps | USB 2.0 |
| 1Gbps (1000Mbps) | USB 3.2 Gen1 x 1 (USB3.0) |
| 2.5Gbps | USB 3.2 Gen1 x 1 (USB3.0) |
| 5Gbps | USB 3.2 Gen1 x 1 (USB3.0) |
| 10Gbps | Thunderbolt 3 (the ones available on the market only support Thunderbolt 3) |
Customer FAQs
In practice, different problems often occur in non-native web interfaces like USB-C, which may affect user experience. The author has collected Amazon consumer feedback, divided into the following categories: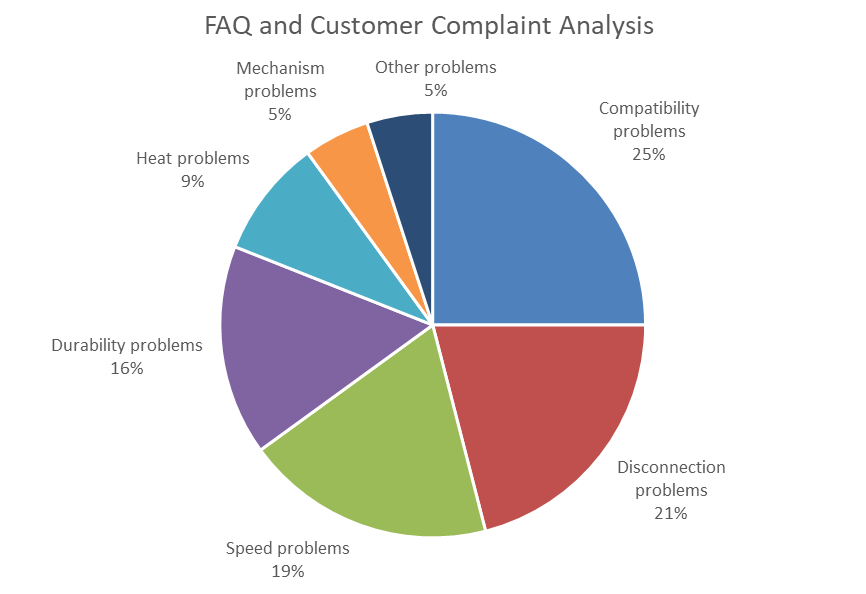 Compatibility problems (25%) account for the biggest portion of complaints because adapter manufacturers tend to miss comprehensive compatibility tests before product release, and as a result, the products often fail their end users. This increases product return costs and decreases customer satisfaction, which may even increase 1-star negative ratings on sales platforms, damaging brand image even further. Therefore, conducting proper fundamental compatibility verification is crucial before product shipping. With many years of experience in product compatibility solutions, Allion Labs can design and conduct validation and verification tests for our clients before mass production, be it for different chips, operating systems, or different devices (such as laptops, desktops, mobile phones, tablets, game consoles, etc.). This will significantly reduce product compatibility problems encountered by customers.
Next, we will talk about the two issues that consumers are most concerned about when they purchase adapters, namely the problems related to disconnection (21%) and speed (19%), making up 40% of FAQs combined. Many consumers choose to use wired networks because they require fast yet stable connections, and they are unafraid to give negative feedback when network stability and speed are not up to par. For these situations, Allion advises conducting throughput verifications to discover latent issues, ensuring that the speed and stability of their products are sufficient before production.
In addition, Allion can also provide consulting services during the product design stage regarding durability, product mechanism, heat generation, and other less frequent problems. This ensures that end consumers use tested, quality adapters, rather than poor adapters that easily wear and tear after being plugged and unplugged via USB-C connectors or RJ45 connectors, or because connectors that are too large cannot be used on most devices. Through the test items designed by Allion, we can help clients discover faults in product designs at an early stage, successfully avoiding product failure caused by poor design.
Laboratory and Test Equipment
To ensure that our customers' products can catch up with the smooth operations performed by most of the hardware and software brands on the market, Allion provides more than 1,000 sets of test equipment to support our compatibility verification tests comprehensively. We conduct our compatibility tests through usage scenarios and interconnect with a wide range of devices using commercially available models, to ensure the best user experience for your products and help manufacturers identify any issues, for minimizing user frustration and customer complaints. For USB-C to Ethernet Adapters, Allion organizes them into the following test plans:
Compatibility Test (for the laptop, desktop, mobile phone, tablet, gaming console, router, AP)
Functionality Test
User Experience Test
Competitive Analysis and Consulting
Cable Connector Test
In addition to the test plans mentioned above, Allion Labs can make customized test plans suitable for our customers' different products, and we can participate in the development and design of products at an early stage, to help customers produce high-quality products with a good reputation. In addition, Allion Labs has more than 1800 laptops, 800 Routers/APs, and 500 mobile phones. We have confidence in doing the best quality control for your products with the most comprehensive equipment and brand coverage rate.