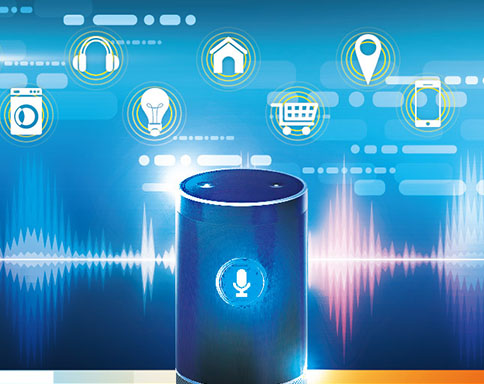 Virtual Assistants
In recent years, voice-activated products are being widely used in home, entertainment, and business scenarios. Building voice assistant onto products can be a challenging task. To help developers enhance product performance, Allion has launched a comprehensive solution that covers from microphone, amplifier designs, to wireless certifications such as Bluetooth®, Wi-Fi, and Alexa Voice Service.
Inquiry
Diverse Application of Voice-activated products

Commonly Seen Issues of Voice-enabled Products:
Frequent disconnection
Consumer electronics cannot be connected with your phone app
Response is too slow, not giving the right answer
Poor user experience after software updates
Wake up by the wrong words
Logo Certifications
Bluetooth® Services
Most smart devices now support Bluetooth 5.0. To drive better wireless connections between devices, Bluetooth SIG is going to release Bluetooth 5.2, which enables a better sound compression quality. To obtain authorized use of the Bluetooth® logo, vendors need to submit their products to BTQF to undergo a series of certification tests.  The highlights for voice-enables products are as follows:
RF (BLE RF-PHY)
Profile
For wireless products, remote control is essential to user experiences, and this is why Profile test is important. It is very common to see voice products suffer from AVRCP issues, which are failed synchronization between user actions and product performance.
Allion Bluetooth® RF Test System (ABRTS) allows customization of test cases.
Wi-Fi Certification
According to the Wi-Fi Alliance, the five major test categories of Wi-Fi are connectivity, security, access, optimization, and application. Allion has silhouetted the following test cases for your voice products:
Wi-Fi 6 CERTIFIED n
WPA2
Wi-Fi Easy Connect
Wi-Fi Protected Setup (WPS 2.0)
Wi-Fi Direct
Since there are continuous transmitting and receiving of audio files when using audio products, QoS (Quality of Service) is an essential test case. Nearly 50% of products suffer from QoS issues, which are disruptions in the transmission priority between audio and video packet losses, eventually leading to poor sound quality.
According to Wi-Fi Alliance, the QoS should be prioritized as follows: sound, image, best-effort, and background monitoring data. We can assist vendors in conducting WMM tests so to ensure your audio and music quality.
Alexa Voice Service Certification
Allion is authorized by Amazon as the ATL for Alexa Built-in. Alexa is Amazon's cloud-based voice service available on more than 100 million devices from Amazon and third-party device manufacturers. With Alexa, you can build natural voice experiences that offer customers a more intuitive way to interact with the technology they use every day. Amazon offers a collection of tools, APIs, reference solutions, and documentation to make it easier to build for Alexa.
Allion currently provides testing and certification for "Alexa Built-in", please contact with our Alexa Team for more details: service@allion.com
Comprehensive Solution by Allion 
In addition to certifications released by international organizations and companies, Allion also provides a suite of testing specifically to enhance the overall performance of your voice products. The solution includes electroacoustic components, wireless performance, interoperability tests powered by AI-driven technologies.
Allion Solution for Virtual Assistant
Allion continues to build our voice and audio database as we conduct tests to verify audio products. This database consists of diverse voice files that allow us to learn how the product performs when used by different users under various circumstances. A single audio product can have more than 2000-3000 combinations of scenario validation, and all of this is achieved by our AI automation—voice and visual recognitions to effectively execute tasks and collect data.
For more details of audio product solution, please contact us at service@allion.com