Dolby Atmos Testing Ecosystem
To cater to the uprising Dolby Atmos ecosystem, Allion's rich testing experience and a variety of Atmos devices will help vendors validate the stability, functionality, and interoperability of products in various applications, ensuring they closely meet the demands and expectations of users.

New Issues for Dolby Atmos
When playing a movie on Dolby Atmos for Home, human voice suddenly goes muted or left/right channels are out of sync!?

Switching off Dolby Atmos AVR while TV is still on, the speaker volume suddenly goes up!?

Mobile phone that claims to support Dolby Atmos, but the actual effects are not as expcted!?
Why is Dolby Atmos testing crucial?
With the constant advancement of audiovisual technology and consumer demand for high audiovisual quality, a new ecosystem, "Dolby Atmos" ecosystem is formed. Applications of Dolby Atmos are evident in movie theaters, studios, home theaters, and even hand-held devices.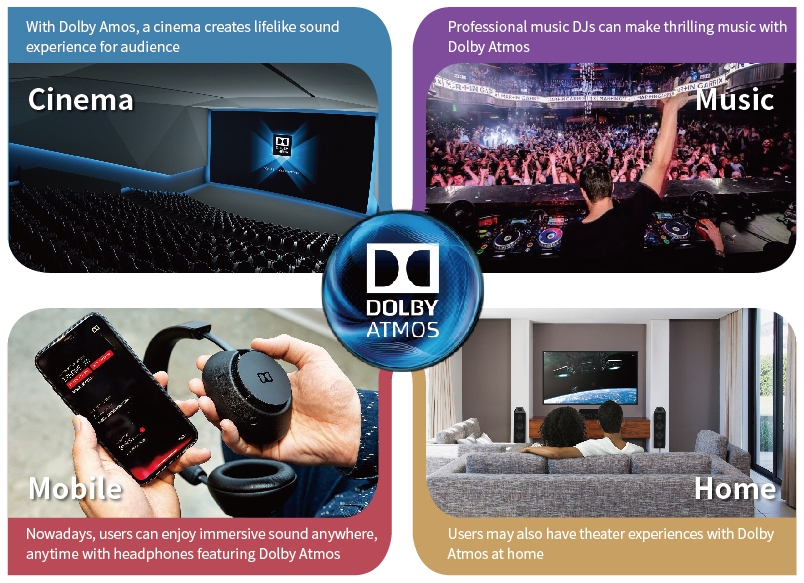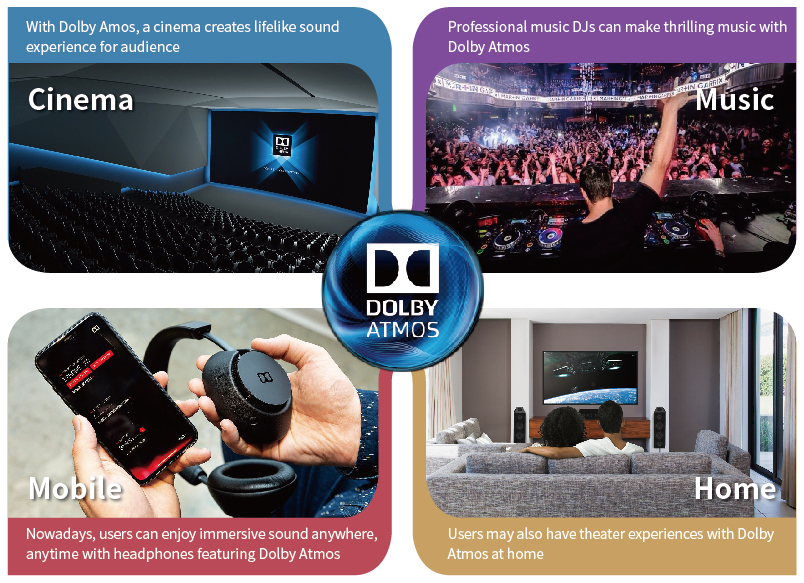 In reality, any issue, for example, audiovisual playback is not smooth, and home theater devices don't work with each other, or sound quality or volume underperforms, will greatly reduce consumer satisfaction, further damage the brand's image and reputation. Therefore, testing connectivity, stability, functionality, and interoperability in a Dolby Atmos environment is vital to fully ensure a product's quality.
To catch up with the uprising of Dolby Atmos technology and the market, Allion has exclusively constructed a testing environment for Dolby Atmos ecosystem, which will help vendors validate the performance of their AV devices in terms of connectivity, stability, functionality, and most importantly, interoperability with other devices in the ecosystem.
Dolby Atmos Solutions for Home
The home theater system allows consumers to experience theatrical effects such as flowing, surround sounds at home. Most home theater systems are constructed with three main elements: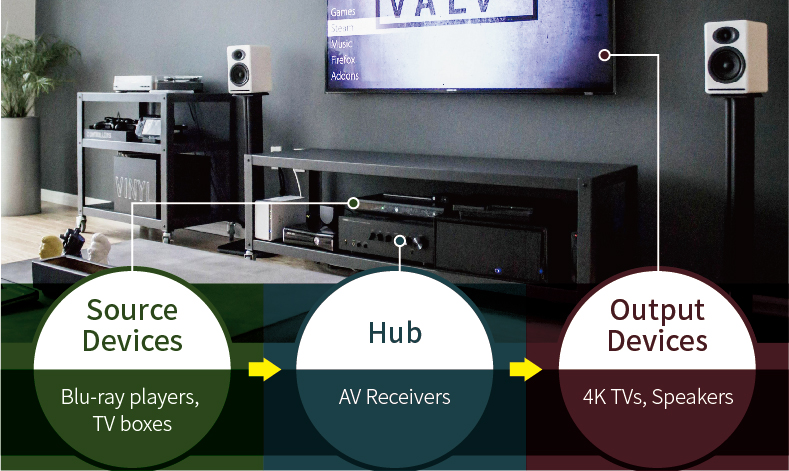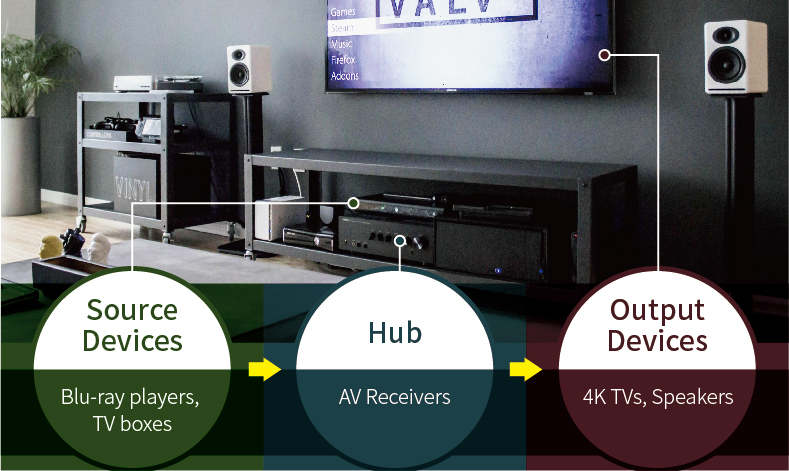 As more film production companies plunge into making Dolby Atmos films, more vendors are launching Dolby Atmos-enabled devices to enrich the ecosystem and meet the market's demand. And for the AV receivers that act as the central hubs to connect every piece of A/V gear will also play the key role in the home theaters. But, as the ecosystem flourishes, it will bring some of the most challenging issues— interoperability and compatibility between the devices in the home theaters.
Interop issues of Dolby Atmos and how to solve them
To solve all kinds of interoperability issues, it is important to unveil the root cause by pairing different products in different scenarios. The three common user scenarios are as follows:
Scenario 1. Player >A/V Receivers (Integrate audio decoding and audio amplification technology) > Speakers
Scenario 2. Player > Pre-amp decoder (with decoding function only) > Amplifier (with amplifying function only) > Speakers
Scenario 3. Player > Pre-amp decoder (only has decoding function.s) > Active speakers (built-in amplifier)
In scenario 1, users only need to buy one AVR to connect source and output devices. It is the most convenient and common user scenario. Scenario 2 or 3 are specifically designed for the high-end home theater market where needs both decoders and amplifiers at once. There's a great variety of combinations of scenarios.
Allion builds the Dolby Atmos ecosystem, formed by all kinds of source devices, output devices, and the hub devices, such as AVR, Amplifier, and Soundbar. And our pool for the amount of those mainstream hub devices has reached 150 quantities, arguably topping the industry (see picture below).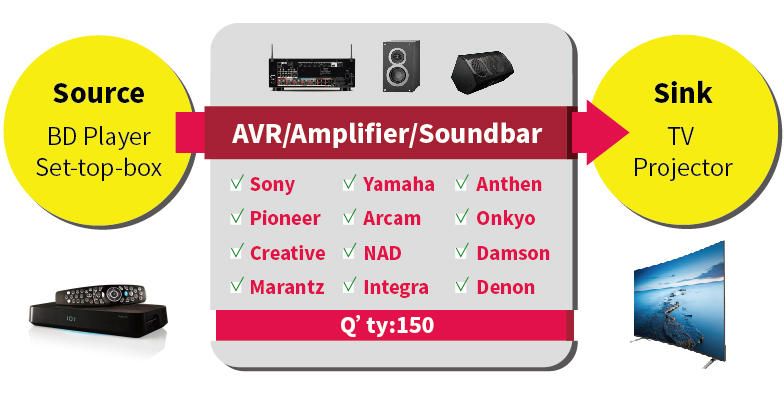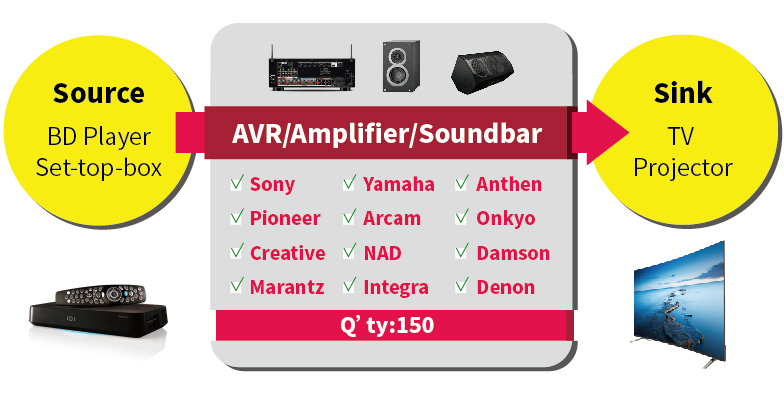 Get Hold of Dolby Atmos and Dolby Surround
Within Dolby Atmos Ecosystem built up with abundant resources, Allion can conduct tests on both Dolby Atmos 7.1.2 (with overhead speakers) and Dolby Surround 7.1 (without overhead speakers). Allion Labs assures the quality of your Dolby-enabled devices in terms of interoperability, stability, functionality, and connectivity. We also strive to enhance the overall user-experience with careful testing, verification, and validation in the product developmental stage. This will significantly lower consumer complaint rate and allow vendors to save time in after-sales services and the cost for exchange and refunds.
Dolby Atmos Solutions for Portable Devices
There are certain mobile phones and tablets that support Dolby Atmos on the market. How can vendors ensure the performance of new technology?
Allion's Dolby Atmos ecosystem also includes the current mainstream Dolby Atmos mobile devices and a variety of earphones (e.g. headphones, in-ear headphones, and Dolby Atmos-enabled earphones, etc.). Our acoustics expert is able to provide competitive analysis reports by comparing different test results of brands based on a customized test plans. We can also provide functionality and user-experience testing based on the products' features and usability.
Case Study for Dolby Atmos mobile phone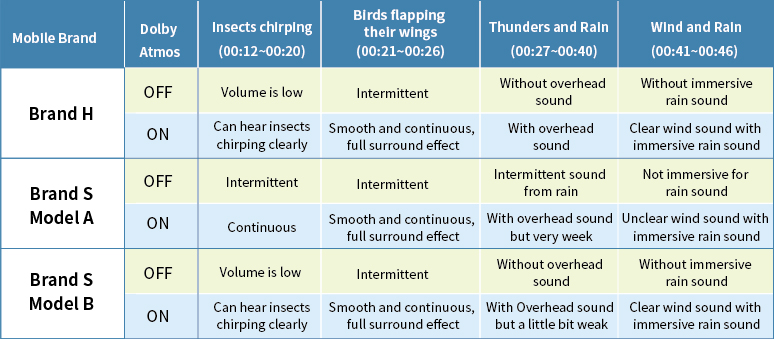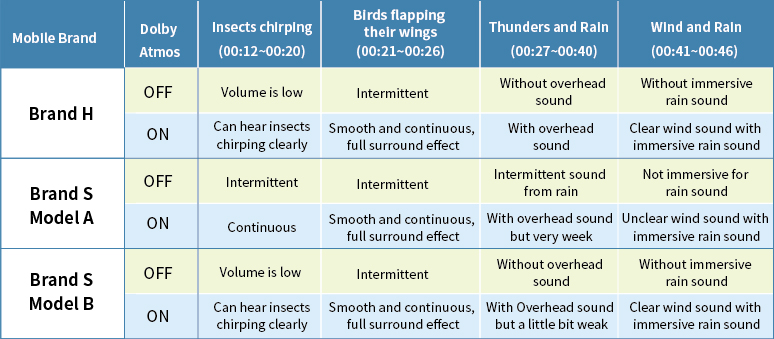 The chart above was excerpted from our competitive analysis report. As you can see, Model A of Brand S has a much weaker performance compared to Model B of Brand S or Brand H in terms of all kinds of sounds. We think Brand S is plagued with software issues and we still need verification and validation from Allion's Software Testing Lab for further analysis.
Test Your AV Devices in Our Brand-new AIoT Ecosystem
Ensure Their Interoperability and Quality
The products even have passed the functionality tests don't promise to be interoperable with other devices in the IoT ecosystem. Allion is more than an Authorized Test Lab as we are fully aware of the interoperability issues that exist among devices. We are prepared to conduct tests with the Global IoP Device Library which consists of thousands of smart devices, and with our testing labs and Dolby Atmos Ecosystem; we can help vendors design highly interoperable products that will satisfy users' needs.
About Dolby Atmos
Dolby Atmos is a surround sound tech launched by the Dolby laboratories in April, 2012. The Dolby Atmos was a breakthrough in audio technology as audio elements are treated as a sound object and replaced channel dependency. This allows users to create a flowing sound effect in a three-dimensional place, creating an even more realistic and immersive sound experience.